It often starts with the idea of being your own boss. Then that idea breeds anoth­er one – achiev­ing suc­cess.
No mat­ter what brought you on the path of start­ing an SEO busi­ness, it boils down to this ques­tion: Are you will­ing to give it your 100%?
The last thing you want to hap­pen is to start an SEO busi­ness and end up with a half-baked ven­ture and a string of unhap­py clients.
That's why we made this check­list – to pro­vide you and oth­er agency aspi­rants with the step-by-step guid­ance on start­ing, run­ning, and scal­ing your SEO busi­ness.
Whether you're an SEO con­sul­tant or a dig­i­tal mar­ket­ing pro­fes­sion­al aim­ing to have your own SEO agency, this check­list will instill the essen­tials to help you go from start­up to pow­er­house.

1. Everything You Need to Start an SEO Business

The begin­ning is often the hard­est, as they say. But, the soon­er you under­stand the basics of how to start an SEO busi­ness, the smooth-sail­ing the next steps will be for your agency.
In this chap­ter, we'll lay down the require­ments for start­ing your SEO agency.
Are You Ready to Run Your Own Agency?
If you truth­ful­ly and whole­heart­ed­ly answered yes, there's noth­ing that will stop you to con­tin­ue read­ing until the very end of this guide.
But, if your answer is no, that's okay. We'll help you get there.
In real­i­ty, no one is ever ready to start and run an SEO busi­ness. Apart from the ever-chang­ing SEO indus­try, you have oper­a­tions to think about. Every­thing is a learn­ing process.
Before you dive into mak­ing your SEO busi­ness plan, make sure you tick off the fol­low­ing:
Prepare to Quit Your Job
Let's get one thing straight first – start­ing an agency isn't an excuse to aban­don work. If any­thing, you need to ded­i­cate extra effort and time to get start­ed on your SEO com­pa­ny. But, when do you quit your job and focus your atten­tion sole­ly to your SEO busi­ness?
It's when you have enough cash flow that match­es what you're cur­rent­ly mak­ing at your day job. It's when you have enough loy­al clients to main­tain busi­ness con­ti­nu­ity. It's when peo­ple are ask­ing about your SEO instead of you ask­ing them to hire you.
If you think you've met the cri­te­ria above, then maybe it's time to quit your job.
Possess Business Acumen
An SEO agency is like any oth­er busi­ness. If you have zero busi­ness acu­men, you're like­ly to have a hard time keep­ing your agency above water. Many busi­ness own­ers squan­der thou­sands of dol­lars just because they lack the sense of doing what's best for their busi­ness.
There are many resources online and amaz­ing books you can read to help you with your SEO busi­ness. So, here's your assignment—be sure to grab a copy the fol­low­ing titles:
The Sev­en Habits of High­ly Effec­tive Peo­ple by Stephen Cov­ey
The $100 Start­up by Chris Guille­beau
Lost and Founder by Rand Fishkin
The Lean Start­up by Eric Ries
Learn the Basics of Digital Marketing
Neil Patel didn't start out as an SEO guru. In fact, he had to learn SEO and expe­ri­ence a few hic­cups along the way. That's the thing when you start an SEO busi­ness.
Peo­ple like Neil Patel didn't estab­lish their author­i­ty by sheer luck. It's a mat­ter of edu­cat­ing your­self about the indus­try. Ask your­self this: Would you trust an agency that doesn't have an ounce of SEO knowl­edge?
Not like­ly, right?
A wealth of infor­ma­tion about SEO and dig­i­tal mar­ket­ing is out there, so you'll have no excuse to skimp on the learn­ing aspect. You can start with some of the down­load­able mate­ri­als we have on the Resource Cen­ter. We also encour­age you to check on Search Engine Jour­nal, Search Engine Watch, Moz and Google's Web­mas­ters Help Com­mu­ni­ty for up-to-date infor­ma­tion on every­thing dig­i­tal.
Legal Matters to Handle
As with any busi­ness, start­ing an SEO busi­ness comes with legal impli­ca­tions. Every deci­sion is guid­ed by spe­cif­ic reg­u­la­tions, and know­ing these from the get-go can save you from headaches lat­er on.
Determine Your Business Structure
Before you even come up with a name for your agency, you need to decide on your busi­ness struc­ture. Your deci­sion will depend on which pro­vides the best struc­ture when fil­ing your tax­es to the IRS. Do you want to oper­ate as a sole pro­pri­etor­ship or as an LLC?
As a Sin­gle Pro­pri­etor­ship
Reg­is­ter­ing your SEO agency as a sole pro­pri­etor­ship means you'll be run­ning your busi­ness with a sin­gle own­er. This is often the case of many start­up agency own­ers who oper­ate their busi­ness as free­lancers. The flex­i­bil­i­ty and sim­ple set­up makes this struc­ture an attrac­tive option for many SEO con­sul­tants aspir­ing to own their own agency, but it may come with a few risks.
As a sin­gle pro­pri­etor­ship, the agency may be liable for dam­ages in case prob­lems arise. Sin­gle pro­pri­etor­ship also doesn't require fil­ing busi­ness tax­es sep­a­rate from per­son­al tax­es. This makes it hard to deter­mine the val­ue of the busi­ness when it's tied to per­son­al assets.
As a Lim­it­ed Lia­bil­i­ty Com­pa­ny (LLC)
As opposed to a sin­gle pro­pri­etor­ship, reg­is­ter­ing as an LLC means you can have more than one own­er (mem­ber) to run the busi­ness. Oper­at­ing as a Lim­it­ed Lia­bil­i­ty Com­pa­ny (LLC) pos­es few­er risks for start­up agencies—one of these is hav­ing busi­ness tax­es sep­a­rate from per­son­al assets.
Using this busi­ness struc­ture for your agency also pro­vides you with legal pro­tec­tion. With the lim­it­ed lia­bil­i­ty, you can pro­tect your per­son­al assets from busi­ness debts and oblig­a­tions. An LLC is also more favor­able if you're plan­ning to reach out to sup­pli­ers or lenders.
NOTE: Talk to a lawyer or a CPA before decid­ing on the busi­ness struc­ture for your SEO agency.
Create Your SEO Contracts
A con­tract may sound intim­i­dat­ing to clients, but trust us when we say you need one.
It's the only piece of doc­u­ment that binds your agency with your clients.
How­ev­er, an SEO con­tract goes beyond legal­i­ties. Think of it as an agree­ment on what needs to be done and what is to be expect­ed from both par­ties.
An SEO con­tract allows you to go into the gran­u­lar details of how your agency will han­dle cam­paigns — from the roles and process­es, to own­er­ship of assets and length of the agree­ment.
Get Our Free Con­tract Tem­plate
Set Up Your Payment Methods
Most agen­cies rely on the easy way to receive pay­ment – Pay­Pal. But, oth­er pay­ment meth­ods are worth explor­ing if you want to make the most of every cent that goes to your busi­ness.
Auto­mat­ed Clear­ing House (ACH) Trans­fers: Clients send an elec­tron­ic mon­ey trans­fer from their bank account to a US-based busi­ness bank account. This can either be cred­it or deb­it trans­ac­tions.
Cred­it Card Pay­ment: One of the most com­mon pay­ment meth­ods prac­ticed by busi­ness­es glob­al­ly. Visa, Mas­ter­card, and Amer­i­can Express are often the com­mon card net­works used. Many busi­ness­es pre­fer this method because clients only need to enter their cre­den­tials over a secure net­work to com­plete their trans­ac­tions.
Dig­i­tal Wal­lets: Pay­Pal falls into this cat­e­go­ry. Oth­er sim­i­lar ser­vices are Ali­pay, Apple Pay, and Google Pay.
When decid­ing the pay­ment method, think of what works best for your clients. Keep the expe­ri­ence smooth by ensur­ing each trans­ac­tion is secure.
Prepare Your Invoice Templates
An invoice is proof of trans­ac­tion between a client and your SEO busi­ness. This helps you orga­nize and track accounts, so you know your agency gets paid with­in the pay­ment terms.
Each invoice should have its cor­re­spond­ing num­ber for con­ve­nient track­ing. Stan­dard SEO invoice includes the item­ized charges with clear descrip­tions for each ser­vice ren­dered by your agency. The due date and pay­ment meth­ods should also be clear­ly stat­ed in the invoice.
Your Agency's Brand Matters
Your brand is one of the things you need to devel­op – not just at the start, but also as you grow your agency. Build­ing your agency's brand is all about iden­ti­fy­ing what makes your clients choose you above oth­er SEO com­pa­nies. It's what dif­fer­en­ti­ates you from the rest.
Choose Your Agency's Name and Logo
Your agency name and logo are the most rec­og­niz­able aspect of your brand. Both go into all of your assets – web­site, busi­ness cards, online ads, lead mag­nets, and oth­er dig­i­tal resources.
When choos­ing your agency's name and logo, think of the fol­low­ing:
Val­ue propo­si­tion: What are your main dif­fer­en­tia­tors?
Audi­ence: Who is your clien­tele?
Per­son­al­i­ty: What emo­tion do you want to evoke from your audi­ence? How do you want them to per­ceive your brand?
Identify Your Target Buyer Personas
Your tar­get buy­er per­sonas rep­re­sent the ide­al clients you want to attract and con­vert for your agency. Defin­ing your buy­er per­sonas make it eas­i­er to under­stand your clients, their busi­ness, pain points, goals and the dig­i­tal mar­ket­ing solu­tions they need.
Iden­ti­fy­ing buy­er per­sonas come in two parts: their demo­graph­ics and psy­cho­graph­ics. The first part per­tains to their phys­i­cal char­ac­ter­is­tics, such as age, gen­der, loca­tion, and employ­ment sta­tus. The sec­ond part refers to behav­iors that influ­ence their buy­ing deci­sion, such as moti­va­tions, goals, and brand affini­ties.
Buy­er per­sonas serve as a guide on how you're going to posi­tion your SEO mar­ket­ing busi­ness. These are high­ly use­ful when you're craft­ing con­tent that aims to nur­ture and con­vert prospects.
Choose Your Niche
This is where many start­up agen­cies fall short.
It can be tempt­ing to cast a wide net and take the "sell to every­one" approach when iden­ti­fy­ing the niche you want to ser­vice. How­ev­er, know­ing which niche to serve can make a big dif­fer­ence on how your agency scales. Do you want to offer SEO for small busi­ness or real­tors? Are you into more com­pet­i­tive nich­es?
When choos­ing a niche for your SEO start­up, con­sid­er the fol­low­ing:
Go with an indus­try you're famil­iar with. The more you're well-versed with the indus­try lin­go, the eas­i­er it will be to con­nect with prospects.
Start with your social cir­cles. Lever­age the pow­er of refer­rals.
Do mar­ket research. This makes it eas­i­er to do prospect­ing and qual­i­fy leads lat­er on.
Decide on Your Service Offerings
Are you focused sole­ly on SEO?
Do you want to expand to PPC, Social Media, or Web Design?
Mak­ing SEO as your main prod­uct offer­ing pro­vides your busi­ness with recur­ring month­ly rev­enue. The rea­son behind this is SEO doesn't stop on the first month. Clients need con­sis­tent opti­miza­tion until they can see pos­i­tive rank­ing move­ment.
Com­pared to web design that's often pack­aged into one-off prod­ucts, SEO as a ser­vice pro­vides you with more flex­i­bil­i­ty to upsell clients.
Once you've already got­ten your first few SEO clients and man­aged to get them to stay with your agency, it's time to expand to oth­er dig­i­tal mar­ket­ing ser­vices. For now, you should stick to one solu­tion.
Build Your Website
A web­site can make the dif­fer­ence between get­ting prospects and los­ing them to the com­pe­ti­tion.
At this point, it doesn't mat­ter if the web­site isn't as stun­ning as most estab­lished dig­i­tal mar­ket­ing busi­ness­es (you can get to that lat­er on). What mat­ters is you have one.
For now, you'll need:
Domain and host­ing: Choose a domain name that res­onates with your agency's brand and have it host­ed on a web host­ing site. GoDad­dy, Blu­e­name, and WPEngine are some of the domain and host­ing sites we rec­om­mend.
Plat­form: Start with Word­Press. It's reli­able, easy to use, and, best of all, FREE.
Design: Not a design­er? That's fine. You'll find tons of web design tem­plates that take away the heavy lift­ing when it comes to design build­ing. But, if you have the bud­get, you can out­source web design (or have our team build it for you).
Checklist: Things You Need to Accomplish
Have you done the fol­low­ing?
2. Work on Your SEO Methodology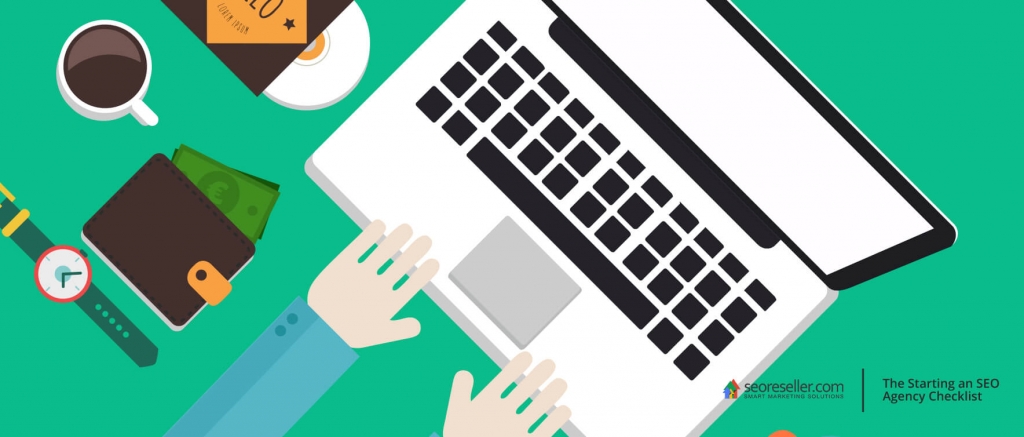 SEO com­pa­nies are doing the same thing. Yes and no.
While on-page opti­miza­tion, link build­ing, and con­tent mar­ket­ing are the com­mon strate­gies for rank­ing web­sites, each SEO agency has a dif­fer­ent approach for their clients. All these depend on their SEO method­ol­o­gy – one that you need to define for your agency.
In this chap­ter, we'll dive into how you can build the foun­da­tion for your SEO and estab­lish your exper­tise.
Develop Your Core SEO Methodology
It's not about doing what Google says; it's doing as Google ranks.
Your SEO method­ol­o­gy is a cul­mi­na­tion of exper­tise and strate­gies that ulti­mate­ly pro­vide val­ue to busi­ness­es and their tar­get cus­tomers.
In-house or Outsource?
Becom­ing an SEO con­sul­tant then tran­si­tion­ing into a full-time dig­i­tal mar­ket­ing agency means estab­lish­ing your exper­tise. This doesn't mean you have to mas­ter every­thing on your own.
There are two tracks to estab­lish­ing exper­tise: build your in-house team of experts or out­source the work to experts.
Learn About Project Management
SEO is a nev­er-end­ing project. Unlike web design that's often a one-off project, you need to be con­tin­u­ous­ly opti­miz­ing a client's web­site to make it rank. This calls for learn­ing project man­age­ment so you can man­age expec­ta­tions, tasks, and – when you become a larg­er SEO busi­ness – man­age your team.
Project man­age­ment in SEO is usu­al­ly two-pronged: Plan­ning and Ful­fill­ment.
Plan­ning involves research, eval­u­a­tion, and strat­e­gy. This builds the frame­work of your SEO cam­paigns, so you have a clear direc­tion of what and when to do things. Key­word research, com­pet­i­tive analy­sis, web­site audit, and con­tent qual­i­ty eval­u­a­tion often falls under the plan­ning phase.
After plan­ning comes exe­cu­tion, and this is what ful­fill­ment cov­ers.
Ful­fill­ment, how­ev­er, goes beyond deliv­er­ing what you promised to clients. It's a mat­ter of imple­ment­ing a con­sis­tent, scal­able process to get things done. Do you want to go about the SEO project in an agile way, or are you more of a kan­ban type of per­son?
Ful­fill­ment can go smooth­ly if you have a defined sequence—the result being an increase in the num­ber of hap­py clients and more rev­enue for your SEO busi­ness.
As you learn about project man­age­ment, it's best to famil­iar­ize your­self with the fol­low­ing project man­age­ment tools:
Zoho
Asana
Team­work
Plu­tio
Base­camp
Avoid using mul­ti­ple platforms—choose one that fits into your cur­rent process and team set­up.
Use SEO Tools
Every SEO starts out with the basic knowl­edge on Google Search Con­sole or Google Ana­lyt­ics. Both SEO tools can pro­vide reli­able report­ing met­rics that come from Google search results.
But, are these tools enough? Not in the slight­est.
If you're look­ing to estab­lish a sol­id SEO method­ol­o­gy, you need an arse­nal of SEO tools.
Many SEO tools are designed to accom­plish oth­er tasks, such as key­word research, link build­ing prospect­ing, and com­peti­tor analy­sis. You'll find a com­bi­na­tion of free and paid tools online—we rec­om­mend start­ing with the free ones, so you can get a feel of how the tool works first.
Be sure to check out the fol­low­ing tools:
Google Search Con­sole
Google Ana­lyt­ics
Google Data Stu­dio
Ahrefs
SEM­Rush
Moz
Scream­ingFrog
Pro-tip: Cre­ate a man­u­al for these SEO tools and cas­cade to your team. This can become a part of your stan­dard process­es to elim­i­nate depen­den­cy on indi­vid­ual tal­ents.
Checklist: Things You Need to Accomplish
Before you move for­ward, be sure you've done the fol­low­ing:
3. Market Your SEO Agency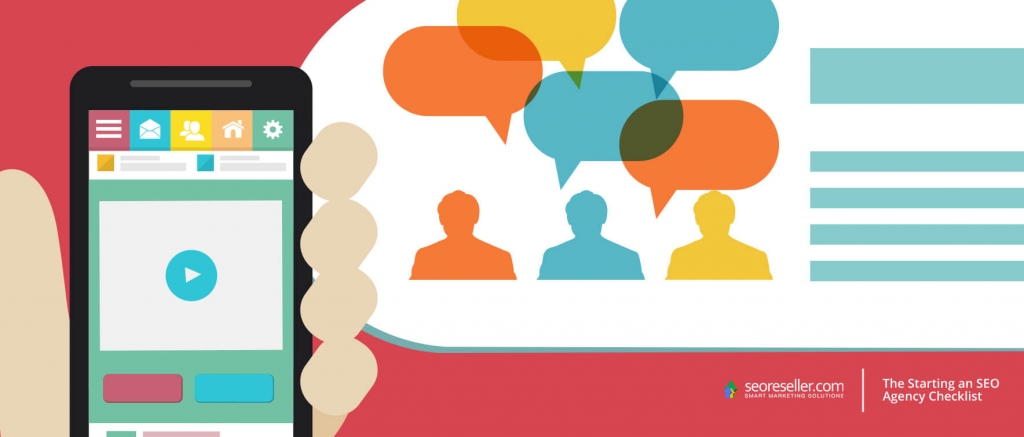 Mar­ket­ing SEO ser­vices and your agency is about posi­tion­ing your­self as the provider of choice for busi­ness­es look­ing to increase their dig­i­tal pres­ence. This means one thing—practice what you preach.
Think of it this way: will busi­ness­es trust your agency if they can't even find you on Google? High­ly unlike­ly.
An estab­lished online pres­ence tells a lot about how your agency does SEO. Your new­ly-built web­site may take a few months to rank, but this doesn't mean you need to rely on SEO alone. That's what you'll be learn­ing in this chap­ter.
This sec­tion cov­ers the best prac­tices on mar­ket­ing your SEO com­pa­ny and ramp­ing up your online pres­ence to ulti­mate­ly get more leads.
Inbound Practices
Inbound prac­tices lay the foun­da­tion for your agency's online pres­ence. Think of it as pas­sive­ly get­ting eyes on your brand.
This involves dif­fer­ent strate­gies to attract leads to your agency – SEO, social media, con­tent mar­ket­ing, and paid ads.
SEO
SEO is the most cost-effec­tive way of build­ing your online pres­ence, but only if you do it right. The key is to opti­mize your web­site as you do with clients.
On-page improve­ments
Do a quick audit of your web­site and see what you need to improve. Do the pages tar­get the inter­ests of your buy­er per­sonas at their stage of the buyer's jour­ney? Is the web­site load­ing at opti­mal speed? Does the site nav­i­ga­tion sup­port user expe­ri­ence?
Think of your agency's web­site as need­ing its own SEO hygiene to rank bet­ter in search results.
Off-page ini­tia­tives
Link build­ing can go hand in hand with your on-page improve­ments. As your agency's web­site is slow­ly get­ting organ­ic traf­fic through on-page opti­miza­tion, build­ing links can pro­vide you with refer­ral traf­fic to boost author­i­ty to top pages.
Rel­e­vant List­ings
Set up and claim your Google My Busi­ness list­ing to build your agency's pres­ence on local search results. You can also add your SEO busi­ness on Yelp and oth­er rel­e­vant busi­ness list­ings to get more online real estate. How­ev­er, make sure your Name, Address, and Phone Num­ber (NAP) are con­sis­tent and accu­rate across these list­ing sites.
Reviews
Anoth­er boost to your SEO per­for­mance is hav­ing reviews on top review sites and on your actu­al web­site. Be proac­tive in ask­ing your clients to review your SEO com­pa­ny, but do this with­out being too force­ful. Each review should come from peo­ple you have a pro­fes­sion­al rela­tion­ship with to attest to your agency's reli­a­bil­i­ty, work eth­ic, and integri­ty.
Social Media
If you don't have a social media page, it's time to cre­ate one. Busi­ness­es spend six hours on social media per week, with Face­book being the most pop­u­lar plat­form they use to stay active.
Using social media for your inbound efforts requires more than pub­lish­ing posts on Face­book, though. You need to:
Cus­tomize your mes­sage accord­ing to your audi­ence and the plat­form.
Be a mem­ber of social media groups to get insights on what your audi­ence is talk­ing about. Face­book, LinkedIn, and Red­dit Groups are great places to learn about updates and top­ics that your audi­ence is inter­est­ed in.
Be human. Don't be a robot and post just for the sake of engage­ment. Insta­gram and Twit­ter are great plat­forms to show the human side of your agency.
Content Marketing
Con­tent is (and will always be) king.
But, it's not sim­ply about pub­lish­ing a blog post and hop­ing prospects will stum­ble upon it. A sol­id con­tent mar­ket­ing strat­e­gy is all about pre­sent­ing the right con­tent to the right audi­ence at the right time.
Opti­mize your web­site con­tent around the intent of your buy­er per­sonas. Dive into Google Search Con­sole and look at the queries your web­site is get­ting. Choose terms with high search vol­ume and build top­ics for your con­tent around these.
Remem­ber that your con­tent should always be evolv­ing. Update and opti­mize to align the con­tent with the inter­ests of your audi­ence.
Paid Ads
Using paid ads is ide­al for a high­ly tar­get­ed audi­ence. Paid ads can sup­ple­ment your SEO efforts, as this puts your agency in front of peo­ple who have the high­est intent of work­ing with an SEO com­pa­ny.
You can go about this in two ways:
Google Ads: This involves text, image, and video ads that appear on Google Dis­play Net­work or Search Mar­ket­ing Plat­forms.
Remar­ket­ing Ads: Ide­al for users who have already vis­it­ed your site, remar­ket­ing ads help rein­force your val­ue propo­si­tion to your audi­ence.
With paid ads, you can stay on top of your prospects' minds and be there when they're ready to hire an SEO expert.
Note: When doing inbound, always think of your buy­er per­sonas. Every­thing needs to relate to them at their stage in the buyer's jour­ney.
Outbound Practices
Out­bound prac­tices are strate­gies that you use to find prospects instead of them find­ing you. It's your job to ini­ti­ate con­tact with prospects and make your agency brand stick until they're ready to get your SEO ser­vices.
An effec­tive out­bound cam­paign involves a com­bi­na­tion of strategies—this includes inbound prac­tices.
Attend Trade Shows and Conferences
It may be the old­est rule in the book of mar­ket­ing, but attend­ing indus­try events can help your agency be more vis­i­ble to busi­ness­es look­ing for SEO ser­vices. This pro­vides you with the oppor­tu­ni­ty to con­nect with prospects.
Start with events that are hap­pen­ing with­in your area. If you know some­one in the indus­try, ask them to intro­duce you to poten­tial prospects—think of them as your hand­shake.
Lever­age tes­ti­mo­ni­als from a pre­vi­ous client. But, if you don't have any tes­ti­mo­ni­als to present, that's fine, too. You can offer them some­thing free and valu­able (a lead mag­net) instead in exchange for their con­tact details. A quick SEO audit is a good exam­ple.
Send Cold Emails
This ties with your inbound prac­tices and trade show appear­ances. When a prospect pro­vides their con­tact details (whether via a con­tact form on your site or a lead mag­net you sent dur­ing your inter­ac­tion at a trade show), you can pipe them into your email list.
While there's no def­i­nite for­mu­la to send­ing a cold email to a poten­tial client, stick to the best prac­tices to evoke the best response from prospects:
Use a busi­ness domain on your email instead of a gener­ic email address.
Refine your email list—segment your list accord­ing to the mes­sage of your email.
Include a com­pelling sub­ject line and per­son­al­ize your email mes­sage.
Sched­ule fol­low-up emails to get a response—two fol­low emails can be a good start.
Both your inbound and out­bound efforts should point to how your SEO agency can pro­vide val­ue to busi­ness­es.
Checklist: Things You Need to Accomplish
Here are the things you need to do before going to the next step of start­ing your SEO mar­ket­ing busi­ness:
4. Sell SEO Services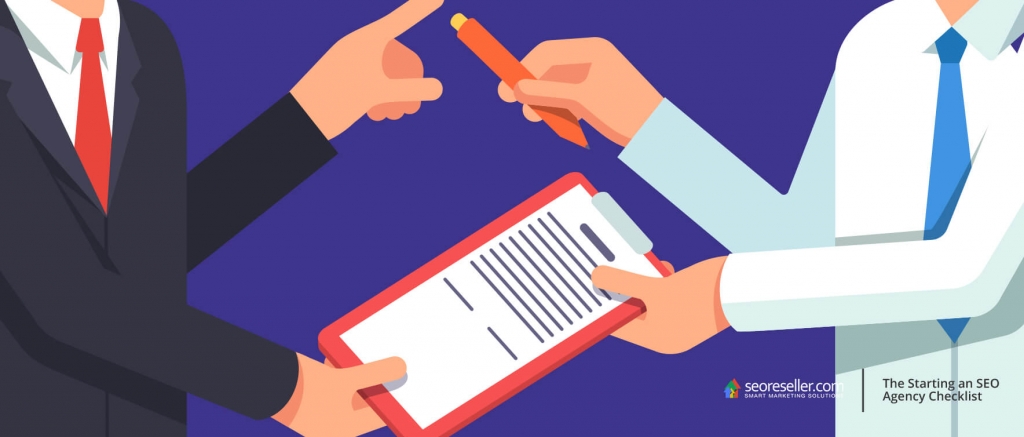 Even if you're an expe­ri­enced SEO spe­cial­ist, hav­ing the cadence to sell SEO ser­vices can make a big dif­fer­ence between a suc­cess­ful agency and one that's bare­ly mak­ing the cut.
Every­thing boils down to defin­ing your SEO sales process.
In this chap­ter, you'll learn how to sell SEO to busi­ness­es and pro­vide your agency with a repeat­able process and tac­tics that lead to more rev­enue.
Establish Your SEO Pricing Structure
One of the things prospects will ask from you is how much your SEO costs. You'll find dif­fer­ent answers to this ques­tion, and it may get con­fus­ing if you're not famil­iar with the val­ue of SEO.
How do you jus­ti­fy the cost of your SEO to clients? Start by defin­ing your pric­ing struc­ture.
SEO com­pa­nies use three types of pric­ing struc­tures for their ser­vices:
Hourly: Agen­cies often apply this pric­ing struc­ture for minor SEO tasks, such as key­word research and web­site audits.
Fixed: This can be ide­al for project that include a com­bi­na­tion of SEO work – from on-page opti­miza­tion to SEO con­sult­ing ser­vices.
Retain­er: Estab­lished agen­cies often put their clients on a month­ly retain­er pric­ing mod­el that fit their bud­get and dig­i­tal mar­ket­ing needs.
As you start your SEO agency, it's best to choose a fixed and hourly pric­ing struc­ture before mov­ing to retain­er fees.
Before you do that, research.
Know the lev­el of com­pe­ti­tion for the indus­try you're plan­ning to serve. Your pric­ing should also match the capa­bil­i­ty of your agency to deliv­er. Don't shoot your­self in the foot by ask­ing a steep price for your SEO ser­vices and overpromising—then make the mis­take of under­de­liv­er­ing.
Find Your Clients
Your first clients are like­ly the fol­low­ing: refer­rals, prospects you've met at indus­try events, peo­ple with­in your per­son­al and pro­fes­sion­al net­work, and peo­ple you've met on social net­works (LinkedIn or Face­book groups).
Find­ing clients coin­cides with your inbound and out­bound ini­tia­tives that we've dis­cussed in the pre­vi­ous chap­ter. The more vis­i­ble your agency is, the more oppor­tu­ni­ties you have of con­nect­ing to busi­ness­es that need SEO ser­vices.
A few things you can do to make it eas­i­er to find clients (or them to find you):
Down­load the SEO Audit Wid­get. Every time a prospect enters their details on the audit wid­get form on your web­site, they get a free SEO audit. In turn, you get their email.
Ask for refer­rals. A good word or two about your SEO com­pa­ny can spur prospects into get­ting your ser­vice.
Cold call with con­vic­tion. Pre­pare a script, pick up the phone, and start call­ing busi­ness­es in your local direc­to­ry.
Note: Take the time to get to know your clients before you reach out. This will help you match your sales approach to the type of client you're fac­ing.
Qualify Your Leads
A com­mon mis­take start­up SEO agen­cies – even some of the estab­lished ones – make is sell­ing SEO to every­one.
Why? Two rea­sons: 1) It's a waste of time; 2) Not all prospects are right for your SEO com­pa­ny.
This is where qual­i­fy­ing leads comes in.
Qual­i­fy­ing your leads allow you to focus on the right prospects based on four fac­tors: Bud­get, Need, Author­i­ty, and Time­frame (BANT). These fac­tors entail whether your prospect can afford your ser­vices, has a def­i­nite need for your exper­tise, has the pow­er to make deci­sions, and is ready to buy from you.
Develop a Set of Probing Questions
Prob­ing ques­tions allow you to deter­mine the needs of your prospects and whether they're right for your agency.
Some of the ques­tions to ask are:
Did you work with an SEO com­pa­ny before?
How sat­is­fied are you with your cur­rent SEO agency?
What are your main chal­lenges? How did you resolve these?
Do you have a mar­ket­ing bud­get?
How do you mea­sure SEO suc­cess?
Pro-tip: Use this client ques­tion­naire tem­plate as a guide when devel­op­ing your ques­tions.
Know When to Say No
As much as you want to take on all prospects and their requests, you have to face real­i­ty that you can't do everything—even more so if you're a small SEO busi­ness.
This is where you draw the line.
Set high stan­dards at the begin­ning and stick to them. It may seem a bit absurd to say no to SEO clients (because why would you turn away busi­ness, right?), but this allows you to pri­or­i­tize leads who are more like­ly to con­vert. The entire qual­i­fy­ing phase revolves around this.
If you deem a prospect not fit or may not need your ser­vices now, you can put them into a nur­tur­ing cam­paign until they're ready to become your clients.
Pitch to Your SEO Prospects
A strong pitch is a com­bi­na­tion of a great amount of prep, an SEO pro­pos­al that sells itself, and good rap­port with your prospect.
Do Your Prep
Think of this as doing your homework—or what we call as Step 0.
Your prep allows you to devel­op a pitch around your client, not around your SEO agency. What is their busi­ness and indus­try? What are their com­mon pain points? What solu­tions do they need?
Every­thing you need to learn about the client to help them find the right solu­tion and posi­tion your­self as the agency of their choice hap­pens in prep.
Create a Proposal That Sells Itself
Your SEO pro­pos­al is your agency's val­ue propo­si­tion in print. It includes infor­ma­tion about your client, the details of your SEO method­ol­o­gy, your pro­posed SEO solu­tion, and the time­line and deliv­er­ables.
It's best to have a tem­plate for your SEO pro­pos­al, so you can sim­ply plug in infor­ma­tion. This saves you time on cre­at­ing an SEO pro­pos­al from scratch.
Sup­ple­ment your SEO pro­pos­al with mar­ket­ing mate­ri­als to rein­force the val­ue of your SEO ser­vice. Send them a pitch deck, a com­pre­hen­sive com­peti­tor analy­sis, case stud­ies, or even white papers. This helps in demon­strat­ing the impact of your SEO ser­vice on their busi­ness.
Build Rapport
A strong rap­port with prospects allows you to have a stronger influ­ence in their buy­ing deci­sion. Not only does this show effort in build­ing a good rela­tion­ship, it also helps you estab­lish trust.
As you get the hang of run­ning your start­up SEO agency, you should also ded­i­cate time in learn­ing a few rap­port build­ing tech­niques:
Com­mon ground
Cheer­lead­ing
Humor
Mir­ror­ing
Me-Talk
Close Your SEO Prospects
You've pitched and talked to clients. Now, it's time to close.
There's one rule we always rein­force when it comes to clos­ing:
Once you've said your clos­ing pitch, STOP TALKING. The first one to speak los­es.
That said, make sure that you're clos­ing line is strong because this sets the tone on whether a client will accept or reject you. Learn­ing sales clos­ing tech­niques can help you deter­mine what's the best to say as you end your pitch:
Sell the ben­e­fit of your ser­vice.
Close by sched­ul­ing your next con­ver­sa­tion (assump­tive close).
End with a ques­tion that offers them a lim­it­ed choice (assertive close).
IMPORTANT: In any pitch, there will be objec­tions on price, the val­ue of the ser­vice, or even SEO hor­ror sto­ries. Learn how to over­come these objec­tions so you can solid­i­fy your pitch.
Retain Your Clients
Clos­ing a prospect doesn't mean you stop try­ing to win their busi­ness. You need to pro­vide val­ue and build desire con­sis­tent­ly and con­tin­u­ous­ly to make them stay with your SEO agency.
The moment you stop build­ing their desire to work with you is the moment you lose clients. This can affect your SEO busi­ness because of the lost cred­i­bil­i­ty and rela­tion­ship.
Client reten­tion lays the ground­work for your start­up agency to scale. It dri­ves repeat busi­ness and pre­dictable rev­enue, so you can even­tu­al­ly attain a sev­en-dig­it earn­ing SEO agency.
Checklist: Things You Need to Accomplish
Before mov­ing to the final steps, make sure you've ticked off the fol­low­ing:
5. Maintain Business Continuity and Operations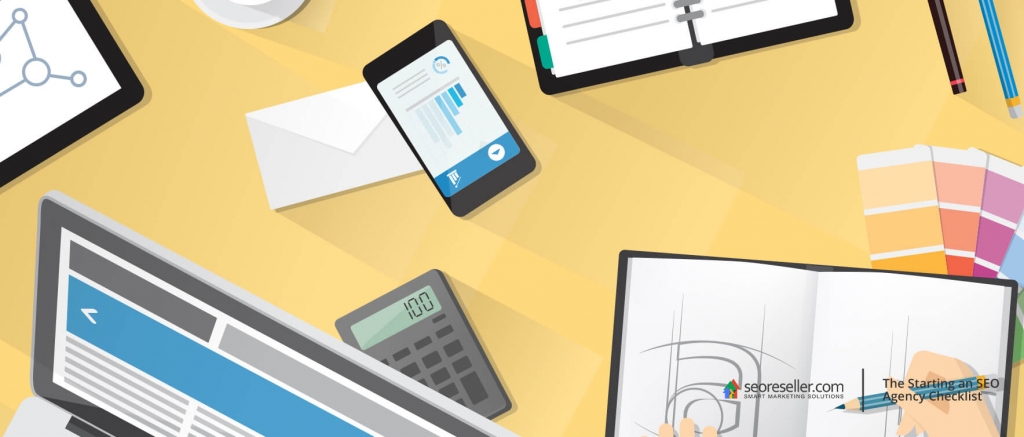 One of the chal­lenges of most SEO start­up agen­cies is not hav­ing the cadence to run their oper­a­tions. The lack of pre­dictable process­es, in turn, affects their bot­tom line.
This doesn't have to hap­pen to you.
By fol­low­ing the prac­tices we've out­lined in this chap­ter, your new­ly estab­lished SEO agency can have the process to main­tain busi­ness con­ti­nu­ity and run oper­a­tions smooth­ly.
Aligning Sales with Fulfillment
While it's tempt­ing to get as many clients on board with your agency, it's impor­tant to think of your oper­a­tional capa­bil­i­ties. Remem­ber that you're oper­at­ing as a startup—that means your resources and man­pow­er are lim­it­ed to what's avail­able to you.
This calls for align­ment between sales and oper­a­tions. You need to:
Eval­u­ate if sales goals are aligned with your oper­a­tions.
Set a base­line and per­for­mance mea­sure­ments across inter­sect­ing areas.
Iden­ti­fy the gaps to devel­op a more col­lab­o­ra­tive approach.
Map out a process with clear time­lines and deliv­er­ables.
Keep­ing your sales aligned with ful­fill­ment will help you deliv­er what clients need and ensure con­sis­tent per­for­mance.
Avoid the Talent Trap
Most SEO com­pa­nies that are new often have a lim­it­ed num­ber of heads in their team—a team of two or five at most.
Giv­en the lack of hands to take care of the work, there are often cas­es of work falling into the respon­si­bil­i­ties of a select few in the team. That's tal­ent trap in the mak­ing.
You need to acknowl­edge that every tal­ent in your team has lim­i­ta­tions. What hap­pens if the tal­ent han­dling the very cam­paigns you have sud­den­ly gets sick or leaves? Who will take care of the work?
Instead of rely­ing on a sin­gle rock­star to bring you suc­cess, devel­op a suc­ces­sion plan. This should include stan­dards for expe­ri­ence, prod­ucts, and cus­tomer expec­ta­tions.
Build Processes
This ties with avoid­ing the tal­ent trap. Your agency should be process-dri­ven.
Devel­op­ing process­es helps you avoid being too depen­dent on tal­ent and pro­vides you with defined steps that your team can fol­low on autopi­lot.
Think of the Paret­to prin­ci­ple – focus on doing 20% of the effort that dri­ves 80% of results for your clients and agency. This makes it eas­i­er to pri­or­i­tize tasks and your whirl­winds (tasks that take too much time to accom­plish but has min­i­mal impact, such as admin work).
Devel­op process­es and pro­vide doc­u­men­ta­tion, such as:
Check­lists for repet­i­tive tasks
Oper­a­tions man­u­al
Sales man­u­al
Cus­tomer ser­vice man­u­al
Pro-tip: Cre­ate these process­es and sup­port with train­ing to estab­lish a cadence of respon­si­bil­i­ty for your team.
Prepare to Scale
At the end of the day, every start­up SEO agency wants to reach that high rev­enue mark. This points to the ques­tion, "How do you scale your SEO agency?"
One sim­ple answer—don't be the hero. What we mean by this is del­e­gate tasks to peo­ple in your team.
Most agency own­ers (espe­cial­ly those who are new own­ers) tend to roll up their sleeves and take on the work them­selves. As hon­or­able as that may seem, it's coun­ter­pro­duc­tive.
To scale your agency, you need to work ON it, not in it.
Outsource the Work
If you or any­one on your team can't do the work, out­source it. We've cov­ered out­sourc­ing a bit in the pre­vi­ous sec­tion, but we're going to dive deep­er on how this can affect your oper­a­tions.
Out­sourc­ing your SEO pro­vides you with more time to focus on your agency's growth instead of the minute tasks. More­over, it helps you tap into a larg­er pool of tal­ent to get deliv­er­ables done while estab­lish­ing your exper­tise.
You can out­source SEO to free­lancers. This may be the ide­al option if you have small SEO projects or tasks that require a min­i­mum num­ber of hours to accom­plish.
How­ev­er, if you're look­ing for a long-term part­ner­ship to deliv­er bulk SEO work, out­source to an SEO provider. This pro­vides you with a larg­er team that will take care of your projects.
Pro-tip: Look for case stud­ies pro­vid­ed by the out­source pro­fes­sion­al that show­cas­es their abil­i­ty to deliv­er results con­sis­tent­ly.
Checklist: Things You Need to Accomplish
Just a bit more and you're all set! Be sure to accom­plish these for your SEO busi­ness:
6. Conclusion
Start­ing an SEO busi­ness will test your capa­bil­i­ties and will. Many would-be SEO com­pa­ny own­ers tend to give up halfway—don't let that be you.
If you man­age to do all the things in this check­list, that's already a big win. But if you need anoth­er set of hands to estab­lish your SEO agency, we're here for you.
While the steps to start­ing your SEO busi­ness may feel like an uphill bat­tle, the result of all the work can be worth the effort. All the learn­ings that come with the chang­ing dig­i­tal land­scape, as well as the busi­ness­es you can help along the way, make your work as an SEO agency more than ful­fill­ing.