Ever been in a situation where you have to strike a conversation with someone you've never met before? It's not easy – especially if you're the type who doesn't make the first move. That's the thing with doing cold emails. You need to have the confidence in sending that first message.
There's an art to writing a cold email, and if you haven't mastered it, you're likely to fail in getting a response from prospects. Worse, your mail might end up being tagged as spam. So, how do you cold email properly? That's what I'll be talking about in this post.
The Anatomy of a Cold Email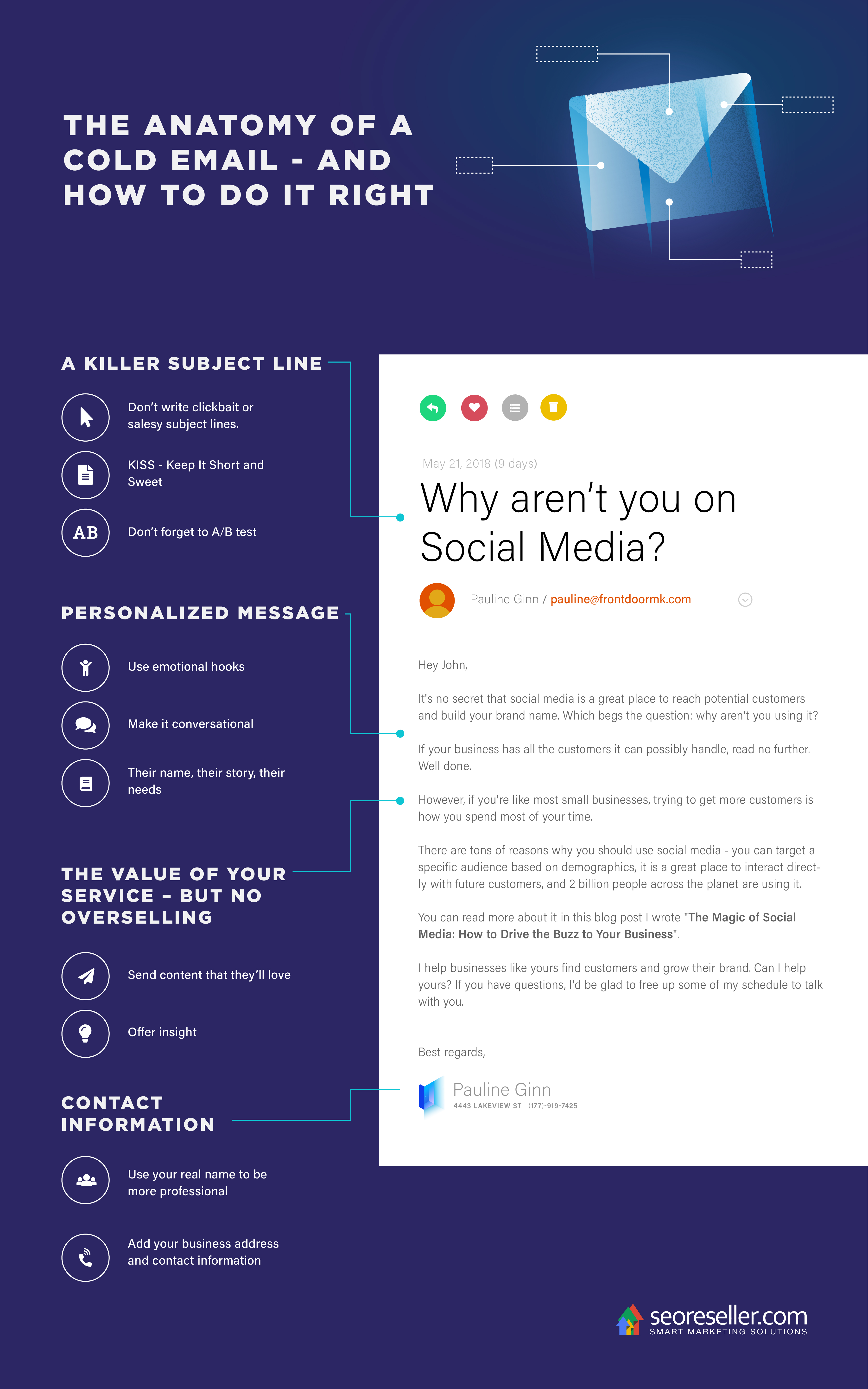 1. A Killer Subject Line
Let's start off with the first thing that prospects will see when you send a cold email – the subject line.
This is one of the trickiest parts when writing cold emails. You don't simply say "Here's Your Mail" if you want them to click on your message. You need to connect with your prospects and show why they need to read your message the moment they see your subject line.
Here are a few pointers:
Don't write clickbait or salesy subject lines – It's old-school and definitely not as effective as it was back then. Some might even consider your email as spam if you write a clickbait subject line.
KISS (Keep It Short and Sweet) – The shorter the subject line, the better. This is to avoid the subject line from becoming truncated, which prevents prospects from seeing what your email is about. Keeping it short is no excuse for boring subject lines, though. Use words that are relevant and will have a strong impact, so prospects will be compelled to read your cold email.
Don't forget to A/B test – The purpose of A/B testing is to know which of the subject lines are effective for cold emails, and this is fairly easy to do. You only need to send two different subject lines to two different mailing lists of the same audience segment, and see which subject line performs the best.
2. Personalized Message
Nobody likes receiving a generic email out of the blue, more so if it came from someone they don't know. When you're sending a cold email, don't make it obvious that you're using a template and sending it to thousands of people in your mailing list. Remember that real people will see your message, and a generic email won't leave a great first impression.
Personalization is important, and here are some ways to do it:
Use emotional hooks – How can you get your message across if you're disconnected with your prospects? That's the reason you use emotional hooks. These allow prospects to make a connection with your message and prompt a reaction out of them. Whether it's making them feel a sense of belongingness or creating urgency, an emotional hook is like the secret sauce of your cold email campaigns.
Make it conversational – Even if you're only talking through email, you still need to maintain that conversational tone. Show that you're interested in starting a conversation. One way to do this is by finding common ground, so you can establish rapport easily. Research about them to know what information will likely catch their attention and bring them into a conversation.
Their name, their story, their needs – At one point in the cold email, you're going to introduce yourself. And that's where you stop. Your cold email isn't about you—it should be about them. Your cold email should have their name on the greetings or subject line because it shows knowledge of who you are talking to. Acknowledge their needs, and show intent that you can address them, which brings us to the next point…
3. The Value of Your Service – But No Overselling
How are you going to solve their problems? What can you offer that others can't?
It all comes down to value.
An effective cold email should highlight the solution that you can offer, and not make your prospects guess why you're emailing them in the first place. Focus on your main message, but be natural. Don't oversell because that's when prospects will start closing your email—or even send a response that can result in a backlash.
How do you show value?
Send content that they'll love – A cold email isn't only a way to reach out to prospects; it's a strategy to get your content out there. It's important to send content that resonates to the prospect's stage at the buyer journey—in this case, your leads are still at the awareness stage. Pieces of content you should attach to your cold email are industry tips, methodology explainers, how-tos, and product guides.
Offer insight – Don't brag, but show them you're an expert at what you're doing in your cold email pitch. This will not only leave a good impression to your prospects, but also help your agency build its credibility.
Best Practices in Sending Cold Emails
Before you write that email, here are a few things you shouldn't forget when doing cold outreach:
1. Send to the right people.
Before you hit send, make sure the right people are in the mailing list. If they're not the decision maker of the business, don't send them an email. You'll only be wasting time (theirs and yours) if you're talking to the wrong person.
2. Use your real name and business address.
Always write a cold email using your real name, as this makes it easier for your prospects to verify who you are. Your business address should also be in your signature. This indicates that your agency is legitimate and has an actual place of operations.
3. Include an option to opt-out of your emails.
Remember the Facebook fiasco involving Cambridge Analytica? You don't want to cause the same kind of panic as that with your cold leads. When you're sending a cold email, be honest about where you got their information and give them an option to opt-out of your emails – whether through an unsubscribe button, or removing them from your email list.
4. Be wary of the time you send that email.
Timing is everything. Sending a cold email on a Friday night is not a good practice, simply because the person who's on the other end of your email has likely gone off to enjoy the weekend. That means your email is going to sit in their inbox for the next two days. The best time to send an email – and this is based on our experience and response rates – is around 10-11 in the morning, as this gives them ample time to go over your email.
Pro-tip: Don't forget to check the timezone of your cold leads, so you don't blast them a message when it's 3 AM on their side of the world.
5. Follow up!
Nothing happens if you don't follow up a cold email. Send them another message after two or three days of sending your initial email—our Marketing Automation tool allows you to do this (and it's even better than before). Your follow-up email can go something like this: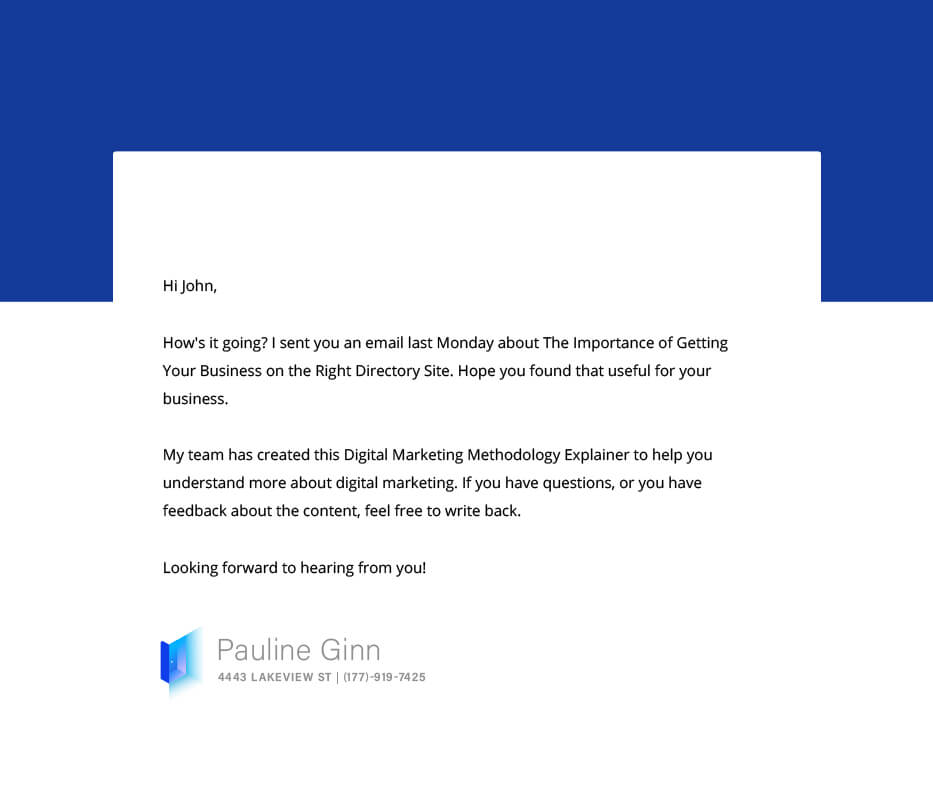 6. Make sure they know how to reach you.
Don't leave everything to chance. If you truly want to get a response from your cold leads, lay out everything for them. This includes sharing the different ways to contact your business. You can add your contact information in your email signature, or use a scheduling tool and attach the link in your message. This way, they know just how to get in touch when they're ready.
Final Thoughts
Once you get pass through that initial email, the next ones will be a piece of cake. If you follow the best practices and use the right tools, sending cold emails can provide results that matter for your business – more clients.
Ready to start a cold email campaign? Let us help! Sign up for our SEOReseller Pro Plans and access the best tools for your email outreach.
The following two tabs change content below.
Bernard San Juan
In 18 years Bernard has started 4 companies, taken 3 web-based companies to multi-million dollar status, launched and managed over 300 websites, and has run over a thousand marketing campaigns.
Latest posts by Bernard San Juan (see all)