White Label Backlink Removal & Link Detox Services
Link building is part of a complete SEO solution. Start by removing the bad ones.
Link cleanup is tedious and time-consuming. So let us do it for you!
Spend more time looking after your clients instead of going over thousands of backlinks. We'll take care of your clients' link detox needs.
We Take The Time To Do It Right
Each backlink will go through a link audit to determine its health and risk level. Then we go through a removal process to clean up the bad links.
Our Link Detox Solution, Your Brand
Our Backlink Removal & Link Detox service is fully white labeled. We work behind the scenes while you get the credit.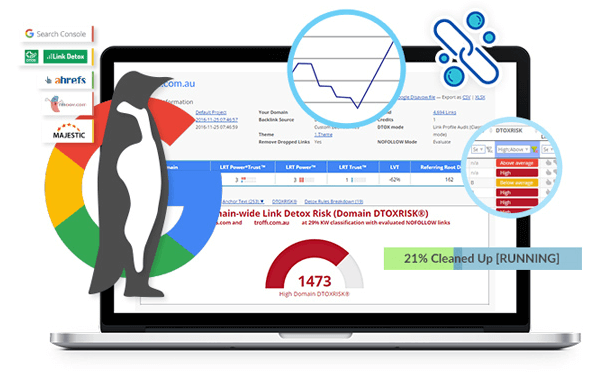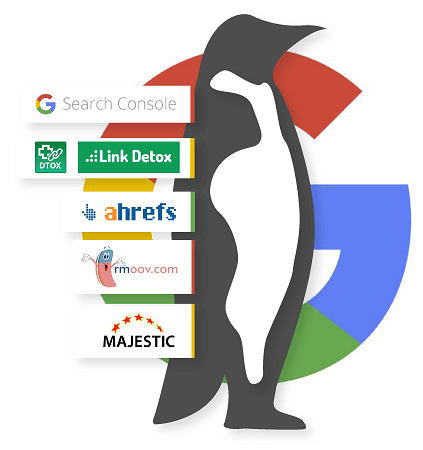 Four Steps to Help Your Client Recover from Penguin's Wrath!
Several years after the update and webmasters are still learning the lessons of Penguin. Here are the basic steps we'll go through to get your client back in Google's good graces.
1. We use tools from Majestic and Ahrefs as well as Search Console to discover all the backlinks pointed to your clients' sights.
2. Using Link Detox from LinkResearchTools, we analyze each link followed by manually visiting each site to verify if it's spammy.
3. With the help of rmoov.com, we find contact information for each domain and submit link removal requests to their webmasters.
4. We disavow any remaining bad links through Search Console and submit reconsideration requests if necessary.
SEO Backlink Services Designed for Your Clients' Needs
Whether your client has already been penalized or you're being proactive, we have the right package.

Did your client hire a shady SEO guy in the past? Remedy your clients' backlink situation with our white label tools as a part of your SEO strategy.

Tumbling down the rankings or have a history of Webmaster warnings? Let us figure out what the problem is and disavow before it's too late.

Your client has already disappeared from the search rankings and there's an active Webmaster warning. The situation is dire and time to act.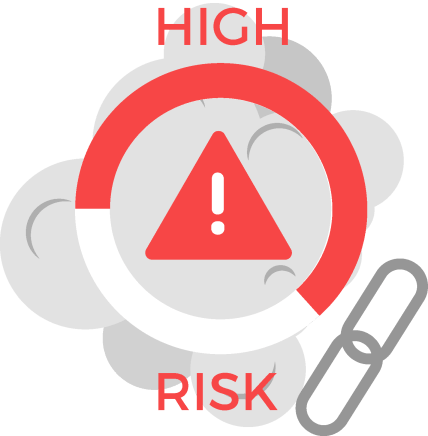 Manage The Risk Of Bad Links To Your
Clients' Sites
As of September 2016, Penguin is now a part of the Google algorithm crawling the web regularly.
This means that constantly monitoring your clients' links while simultaneously link building on high authority sites with natural anchor text is as important as ever.
With our Link Detox packages, your clients will have a powerful strategy against Google Penguin penalties
Backlink Cleanup is One Part of a Complete SEO Strategy
If you're looking to offer your clients a well-rounded SEO strategy, backlink cleanup will be a great addition to your services. Here are a few other products to consider.

Help your clients climb search rankings with our organic SEO services. Keyword research, on-page optimization, and more!

Put your clients in front of the people looking for what they offer! Highly targeted leads ready to buy from your clients!

Fully optimized WordPress sites that pass the eye test and more! Comes with compelling content and ad copy.
Don't Just Take Our Word For It…
"Loved what you did with our UK campaign and our guys in London are looking forward to our US campaign. You're rockstars."
"The staff is amazing and the technology shows my clients exactly what they need to see. SEOReseller.com allows us to resell SEO and is the key to our growing organization."
"A big shoutout to the SEOReseller contributors working on our campaigns. Our rankings are on an upward trend. Thanks guys!"
Frequently Asked Questions
We recommend that you have a link clean up when you suspect an algorithmic penalty or when there is an unnatural links warning in Search Console. A great way to determine if a link is unnatural, without the warning, is to ask yourself if a link actually brings quality traffic to your clients site. Also, is the link coming from a website or content that is related to your website? If the answer is no, it's unnatural. You can use Search Console to generally evaluate your backlinks
You'll only receive notification via Search Console in the case of a manual penalty. You will see the warning by clicking in the Manual Actions section of Search Traffic. If Google's algorithm found what it considered as bad links you will not receive a warning and will only know via a drop in the search rankings or with diligent link clean up. SEO Reseller has tools than can help identify if there is a problem.
We use our tools to reach out to webmasters and request link removal at least twice and we do so as politely as possible which is always the best method. Some links which Google considers unnatural are not actually bad links and some webmasters will take exception to the request. For these links and any others that refuse, don't respond or for some reason link removal is not possible, we disavow the links.
Penguin is a 2012 update to the Google algorithm, also known as PageRank, that determines the ranking on a search engine results page. It was specifically designed to find and punish sites that were using bad links usually acquired through shady SEO techniques such as paying for the links or using link building schemes. There were some sites that were not participating in shady SEO but nonetheless suffered as a result of the update.
Google's disavow tool allows webmasters to tell Google that they don't want Google's algorithm to consider specific incoming links when ranking their site. It's a great tool and using it is sufficient action in the case of a penalty from the Google algorithm. In the case of a manual penalty, which means someone at Google manually checked your site and found spammy or unnatural links, disavowing is not sufficient and you need to have the links removed or show that you attempted to do so. Actually having the bad links removed, rather than disavowing, is good practice in both cases.
There are two types of manual action penalties – site wide and partial. In both cases, it means that "a human reviewer has determined that pages on your site are not compliant with Google's webmaster quality guidelines," according to Google. Site wide manual action penalties are more serious because "flagged sites can be demoted or even removed entirely from Google search results."
Unfortunately, the time frame for recovery from a Google penalty varies case to case. Some sites are able to recover from a Google penalty in mere weeks while others take years to clean their backlink portfolio. Still others find the task too time consuming or impossible and abandon their sites altogether. Backlink cleanup and removal accompanied simultaneously by natural link building and creating compelling content for the site is the best approach.
Not necessarily but it could mean that black hat SEO has been used. There are also white hat SEO techniques, like backlinks in guests posts, that when used in excess could be considered bad links. Paid links and spam comments are definite black hat SEO techniques that will be discovered and penalized by Penguin. It can be difficult to determine what is good and what is bad. SEO Reseller can help determine if link removal is a good idea.
I Want To Offer A Complete SEO Solution!