Admit it — there may be a time when you sim­ply threw around stats to impress a prospect. It shouldn't be that way. The moment you open a con­ver­sa­tion with a prospect and talk about a prod­uct they have yet to under­stand is the moment you'll lose the sale.
But, not if you have a well thought out SEO pro­pos­al that makes it eas­i­er for your prospect to under­stand what impact your ser­vice can bring.
By study­ing the best prac­tices in sell­ing SEO and incor­po­rat­ing sales knowl­edge, we've cre­at­ed a tem­plate that will help con­sul­tants, estab­lished agen­cies, or those look­ing to start an SEO busi­ness stay on top of their prospect's mind. You'll find all the essen­tials here with our SEO pro­pos­al exam­ples and tem­plate that you can use to close your next client.
1. What Should Be in Your SEO Proposal?
Your SEO proposal is a sales instrument.
Sell­ing SEO ser­vices involves a lot of explain­ing to prospects about the nature of the work and the val­ue that a well-planned and well-exe­cut­ed SEO strat­e­gy brings to their busi­ness. But, not all sales­peo­ple win in this aspect of the con­ver­sa­tion. Some­times, it's all because of how their SEO pro­pos­al falls short.
Your SEO pro­pos­al is a sales instru­ment. Every sec­tion that goes into it should serve a pur­pose so clients can clear­ly under­stand the val­ue of your ser­vices and how it pos­i­tive­ly impacts their busi­ness. A well-craft­ed pro­pos­al should be able to address the fol­low­ing:
What can you do to address the client's prob­lems?
What will the client ben­e­fit from address­ing these prob­lems?
From the dif­fer­ent SEO agen­cies out there, why should they trust you?
If your pro­pos­al can address these ques­tions at a glance, it will be eas­i­er to hook prospects and guide them into mak­ing a deci­sion.
So, what goes into your SEO pro­pos­al tem­plate?
1.1. An Overview of Your SEO Proposal
The Overview sec­tion is the first thing that prospects will see when they read your SEO pro­pos­al. In most cas­es, this states the pur­pose of the pro­pos­al so you can set your clients' expec­ta­tions from the very start.
Here are a few tips when writ­ing the Overview sec­tion:
Be brief — Don't bom­bard your clients with too many facts at the start; you'll have plen­ty of oppor­tu­ni­ties to explain your ser­vice fur­ther in your pro­pos­al.
Be clear — Remem­ber that you're send­ing a pro­pos­al to peo­ple who might not have heard of SEO; avoid using too many jar­gons and stick to ver­biage your prospects under­stand.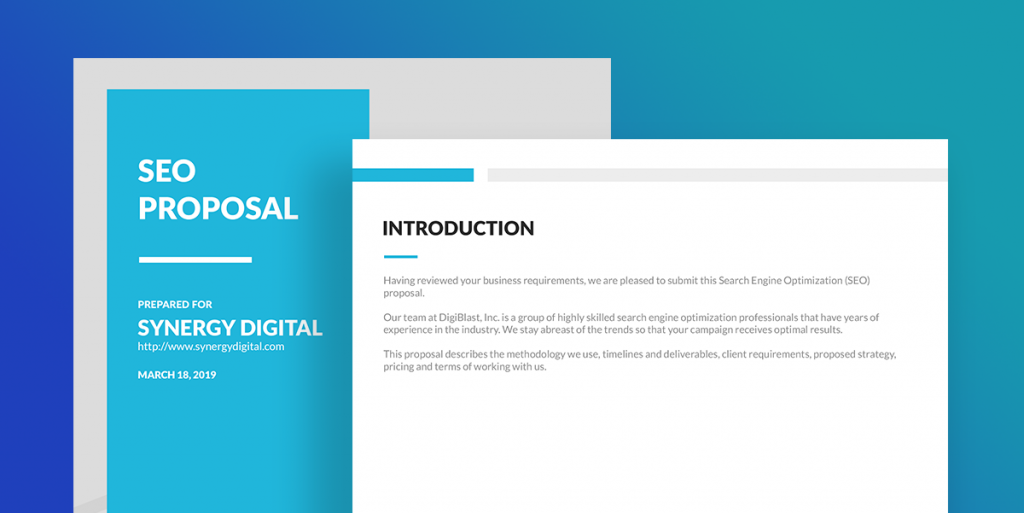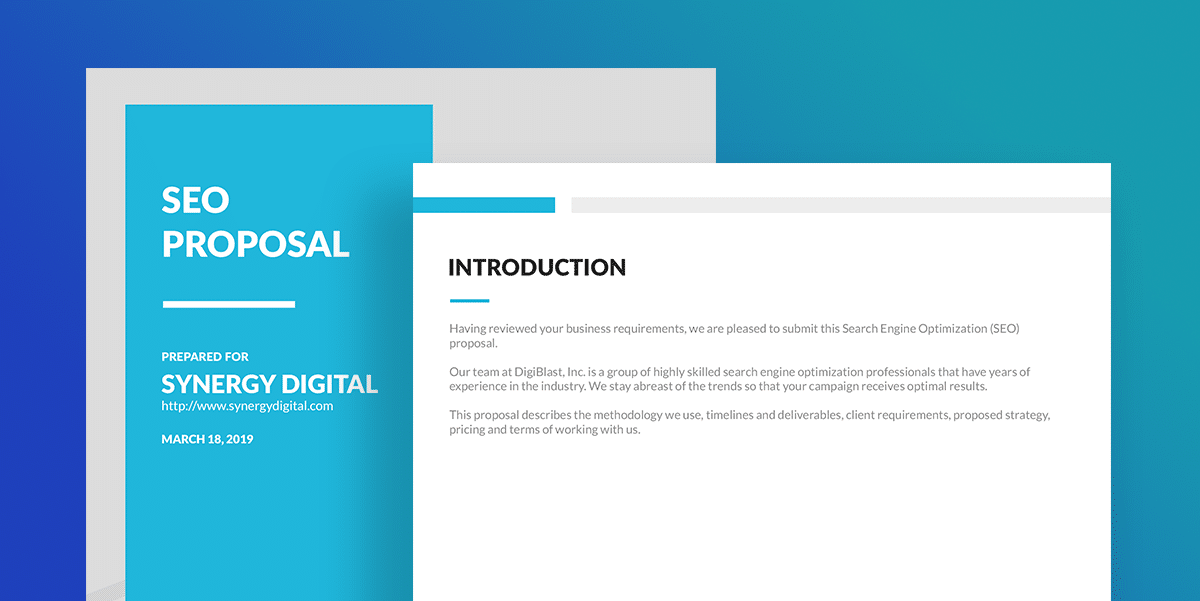 1.2. Background about Your Agency
Your pro­pos­al is part of your SEO pitch. Just like when you're pitch­ing your SEO ser­vice to a busi­ness, one of the first things you do is intro­duce your­self. Use this sec­tion to tell clients addi­tion­al infor­ma­tion about your agency. Sell your­self and give clients more rea­sons to work with you.
Some of the things you can include in this sec­tion are:
Core val­ues — Show them what prin­ci­ples dri­ve your agency to get results for clients.
Val­ue propo­si­tion — Indi­cate what sep­a­rates your agency from the rest and why clients should hire you for their SEO ser­vices. Do you offer pre­mi­um ser­vices at low­er rates? Do you spe­cial­ize in a spe­cif­ic aspect of dig­i­tal mar­ket­ing?
Cre­den­tials and accred­i­ta­tions — These are addi­tion­al ref­er­ences that you can lever­age to set your­self apart from oth­er agen­cies.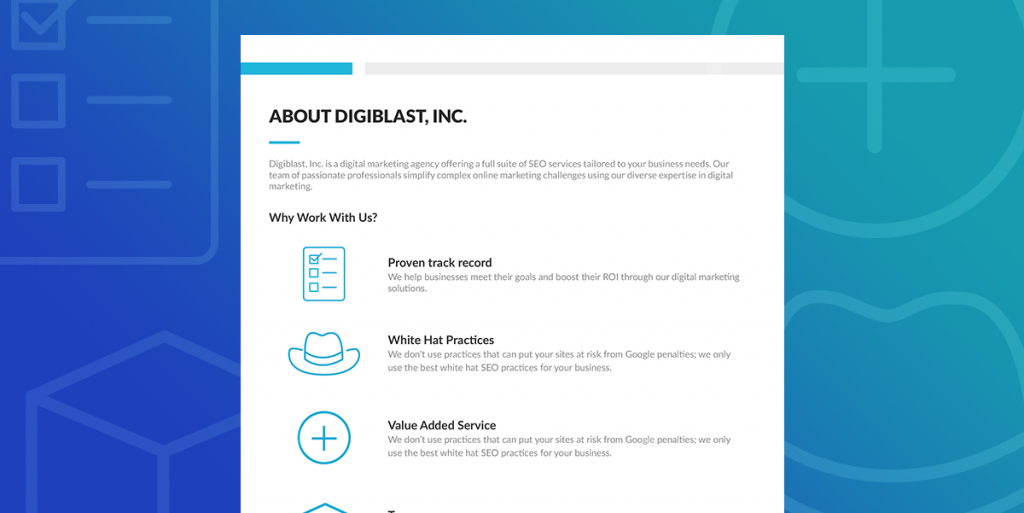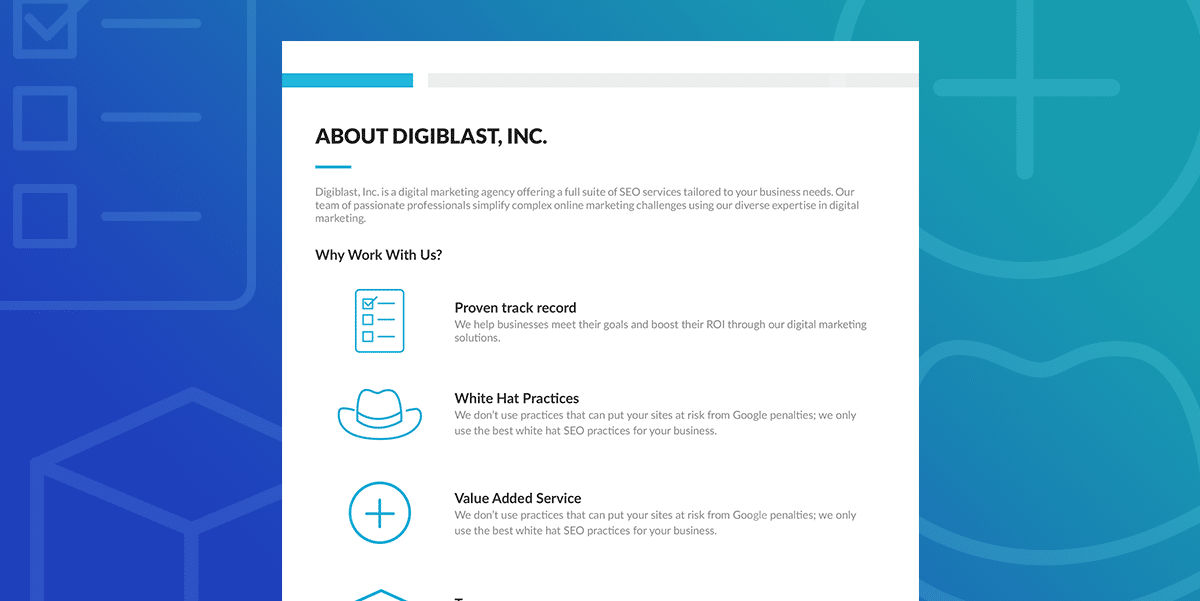 1.3. What is SEO and Why They Need It
Despite the grow­ing num­ber of busi­ness­es sub­scrib­ing to dig­i­tal mar­ket­ing ser­vices, a por­tion of the mar­ket still has lit­tle to no knowl­edge of SEO. Your pro­pos­al can also serve as a brief primer on what SEO is and how this helps a prospect's busi­ness.
This sec­tion is where you out­line the ben­e­fits of SEO and trans­late its val­ue in terms they can under­stand. It's impor­tant to make sure your clients under­stand that the ben­e­fits of SEO go beyond rank­ings; show them how this can affect their busi­ness in the long-term.
Start by high­light­ing the fol­low­ing basic val­ue propo­si­tions of SEO:
SEO helps in build­ing your author­i­ty online.
A strong organ­ic pres­ence helps you get more leads for your busi­ness.
With SEO, you can improve your brand's vis­i­bil­i­ty to your tar­get audi­ence.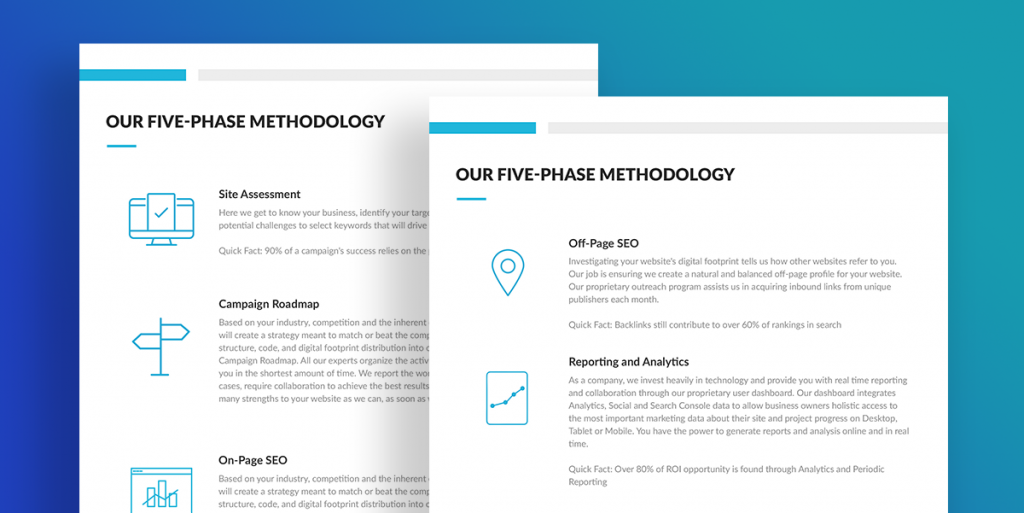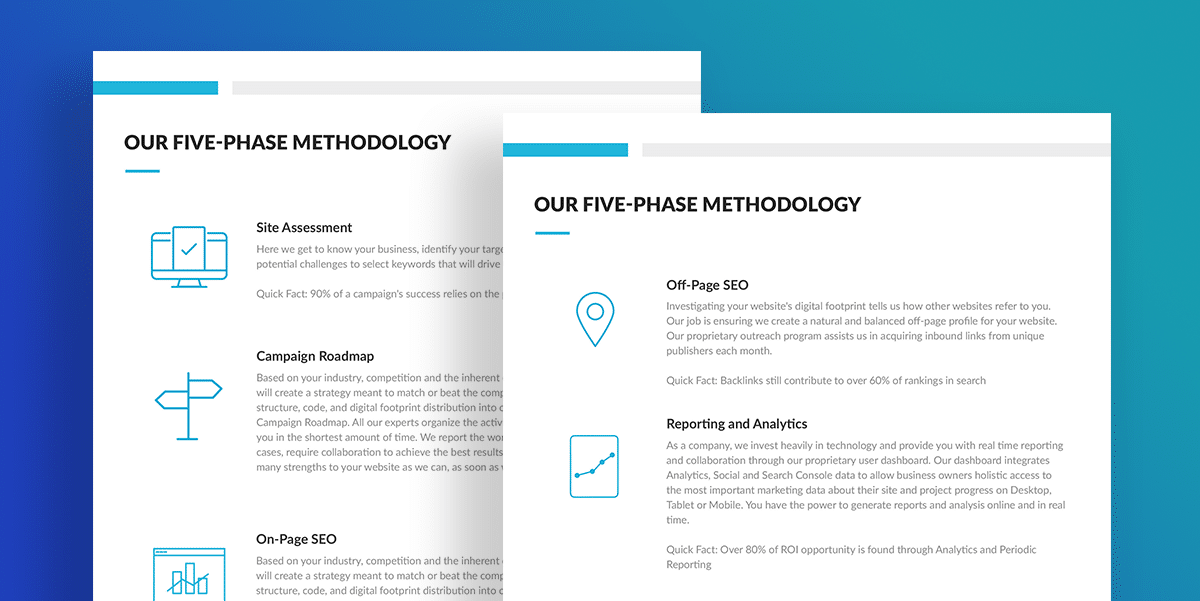 When iden­ti­fy­ing the ben­e­fits of SEO to your client, find the right angle by hit­ting dif­fer­ent val­ue propo­si­tions and see­ing what they have the great­est affin­i­ty to.
1.4. Your SEO Process Compiled as an SEO Strategy Template
It's time to talk about your action plan. Think of this as the meat of your con­ver­sa­tion. By div­ing into the specifics of your SEO strat­e­gy, you're show­ing clients a method­ol­o­gy that deliv­ers real results.
When using our SEO pro­pos­al tem­plate, you'll have the fol­low­ing activ­i­ties includ­ed in your process:
Web­site Assess­ment: What's the basis for your SEO strat­e­gy? It's good to start with an SEO web­site audit. A web­site assess­ment indi­cates how your agency iden­ti­fies the SEO needs of your client, as well as the goals of their busi­ness.
Cam­paign Roadmap: This shows the strat­e­gy devel­oped fol­low­ing the ini­tial assess­ment done on a client's web­site.
On-Page SEO: This includes the tech­ni­cal aspects that will be imple­ment­ed on the client's web­site to fur­ther improve their rank­ings.
Off-Page SEO: A com­pre­hen­sive SEO strat­e­gy comes in two-folds, and this aspect cov­ers the sec­ond part. Off-page SEO can include a wide array of activ­i­ties that sup­ple­ment your on-page efforts.
Report­ing and Ana­lyt­ics: One of the strengths that you should put for­ward when you're propos­ing SEO ser­vices is your abil­i­ty to trans­late your efforts into val­ue for a client's busi­ness. This aspect tells clients that you have the capa­bil­i­ty to report on the progress of their cam­paigns.
1.5. A Detailed Breakdown of Your Timeline and Deliverables
You want to set the expec­ta­tions of your clients and pro­vide them with a clear view of how their project will be pro­gress­ing. This is you sell­ing trans­paren­cy.
A detailed break­down of your time­line and deliv­er­ables can serve as the over­all fore­cast of their project, as well as your agency's respon­si­bil­i­ties and out­put in chrono­log­i­cal order. With these two mapped out in your pro­pos­al, you can:
Help your clients visu­al­ize what you can bring to the table;
Rein­force your client's con­fi­dence in your solu­tions and;
Boost trust fac­tor of work­ing with your agency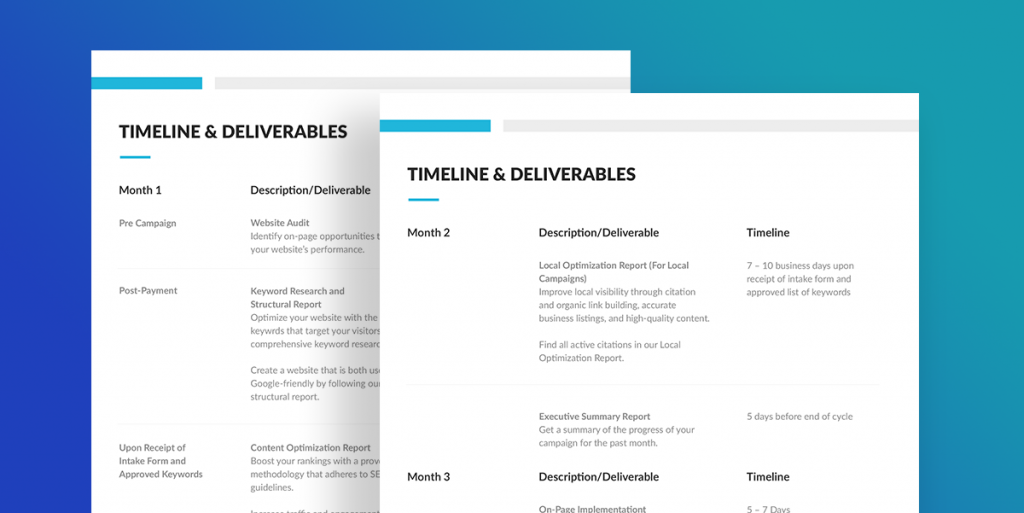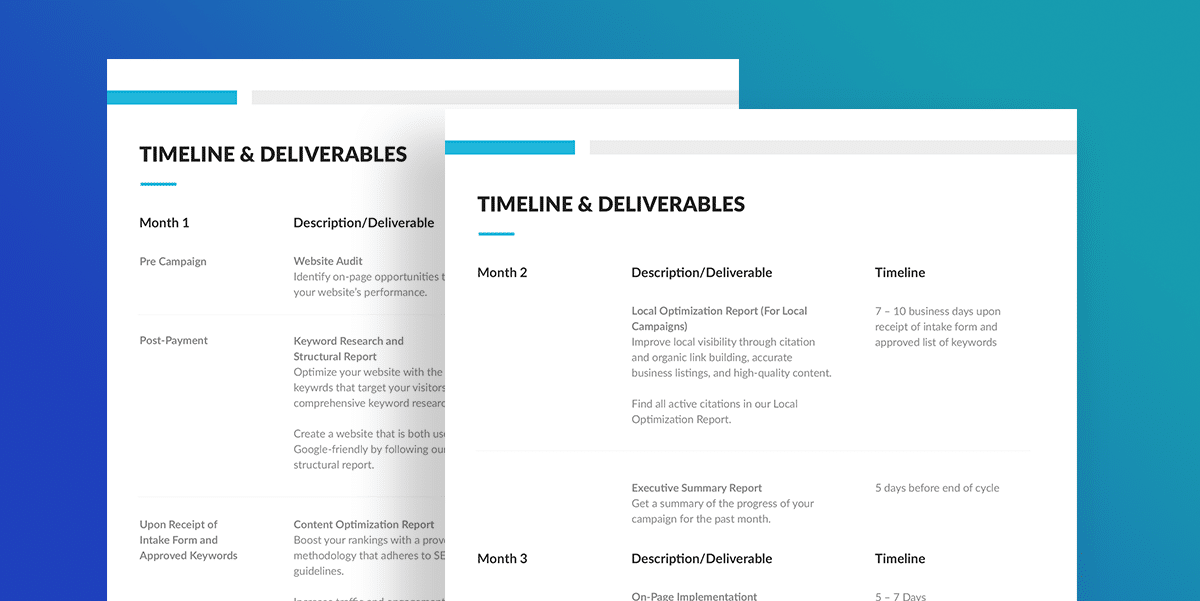 1.6. What They Need to Get Started
The ulti­mate goal of an SEO pro­pos­al is to prompt clients to sign up with your service—in short, you need to have a call to action to get them on board.
By let­ting your clients know what you need from them to get start­ed, you're sub­tly get­ting a com­mit­ment from them and telling them how to move for­ward with their cam­paign. This sec­tion doesn't require much space on your SEO pro­pos­al. You sim­ply need to list down what you need from clients clear­ly and con­cise­ly to avoid any con­fu­sion. At the very least, be sure to add the fol­low­ing to the client require­ments:
A com­plete brief that has back­ground details about the client's busi­ness
Any access to emails linked to exist­ing accounts, such as Google Ana­lyt­ics and Google Search Con­sole
Cre­den­tials for their web­site
A signed agree­ment for your SEO ser­vice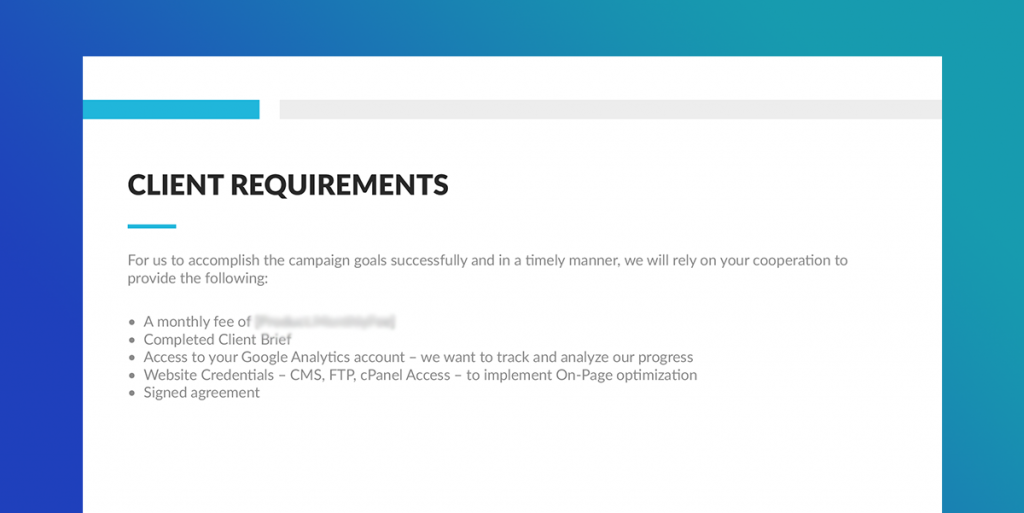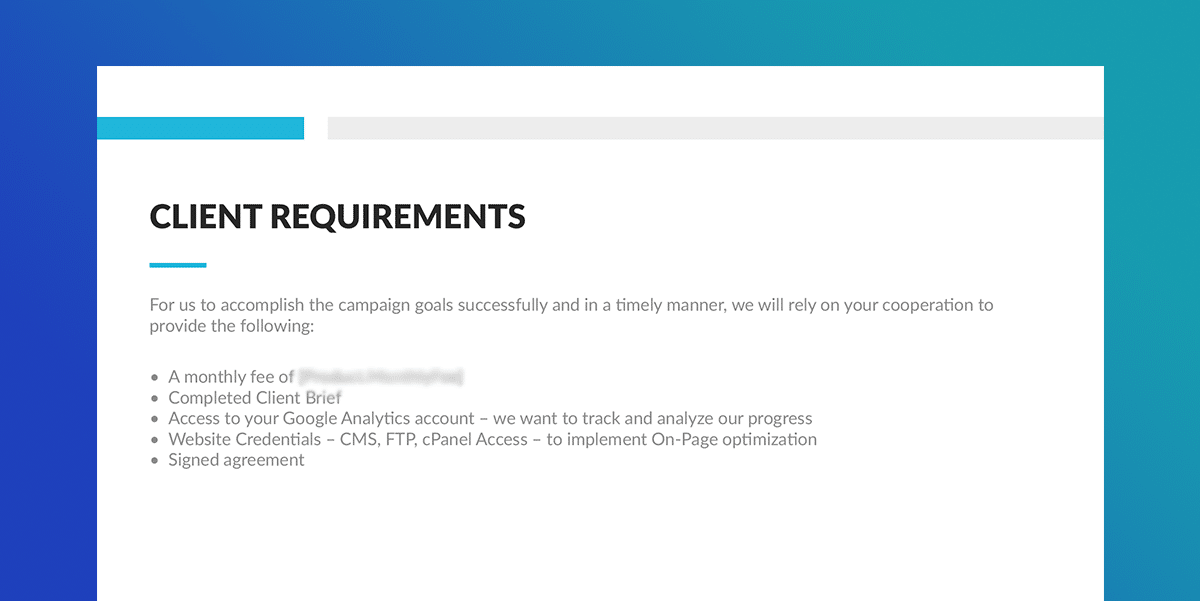 1.7. Social Proof and Testimonials
If your prospect needs a lit­tle more con­vinc­ing, don't be too shy to throw some social proof­ing and tes­ti­mo­ni­als from clients you've worked with. This is your time to brag about the work you've done for pre­vi­ous clients and show them how your ser­vice has an impact on their busi­ness.
2. How to Start Selling with Your SEO Proposal
A great SEO pro­pos­al can stand alone and sell itself. But to get that extra push your prospects need to close, you'll need the extra sales ammu­ni­tion through ample prepa­ra­tion:
Research About Your Prospects
Remem­ber Step 0? Don't skip it.
Doing prep can make a big dif­fer­ence in how you posi­tion your agency when pitch­ing to SEO prospects. If you haven't done your home­work and tak­en the time to know their needs and busi­ness, you'll have a less effec­tive pitch.
As part of your prep, be sure to note the fol­low­ing:
Back­ground about the clien­t's busi­ness and indus­try
Rea­sons they're look­ing for an SEO agency
Goals they want to achieve with their dig­i­tal mar­ket­ing efforts
Pitch It Like You're Telling A Story
The most effec­tive way of pitch­ing with your SEO pro­pos­al is through sto­ry­telling. Notice how the pro­pos­al above is arranged in a log­i­cal man­ner and doesn't sim­ply jump to the time­line and deliv­er­ables sec­tion.
When you pitch using an SEO pro­pos­al, don't jump into the details of your ser­vice with­out explain­ing the val­ue it offers. If you do, you're giv­ing prospects an oppor­tu­ni­ty to jump into objec­tions ear­ly on. Let your clients view them­selves as the "hero" and you're there to help them strate­gize and exe­cute the SEO plan that enables them to win more busi­ness.
Provide Supplementary Documentation
Ever heard of a pitch kit? Be sure to have one pre­pared. This should include impres­sive mar­ket­ing mate­ri­als that you can use to sup­ple­ment your pro­pos­als, such as a case study, a white paper, or even an info­graph­ic. Our down­load­able pitch kit comes bun­dled with an SEO pro­pos­al sam­ple, case study, and pitch deck. The more mate­ri­als you have on hand, the eas­i­er it will be for you to show­case exper­tise.
3. Pitch and Repeat
Pitch­ing your SEO ser­vices should be as easy as count­ing 1, 2, 3, and you can do so with a well-writ­ten pro­pos­al on hand. You don't have to start from scratch — that's what this tem­plate is for!
If you're stuck with a pro­pos­al that doesn't con­vert, now's the per­fect time to switch to this SEO pro­pos­al tem­plate. Cre­ate one using our Pro­pos­al Builder—it's easy to use and high­ly cus­tomiz­able. Sign up, see how it works, and tell us how your pitch goes!