Admit it – there may be a time when you simply threw around stats to impress a prospect. It shouldn't be that way. The moment you open a conversation with a prospect and talk about a product they have yet to understand is the moment you'll lose the sale.
But, not if you have a well thought out SEO proposal that makes it easier for your prospect to understand what impact your service can bring.
By studying the best practices in selling SEO and incorporating sales knowledge, we've created a template that will help consultants, established agencies, or those looking to start an SEO business stay on top of their prospect's mind. You'll find all the essentials here with our SEO proposal examples and template that you can use to close your next client.
1. What Should Be in Your SEO Proposal?
Your SEO proposal is a sales instrument.
Selling SEO services involves a lot of explaining to prospects about the nature of the work and the value that a well-planned and well-executed SEO strategy brings to their business. But, not all salespeople win in this aspect of the conversation. Sometimes, it's all because of how their SEO proposal falls short.
Your SEO proposal is a sales instrument. Every section that goes into it should serve a purpose so clients can clearly understand the value of your services and how it positively impacts their business. A well-crafted proposal should be able to address the following:
What can you do to address the client's problems?
What will the client benefit from addressing these problems?
From the different SEO agencies out there, why should they trust you?
If your proposal can address these questions at a glance, it will be easier to hook prospects and guide them into making a decision.
So, what goes into your SEO proposal template?
1.1. An Overview of Your SEO Proposal
The Overview section is the first thing that prospects will see when they read your SEO proposal. In most cases, this states the purpose of the proposal so you can set your clients' expectations from the very start.
Here are a few tips when writing the Overview section:
Be brief – Don't bombard your clients with too many facts at the start; you'll have plenty of opportunities to explain your service further in your proposal.
Be clear – Remember that you're sending a proposal to people who might not have heard of SEO; avoid using too many jargons and stick to verbiage your prospects understand.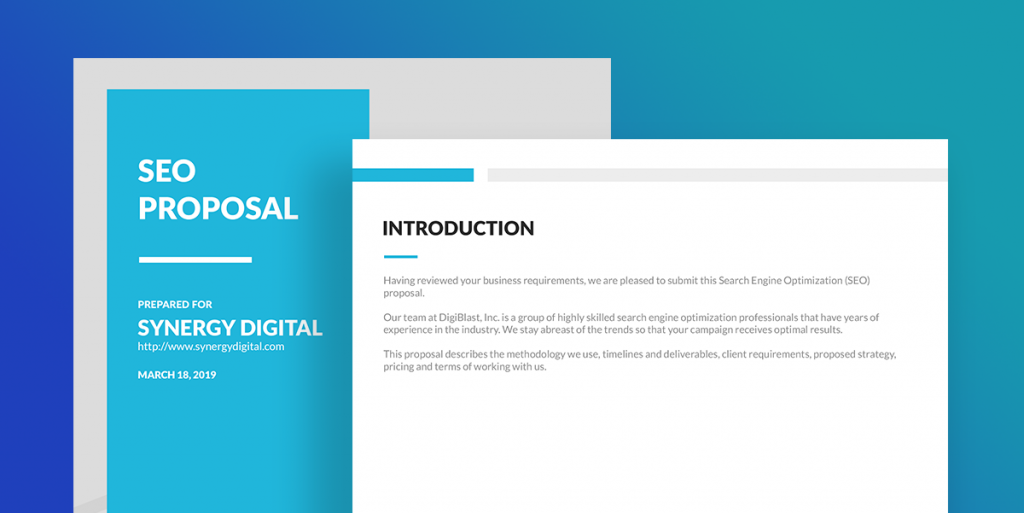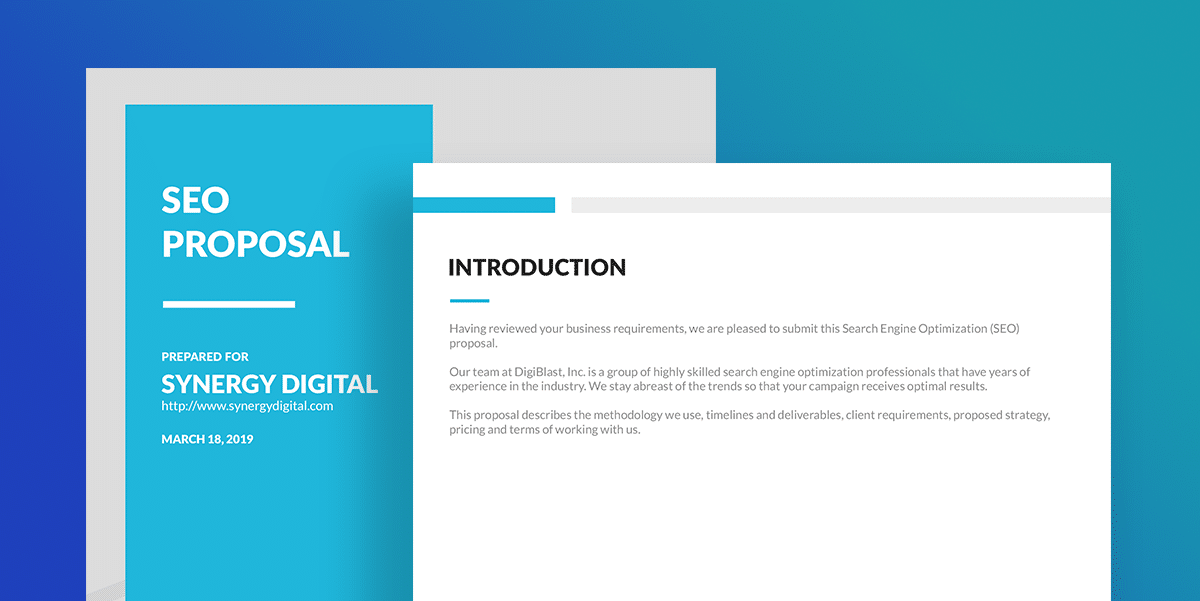 1.2. Background about Your Agency
Your proposal is part of your SEO pitch. Just like when you're pitching your SEO service to a business, one of the first things you do is introduce yourself. Use this section to tell clients additional information about your agency. Sell yourself and give clients more reasons to work with you.
Some of the things you can include in this section are:
Core values – Show them what principles drive your agency to get results for clients.
Value proposition – Indicate what separates your agency from the rest and why clients should hire you for their SEO services. Do you offer premium services at lower rates? Do you specialize in a specific aspect of digital marketing?
Credentials and accreditations – These are additional references that you can leverage to set yourself apart from other agencies.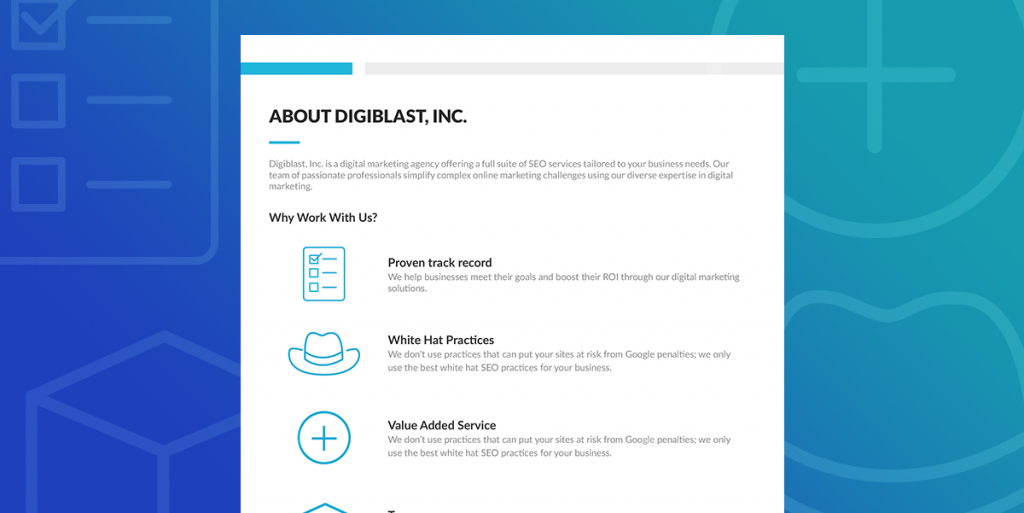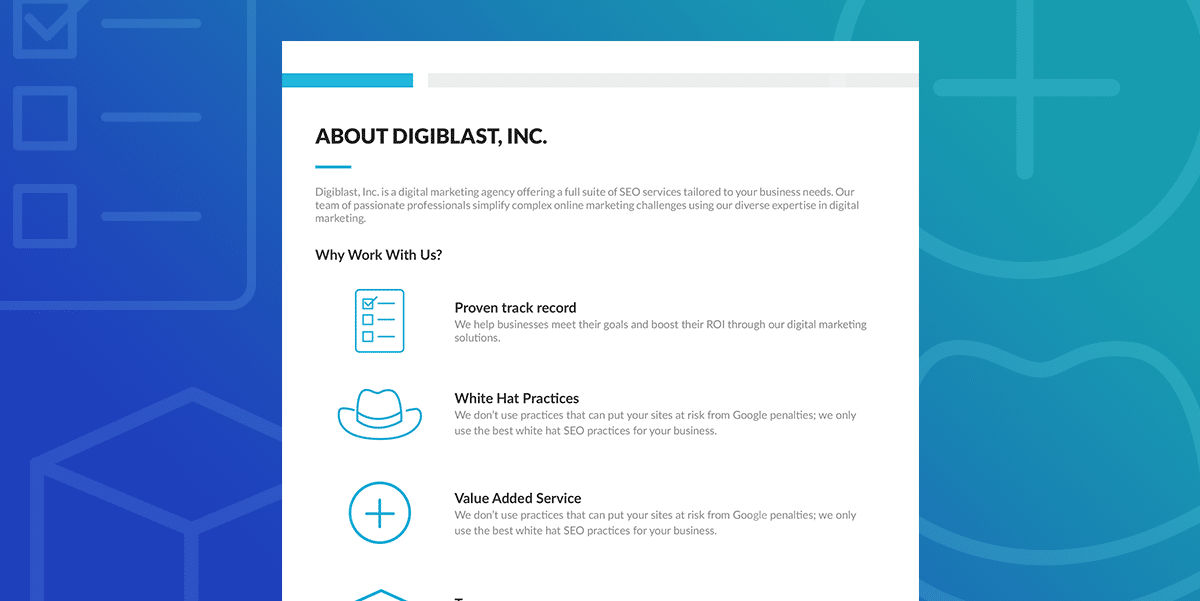 1.3. What is SEO and Why They Need It
Despite the growing number of businesses subscribing to digital marketing services, a portion of the market still has little to no knowledge of SEO. Your proposal can also serve as a brief primer on what SEO is and how this helps a prospect's business.
This section is where you outline the benefits of SEO and translate its value in terms they can understand. It's important to make sure your clients understand that the benefits of SEO go beyond rankings; show them how this can affect their business in the long-term.
Start by highlighting the following basic value propositions of SEO:
SEO helps in building your authority online.
A strong organic presence helps you get more leads for your business.
With SEO, you can improve your brand's visibility to your target audience.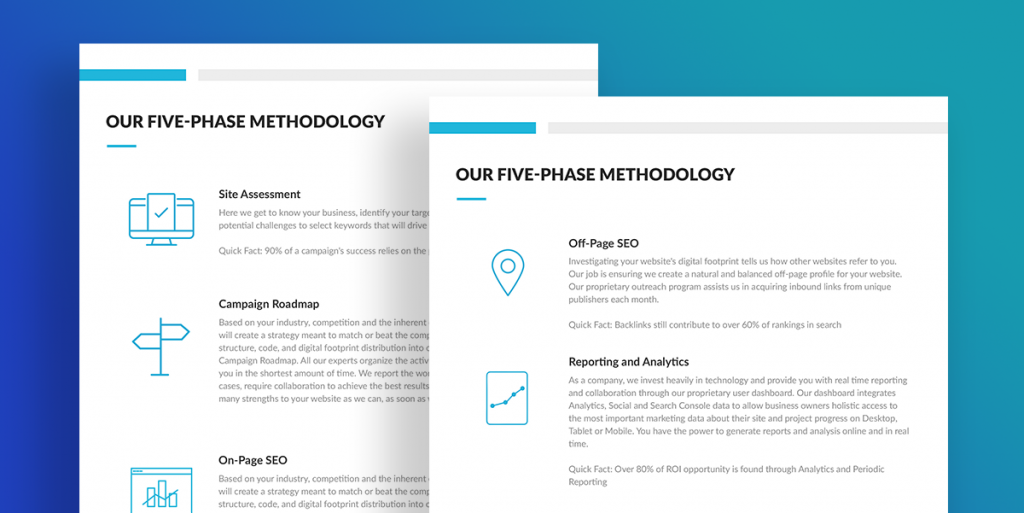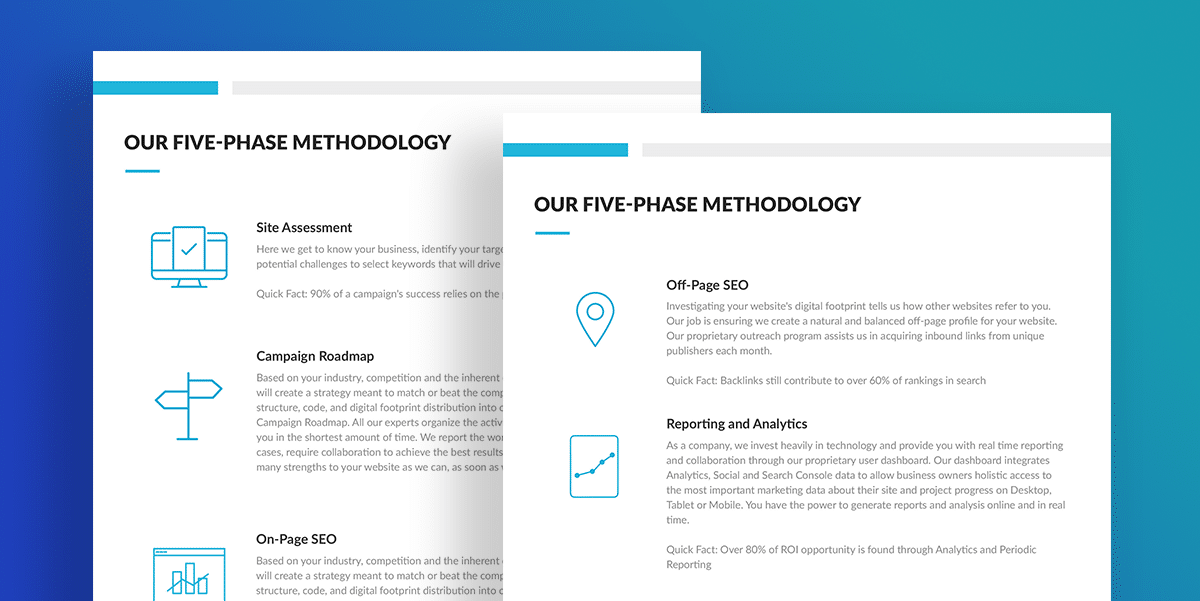 When identifying the benefits of SEO to your client, find the right angle by hitting different value propositions and seeing what they have the greatest affinity to.
1.4. Your SEO Process Compiled as an SEO Strategy Template
It's time to talk about your action plan. Think of this as the meat of your conversation. By diving into the specifics of your SEO strategy, you're showing clients a methodology that delivers real results.
When using our SEO proposal template, you'll have the following activities included in your process:
Website Assessment: What's the basis for your SEO strategy? It's good to start with an SEO website audit. A website assessment indicates how your agency identifies the SEO needs of your client, as well as the goals of their business.
Campaign Roadmap: This shows the strategy developed following the initial assessment done on a client's website.
On-Page SEO: This includes the technical aspects that will be implemented on the client's website to further improve their rankings.
Off-Page SEO: A comprehensive SEO strategy comes in two-folds, and this aspect covers the second part. Off-page SEO can include a wide array of activities that supplement your on-page efforts.
Reporting and Analytics: One of the strengths that you should put forward when you're proposing SEO services is your ability to translate your efforts into value for a client's business. This aspect tells clients that you have the capability to report on the progress of their campaigns.
1.5. A Detailed Breakdown of Your Timeline and Deliverables
You want to set the expectations of your clients and provide them with a clear view of how their project will be progressing. This is you selling transparency.
A detailed breakdown of your timeline and deliverables can serve as the overall forecast of their project, as well as your agency's responsibilities and output in chronological order. With these two mapped out in your proposal, you can:
Help your clients visualize what you can bring to the table;
Reinforce your client's confidence in your solutions and;
Boost trust factor of working with your agency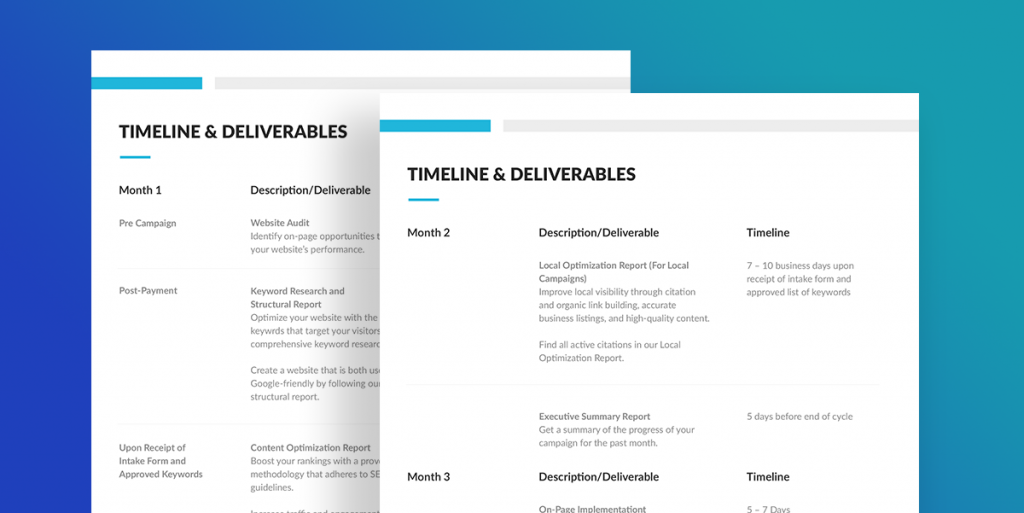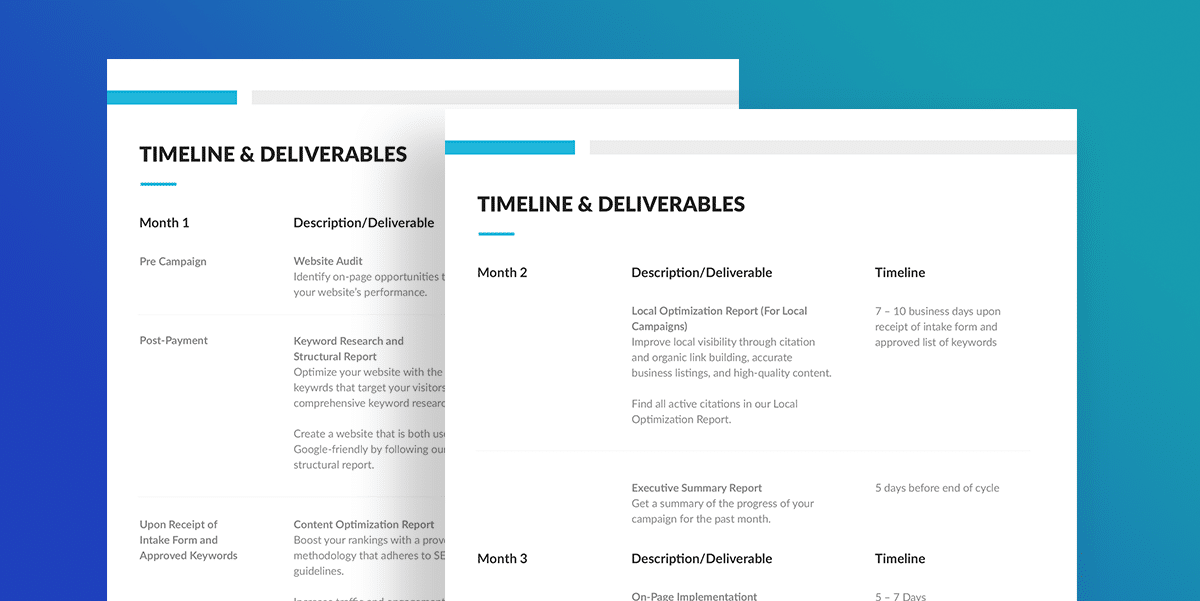 1.6. What They Need to Get Started
The ultimate goal of an SEO proposal is to prompt clients to sign up with your service—in short, you need to have a call to action to get them on board.
By letting your clients know what you need from them to get started, you're subtly getting a commitment from them and telling them how to move forward with their campaign. This section doesn't require much space on your SEO proposal. You simply need to list down what you need from clients clearly and concisely to avoid any confusion. At the very least, be sure to add the following to the client requirements:
A complete brief that has background details about the client's business
Any access to emails linked to existing accounts, such as Google Analytics and Google Search Console
Credentials for their website
A signed agreement for your SEO service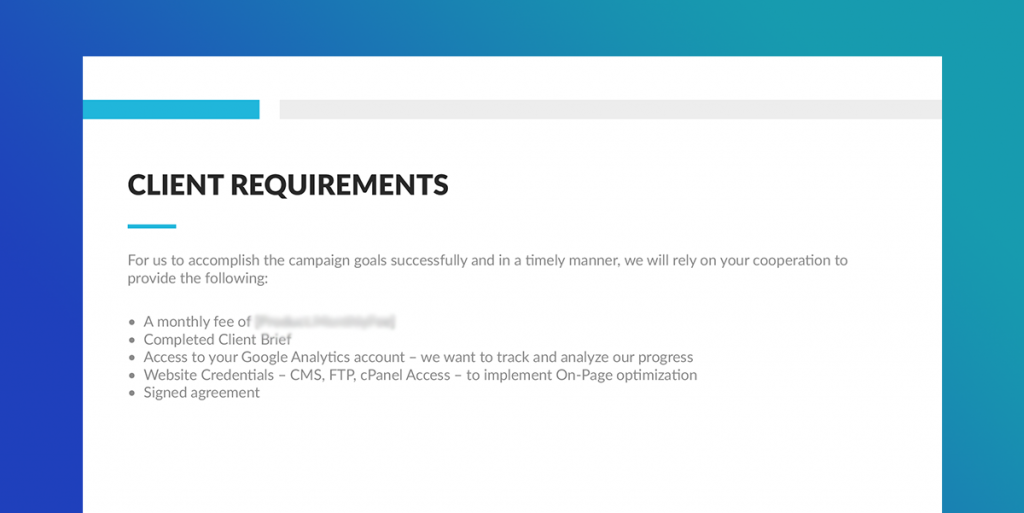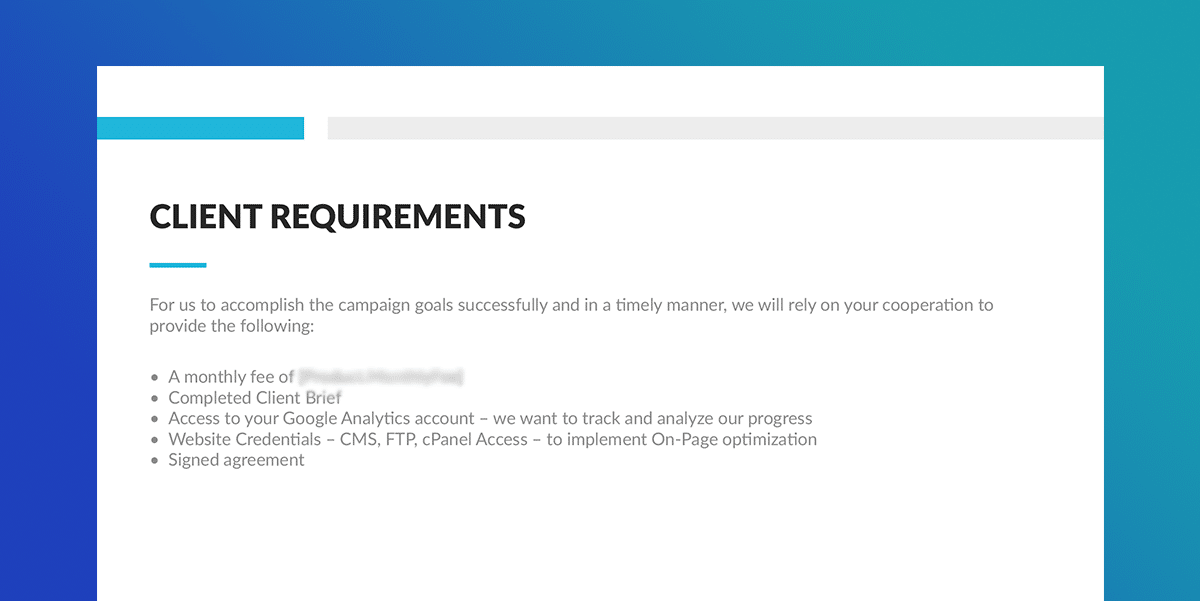 1.7. Social Proof and Testimonials
If your prospect needs a little more convincing, don't be too shy to throw some social proofing and testimonials from clients you've worked with. This is your time to brag about the work you've done for previous clients and show them how your service has an impact on their business.
2. How to Start Selling with Your SEO Proposal
A great SEO proposal can stand alone and sell itself. But to get that extra push your prospects need to close, you'll need the extra sales ammunition through ample preparation:
Research About Your Prospects
Remember Step 0? Don't skip it.
Doing prep can make a big difference in how you position your agency when pitching to SEO prospects. If you haven't done your homework and taken the time to know their needs and business, you'll have a less effective pitch.
As part of your prep, be sure to note the following:
Background about the client's business and industry
Reasons they're looking for an SEO agency
Goals they want to achieve with their digital marketing efforts
Pitch It Like You're Telling A Story
The most effective way of pitching with your SEO proposal is through storytelling. Notice how the proposal above is arranged in a logical manner and doesn't simply jump to the timeline and deliverables section.
When you pitch using an SEO proposal, don't jump into the details of your service without explaining the value it offers. If you do, you're giving prospects an opportunity to jump into objections early on. Let your clients view themselves as the "hero" and you're there to help them strategize and execute the SEO plan that enables them to win more business.
Provide Supplementary Documentation
Ever heard of a pitch kit? Be sure to have one prepared. This should include impressive marketing materials that you can use to supplement your proposals, such as a case study, a white paper, or even an infographic. Our downloadable pitch kit comes bundled with an SEO proposal sample, case study,  and pitch deck. The more materials you have on hand, the easier it will be for you to showcase expertise.
3. Pitch and Repeat
Pitching your SEO services should be as easy as counting 1, 2, 3, and you can do so with a well-written proposal on hand. You don't have to start from scratch – that's what this template is for!
If you're stuck with a proposal that doesn't convert, now's the perfect time to switch to this SEO proposal template. Create one using our Proposal Builder—it's easy to use and highly customizable. Sign up, see how it works, and tell us how your pitch goes!