Businesses have witnessed the power of SEO, and it's enough to convince them to start hiring more SEO professionals. 
In this age where businesses are banking on digital presence, SEO consulting can be a lucrative career. So, here's the big question: how do you become one? 
Like any other profession in the digital marketing industry, becoming a search engine marketing consultant doesn't happen overnight. And let me say this to set expectations if you're planning to pursue a career in SEO consulting – it's not a walk in the park, but definitely achievable.  
We've witnessed how SEO consultants with no prior experience in digital marketing singlehandedly flourished their SEO business and cemented their success. It's become our mission to do the same for you. 
Combining the years of experience of our SEO specialists, insights from seasoned SEO agency owners, and the teachings of digital marketing gurus, we share the fundamentals of becoming an SEO consultant. 
1. Understand the Role of an SEO Consultant
What does an SEO consultant do?
Is it any different from being an SEO specialist? 
The term consultant is often associated with self-employed individuals who provide services for businesses. A consultant may partner with a digital marketing agency to supplement their service offerings or work in a consultancy agency alongside other consultants or SEO experts. 
Primary Roles of an SEO Consultant
SEO consultants often provide a specialized service to fulfill the needs of a business. It can be technical SEO, SEO content writing and marketing, or link building. 
When working with clients, their core responsibilities may include:
Formulate tailor-made SEO strategies that align with the goals and needs of a client's business.

Identify key performance indicators for an SEO campaign's success.

Determine online growth opportunities for clients.

Recommend improvements in current SEO processes and other digital marketing strategies. 

Provide training and guidance for a business' internal marketing team to ensure the continued effectiveness of SEO strategies. 
In some cases, SEO consultants do the execution on behalf of the client if they have no specialist or internal resources to implement their strategies. But overall, consultants are responsible for advising clients on what works best for their business.
While some may say an SEO consultant is like being a jack of all trades, you can think of this position as the brain behind the operation. 
Becoming an SEO consultant helps you transition into more advanced roles and further build your expertise. The work allows you to become a more well-rounded SEO professional. 
Project-based or Hourly SEO Consultant Services?
This depends on your capabilities of handling SEO projects – which we will dive into later on. 
Some search engine marketing consultants offer project-based services, often diving into an advisory position and purely lending expertise without handling the actual implementation. Project-based SEO consultants may work for a brief period or have an extended contract, depending on the performance and needs of the client's SEO. 
Hourly basis SEO consulting, on the other hand, often involves consultants working with marketing departments of businesses. Think of the work as a being a contributor. A professional SEO consultant may guide the marketing team into making informed decisions and help the business increase website rankings. 
2. Start Your SEO Consultant Training
Given the multifunctional role of SEO consultants, becoming a top tier consultant means dedicating time in training. 
SEO certification serves as a badge of credibility and trust, so clients know your SEO services are backed up by your knowledge and experience. 
Where to Get SEO Training
The good news is most of the SEO certification courses are free. Plus, you have tons of resources to provide you with more in-depth information on SEO and other aspects of digital marketing. 
An essential part of being a professional SEO consultant is knowing how to read data. 
For this, you have Google's Analytics Academy courses. Browse through the different modules and learn about how you can maximize Google products, such as Google Analytics,  Google Data Studio, and Google Tag Manager.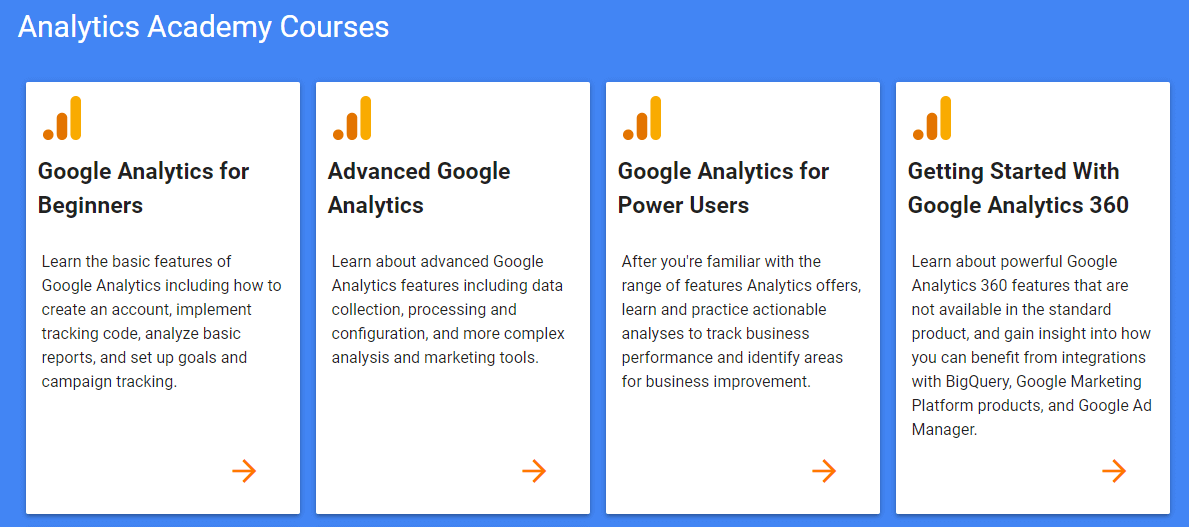 Whether you're a beginner or simply trying to refresh your knowledge, Google's Analytics Academy courses provide a treasure-trove of information to jumpstart your SEO consulting career. 
When it comes to inbound marketing, sales, and other digital marketing topics, Hubspot Academy can provide you with the fundamentals. 
Hubspot Academy has a database of courses for beginners and seasoned marketers alike. The courses are comprehensive with practical applications and downloadable resources, such as templates or learning materials.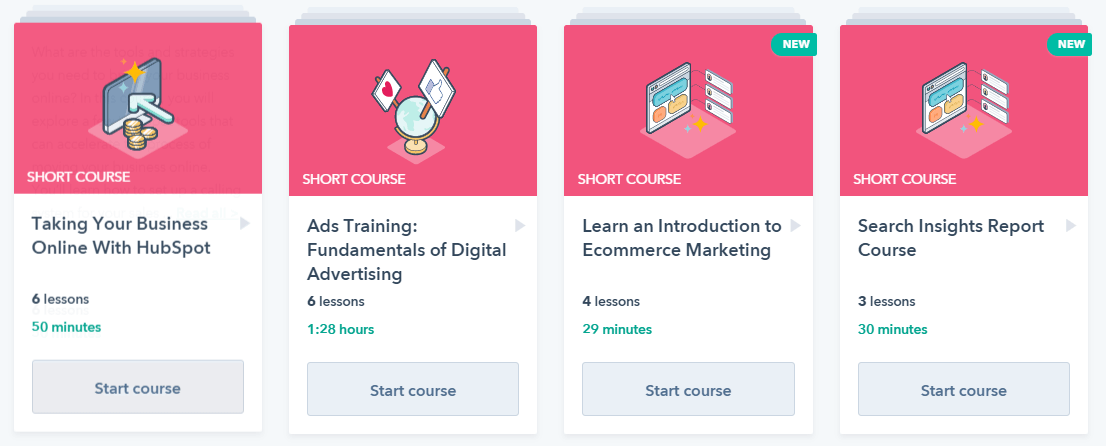 The best thing about Hubspot Academy is you'll receive certification badges that are recognized globally. Once you have them, you can attach them to your LinkedIn profile or website, and display them like a badge of honor. 
If you're looking to improve your diverse digital skills, give Udemy's online courses a shot. Udemy has thousands of courses by digital marketing experts for different topics – from marketing and sales to business and leadership. 
Most courses also provide additional resources for further reading, while some have activities that you need to complete. The courses come with a fee, so it's best to start with the most relevant ones for your SEO consulting needs.  
Pro-tip: The best SEO consultant is one who spends time refining their skills. Give yourself at least two hours a day reading and learning about new SEO skills. The more you master SEO, the better you can provide SEO consulting services. 
3. Improve Your Project Management Skills
The multiple responsibilities that come with being an SEO consultant call for efficient project management. 
But why project management? 
Most people think the work of an SEO consultant is limited to providing technical expertise. In reality, working in SEO requires some form of mastery in project management. How else can you advise clients on how to deliver a reasonable timeline for their SEO projects? 
How to Handle SEO Consulting Projects
As a search engine marketing consultant, you'll likely be collaborating with different contributors or presenting SEO reports to a company's stakeholders. To ensure consistent implementation of SEO strategies and delivery, be sure to have the following in place:
Track Your Hours
If you're working on an hourly basis, you need to make sure every minute is well spent and you're allotting efforts into activities that make the most impact. 
Remember the Pareto principle: Do 20% on the things that will provide 80% of the results. 
Tracking the hours you spent on an SEO project shows transparency and provides your clients with a better understanding of how your SEO consulting works. 

But, don't make it complicated. Use a tracking tool so you have more control over how you manage your time. 
Timely

Dashable

Hubstaff

TimeDoctor

TimeTrack

Clockify
Collaborate with Contributors
While SEO consultants need to fulfill multiple roles, you need to understand that you can't do everything on your own. Most professional search consultants work in teams, but if you're going solo, you need collaborators. 
The results of any SEO project depends on how well you collaborate with your contributors. As a consultant, you may not necessarily directly oversee what individual contributors provide and may only serve as a supplemental role. Nonetheless, it's best to stay organized to avoid bottlenecks. 
Here are a few pointers when collaborating with contributors for your SEO consulting projects:
Start with having a project management platform:

It's better to see what's completed and what needs to be done if you have a platform to track every activity. We recommend Trello, Basecamp, or Asana. 

Keep communication lines open:

Communication is key. We can't stress this enough. We've seen how projects succeeded because of how contributors are always bouncing ideas and providing updates on the status of their work. 

Be organized:

Have a marketing communications folder that serves as a repository of the important files you need to share with contributors. This minimizes the menial back-and-forth.  
As you start getting more clients for your SEO consulting business and strategies become more complex, learning project management will provide you with the extra leverage. 
4. Build Better, Stronger Client Relationships
The work of an SEO consultant doesn't stop at providing strategies. If you're working with a digital marketing agency as their consultant for B2B clients, you need to provide support in how they retain client relationships. 
The same applies if you're a solo SEO consultant—you need to talk to clients at their level of understanding so they know the value of your SEO service. 
Set Expectations from the Get-go
This one is pretty basic, but not many search marketing consultants realize the importance of this. 
Many consultants – especially those with no prior experience in SEO – tend to become a "yes" man and agree with what their clients want. It's a trap you should avoid. 
As the consultant, you should be the one laying down the cards on the table and guiding the clients in making more informed decisions. This involves establishing clear timelines and line items. 
Pro-tip: Prepare an SEO proposal that outlines all the deliverables, schedules, and requirements to ensure you and your client are on the same page. 
Establish a Cadence of Communicating with Clients
No matter what kind of news you have, your clients will appreciate it more if they find out about it from you. 
Maintaining a cadence of communicating with clients is important, especially if time is of the essence. Schedule catch-up calls that help you align with contributors and clients on how the project is progressing. 
But, how often do you need to do these catch-ups? It depends on the work, the team, and your client's needs. Following the initial meeting with your clients, your catch-ups can be:
Weekly: Provide a general update on the progress and discuss tasks to be completed or any potential roadblocks. 
Monthly:

Discuss where you are in the timeline and present SEO reports to show if the strategy needs adjustments.

End of the Project:

If you're a project-based consultant, arrange a meeting with the client to discuss what was done and the overall results.
Pro-tip: Make the most of every catch-up call. Set an agenda and send this to your client so they can also come prepared with their questions during the meetings.  
5. Work on Your Own Publicity
Working as an SEO professional, not ranking nor even working on making your SEO consulting business visible can say a lot about your capabilities. 
You need to show that you can walk the talk, and that starts by building your brand as an SEO consultant. You want to get as many qualified SEO leads as possible, and you can't do that if you're not there when they search for your business. 
Maintain a Consistent Online Presence
This is a given. 
Where you rank on search results serves as a demonstration of your ability to develop effective SEO strategies. 
Optimize your website. It's your business card to get more clients. Set up lead magnets on your website that visitors can download while getting their contact information. This helps you get more leads with your website, while also providing value right there and then. 

Install our free WordPress plugin to activate the Site Audit Widget that enables you to provide SEO audits to every visitor, or use OptinMonster to make your lead magnets stand out. 
Pro-tip: If your audience needs a bit of convincing, use remarketing banners that lead visitors to a landing page where they can download the lead magnet and leave their contact information. 
Be Ready to Promote Offline 
Despite the rise of digital marketing, there's still room for traditional marketing. SEO consultants often engage in events where they can build their network of potential clients, while also forming potential partnerships with other professionals. 
Here are a few ways to get your SEO consulting brand out there:
Be a speaker at a conference:

T

he best SEO consultants are those who can preach effective SEO strategies while practicing it themselves. Joining conferences as a speaker builds your foundation into being a full-fledged SEO expert. 

Provide value on the spot:

It's the digital age. With just your mobile device, you can send an

SEO audit

to prospects you meet during events. 

Use your professional network:

If you're part of industry groups, use this to get as many handshakes as possible. Referrals from your professional network help you promote your SEO consulting services while getting fresh leads. 
One Last Piece of Advice
There's no shortcut to becoming an SEO consultant. 
It's a matter of knowing your core responsibilities, refining your skills, building the right processes to make work efficient, and, of course, building your own brand as an SEO consultant. 
All of these don't happen on a whim.
With how digital marketing is on an upward trajectory, there's no better time than now to become an SEO consultant. Don't worry—we leave you with the tips above so you can cement your success as a search marketing consultant.