A Quick and Easy Way to Create and Send Proposals
No need to spend an entire day designing proposals from scratch. Our Proposal Builder will do the work for you.
Customized Designs
Easy Navigation
Display Product Quotations
Direct Email to Prospects
The Proposal Builder takes away the extra work for your agency, so you can create proposals without too much back-and-forth and start pitching more confidently.
With the online Proposal Builder, you can easily add or remove digital marketing products you want to pitch to prospects, edit pricing, and provide quotations.
Design the proposal with your agency's background, logo, and color scheme to complete the look. It's a tool that helps you seal the deal.
Grab the Opportunity to Grow Your Business
Grow your agency with premium tools, digital marketing expertise, and resources. We're here to provide you with the extra push.
Our Solutions to Help You Sell Better
Different Products, Different Proposals – One Tool
Planning to sell SEO? Need a proposal for your website design services? The Proposal Builder provides your team with the tool to create and send proposals that will win you that pitch.
1. Impress prospects from the get-go. Create a title for your proposals.
2. Add the details of your prospect. Choose from your contacts in the CRM or add a new contact.
3. Write a brief introduction about your agency. This is the perfect opportunity to show your value proposition.
4. Add your products and pricing – from SEO to website design. Plus, you can have your own quotation.
5. Save and download. Quick and easy to manage and edit on your dashboard.
6. Start pitching! Send and present to your prospects!
Why Do You Need a Proposal Builder?
Not a lot of agency owners realize how much time they spend on creating proposals. The process often involves gathering product information, getting a designer to build a template for the document, and doing a final QA to make sure all information is correct. A lot of action behind the scenes. It doesn't have to be that way.
Using a Proposal Builder saves you from all those roadblocks that come with creating impressive reports for your clients.
Everything is in One Place
Ready to pitch? You can send the proposals to your prospects right from the dashboard. One click is all it takes.
Send Proposals on the Fly
No need to have an external folder to save all your proposals. You can have them on your dashboard so you can download them anytime.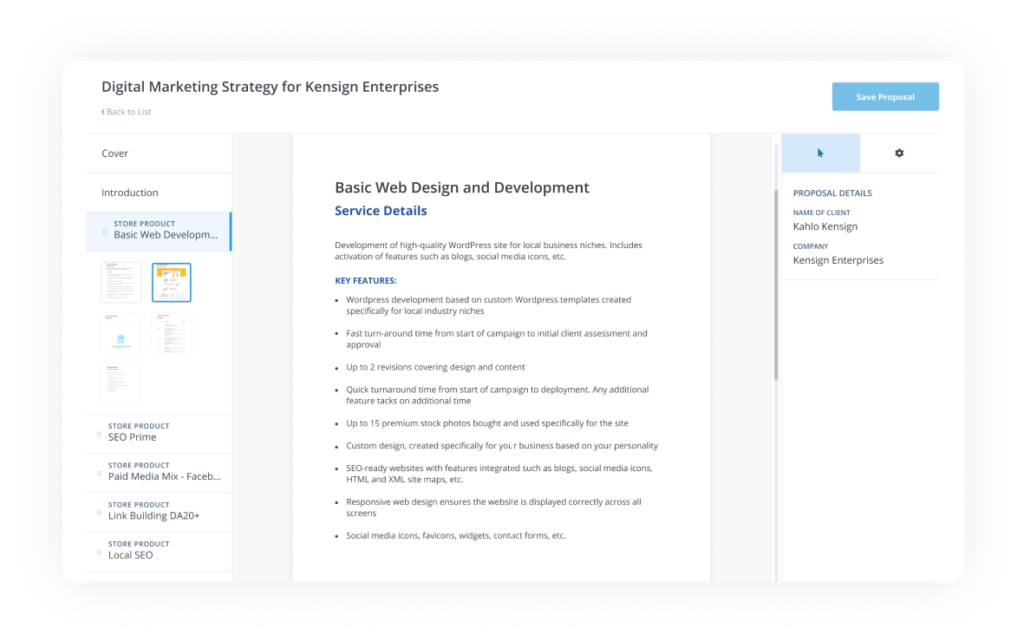 Testimonials
Our Happy Clients Have Spoken!
"Love the look of the Proposal Builder! I didn't have any trouble creating the proposals the first time I used this. Quick and easy – just like you guys said."
"This is such a lifesaver! Used to spend half a day making proposals. Now I can cut it down to minutes!"
"It simply blew me away. I like that we can write our own introduction and customize the colors to fit our agency's brand. Will definitely keep using this!"
Discover More Tools from Us to You!
SEO Audit
A comprehensive website audit designed to help you capture and close leads.
Rank Tracker
See how campaigns are ranking month on month.
SEO Dashboard
Track performance and report the impact of your SEO efforts.
Google My Business Dashboard
Get key data for all your local SEO efforts and prove ROI to local businesses.
WordPress Plugin
One plugin that allows you to capture leads, run audits on your website, and win more prospects.
CRM
Make it easier to manage your pipeline with our free CRM
Prospector
Find businesses who need your SEO, PPC, and Social Media with a quick search in our lead generation tool.
White Label Dashboard
Present progress to clients and track campaign performance with an agency dashboard

Landing Pages
Optimized landing pages built to capture more leads for your agency.
Reputation Management
Find out what customers are saying about you with this all-in-one reputation management tool.

Frequently Asked Questions