What makes a solid pitch? A solid SEO proposal. Learn how you can win more clients by using SEOReseller's SEO proposals – branded with your logo and ready for download right from your dashboard.
The value of SEO is something that many businesses of today still fail to understand. After all, what do ranking and traffic have to do with selling cupcakes or cars? How do they get more customers if they increase their online presence? You know the importance of these metrics, but your clients may not have the slightest idea of how these can benefit their business.
That's why we have an SEO proposal template that you can brand with your agency's logo and use to pitch for clients. The best thing about this? You only need to access your dashboard and go to the Proposal Builder under the Agency Tools to start creating an SEO proposal for clients.

Simply choose the type of service you'll be offering – such as SEO for local businesses – and your proposal will be ready in minutes.
What's in the Proposal?
A strong SEO pitch boils down to two things – your ability to build desire with your prospect and your ability to make them understand the value of your service. You can do both with our SEO proposal.
Our SEO proposals show the most important information that your clients need to know, so you can educate them about the methodology and provide them value at the same time.
Here's a quick look at the SEO proposal template:
Who is Your Agency and Why Should They Trust You?

When you pitch any service, the first thing you need to do is introductions. This is basic courtesy, and our proposal can help you with this.
Our SEO proposal shows your company background, value proposition, and track record, so potential clients can get to know more about you and have a reason to work with your digital marketing agency.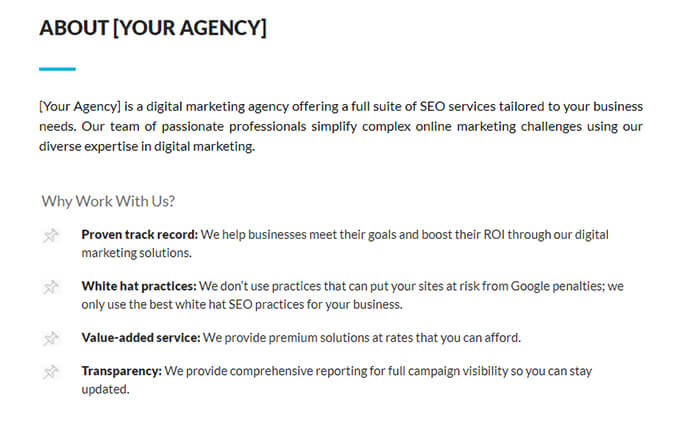 What is Your SEO Process?

The SEO proposal shows the solid methodology that you use to drive traffic and leads for your client's business. Everything they need to know about the what's and the why's of the entire SEO process are included in this section.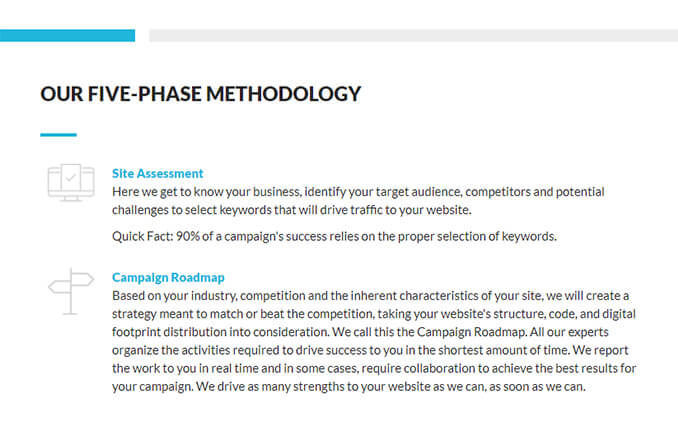 What are Your Proposed Solutions?

Transparency is the foundation of trust between an agency and a client, and you can offer this using our SEO proposal template. The proposal includes the service details of your SEO packages, so clients know what they can get from your agency.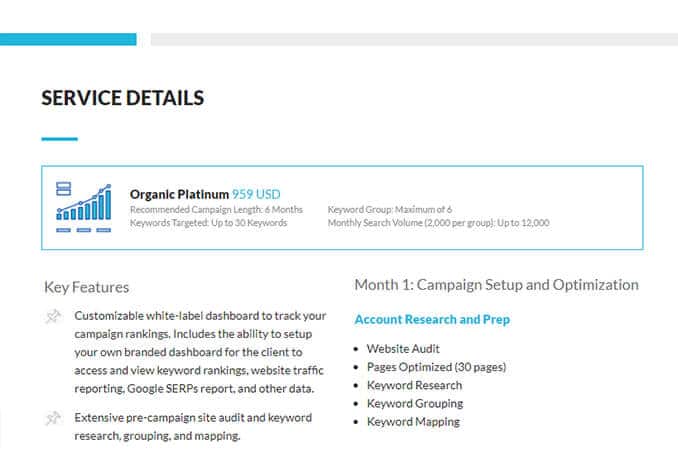 What is the Turnaround Time?

When you're pitching SEO, you don't promise the moon. You set realistic expectations to make sure you and your client are on the same page. The proposal includes the timeline and deliverable of your SEO service, so clients have a clear view of their campaigns.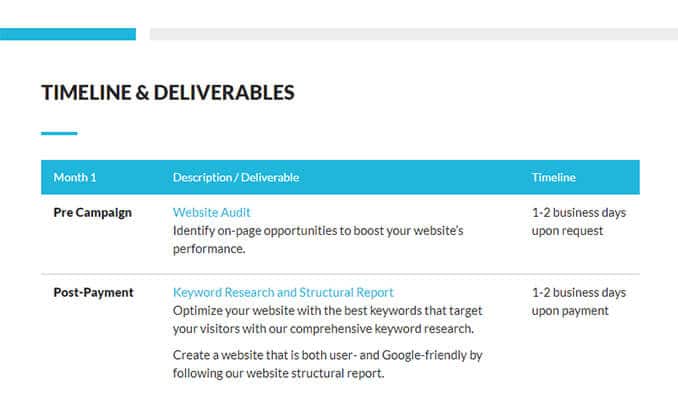 What Do You Need from Clients?

Communication is key for successful implementation of your digital marketing efforts. This is why we encourage our agency partners to always do a thorough pre-intake assessment with their prospects. This will help you prep for projects and uncover more opportunities before you pitch the service. But, as communication needs to be two-way, we've included a section on the SEO proposal about what you'll need from the clients to meet their campaign goals.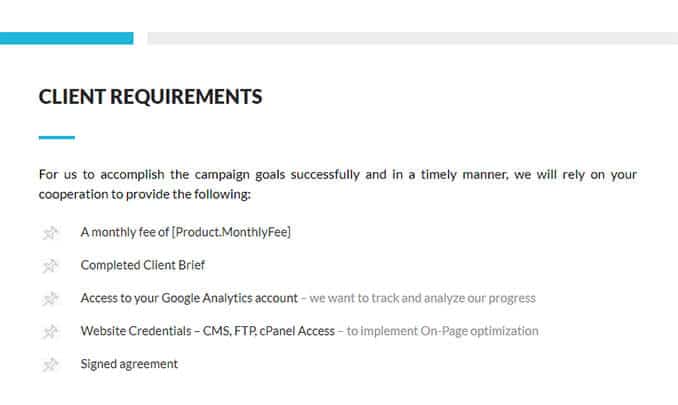 Why settle for good when you can have the best SEO proposal? One click and this proposal is yours! Sign up today to access your Proposal Builder and start creating proposals for your clients.