PPC Campaigns Done Right With White Label PPC Management
Instant traffic for your clients with professionally managed PPC campaigns.
Because a well-managed PPC campaign can be a game changer. You want our White Label PPC Services on your team.
Expertly Managed Campaigns
Each PPC campaign is handled by certified and seasoned AdWords specialists, so your clients are always in good hands.
Campaigns are monitored, tested, and optimized for ideal returns. Includes Google AdWords setup, keyword research & more.
Be a PPC reseller and present white labeled reports including a set-up and regular performance report, analytics monitoring & recommendations.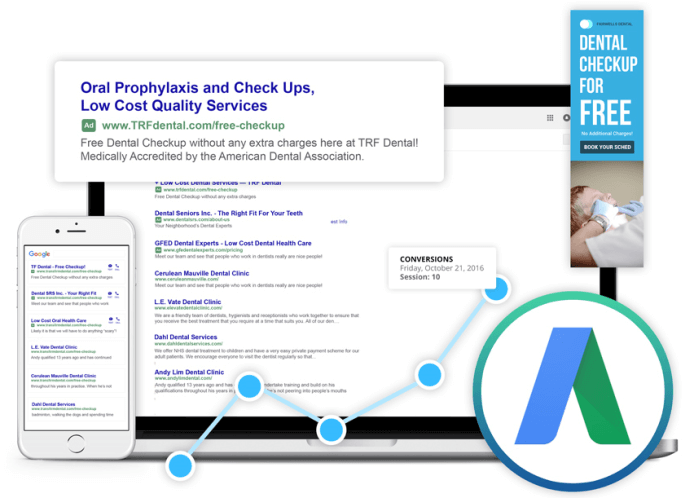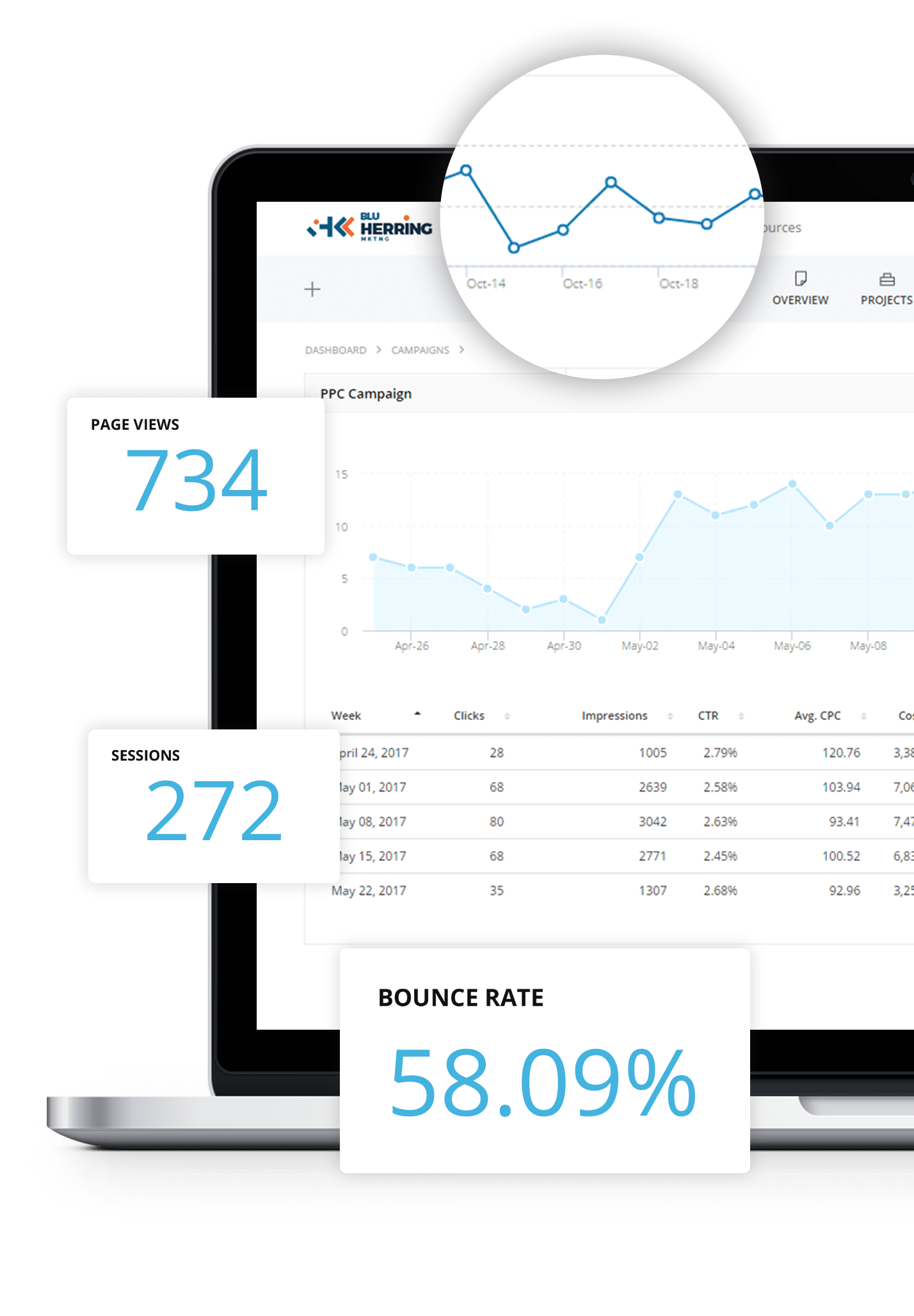 Convenience is Key with the PPC Dashboard
Manage campaigns, view ad performance in real-time, and extend your Pay Per Click (SEM) capabilities with our cutting-edge private label dashboard.
Branded with your agency's logo
Our agency Dashboard will look like your own. Use it show off campaign progress or give clients their own logins so they can see your agency's value firsthand.
Performance reports (monthly or bi-monthly)
Neither you nor your client will ever be uninformed. Monthly meetings too frequent for your client? No problem. Schedule reports to run bi-monthly instead.
View multiple campaigns
Review results and provide insights in real-time. Your dashboard now makes it easier to monitor multiple PPC campaigns under the same account.
Data available at all times
Everything you need to know to effectively manage a PPC campaign, from Google Analytics and AdWords to incoming leads and traffic – right on your dashboard.
Here's How It's Done: Launching Your PPC Campaign
We're meticulous in how we handle your clients' PPC campaigns. Here are the steps we'll go through to make that happen.

Keyword Research & Analysis
Keyword research, ad groups, & competition research to identify opportunities and make the most of your client's ad budget.

With a PPC reseller program, we build custom campaigns targeted to your client's business based on the data gathered during the research and analysis.

After launching the perfectly targeted ads, it's time to track conversions, analyze traffic, and present reports. Manage all this from the dashboard.

A well-managed PPC campaign results in clicks to the right pages with constant bid optimization. Our White Label PPC Services deliver this.
Fast and Easy PPC Proposals
Convert quicker with high-quality and customizable PPC Proposals, generated in your white label dashboard. Ready in less than 3 minutes!
Plus, manage and keep track of all your proposals in your Proposal Dashboard. See all your proposals at a glance and update the status of each with just a click.
We're Always a Download Away!
We're always a quick chat away if you need us but we're also just a download away via our always-helpful Resource Materials. Whether you or your clients need help understanding PPC or if you need help making the sell to your client, we have the materials that will make you the expert PPC reseller.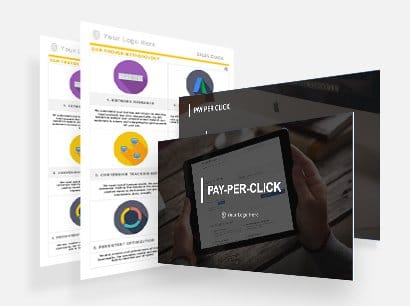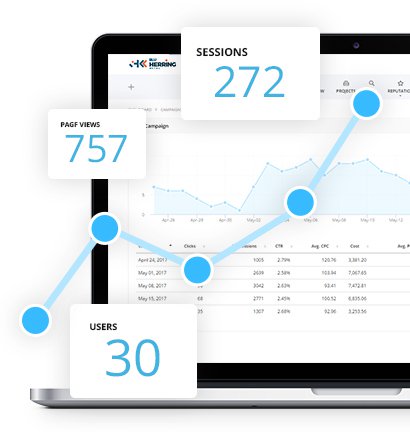 Knowing When It's Time For a PPC Campaign
PPC is just a part of your drive to establish an online presence for your clients. So how do you know when it's time for a white label SEM strategy?
Time is of the Essence
You have already started an SEO strategy, which can take time but your client wants to be at the top of the results page now!
Filtered Results are Preferred
PPC utilizes social media platforms which allows you to target a range of demographics and preferences.
Your Clients Simply Want the Best of the Internet
Your SEO strategy is already showing results and you believe there are still more people to reach! So a PPC campaign it is!
Sometimes, They Just Have to See it Again
There are a lot of reasons why someone might not convert on your site the first time they visit. With remarketing, your clients' potential customers will have another chance to become actual customers. We implement the right remarketing strategy for your campaigns to convert leads and bring business back to your clients.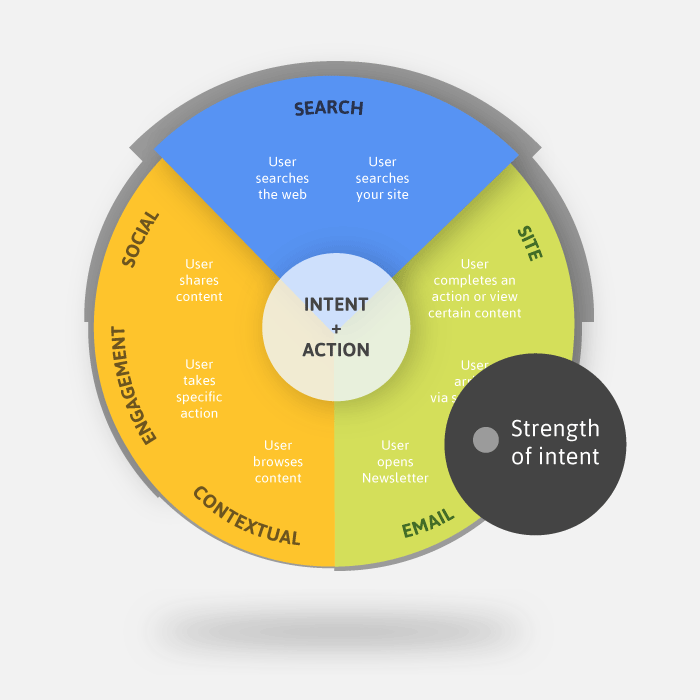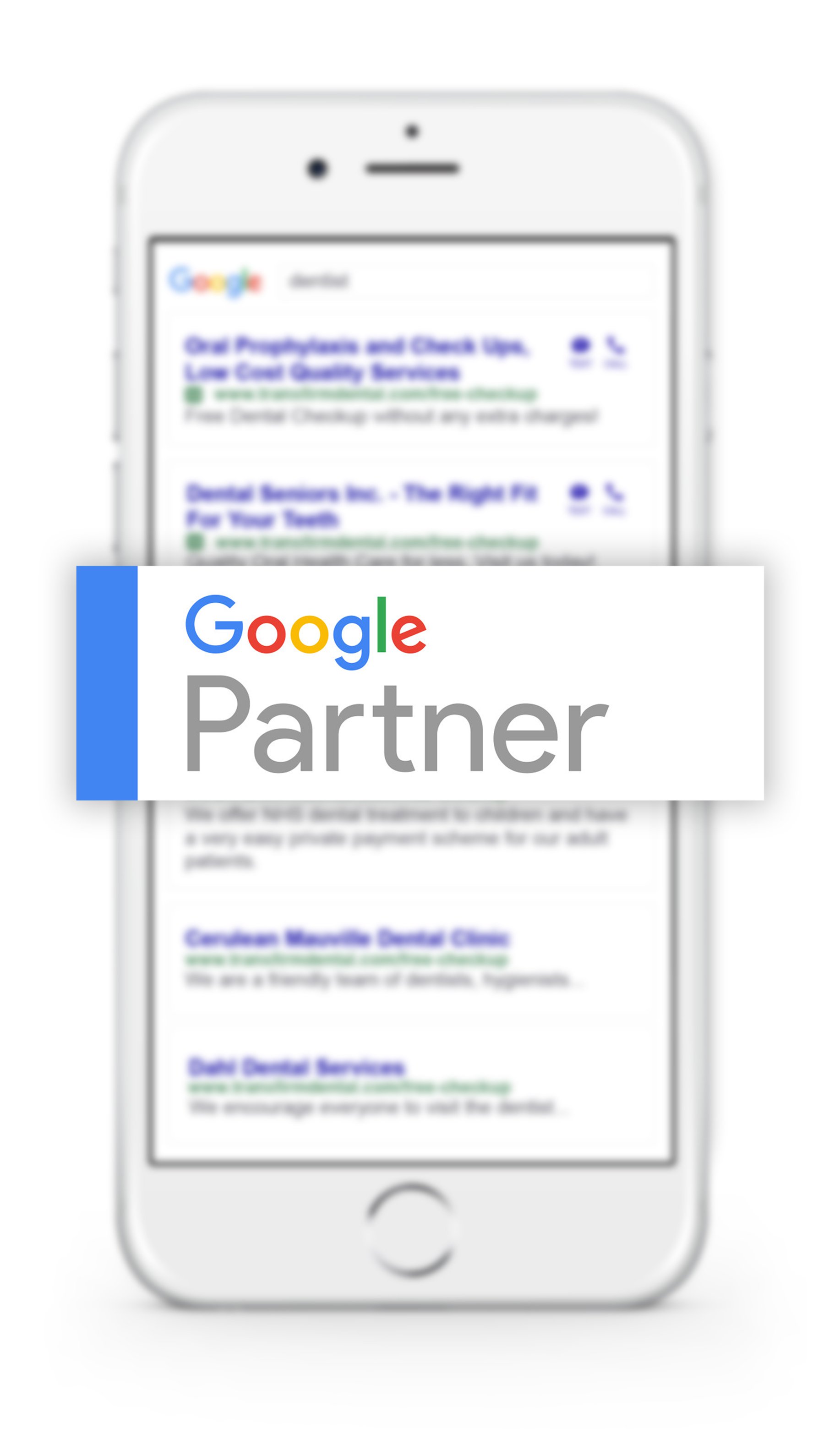 Certified Google Adwords Partner
Our AdWords specialists are certified partners of Google and Facebook with years of experience in search engine marketing. We make it easy for you to focus on providing a great client experience and drive growth to your agency, while our experts handle the SEM.
Our experts will show you how to run a PPC white label strategy for your clients:
Looking For A Local Business Solution?
Your clients need to be visible to their potential customers on search, social media, and mobile. A cohesive strategy is your answer, and we're here to give it to you. Create awareness on multiple platforms with our Local Marketing Bundles.

Leverage our expertise with the combined force of SEO and social media to grow your client's foot traffic.

Give your clients the online advantage with a solid local marketing and social media strategy.

Bring your clients closer to their audience with integrated paid and organic search strategies.

All-in-one local business solution that consists of PPC, Facebook Local, and Local SEO.
Don't Just Take Our Word For It…
"Thank your guys for me! You provide very solid PPC reports and proposals!"
"Your PPC team did a spectacular job! The account is set up 100%! You guys are very quick! The client wanted this started ASAP, the PPC Team completed it in less than a week! Thanks for making me look good!"
"You guys have always provided me awesome Adwords results since day 1. Top-notch reports from a top-notch provider."
Frequently Asked Questions
Pay Per Click (or SEM – Search Engine Marketing in Google's parlance) is a type of advertising strategy that directs traffic to your website from an ad that you paid a search engine or host website to post. You pay for each click that a person makes on that ad, whether it's on the search results page or on a host website. The ad will only show on a results page for which the search was relevant to your business.
Yes. You can target competitor keywords to attract searchers who are looking for the same business as your clients or have the same services. Additionally, PPC reseller services include remarketing, which allows you to target an audience which has previously visited your client's website and are now searching specifically for your client's competitors, if you choose.
Yes. We offer total transparency and you can access and manage the SEM campaign anytime you want through the white label dashboard. You can see a summary of the targeted keywords and analyze backlinks. If you have more than one campaign for more than one client, all can be managed from the same dashboard. You can even integrate Google Analytics to further keep track of performance.
All ads go through a review process performed by Google and can take a day. The process begins immediately up creation of the ad. However, some ads are eligible to run while the review is ongoing and therefore can appear in a matter of hours. However, according to Google, those ads but won't be shown to anyone with SafeSearch enabled while the review is ongoing.
No, and in most cases, you wouldn't want it to be. The Google Adwords system does not just take into account the bid price when arranging the sponsored ads. The position of any ad takes into account over one hundred different factors including your quality score, volume of clicks as well as website and content relevancy enabling Google to deliver the right results to end users and empowering smaller advertisers to compete with bigger advertisers who have much higher budgets.
Yes, as PPC is not SEO dependent. It does not rely on Google search algorithms. It's an advertising campaign that takes advantage of Google's nature as a search engine. Unlike SEO, PPC will never generate free traffic because Google is ranking you based on your ad spend and not the quality of your site. SEO is an investment in the quality of your site and not just an investment in gaining organic rankings.
It improves the online presence on Google search for your clients and increases the chances of targeting the right customers at the right time. Our Pay Per Click Advertising Services are suitable for your clients which are looking for immediate results and quick returns on their online marketing campaigns. We offer different PPC management packages to match the niche and needs of the business – PPC Starter Package, PPC Small Package, PPC Medium Package, and PPC Large Package – view details.
It depends. If you have Pay Per Click campaigns that are already running and only minimal changes need to be made, the setup fee is waived. If you have an account but the campaigns still need to be set up or there are a lot of settings that need to changed, then you will need to pay for the setup fee. Please contact your Project Manager for a FREE SEM Proposal and Landing Page Analysis.
Yes! I want to offer my clients an effective PPC campaign!