For a business owner, it's crucial to know whether every strategy applied to your business is working or not. Likewise, if you're an SEO agency, you have to know your key performance indicators on your white label SEO dashboard and be able to constantly measure them. This will allow you to present valuable reports to your clients and use the data to develop a more refined strategy. You can't measure the success of an SEO campaign without defining the SEO metrics. It's important to establish your goals and objectives first. Why does your website need SEO? What are your expectations for your SEO service campaign? These are some of the questions you should ask before diving deeper into SEO.
1. SEO Goals and Objectives
The number of global digital buyers is increasing rapidly each year to the point that they're expected to reach an estimate of 2.05 billion in 2020 and 2.14 billion in 2021. Any entrepreneur knows how big this will impact any business. This is why more and more businesses are capitalizing on the growing eCommerce trend. Now that search is becoming the norm, competition is growing fiercer and this is where the need for SEO comes in.˜ After determining the purpose or goals of your website, your objectives should naturally align. Here are five examples of SEO goals and objectives for a website:
GOAL: To Increase Leads
Utilize listings and online directories

Increase keyword ranking

Content and Page Optimization
Metrics to track: Click-Through Rate (CTR), Pagespeed, Bounce Rate, Average Time on Page, Qualified Leads
GOAL: To Boost eCommerce Sales
Increase Traffic

Optimize Content

Powerful CTA
Metrics to track: Click-Through Rate (CTR), Bounce Rate, Average Time on Page, Conversion Rate (Organic)
GOAL: To Amplify Branding
To increase awareness

Content Optimization

Elevate rankings of positive search result

s
Metrics to track: Domain Authority, Click-Through Rate (CTR), Keyword Ranking, Average Time on Page, Impressions Volume
GOAL: To Improve Client Relations
Content Optimization

Drive traffic to the site

Optimize materials like webinars, newsletters, whitepapers, ebooks, etc. to engage your audience and make them connect with you.
Metrics to track: Click-Through-Rate, Bounce Rate, Average Time on Page, Qualified Leads
GOAL: Thought Leadership
Strengthen off-page SEO efforts

To develop quality partnerships

To increase traffic on blogs and views or comments for webinars and podcasts.
Metrics to track: Impressions Volume, Click-Through Rate (CTR), Keyword Ranking, Domain Authority These are just a few examples. Maybe you want to take advantage of SEO because it leads to better cost management, increased website referrals, and optimized user experience. It's all up to you. Just make sure that the goals you set are realistic and clear. To get you started with defining clear and relevant goals, delve into either of these two principles: the S.M.A.R.T Goal Methodology or the Principle of 4DX.
2. What are the Metrics or KPIs to Follow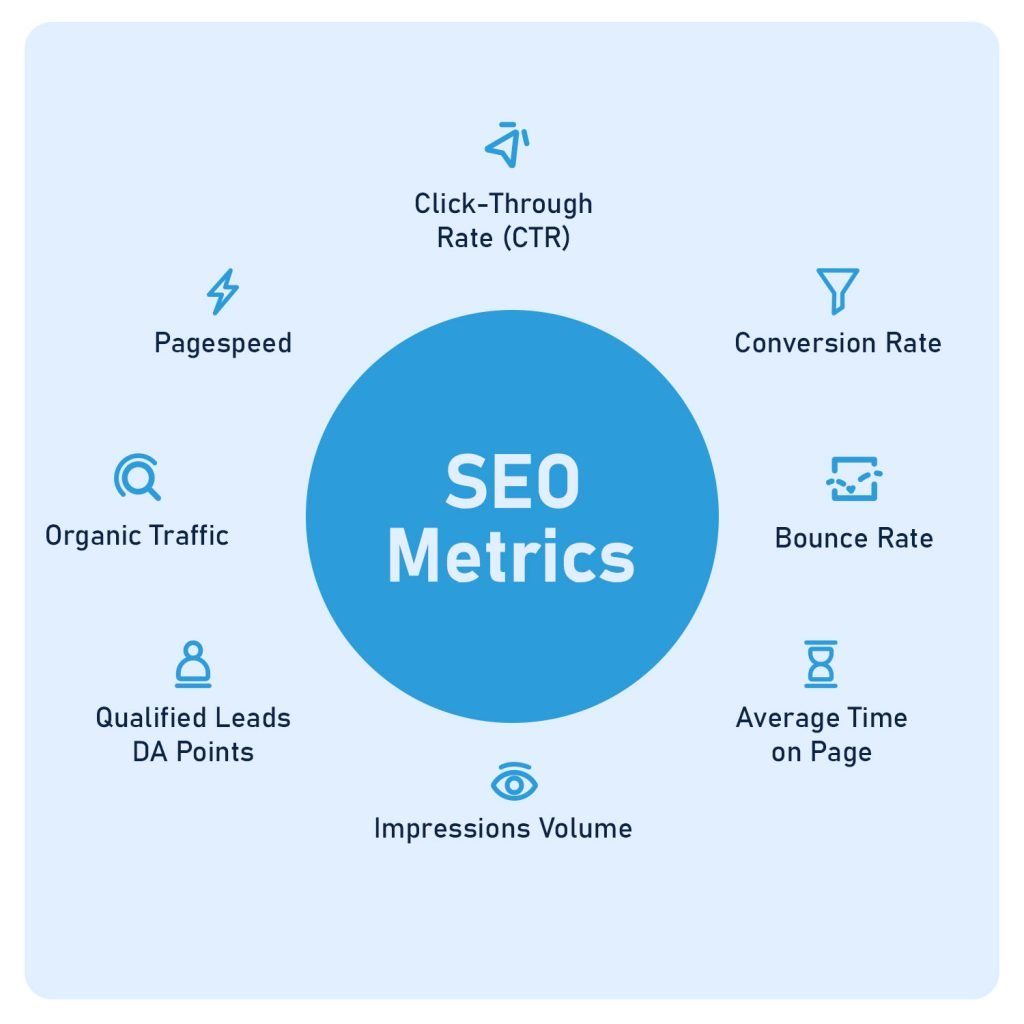 SEO metrics help you gauge the success of your campaign. These also give you insight into which areas you need to improve, what to modify, and how.
Here's a list of the top 11 SEO metrics you need to monitor, why you need to be aware of them, and what SEO tools you can use to track them.
1. Impressions Volume
The number of times your webpage has been shown in Google or listed in the search engine results pages (SERPS). This allows you to measure your website's visibility and keeps you informed that your website is being seen. There's been a constant debate about whether Impressions can influence your website's ranking or not, but what you need to look at here is if your website is being seen and by how many.
By comparing it side-to-side with your click-through-rate (CTR), you can measure the ratio and judge for yourself if it's a healthy number or not. If not, then the next question to ask would be why aren't people clicking when they can see your link? Find the answer to the question and improve your SEO strategy.
If you deem the number to be healthy and find that the number of clicks to your site is in a healthy proportion to the impression volume, your question should be What engaged them to that page? What drew them to click on your link?
How to measure impressions:
A tool you'll need and that can accurately measure impressions is Google Search Console. It can show you a month-on-month comparison of impressions for any page on your site. This tool is essential in tracking all your SEO efforts so I recommend delving deeper into it. Check out the Google Search Console guide for a more thorough introduction.

2. Organic Traffic
This tells you how many users land on your website through organic search results. These are users who found your website and clicked without paid ads involved. How to measure organic traffic:
Ahrefs Site Explorer is a winning tool when it comes to measuring your website's organic performance. Ahref's Site Explorer Tool provides you with the numbers you need from organic traffic to backlinks.
3. Organic Click-Through-Rate (CTR)
This refers to the number of users who clicked your page through the organic search results. Organic CTR is a key metric for two reasons. First, it tells you that you have more traffic. This means you have engaging content that makes users want to visit your page. Second, because a higher CTR gets you higher traffic, it also gets you ranking higher on search engines.
How to measure organic CTR:
Making another appearance is the Google Search Console. This is a necessary tool if you want to take your SEO endeavors to the next level. GSC will let you know the total clicks your website gets, or even for a particular page if that's what you're looking for. Total clicks mean the total number of times a user clicked on a page. The average click-through-rate is also indicated in one of the performance boxes.
You can also compute for the CTR using this formula:
Number of Clicks / Number of Impressions x 100
4. Keyword Ranking
This refers to the position of your webpage on the SERPS depending on the keyword search query. You want to monitor this metric because increasing your website ranking also increases the probability of driving traffic to your webpage. How to measure keyword ranking:
Determine your focus keyword using an SEO rank tracker tool. For example, if you're in the real estate business based in Chicago, your goal is to appear on the first page every time someone types in queries relating to 'real estate in Chicago' or 'real estate agents in Chicago' or any keyword you choose. Some

best tools for keyword research

are Google Keyword Planner, Google Trends, Ahrefs, and Ubersuggest.

Once you've determined the keywords you want to rank for, you can either head over to Google and type those in to see if you've secured a high position on the SERPS for those queries. You can opt to do this in a private or incognito window for more accurate results.
A more technical way to measure your keyword ranking would be through tools like Moz's Keyword Explorer or Ahref's Keyword Explorer. These tools allow you to track the keywords you chose and see your progress.
5. Bounce Rate (by page)
This is the number of users who only viewed a single page and left without proceeding to go anywhere else on your website. Why is bounce rate important? Having an increased bounce rate means:
Your target audience doesn't find your page relevant.

The quality of the page is low and there's nothing that engages them to explore your website further.

Users have already gathered the information they need.
You might be wondering if Bounce Rate influences your Google Rankings, there's no proof that it does, nor has Google released a statement regarding this. Even if that's the case, you should make sure that people don't bounce back. You don't want Google to read that a user clicked on your website then went back to the search results because the content seen on your site, wasn't valuable enough.
There isn't a general number to determine a healthy bounce rate as it varies depending on the intent of the page. Here's a reference for bounce rates for different types of web pages:
eCommerce and retail websites: 20% – 45%
B2B websites: 25% – 55%
Lead generation sites: 30% – 55%
Non-eCommerce content websites: 30% – 60%
Landing pages: 60% – 90%
Blogs and creative content: 65% – 90%
How to calculate Bounce Rate::
Total no. of one-page visits / Total no. of entries to your website
Using Google Analytics to measure bounce rate:
Sign in to your Google Analytics account and select the website or webpage you want to check. In the Audience Overview, you'll see the Bounce Rate indicated.
Note: it's important to know that exit rates are significantly different from bounce rates. Bounce rates measure the rate of single-page visits. Meanwhile, exit rate is the number of users who left your site from a page they found after navigating through your website.
6. Average Time On Page
This is the amount of time a user spent on a particular page on your website. Switching to another page on the website causes the time spent to be calculated. The time-on-page will result to zero if the user bounces back without checking other pages on the website. How to calculate Average time on page?
Total time on page for all visitors / (Total number of visits – Total exits)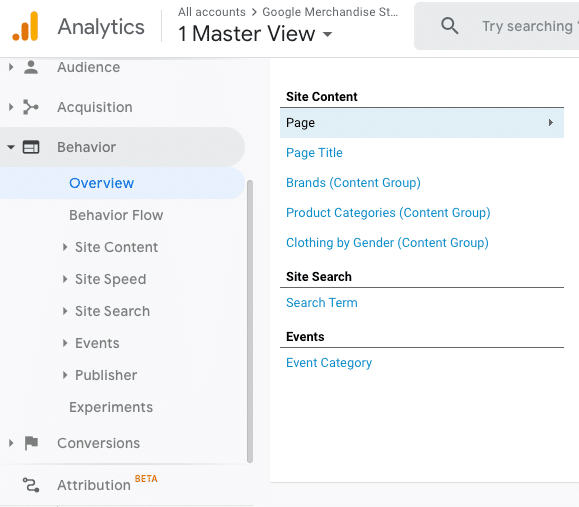 You can also use Google Analytics. On your dashboard, click behavior > overview. Then on the bottom right of the screen, click view full report. This will show you all the pages and posts on the website and you can see the average time spent on each one.
7. Pagespeed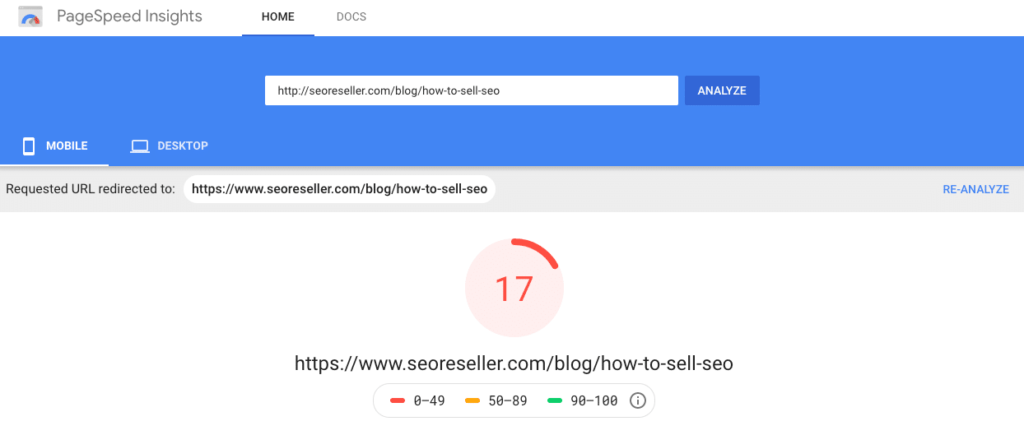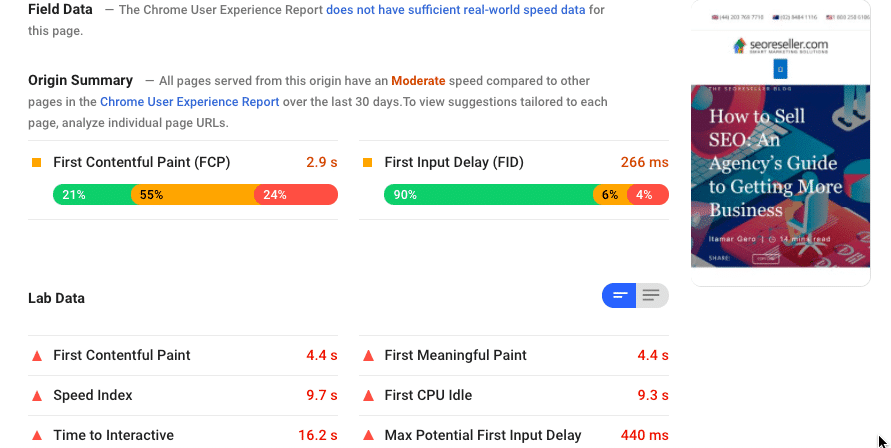 The full duration it takes to load an entire web page. Pagespeed is important to track because a slow loading site can cause an increase in bounce rate — expect people to leave just because your website is slow to load. Bottomline is, a slow loading page, increases bounce rate, decreases conversion which affects sales. How to measure page speed: A wonderful tool to use to measure page speed is Google's PageSpeed Insights. It measures the load time of your page as well. You also get a report that lets you know what you need to improve in terms of the page's performance, accessibility and SEO.
8. Domain Authority (DA)
This is one of the ranking factors that determine how high a website can rank on a search engine. A system developed by MOZ where the score ranks from 1 to 100, high DA websites communicate the value and trustworthiness of a site. What you need to focus on is the quality of external links that connect to the site. Make sure that they are relevant and in line with the services a website is offering. There's a penalty for using underhanded or black hat techniques, like buying links, so you need to avoid these solutions and opt for proper link building techniques instead. How to measure domain authority: There are lots of tools you can use to help you measure your website's domain authority, the most popular one being MOZ.

Refer below to see the Average Domain Authority by Industry:
Media & Publishing – 86.23
Higher Education – 78.67
Sports & Entertainment – 75.55
Accommodation & Food Services – 71.27
Software and Applications – 67.52
Healthcare – 67.51
Business Services – 67.04
Retail – 64.62
Consumer Goods – 64.07
Construction Products – 63.18
Real Estate – 61.52
Finance & Insurance – 60.09
Wellness – 58.35
9. Backlinks
The number of pages from other websites that links to your website. Improving your link profile can boost website ranking in the long run.
How to measure backlinks:
Ahrefs is a highly recommended tool because it not only allows you to track your backlinks and keywords but also track what your competitors are doing.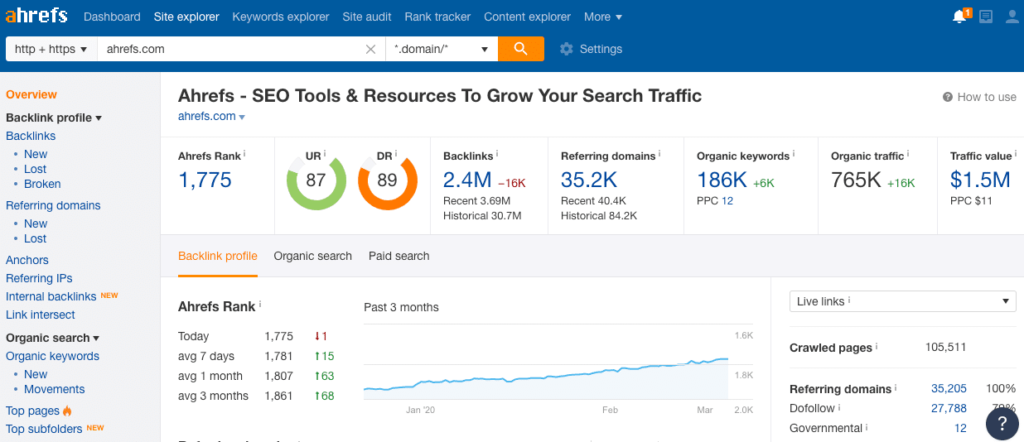 10. Qualified Leads
The number of prospects that are potentially interested in the services offered. Since SEO is all about driving more people to discover a brand — then eventually sell, Qualified Leads is a more reasonable metric to gauge the success of an SEO campaign. Qualified Leads will include both Marketing Qualified Leads (Leads who are interested in the product but need more prodding to buy.) and Sales Qualified Leads (Leads who are ready to purchase.) You can determine that a lead is qualified by having them perform actions on the website that will assess the user's intention. Examples would be answering a form or downloading a specific content. You can also assess them through the page that they landed on and have them fill out a form so you can contact them. Another one is by installing chatbots in high performing web pages on your site where they can instantly reach out to you.
11. Conversion Rate (Organic)
This is the number of users who used your website for its intended purpose. May it be sales or filling out a form. Organic traffic only gets users to land on your website. The next stage is to make sure you're moving forward with the conversion rate as well. How you define the conversion rate should be discussed within the company or the business. Here are some examples:
Sales

Filling out a contact form

Using your chatbot

Online registration

Using your software

Upgrades on packages or services
How to measure conversion rate:
(Conversions / Total Site Visitors) x 100
Conversion Rate Tracking deserves a full article on its own as this is just the tip of the iceberg. But some tools you can use to track conversion rates are:
Google Analytics

Google Adwords

Your Email Provider
3. Check Your SEO Performance
To know your website's current standing, you should do an SEO audit. What this does is analyze and evaluate your website's health. The goal of an SEO Audit is to diagnose a website and look for areas that can be improved.
An SEO Audit must be done frequently to make sure that your current SEO efforts are making a difference or not. There are three different scenarios where an SEO Audit should be done:
When bringing in new leads

When starting a new SEO campaign

On the 5th or 6th month of the campaign,
Read more about how to do your own SEO Audit and the tools you can use.
4. Key Takeaways
SEO is a powerful strategy but you need to begin with the end in mind to succeed.
Know your goals and objectives.

Know what metrics to use to measure your growth and success.

Be flexible in adding or modifying your strategy and do frequent website audits.
Begin with the end in mind
SEO is ever-growing and ever-changing. You always have to be updated and be able to adapt in order to grow and thrive with it.