"What exactly happens after launching my campaign?"
This is a common and pressing question we get from SEO resellers every day. An inquiry that is so basic yet requires full explanation on what we mean by "getting your campaign rolling."
After filling out our order form and making your payment, your project gets tasked in our very own eCRM— we call it Compass. The tasks will be forwarded to our team of SEO specialists, content writers, editors, videographers, and webmasters. This is the official start of the process. Whether you're launching a local strategy for restaurants or SEO for hotels, our process includes all the essentials to start ranking websites.
I will now discuss the typical timeline of our projects:
24 to 48 Hours after the Launch
Keyword Research – We'll look for the best, high-ranking set of keywords for your project and send you the list within a day or two. You then get to approve which ones to target.
On-Page Structural Report – We'll perform a manual audit on your site to spot areas that need improvement.
Keyword Tracking – After the keywords are approved, our specialist will immediately start tracking them in our proprietary rank tracking software. From then on, your clients can check ranking updates on your platform every day.
Google Analytics Integration and AdWords Integration – The moment you give us access to your clients' Google Analytics and AdWords data, we can quickly integrate these tools with your platform with just a few clicks. You can also do this on your own.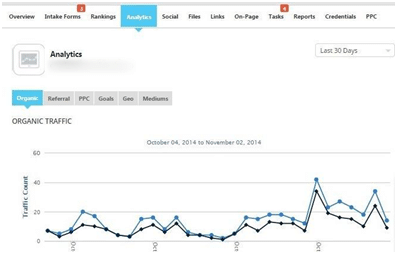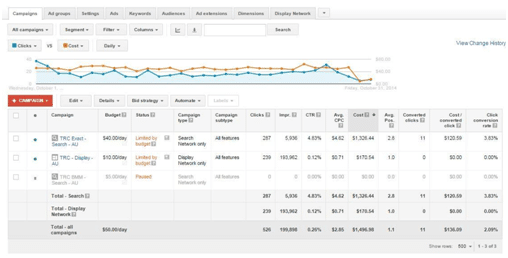 3 Days after the Launch
COR Creation – We will now move forward with optimizing your client's website. Our SEO outlines the approved keywords for meta data and on-page content creation.
Task Deployment –Compass auto-deploys the content creation tasks under the close watch of our Workforce specialist. Our tasking system works seamlessly with our teams' calendar and time management modules.
Content Marketing

Content Creation – Our Content team begins the creation process the day the tasks are deployed. Our writers choose the topics that fit into your business and target audience based on the Intake Form you or your client filled out. This allows us to dive into industry-specific topics to match the SEO strategy for a target niche, such as in chiropractor SEO, small business SEO, or real estate SEO strategies. The duration of the content writing process depends on your package. Say you sign up for 3 on-page copies, they can be finished within the day. If you paid for 30 on-page copies or more, you can expect for the completed output in 8 business days.
4 to 5 Days after the Launch
On-Page Optimization – Our OPR shows you all the meta data and on-page content we've created for your project.
Month 1 Marker – You'll be able to see all the tasks and work that's been completed throughout the month.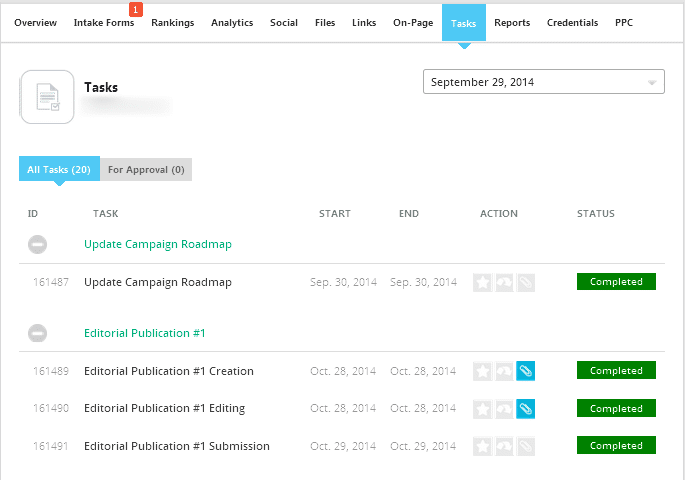 Executive Summary Report –You'll get an Executive Summary Report of the month's activities and success. You'll get a report from us every end of your project's cycle.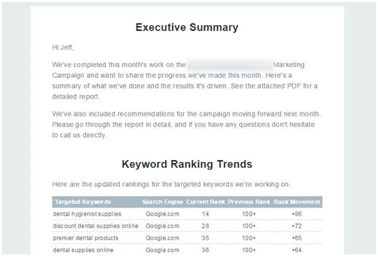 We do this so you can easily forward the email—after you've removed our sending information—to your client.
On the executive summary PDF file attached to the email, you'll find a detailed report on rankings, traffic, links built, Google Analytics, and the strategy for next month.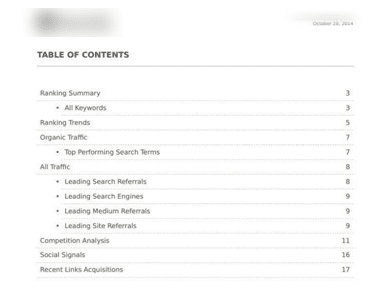 30 Days after the Launch
Roadmap Creation – After everything is great with your site, our SEO team will outline the off-page content and link building strategy. All content created is uploaded to Compass and will wait for your approval.
Link Building – All content created will be published in niche magazine sites, which are relevant to your client's products, and services, and will be linked to the targeted landing pages on the website. This process takes about 2 to 4 weeks.
Video Content Creation – If your package includes videos, we will produce them in two days. You just need to fill out a form telling us what you want to see so we can begin. We'll start the process after receiving the form.Our junior marketing specialists then upload your video to different digital platforms.
60 Days after the Launch and Onwards
Customized Strategies – In the succeeding months, we'll create a roadmap customized to the needs of your client site's SEO. The SEO specialist dedicated to your project analyzes all the data from the previous months. We look at the trends of the specific industry of the client—for example, real estate SEO trends may affect how realtors are showing up on search results. In addition, we'll build the roadmap to target the best keyword ranking opportunities based on the site's current ranking status. For example, if a keyword almost ranked on page 1, we may target that keyword more to get it on the first page. If a keyword, or group of keywords, isn't responding well, we go back to the drawing board to formulate new strategies. Maybe there needs to be more content on the site, or we need more targeted content marketing and links to rank the site's pages. By dynamically building the roadmap every month, we keep the targeted keywords ranking and your strategy successful.
The succeeding months will focus on the need for customized techniques for the project. We re-visit and add content to the site as needed, we check Analytics and Google Webmaster tools consistently to ensure that the site is in good shape.
To all our agency partners and SEO resellers out there, feel free to refer to this material anytime you wish. This will help you explain the process to your clients and manage their expectations.
As always, keep visiting us for more helpful reads. If you have further questions, don't hesitate to send our project managers a message anytime.