What's the secret to become successful at selling SEO to local businesses? We provide the best practices to make it easier for your agency to close more clients. Read all about it here.
As a digital marketing agency or freelancer, you know how important local search is. You know that any business will have a hard time reaching that coveted top rank organically if they don't claim the top spots in local searches. But your clients don't. For them, the bottom line is what's important. It falls on you to make them understand how they will get there.

Bridging the gap between the bottom line and being an expert at selling local SEO services is no easy feat. It's not enough to know the numbers and the jargons. You have to reach out and speak in a manner that your clients will understand, and that's why you need to learn how to sell SEO services to local businesses.
Here are 10 tips you must never forget when pitching your local SEO service:
1. Onboarding.
This is the most important part of selling local SEO to your clients. Before you dive into discussions about local SEO pricing, make sure they understand what will happen. Help manage their expectations because, trust us, you don't want those expectations working against you. No self-respecting SEO will agree to the client wanting to be number one on Google SERPs in a week.
Ask the right SEO questions, so you can know the story behind their local business and provide the best seo services for their goals. This is when an SEO intake form becomes a handy tool for your agency.
2. Introduce them to the pack.
Specifically, the Google Local Pack. Almost a year ago, Google shook the Local Pack by trimming it down from seven to three. This means your clients have slimmer chances of getting included, but when they do get that spot, they will reap the rewards.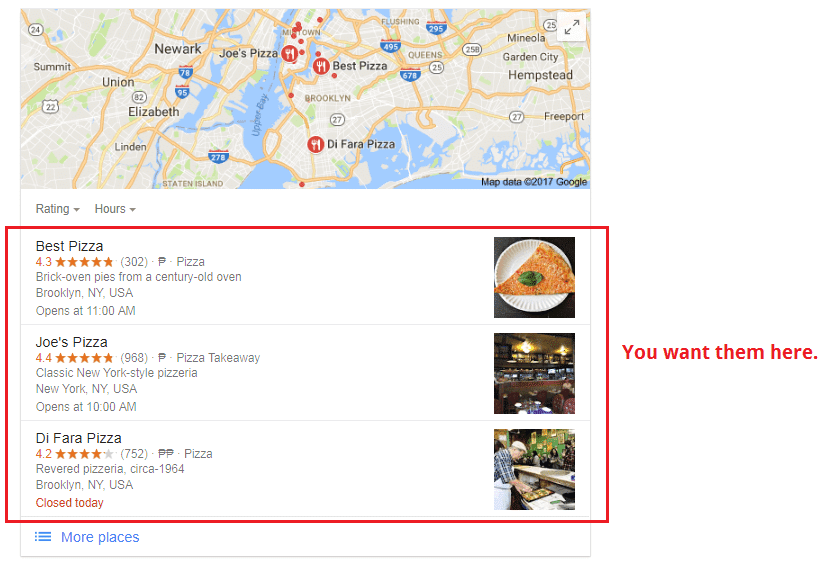 Ads are coming to Local Packs as well, and that's a sure sign that Google will boost this for both desktop and mobile searches. Introduce them to this now, so it's easier to inform them about paid ads on the Local Pack later.
3. Check for accurate and consistent NAP.
The NAP (name, address, phone number) of a business determines how easy it is for clients to find information about their company. Show them how a regular business search works and explain what the incorrect NAP details will mean for their business.
This is one of the reasons we developed the white label reputation management software – to help you build your client's presence by optimizing their business on the right directories. Using the Listings Management tool on your Reputation Management dashboard, you can easily identify if your client's NAP is consistent and accurate across all directories they're listed on:

4. Use the pizza analogy.
The best way to tell them about local internet marketing is by discussing something familiar: the search for the best pizza in town. At the end of the day, all pizza establishments just want to sell their pizza. But they want clients to know they are the best, and to achieve that, clients have to see why they stand out. In SEO terms, that means they have to outrank their competition to get more customers.
How do you help them gain that leverage? Start with:
Providing an effective keyword research – Your local SEO strategy starts with targeting the right keywords. Are they targeting terms used by customers in their area? What potential keywords can they target to increase their local visibility? This is an opportunity to show your agency's expertise in getting local businesses to rank.
Creating high-quality content – When it comes to local SEO, you need to provide content that speaks to your client's audience. Research about their customers and develop a content strategy that marries localized verbiage and audience intent.
Looking at their backlink profile – You'll be surprised at all the opportunities you can find by simply checking the backlink profile of your client. For instance, your client's rankings maybe suffering because of low-quality links pointing to their site. This can be a good opportunity to show them the value of link detox as part of your SEO service.
5. Don't forget to audit their website.
After giving clients a little insight into the core of SEO, you now have to enforce the importance of SEO with hard facts. Scores of websites get penalized for having duplicate content. More are stumped because their site pages are not optimized properly. Track that against the number of potential customers they're losing because they didn't understand the complicated local environment.
Run an audit on your client's website, which you can easily do from your dashboard. Here's an example of a website audit that you can present to your local SEO clients: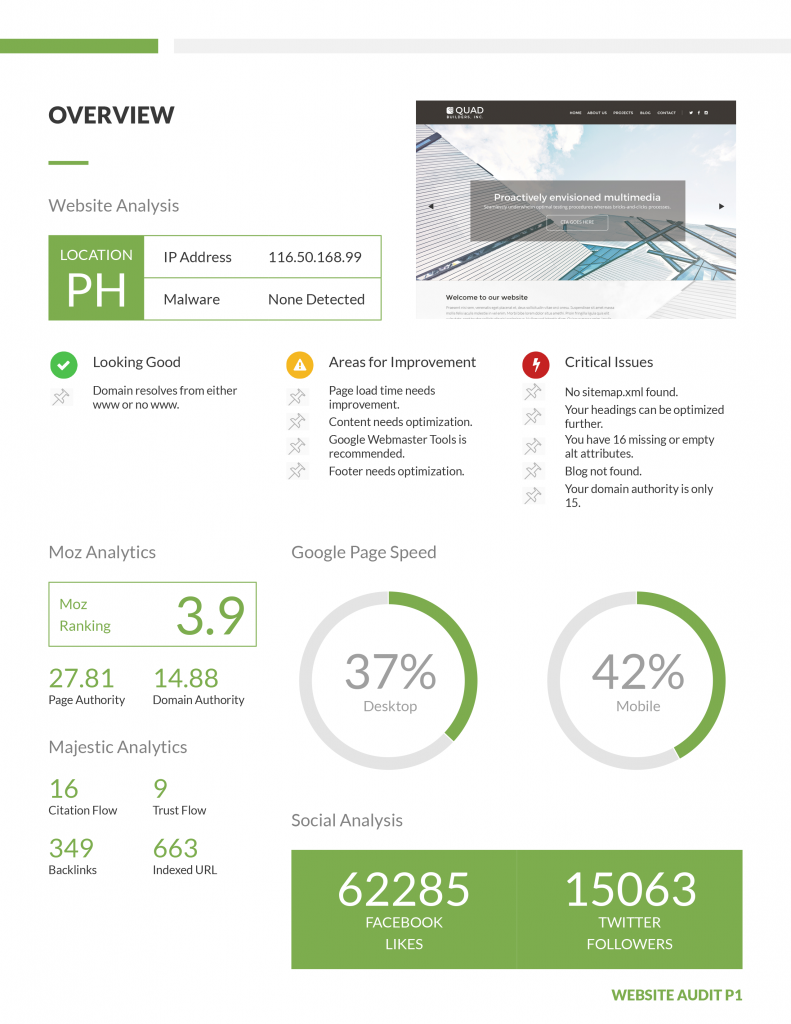 Pro-tip: Use your audit as a supplementary document when sending your SEO proposal to prospects.
6. Surround yourself with powerful allies.
Local allies, specifically.
Though Matt Cutts once said social signals do not affect search rankings, the power of social media manifests in other ways. For example, this increases the shareability and virality of your content, be it in the form of infographics or videos.
When your post is shared by a known local figure, this cements your image as someone of authority. And this tells your client that they, too, can be an authoritative figure in their chosen niche if they choose to work with you.
7. Tell a story.
Engage clients. Tell them how your SEO company started with local listings, too. Aim for a balance of humility and strategy. After all, being featured as a prominent local business does wonders for one's credibility. Talk to them about your achievements. Identify your differentiator—what makes you special from the rest?
One of the easiest ways to do this is by writing a case study. This not only serves as proof of how your methodology works, but it also provides your clients assurance that they're working with people who mean business.
8. Build credibility
As an SEO expert, your client base will want to see you walk the talk. That means being credible in Google's eyes and in your other clients'. This should not be too hard if you've been working on your own Google ranking–and really, who in this line of work wouldn't?
That said, don't neglect your own website. It's your initial lead generation tool, after all. Keep this in mind: If you're Google-ing your clients, they're likely doing the same to you.
9. Garner the good reviews.
Remember, clients want to increase their bottom line. They get that through sales. To sell, they need customers. And customers love to talk. Find the good reviews and show clients how those influence their brand. Find the negative ones as well, to tell the client why they shouldn't be so neglectful of their local brand image.
This is where you can use your dashboard to leverage reviews for your clients. Go to your Reputation Management dashboard, and under Reviews, you can monitor what customers are saying about your client's business.

10. Encourage feedback.
As part of introducing local SEO to your clients, you want to build trust. That means showing them you're not just eager to get their money. Show them you care about what they think. Listen to what they have to say and assure them you will work on areas they feel can be improved.
When selling local SEO to your client base, there's only one thing you have to remember: think the way they do. Determine the aspects that matter to them, whether that's popularity, a strong customer base, or a high ROI. When you crack their mystery, onboarding need not be difficult. You can fill their heads with numbers all you like, but if they don't see how it benefits them, you won't get anywhere.
Your local SEO success begins with us. Schedule a call and find out how to be the only local SEO provider that your clients will need.
The following two tabs change content below.
Itamar has been on the net since the days it was still in black and white. Born and raised in Israel and now living in the Philippines, founder of SEOReseller.com and recently launched Siteoscope.com.
Latest posts by Itamar Gero (see all)