Some small businesses shy away from SEO for multiple reasons: they already have a Facebook page; they don't know what SEO can do for them; or they feel SEO is only for the big leagues. 
That kind of mindset is what prevents them from being visible to their target customers, and we're here to change that. 
In this post, we outline the different small business SEO tips taken from our years of running campaigns and insights from the industry's experts. 
Whether you're a small business owner looking to improve your online presence or an agency helping brick and mortar stores find their place in the digital landscape with SEO services, this will provide you with a checklist of actionable points to start ranking today.
1. Keyword Research and Targeting
As with any SEO services for small businesses, it starts with keyword research. It builds the foundation of your online strategy – from content marketing to link building. 
But here's what you need to understand about keyword research—it's not a random activity you do just for the sake of getting the website to rank.
There's a thought process behind keyword research. If you do it right and have the right SEO tools, you're not just helping the website rank but also driving quality traffic for the small business. 
Match Keywords to Buyer Intent
Not all users who land on a website have the same search intent. Some may be simply looking for information, while others are likely planning to make a transaction on the website. 
So, how do you distinguish traffic that's likely to convert when doing small business SEO? It's a matter of understanding the target audience and their search intent. Are the keywords informational, commercial, or transactional? This allows you to determine which keywords to optimize the website's landing pages for.  
Look at Competitor Keywords
Most of the time, competitors can be a goldmine of keyword data, especially if a small business is in a highly competitive niche. Diving into what keywords the competition is ranking for allows you to spot for opportunities and see which search terms the website can rank for or rank better. 
One of the tools we like to use for this activity is Ahrefs. It provides an easy way to pick valuable keywords that a small business can start ranking for. 
A Quick Checklist
To get started on your SEO for small businesses, here's what you need to accomplish:
Find target keywords that match the buyer's intent.

Look at what the competition is trying to rank for.
2. On-page SEO Tips for Small Businesses
Websites have a stronger foundation with good on-page. With all the site elements properly optimized, small businesses can have the same opportunities of ranking for the top positions on search results as much as household brands do. 
Optimize the URLs of Landing Pages
An important – yet often overlooked aspect of doing SEO for small businesses – is having an optimized URL. Not only does this help in improving a small business website's ranking, but it also shows users are landing on the right page (which is plus points for user experience).  
Google rewards small business websites with a clean, SEO-friendly URL that has the following characteristics:
Has the target keywords

Describes the content of the page

Is short and easy to understand
For example, instead of having a landing page for a blog post that shows the URL path "www.testwebsite.com/blog12345", change the URL to make it more readable to users: www.testwebsite.com/blog/learn-seo. 
Write Keyword-rich, Attractive Meta titles and Descriptions
A website's Meta title and description are like a preview of what the website is about. It influences clickthrough, as users can immediately find out if the website offers what they're searching for. 
When optimizing the Meta titles and descriptions, include these best practices in your small business SEO checklist:
Titles should have 60 characters or less while descriptions should be under 160 characters to avoid being truncated on search results. 

Include targeted keywords on the titles and descriptions – preferably at the start of the title and sentences.

Give your titles and descriptions a little punch. In other words, make them click-worthy. 

Each landing page should have unique titles and descriptions.
Optimize Your Headers
Headers make your content easier to read and scan. These make the site content flow easily, as they introduce the topic of a page and the subtopics that follow. 
From an SEO standpoint, headers can influence website rankings by providing search engines with context about the content of the page through keywords. With keyword-rich headers, a small business website is more likely to appear on featured snippets on search results, which has more visibility to users.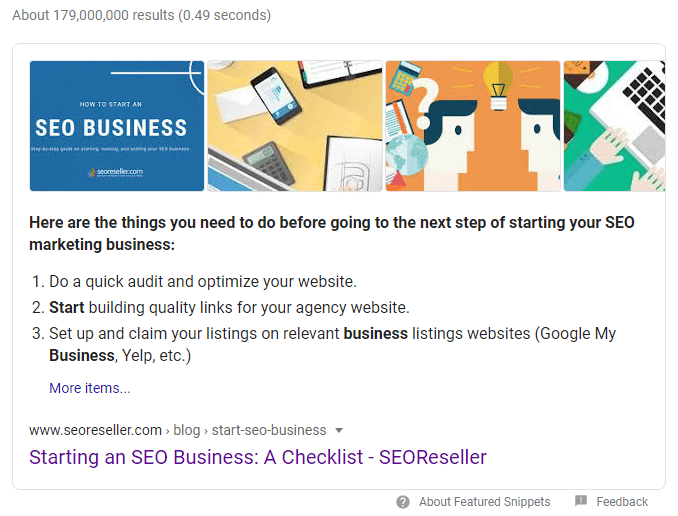 Image Alt Tags Should Have Your Target Keywords
While Google and other search engines don't see images exactly how a human would, they have a different way of understanding image content – alt tags. 
Alt tags or alt text provides a description of the image in case the image doesn't load properly. These also help search engines better how the image relates to the rest of the content on the page. 
One of the recommended small business SEO tips is to add a target keyword on your image alt tags but do so naturally. 
Here's an example of an alt tag for this image with the keyword "SEO strategy":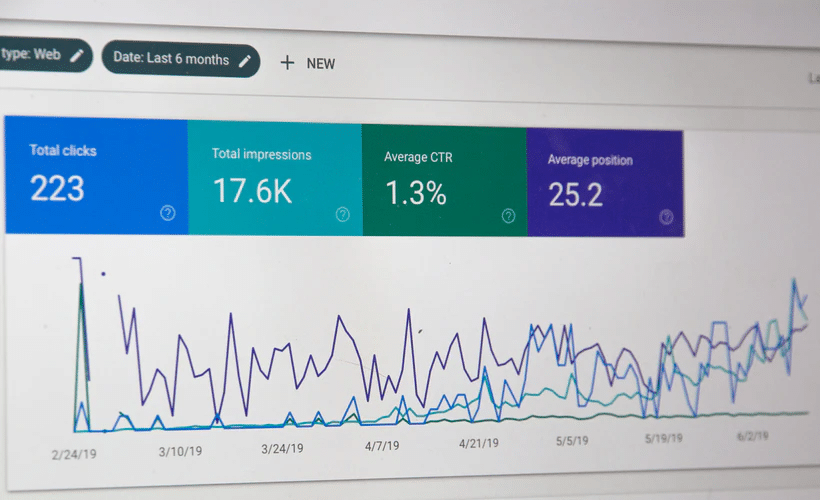 Alt tag: Traffic growth following an SEO service strategy as shown on Google Search Console 
The clearer you describe the image and the more natural you insert the keyword, the better. 
Write Value-adding, Interesting Page Content
Engaging, unique content is what makes visitors stay on the site. If the website's content doesn't live up to its promise, expect visitors to bounce and go to the competition instead. That's why every SEO service for small businesses should never overlook the value of having great website content. 
When optimizing a small business site's content, be sure to keep in mind these pointers:
Make website content scannable. 

Write for the users and match the content to their search intent.

Optimize content with the right keywords but don't go overboard to avoid keyword stuffing.

Be original. 
Quality content binds all your small business SEO efforts together so make every content count.
Quick Checklist
 Before we move on to the next part, here are a few things you need to accomplish:
Write user-friendly and SEO-friendly URLs.

Write attention-grabbing the Meta titles and descriptions. 

Optimize headers.

Use keywords in image alt tags properly. 

Create engaging content.
3. Technical SEO Tips for Small Businesses
Optimizing the technical elements of the website should be part of SEO plans for small businesses. This helps search engines index and crawl the website better, so it can start ranking on search results pages. A quick SEO audit on the website can help you identify problems affecting its performance and determine how you can further improve the site. 
Improve Page Speed
A slow website yields fewer conversions and page views. In other words, small businesses with a slow loading website are losing opportunities. 
SEO strategies for small businesses should include page speed optimization to make sure websites don't suffer potential conversion losses. Here are a few quick fixes to improve a small business site's speed:
Remove unnecessary plugins

Minify and combine files

Compress images with large file sizes

Implement browser caching

Focus on above-the-fold content
Implement Schema Markup
Using schema markup makes it easier for search engines to identify the information on a website, such as the business address, events, phone numbers, and industry of the business. This is especially important for brick-and-mortar businesses so they have more visibility on search results pages. Small online retailers also benefit from schema markup implementation if they add this to their Shopify SEO strategy.
Make Sure the Site has a Robots.txt File
The Robots.txt file is one of the easiest to implement on a website but doesn't get as much attention as other technical elements. However, if implemented correctly, this can help point search engines on what to crawl and what not to crawl.
Redirect 404 Pages
For search users, nothing can be more frustrating than to land on a page displaying a 404 error. For small businesses looking to improve their online presence, every user leaving the site because of a 404 can mean a high bounce rate. 
To avoid such instances, do a quick sweep of the website to identify pages with errors or broken links—you can use Screaming Frog for this activity. Create a spreadsheet where you can list down these pages and redirect them to relevant landing pages on the site.
Quick Checklist
Ready to do technical SEO on a small business website? Here's what you need to do:
Improve page speed

Implement schema markup

Implement Robots.txt file

Redirect 404 pages
4. Content Marketing for Small Businesses
Everything in SEO revolves around content. However, it's not just about publishing one blog post after another. It's a matter of knowing how you're going to utilize every content to reach the right audience while getting the small business to rank on search. That's what we call content marketing.
Develop Buyer Personas
In content marketing, every piece, every video, or visual that you provide out there needs to address the problems of the audience. To do this, you need to have a clear idea of the website's buyer persona. 
Defining a small business' buyer persona makes it easier to align topics that revolve around the customer. 
What are their pain points?

What motivates them to search online? 

Where do they find information (search results, social media, forums, etc.)? 

What are the topics they find interesting?
With a buyer persona, you have more control over the type of content to publish for the website and measure the efforts of your small business SEO service.
Create a Content Calendar
A content calendar provides more structure to your content marketing processes. But, why do you need to include this in your small business SEO checklist? 
SEO specialists and content marketers need to work together to view the gaps in their SEO and content marketing strategies. With a content calendar, you can align content topics with the right buyer persona and keywords to avoid publishing content not relevant to the small business. This also helps you see what other opportunities can help improve the website's rankings.

Repurpose Engaging Content
Content marketing is about creativity—not just in what information you'll be presenting but also how you're going to present it to customers. 
Maybe you can turn a blog post that got a lot of traffic into an infographic or video. A video that got a lot of views can also be repurposed into a guide that visitors can download for free. 
Repurposing content makes an effective small business SEO tip as not a lot of startups may have content assets right off the bat. This also helps in diversifying the business' content library that can be distributed to different channels. 
Create a Distribution Strategy
What purpose is great, engaging content if people don't have access to it? This is why part of your SEO strategies for small businesses is to develop a distribution strategy that allows you to put content out there. 
For example, if you have a blog for a new Shopify website, promote this to online communities where most of the target customers are. Social shares, mentions, and posting on relevant industry websites can also be an effective way to distribute content. 
Quick Checklist:
Now that you have content marketing as part of your strategy, here are a few reminders to include in your small business SEO checklist:
Develop buyer personas for the brand.

Create a content marketing calendar. 

Repurpose top-performing content into other formats. 

Create a distribution plan for the content.
5. Off-page Optimization and Link Building for Small Businesses
Everything that happens on the website is just one aspect of a small business SEO strategy. Activities that take place outside the domain also carry some weight in ranking the website. 
Optimize for Google My Business
If you're doing local SEO for small businesses, optimizing Google My Business listings is an important step to be visible on local results. It helps small businesses get on the first page of search results even if they are just starting to rank their website. Most importantly, it provides customers with quick information about the business, such as location and operating hours. 
When implementing a local SEO strategy, keep in mind the following qualities of an optimized Google My Business listing:
Verified Google My Business account

Updated and accurate Name, Address, and Phone Number of the Business

Fresh customer reviews s with responses from the business owners (We'll dive more into later on)
Track data on a Google My Business dashboard to further optimize the GMB listing.
Improve the Brand's Online Reputation
Customers have a hold over brands in the digital space, and this comes in the form of customer reviews. In fact, websites that display products with five reviews are likely to get more purchases than those with no reviews. 
If you're not paying attention to reviews, you can bet that customers do. This is why your SEO strategy should have an anchor on a good online reputation. 
It starts with responding promptly to customer reviews—the faster you respond, the better. If the small business site doesn't have reviews, provide customers with a channel where they can leave feedback, or you can ask them directly. Most importantly, monitor the online chatter and know what customers are saying about the brand with a reputation management dashboard. 
Focus on Quality Link Building
Links play a pivotal role in ranking websites. However, it all depends on the quality of links the website is getting. 
If you're building links to spammy websites with low domain authority, the site is not only getting a strong link juice from the third-party websites but is also at risk of getting penalized by Google. 
This is why link building requires the same amount of scrutiny as you would apply in on-page improvements. Quality SEO link building focuses on guest posting to websites that are relevant to the niche of the small business you're handling.
Pro-tip: Choose a website with a good Domain Authority. Review the content of the website you're planning to pitch your guest post to. If the content doesn't resonate with the target audience of the business, they may not be a good guest post prospect. 
A Quick Checklist:
Here's what you need to accomplish when doing off-page SEO for small businesses:
Optimize the website's Google My Business.

Improve online branding with a good reputation. 

Focus on high-quality links. 
Key Takeaways: Even Small Businesses Can Dominate the SERPs
It's a big "digital" world. Any business – big or small – can dominate the digital landscape and win more customers. However, it boils down to who optimized their website properly.  
For your small business SEO checklist, just think of these five aspects:
A solid keyword research

Good on-page performance

Technical SEO fixes

A well-planned and executed content marketing strategy

Best off-page and link building practices
If you've got all these written down and ingrained in your SEO team, you'll find that there's less randomness in your strategy. And you know what that means? It means better website performance and more visibility to target customers.