The importance of link building has been elevated now more than ever. Whether you're new to link building or you've been practicing the strategy for a long time, you're here because you understand just how valuable quality links have become and its importance in increasing website rankings.
In order for a website to do its job, it has to be as visible as it can be and that can only be achieved if you implement high-quality SEO campaigns — a big factor in influencing that is link building. This article will show you how to do link building more effectively.
Why is Link Building Important in Boosting Website Ranking?
Something you will have to explain to any of your SEO leads is link building as service and why it is very important. To cut the story short, search engines like Google, don't only look at the content when judging the relevance of the page. Another determining factor is the number of links directed on that page from other websites– of course, the quality of those websites is taken into consideration too. For example, a link coming from NYTimes.com will likely push your website higher than a link from a random blog.
There's more to link building than simply throwing in keywords in content and hoping (desperately) that website owners will link back to you. Link building involves a detailed process of outreach, keyword research, content creation, and distribution. Take one away from this process, and you'll find your link building less effective.
Through extensive research and application of the best link building strategies, we've created this guide for effective link building for SEO agencies. In this guide, we outline the following steps to a successful link building strategy and define what link types to build and what to avoid, so your agency can scale your outreach process and provide your clients with results that drive actual growth from your SEO service.
How Do You Build the Right Links?
Seasoned digital marketers or even those who want to be an SEO expert should know the fundamentals of a solid link building strategy. It's important to do the necessary steps in optimizing a website like doing an SEO audit. After that, you still have to boost the website's relevance so that it can do real work for the business.
This is why a high-quality link building strategy is a must. It shouldn't only focus on getting more traffic to your clients' websites; it should show real impact on their business.
We'll share our plan for you to acquire good links for your clients:
1. Keyword Research
Great keyword research will set the foundation when you're building links. Before you start pitching to website owners and bloggers to publish content for your client's brand, you need to know which anchor texts will serve the right purpose for the campaign.
Identifying Keywords
A quick dive into different tools such as Google Search Console, KeywordsEverywhere, and UberSuggest can reveal good keyword opportunities to push your clients' SEO performance. But if you're looking for more insights on keyword volume, competition analysis, and backlink analysis, you can subscribe to additional paid tools such as SEMRush, Ahrefs, and Moz.
Identify your client's top-performing keywords and map them to the appropriate landing page. This will help you diversify anchor texts when you start building links and provide you with topic ideas when pitching guest posts to websites.
Prioritizing Your Keyword List
To deliver the best SEO links for your clients, it's important to rank which keywords you're going to build links for. This means prioritizing the top anchor texts that have the most impact to your client's business. It'll help if you can track keyword rankings too for existing keywords
Focus on keywords that are ranking on positions 4 to 5, but are getting a significant amount of traffic. These are your low hanging fruits. Label these keywords according to search volume, difficulty to rank, search position, traffic, and intent. Organize these keywords into a list with the corresponding topic and target link building websites.
2. Natural Link Building Outreach
Out of all SEO outsourcing services, link building outreach seems to be the least popular but has the most impact on the success of an SEO strategy. It just doesn't hog the spotlight that much.
There are two important steps that will start off your link building strategy:
Prospecting
Start prospecting for potential websites to build links. Your prospects are likely to fall into the following categories:
Industry Authorities – These are the big players of the digital sphere. The chances of getting a response from them is almost zero – unless you know them directly, or have done something that merits their attention. If you do manage to get a positive response from industry authorities, a single tweet or mention from them can drive thousands of traffic your way.
Professionals – These are your mid-range influencers. They may not be as popular as the industry authorities, but their influence can still reap you benefits.
Novices – These are bloggers new to the scene. They may not have a wide audience, but their strength lies in their niche-targeted websites. Most startup influencers are generally accepting of content contributions and link exchanges.
It's best to start with Professionals and Novices, as you're more likely to get responses from them. Segment your list of prospects and arrange them with the following information:
Pro-tip: While you can search prospecting can be done manually for link building, some tools allow you to automate your outreach process. Use tools such as Buzzstream, NinjaOutreach, Pitchbox, Hunter.io, or Reply.io when searching for and reaching out to prospects or influencers. Domain Authority and the number of social media followers are things you need to check when prospecting, as these indicate readership, authority, and social traction. Go for websites with a Domain Authority of 30 and above.
Contacting Your Prospects
[perfectpullquote align="right" bordertop="false" cite="" link="" color="" size=""]Link building is not simply about getting backlinks, but is also hinged into developing relationships.[/perfectpullquote]
Link building is not simply about getting backlinks — although it's great if you have an SEO software capable of analyzing and indexing backlinks, too — link building hinges in developing relationships. You need to make your presence known to your prospects and start warming up to them. When you send an email to influencers or website prospects, don't follow a generic template. There is nothing wrong with using templates. The problem is using them too much without giving any thought on who will be receiving your message.
Here are a few pointers when you start reaching out to website owners, bloggers, or influencers for your SEO and link building plan:
Avoid flattery – Too much flattery will not land you that link. Instead of throwing them praise, give them context on why you think their work is amazing and why you're reaching out.
Write a compelling subject line – Writing a good subject line is your hook to get website owners and influencers to notice your email.
Know who you're talking to – The most important thing when reaching out to prospects for your link building is to know the person you're talking to. Do your research, so it will be easier to personalize your outreach email.
3. Content Creation and Submission
The most crucial aspect of link building is having strong content worthy of a link. It can be a blog post, an infographic, or even news articles. This is where your content plan comes in.
Creating Content
The key is to align your content ideas with your keyword list and the target link building websites. Most bloggers or guest posting websites have content writing guidelines when accepting contributions. Be mindful of these before you start writing away and creating content for your clients. There are content writing services available for you if you find that this is a task that you'd rather delegate to a writer or an SEO writer. Here are a few other pointers to help you in creating link building content:
Do a quick scan of the website – What type of topics do they feature? What type of content do they publish? Who is their audience? By addressing these questions, it will be easier for you to come up with suitable topics to pitch to the website.
Try different angles on the same topic – Use Buzzsumo to look for content on trending topics and come up with your own angle for these topics. Google's search suggestions can also help you develop topics based on what people usually search online.
Diversify your anchor texts – If you're writing a guest post with a link to your client's site, use relevant anchor texts that can support the topic and link back to keystone content. This can help you hit other long-tail keywords that point to your client's brand.
Supplement with good graphics – A content that's worthy of a link doesn't only read well; it has to look good. While some website owners or bloggers may provide stock images for your content, it's best to prepare visuals to supplement the main points of the content.
Submitting to Bloggers and Guest Post Sites
Building links should be done with great finesse. There's a right way of phrasing a request to send a guest post contribution or exchange links with an influencer.
Don't be a pushy link builder. It's easy for marketers to forget that they're not just chasing links or social media mentions. Be polite in your conversations.
Don't forget to send a follow-up message to your influencers and website prospects – whether they've reviewed your content or are interested in publishing your content. However, this doesn't mean you're going to bombard them with tons of messages every day. A short, polite follow-up message can be enough to give them a little nudge.
Like this example: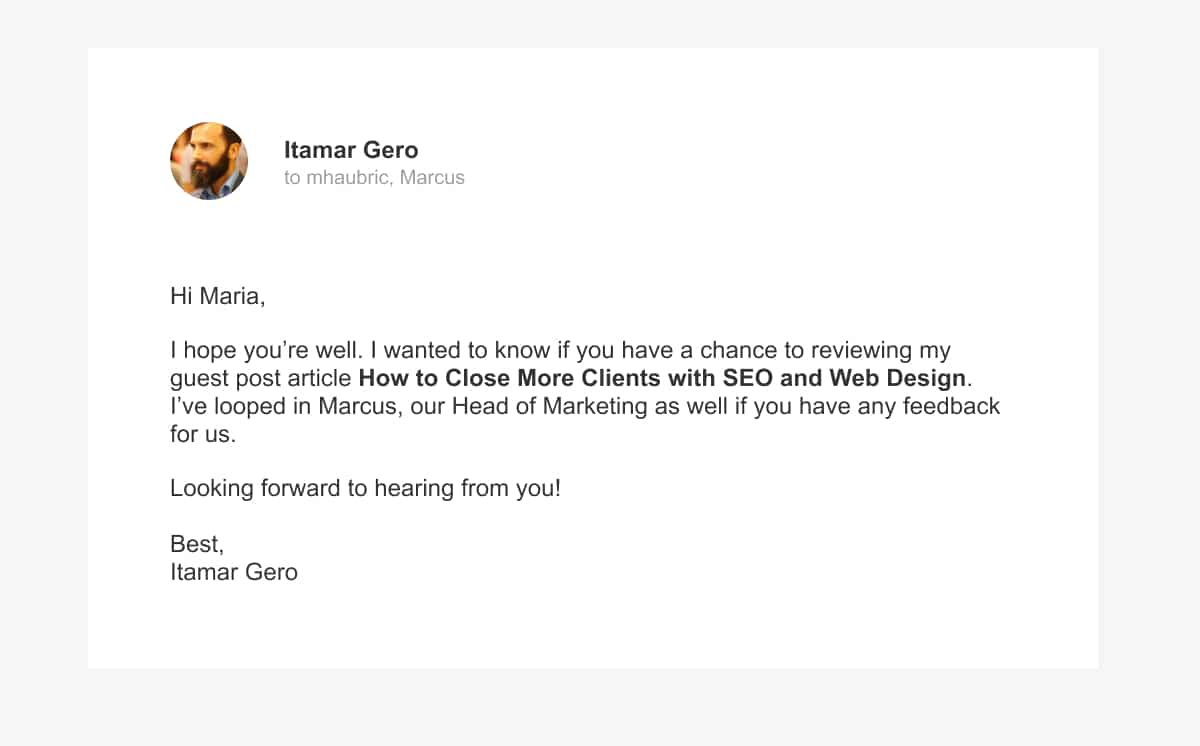 Once you receive a response, go back to your list and update. If you're successful in getting a prospect to provide a do-follow link to your client's site, add this to your list to monitor the progress of your link building efforts.
How Do You Conduct Blogger Outreach for Link Building?
Before you start building links for clients, there's one thing you have to understand – blogger outreach. So whether you're doing local SEO and building links for local clients or planning a more technical SEO strategy, this is something to take note of.
Blogger outreach is one aspect of link building and one of the most common tactics that SEO specialists use.
This is a process of putting content in front of a large audience via website owners, authoritative bloggers, or even journalists within a specific industry. This allows you to tap into a wider yet targeted audience while building links for your clients' websites.
There are different ways to do blogger outreach: email outreach, social media outreach, influencer outreach. I'll briefly touch on each type to help you determine the right blogger outreach approach for your clients.
Email Outreach
This is a more straightforward way of building links, as you send an email directly to a website owner to ask them for a link back to your site. You can use this approach if you find an article on a website that's relevant to your client's business and want to get a link from them to a landing page or blog that adds value to the topic.
When building links through cold email outreach, target websites that are relevant to your clients' niche. Writing your email message is also crucial—use a personalized email when sending a message to boost the success of your outreach efforts. There are different approaches to email blogger outreach. You can:
1. Send a request for a link. This is often done by presenting recommendations to a website owner and then asking them to link back to a page. You need to be creative when using this approach, as seen in the example below.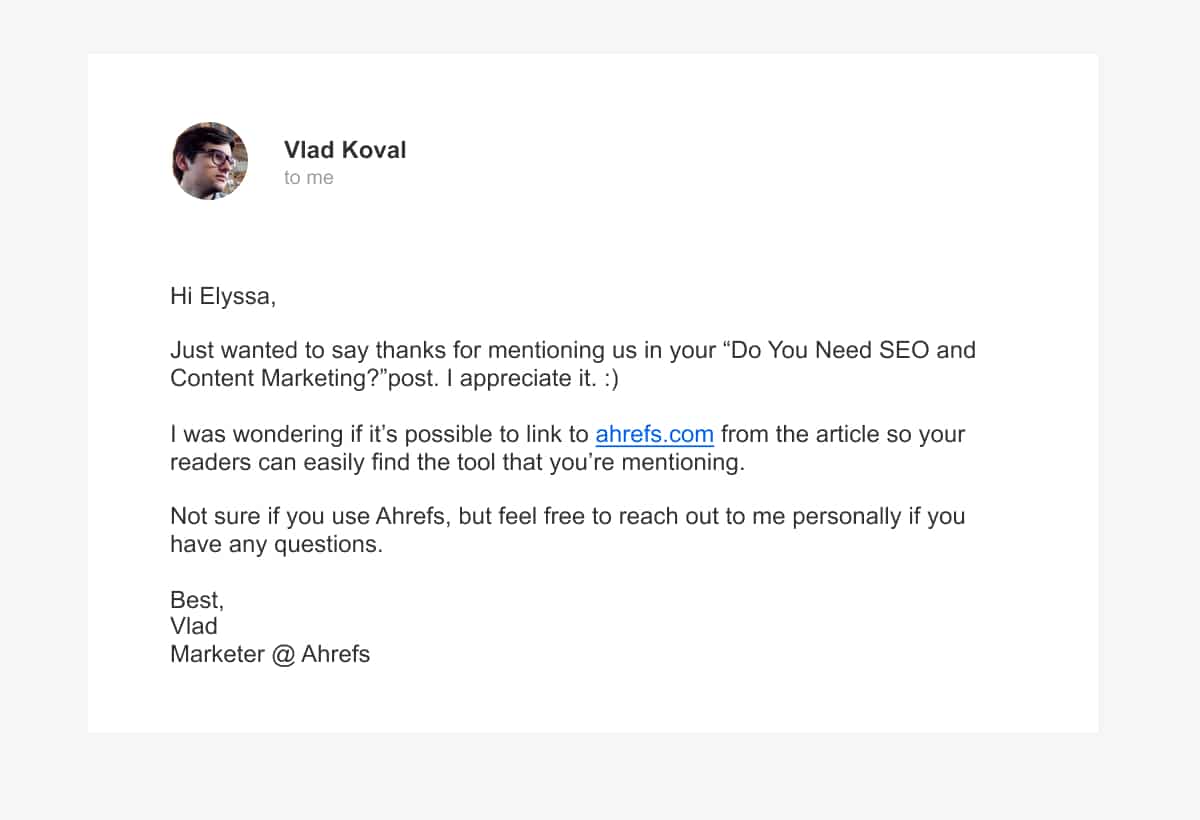 2. Write a guest post. Send an email to a website owner or a blogger and ask if you can write content with a link back to your client's website. When reaching out to guest post prospects, focus on topically-relevant websites, and send them a well-written article that's related to your client's niche. Knowing more about your guest post prospect and what they're after will help you win the opportunity.
Here's an example: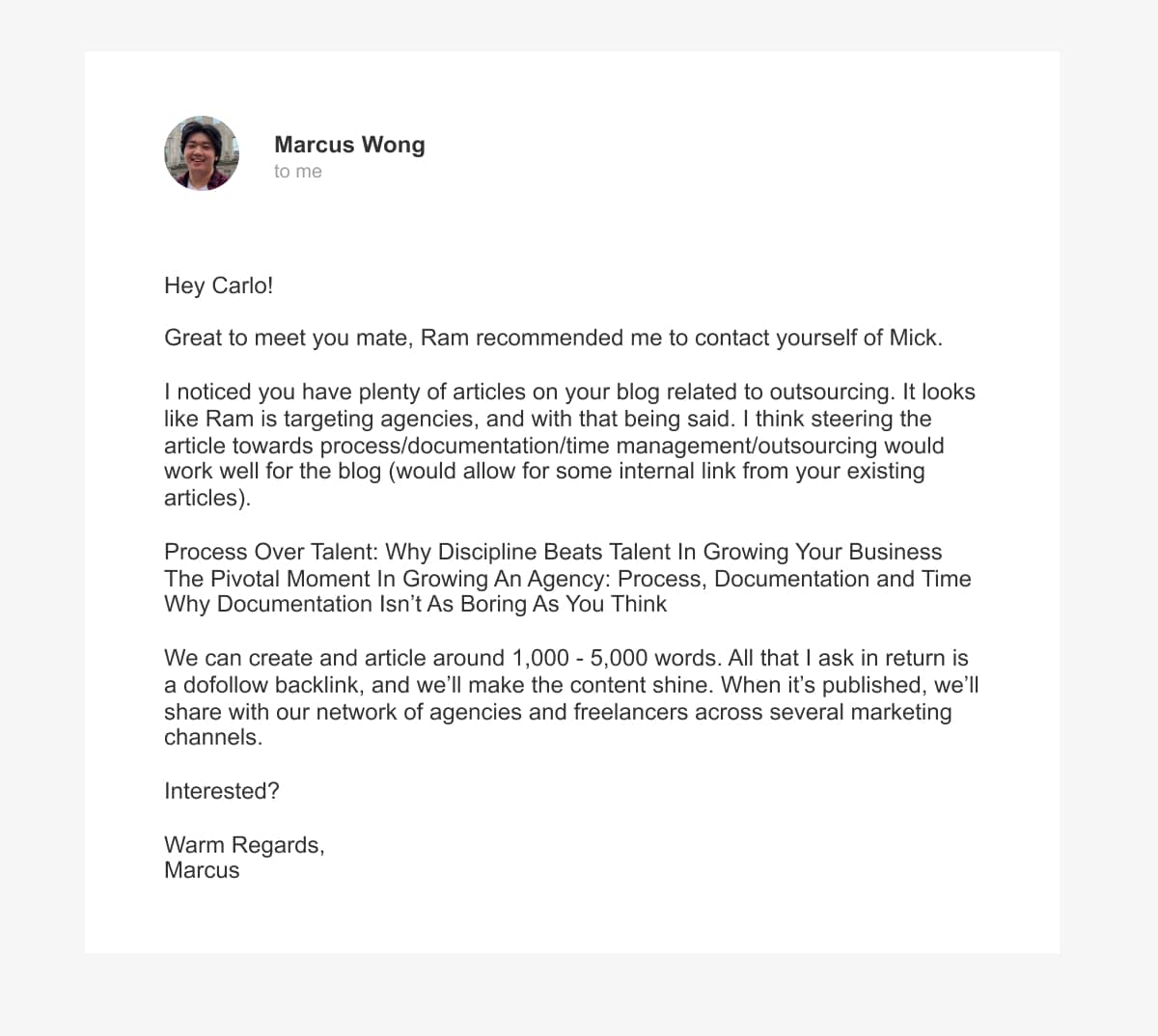 3. Ask for PR coverage. This approach requires more creativity, as you need to have a solid PR pitch that will address the question, "What's in it for me?" This works by asking the website owner or blogger to cover an important milestone – product launch, new website, etc.
One way to get PR coverage is finding where reporters seek answers relevant to your industry. HARO (Help A Reporter Out) is a great platform that enables you to do just that. When you subscribe to the HARO daily newsletters, you're spoon-fed an index of queries by reports. What you need to do is submit your input to reporters relevant to your industry and await approval. Each daily email breaks down into niches to make it simple to navigate and respond.
Here's a great example of an opportunity to respond to a query from a reporter of Mass Appeal magazine: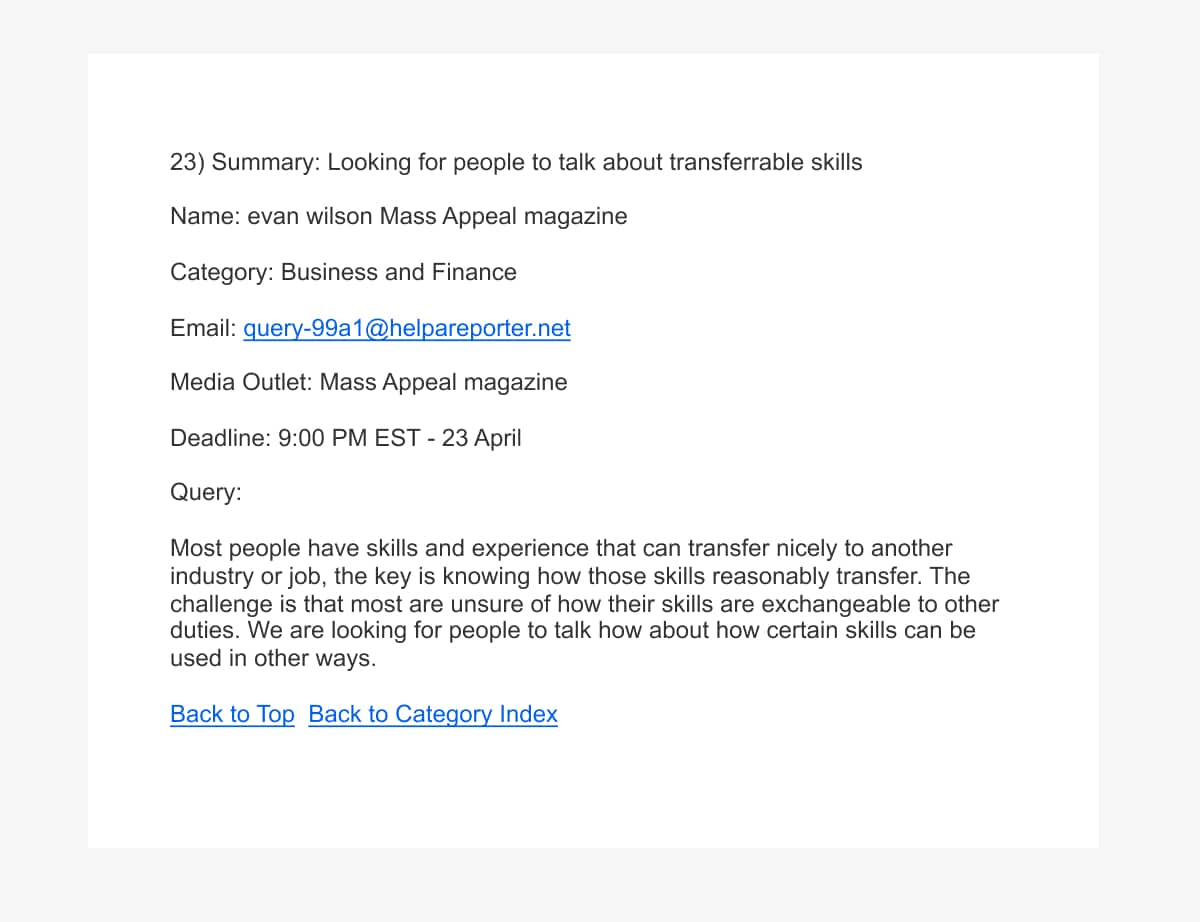 Social Media Outreach
Social media can serve more than just a channel for solidifying the online presence of your clients. This can also be a part of your link building efforts. How? By building relationships with authoritative bloggers or website owners for them to promote your content or client's brand among their target audience. Using social media outreach entails:
Leveraging your client's social networks to build relationships with bloggers and influencers
Promoting content on relevant social media channels
Maximizing engagement to boost social media presence
How do you launch a successful social media outreach? Remember these pointers:
1. Identify the influencers you want to connect with. While you'll find influencers who have a strong social media following, you must choose the influence that fits your client's brand the best. Use tools like Buzzstream or Followerwonk to look for subject matter experts or influencers.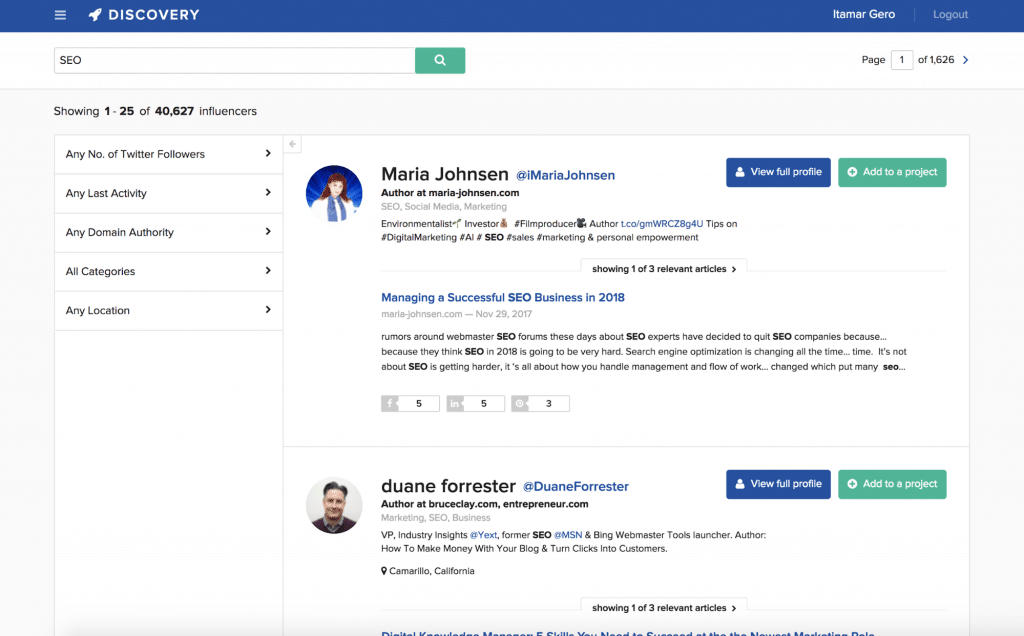 2. Organize your social media influencer list. This will make it easier to determine who among the influencers talks about similar topics, or who among them you've already interacted with. When organizing your list, specify the number of times they've shared or mentioned keywords related to a topic of your interest, the number of followers they have, and links to their social media profiles or website.
3. Initiate contact. Consistent interaction is important to get the attention of influencers. There are different ways to initiate contact – a simple content recommendation in a tweet mentioning them, a comment on a post, or even a direct message can be effective in engaging with influencers.
Influencer Outreach
In some cases, influencer outreach is tied with other blogger-outreach tactics, such as email and social media outreach. However, it's not as simple as doing a write up on a popular blogger's website and getting the links you desired from them. You need to provide a good value proposition to the influencer and getting them to link back to your client's website. A successful influencer outreach consists of the following:
High-quality content
An email that clearly explains your purpose of contacting the influencer
A mutually beneficial relationship with the influencer
To deliver the best results for your influencer outreach, refer to the following tips:
1. Look at audience engagement. An influencer may have a million followers, but if only 3% of them actually engage with the content, this will not likely provide a big impact on your client's brand. Look at how the audience engages the content published by the influencer. This will help you determine how the audience consumes content and develop the appropriate content for your social media outreach strategy.
2. Find opportunities in smaller communities. While larger communities can help you expose your client to a wider pool of audience, you should also look into smaller communities with micro-influencers. This is ideal if you have highly targeted campaigns for a very specific audience. Let's use car dealers as an example. Reach out to auto experts as part of your link building strategy when doing SEO for car dealerships. As this yields a smaller audience segment, you can drive highly targeted traffic to your client's website and improve engagement in real conversations.
3. Be ready to collaborate. One aspect of influencer outreach is co-creating content. This can help you build credibility for your client's brand, while providing them with fresh content that engages their audience.
4. Define goals from the get-go. Don't rely on vanity metrics to steer the direction of your influencer outreach efforts; set clear goals from the start. This can help you determine if you're working with the right influencer. For instance, an influencer with high audience engagement can be ideal for a client whose goal is to improve their brand awareness.
What Types of Links are Good?
To know the value of link building, it's important to know if the link you're after is worth linking to. Are you 100% certain that you're building the right links?
Part of the process is to stay up-to-date with search engine trends. We've compiled the different link types that you should build for your clients' backlink profile:
1. .com Links
Websites containing a .com extension are among the easiest and most common ways to build links. Most SEO specialists go for these links because they generally rank well—75% of websites are still using .com extensions.
While .com links can help in boosting SEO performance, relevance is still an important factor when building these links. Be careful of choosing .com links that may have been classified as spam or had a history of spamming, as these may affect your clients' backlink profile.
2. .gov Links
Websites with a .gov domain are also believed to have inherent credibility attached to them because of their associations with government offices and organizations. This factor makes .gov links a prized website for SEO professionals.
Most .gov domains have a high domain authority—www.usa.gov, for instance, has a domain authority of 92. With .gov websites having a high domain authority and perceived trust factor by search engines, most SEO link builders will only be able to generate a handful of .gov links per domain in their career.
3. .edu Links
A website with a .edu domain is often associated with educational institutions such as universities, trade schools, and even libraries, meaning only certified educational institutions can use this domain.
There's a valid reason many link builders reach out to websites with .edu domains. These websites more than likely have a higher domain authority than other sites, making them the coveted Holy Grail in any SEO link building strategy. What also makes these websites desirable for link builders is the trust that comes with their domain, with .edu websites carrying the name of well-known institutions.
4. .org Links
Websites with .org extensions are often used by non-profit organizations, providing them with solid social credence. While not as powerful as .gov and .edu links, .org links can still provide a good amount of link juice due to domain age, authority, and the perceived trust of these links.
5. Industry Links
One of the best ways to help clients build their authority is by linking to relevant industry websites. By getting a link from these sites, you can help your clients get more exposure to an audience who may be looking for the services they offer.
Getting a link from industry websites can also help in building authority. As they appear on these websites, users can refer to their information or promote the article (which contains a link to their website).
6. Press Release Links
While some believe links from press releases are a product of the bygone days of SEO, they remain an effective aspect in today's link building strategies because of relevancy and instant exposure to a wider audience base. Press release links often come from digital magazines, news websites, or blog sites of journalists.
7. Editorial Links
Editorial links are anchor texts placed within the content that serves as a resource or additional reference on the topic being discussed. The anchor texts used might be a brand citation or a keyword related to the destination page.
In most cases, editorial links are built naturally—SEO professionals often link to another site because of its relevance to the content. In other situations, they reach out to the owner of the content through email and ask if the brand cited can be linked to their website. These editorials are valuable because being cited as a source (especially if it's coming from a high domain site) can boost the credibility of your client's website.
8. Guest Blog Links
Guest blogging mostly works like industry and editorial links, but the difference is you'll be pitching a post to be published on the website. This can be an effective way of getting referral traffic to a client's website, boosting their authority and SEO performance.
Guest blogging is one of the most common link building methods that SEO professionals follow. To be successful at getting guest blog links, it's important to pitch a post that matches the overall theme and tone of the guest blog site. Most of these sites have writing guidelines that you need to follow so you have more chances of getting your post published.
9. Author Bio Links on Guest Blogs
In most cases, guest blog owners may permit contributors to add a link on their author bios. This contributes to the credibility of the contributor or author, as it helps in directing search users to their website.
Apart from links to the client's website, you may also add links to their social media profiles. This indicates the author of the guest blog is a real person with real followers.
10. Internal Links
Internal links are the easiest to build because you're simply linking a money page to other relevant pages on your website. In our SEO case study, we've seen how good internal linking, along with on-page optimization, can boost a website's performance.
While external links have a higher value, internal links are still valuable in SEO because they help in establishing contextual relevance between existing pages on the site. This also helps search engines determine the relationship between pages, especially if these pages are discussing similar topics.
11. Country Domain Links
Getting backlinks from relevant or niche-related websites can help, but having a list of links from country-specific domains can provide your client with the extra SEO firepower. However, this may only be effective if your client's location is specific to the country of the domain you're targeting. For instance, a link with a .com.au domain can be a good link for a client whose business is operating in Australia.
12. Links from Authentic Reviews
Links from reviews or testimonials help in boosting credibility, as these provide fresh user-generated content and reinforce your clients' social proof. Reviews also help a brand get more ranking opportunities for long tail keywords, as opposed to using exact matches only.
13. Social Links
There are two ways you can get social links: adding your clients' websites on their social media profiles and adding links to relevant pages when posting on different social media channels. Building links with social media help drive traffic to your clients' websites and promote better engagement with their target audience.
14. Chamber of Commerce Links
Clients running a brick-and-mortar store or a small local business can benefit greatly with links coming from their local chamber of commerce. These links help them establish their presence for local keywords in Google's Local Snack Pack. These links are often part of the citation building for local SEO strategies.
What Links Should You Avoid?
There came a time when SEO professionals were simply building links just for the sake of having them. But, remember the Google Penguin update? This algorithm update changed the game when it comes to link building, as Google started penalizing websites that were aggressively building low-quality links. This shifted the focus to creating more high-quality links that are relevant to the website they're pointing to.
The type of links you should build for clients must provide value and serve as a vote of trust and credibility for their website. In general, you need to avoid links that are spammy.
1. Links from Content Farms
Content farms are websites that produce low-quality, rehashed articles for the purpose of stuffing keywords and building large amounts of backlinks. Google frowns upon this practice because it affects the experience of users due to the low-value content appearing on search results.
2. Links from Low-quality, Irrelevant Syndicated Articles
If done properly, syndicated content can help you improve a client's online visibility and drive traffic to their website. What makes content syndication risky is when you link to a website that is not relevant to your client's business. If you plan to do content syndication, be sure to check if the website has good authority and relevance to your client's industry.
3. Links from Irrelevant Directory Sites
Linking to online directories is a strategy that many SEO professionals still use today, as this helps in boosting local search presence of a brand. However, links from irrelevant directories are a red flag. Avoid directories that accept anyone to submit their websites, don't have an approval process, and employ shady link building techniques.
4. Paid Links
Buying links is against Google's guidelines. Enough said.
5. Links from Spam Comments
If you're building backlinks through blog commenting, be sure to provide only insightful comments on blogs that are relevant to your clients' business. Otherwise, you're posting spam content – and this can hurt your clients' SEO.
6. Links from Low-quality, Irrelevant Forum Websites
Some forum sites can provide do-follow links. SEO professionals sometimes build links on forum sites to drive targeted traffic and establish relationships with other industry authorities. However, not all forum sites may provide the value you're looking for to boost your clients' SEO performance. To make sure your clients' brand won't get flagged by forum website owners (and Google), avoid forum websites that are not focused on their niche.
7. Links from Websites in a Foreign Language
This is logic speaking. If your client is from the US, search engines will expect to see backlinks from US websites. But, if the bulk of links in their backlink profile come from low-quality websites in a foreign language, search engines may consider this as unnatural and manipulative.
8. Links from Duplicate Content
As there are multiple versions of the same content, linking back to duplicate content may not provide your clients' website with as much link equity. In this case, your link building efforts may turn out ineffective.
9. Automatically Generated Links
Automatically generated links will have a greater chance of damaging your site rankings as it can improve your website's ranking performance. Commonly found in negative SEO attacks, your only counter is to disavow them as they appear, using Google's Disavow Tool.
How Do You Determine the Good Links from the Bad Ones?
You win at link building if you're providing quality backlinks. But if you're not cautious when building your client's backlink profile, you'll have to answer to Google's Penguin algorithm and cause your client's site to get penalized.
But, what makes a link good? What makes it bad? There are a bunch of SEO tools out there like Linkody and Moz that can show you a website's domain authority (which will be discussed below). Consider these factors with your SEO link building strategy:
1. A good link is relevant to the content or business of your client.
It's the first thing you need to ask when building links. It won't make sense if you have a guest post link talking about "best pizza recipes" pointing to a client car dealership website. If you want to build guest post links on a particular topic but don't have enough guest post websites catering to the niche your client is in, you can still bridge topics and merge them in the form of case studies or white paper.
2. Links with over-optimized anchor texts can be bad.
These are often links that come from websites using bad SEO practices, such as having too many exact match anchor texts. This makes the content look unnatural, which Google sees as detrimental to the user experience. Be sure there's an even distribution of exact match, partial match, and branded phrases when you're linking.
3. Links from websites with a high domain authority are ideal.
Domain Authority is a metric created by Moz to gauge how well a website is performing in search engines. Websites that have a high domain authority are generally considered good for SEO and link building, assuming the links are relevant to the content of the referring page.
Key Takeaways: Time to Build More Links
If you're ready to start building links, now is the time to try a new approach.
This is a strategy we've used to augment the link building efforts for our partners and also for our own brand—we've seen not only an increase in traffic to their clients' websites but also in the quality of links we're getting.
So whether you're already running a digital agency, planning to start an SEO business, or it's being an SEO consultant you're targeting, this process will help you out a lot. While this is effective, you don't have to do it alone. The entire link building process can take time before it yields results. Outsource SEO or your link building to us and we'll help you execute, so you can focus on finding your next SEO client or improving the strategic decision-making process of your agency.
Either way, you have to remember that before pushing on building links, you need to offer websites and users alike something valuable so that a website can link to it and people will be interested in it.