Twitter opened strong this year, as it had the most social shares according to social data platform ShareThis's Q1 2014 report. Email, on the other hand, was on the other end of the spectrum, with shares falling significantly.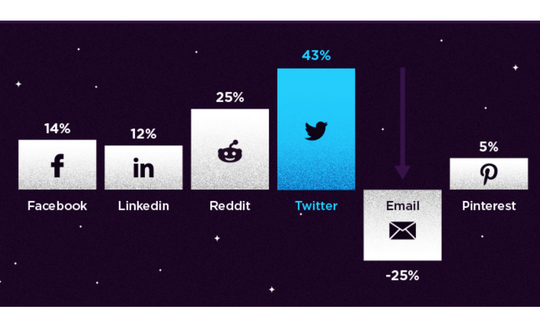 Twitter had the highest percentage of share growth, seeing a 43% increase in its shares since the year began. In an interview with Clickz, Jeremy Flynn, ShareThis's Account Manager of Publisher Services and Business Development, he revealed that this growth is because of Twitter's addition of image functionality in their platform.
Reddit came in at second with a 25% growth in the first quarter of 2014. Facebook was third with 14%, LinkedIn came in fourth with 12%, and Pinterest was at fifth place with 5% growth in the first quarter of this year. Email, the oldest platform among those included in the survey, saw a dramatic decline in shares in the first quarter of this year. They saw a 25% decrease in social shares.
Mobile On The Rise
Another important thing to note about the ShareThis Q1 2014 Report is that it reveals how big a role mobile is playing in the increase in social shares. "We also saw a pickup in mobile devices across social platforms," said Flynn in the interview. "Twitter is very active social network for mobile users."
The study shows that majority of social activity happens on mobile – in fact, mobile sharing has increased 28% at the start of this year. Desktop shares seem meek, with social shares increasing only at 11%.
Other findings include:
Reddit is for the younger audiences (30 and below), Facebook and LinkedIn is for the middle-aged (40 and above), while Twitter and Pinterest are for audiences in their thirties
55-60% of general social sharing is done by females, but this isn't true for Reddit, which sees more activity from males
What This Means for You
These results provide useful insights into your social marketing strategy. While email continues to be an effective lead generation tool, it may not be your best option if you are looking to make your content go viral or if you're looking for more social interaction. The other findings also let you know which platform to use when your client is targeting a specific market. Finally, it emphasizes the importance of having a "mobile first" strategy, as mobile is clearly becoming the dominant screen your target audience uses."
Talk to your account manager today to discuss your current social media strategy. If you're not yet our partner, sign up now and get access to your free SEO dashboard and to our complete range of online marketing solutions today.