Regardless of the channel through which a potential customer discovers a business, they will at some point want to know about other people's experience with that business.
All it takes is a simple search. What they discover will determine if they become customers.
This is why managing your client's reputation is critical. It's a message that we have conveyed to our partners since we launched the service and now, we want to help you convey it to your clients.
In this installment of the Partner Bootcamp series, we talk about why managing your client's reputation is so important and how it helps drive sales. Plus, we give you three different ways you can sell Reputation Management to your clients or prospects.
Why Reputation Management Is More Important Than Ever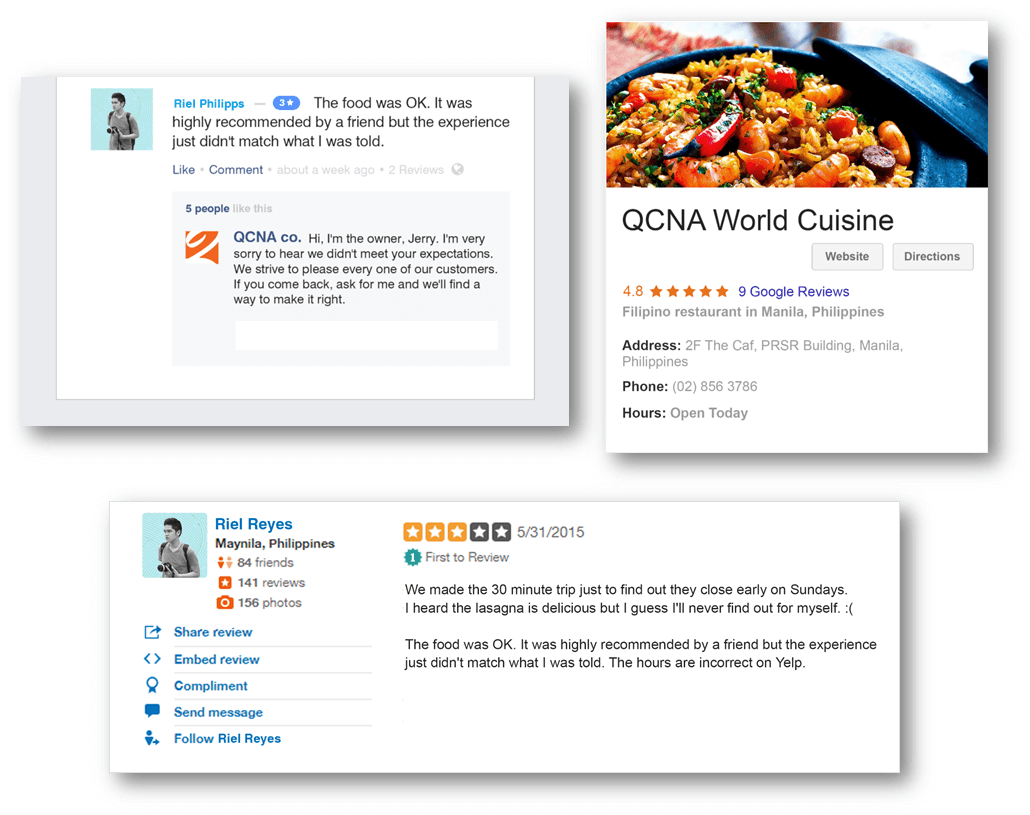 A negative review can be manageable, given that the business responds to it properly. Now, imagine having tons of negative reviews and not proactively resolving the issues customers are airing. What will happen to the business?
This is just the most straightforward answer to why reputation management matters. But, it goes beyond that.
Your Client's Online Reputation Starts When You Build Their Online Presence
People can talk about your clients anywhere. But when you start building an online presence for them, the value of a well-managed reputation increases. This is due, in part, to increased visibility.
Why do we optimize our websites? Because we want them to rank higher in the search results, which increases visibility.
Building an online presence accomplishes similar results, starting with putting your clients on major review and niche-specific review sites.
In fact, business pages on the major review sites have become microsites for businesses that manage them properly. These sites have pertinent information for people who are looking to buy – information such as the address, phone number, and business hours.
If this information is incorrect, you risk losing potential customers that have a high likelihood of buying, based on the fact they are looking at reviews.
Your Clients' Potential Customers Are Reading Reviews Before They Make a Decision
According to a BrightLocal survey, 50% of respondents read online reviews regularly. For consumers looking to get the best deal and the highest quality of service, how else would they do this if it wasn't online reviews?
In the digital age, word of mouth occurs through the number of stars. Though they know this, most businesses still fail at managing themselves online.
There are four main reasons they fail:
They don't leverage owned properties. They have claimed their listing but failed to do much more.
They don't reach out to customers. You have made your customers happy. Ask for a review!
They don't track what customers are saying. Know this: they are talking about you. Find out where.
They don't leverage the reviews they get. If you get reviews, this is social proof and you need to put those where people can see them.
Negative Reviews Have a Direct Impact on Your Business
Imagine a local search for anything. Front and center will be Google's Local Pack taking up a lot of SERP real estate. The searcher sees reviews for your client and your client's competitor. What they see here will have a significant impact on where they spend their money.
If it's a 3-star review for your client and 4-star review for their competitor, their chances don't look great. You negate this by requesting reviews, something that can be done easily with our Reputation Management dashboard.
There are a ton of stats that back up the simple idea that people prefer businesses with a least 3.5 stars or more. There are no stats to suggest otherwise, so why would you let your client flounder with a terrible average rating?
How Reputation Management Grows a Business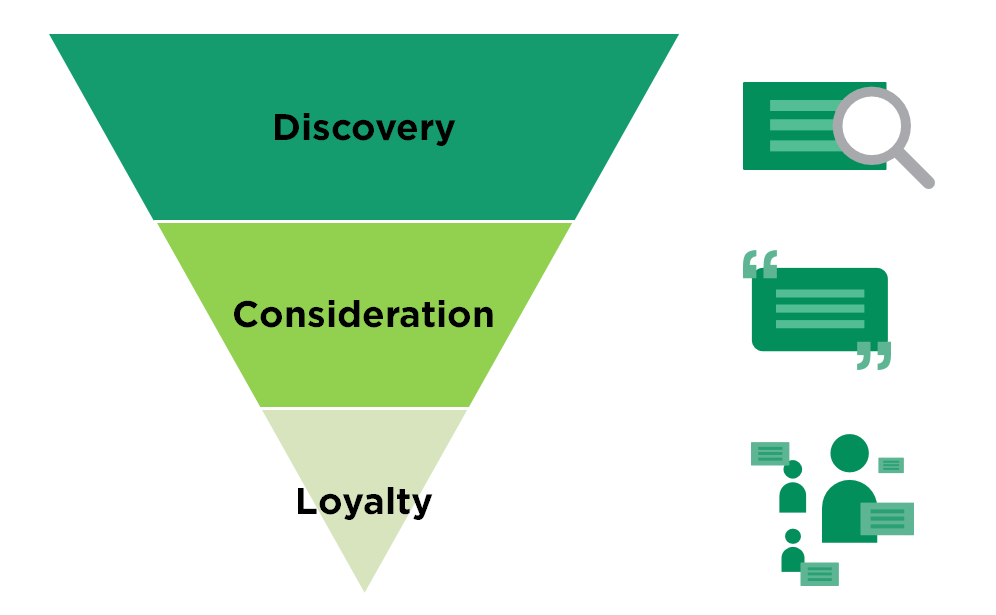 We are all familiar with at least one variation of the sales funnel. What we all may not know is that our reputation online can be a major factor in whether a potential customer progresses from one stage to the next.
Discovery
As touched on in the presentation, it's not necessarily that more listings are better. Rather, it's the relevancy of the websites that increase the visibility of your clients. Furthermore, having accurate information and positive reviews helps you more effectively reach potential customers for your clients.
Consideration
Without positive reviews and consistent engagement, turning your leads into prospects is more difficult than necessary. The best website, the nicest office, the greatest pitch – all of these will be followed by a Google search which usually yields reviews for local businesses. What will your clients' potential customers see?
Loyalty
Your clients' happy customers are their brand ambassadors – if you're savvy enough to use them that way. 7 out of 10 consumers will leave a review if asked. When they leave a glowing review about your client, that helps move people along the buyer's journey at every stage.
How Does Your Agency Help?
Build Their Presence
Where are your clients' customers looking? We already know about the major review sites – Yelp, Google My Business, and Facebook. But what about the niche sites like Networx for contractors, or hg.org for lawyers. Finding the right sites, setting up the listing, and weeding out the sites that don't bring value can be a lot of work.
Manage Their Reputation
Many businesses understand the importance of having a presence on review sites and therefore set up their profiles. What happens next is crucial. Setting up these sites is one thing; monitoring them is another story. Pay attention to what you build. Use good reviews and learn from the bad reviews. With Online Reviews features on the dashboard, knowing what happens in conversations across Google My Business, Facebook, and Yelp listings can be easy.
Promote Their Business Online
Your local clients probably don't have huge marketing budgets. Therefore, it's important to maximize your efforts where you can. With the right tool, like our white label reputation management service, you can do a lot with not much. Share positive reviews, build a referral system, and showcase their wonderful customer service.
How Do You Sell Reputation Management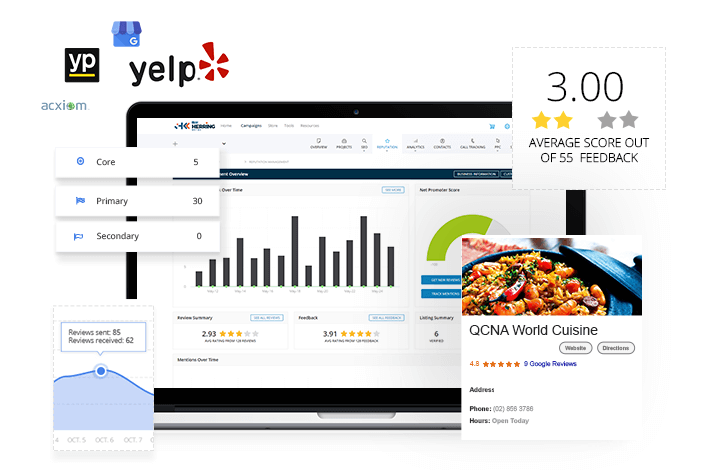 As a Service of Its Own
Among the partners that used our Reputation Management dashboard, a popular way to sell Reputation Management is as a primary service. In this case, the partner manages the reputation which allows them to mark up the service significantly higher. This is because the partner is managing their client's reputation with our tool.
Potential customers will be overwhelmed by what it means to manage a reputation. They have no time or no inclination to manage their reputation but know that word of mouth is important.
For this to be successful, the partner would need to learn the details of reputation management as well as how our service works. They, in turn, educate their clients. Not that different from how they would with another major service such as SEO or Web Design.
This works because customers see you build their reputation from seemingly nothing into something.
As a Foot in the Door
Another effective method of selling Reputation Management is to make it your foot in the door. In this case, you can use this as supplementary when selling SEO or other digital marketing services. If they need a little more convincing, use the data you can find on the Reputation Management dashboard as part of your pitch.
Instant notifications, instant reporting, data tracking – these are all selling points. Not only because it's an effective way to manage their reputation, but because you communicate that if your agency handles their SEO or Social Media, they'll get the same quality.
This works because with the reporting and ease-of-use, you can show the opportunities you are building for your client and transition to selling more services.
As a Complementary Product
The final way to sell our Reputation Management service has been primarily used by our larger, more advanced agencies. These agencies already have the business of their clients – they are usually handling their entire digital marketing services. But they need a way to add to it.
Our more established partners sometimes ask us what else they can sell to their clients. Reputation Management is the answer. This usually comes with the lowest markup, but this largely depends on the agency. Our best agencies position themselves to still sell as a premium service. Similarly, they use Reputation Management to complete the digital solution.
Focus on Building a Better Image for Your Clients
Remember a negative review is like a bad potato in a sack full of healthy ones. If a customer sees it, they may be ready to throw the entire sack away or even turn to another buyer. That can happen to your client if you let them neglect their online reputation.
Luckily for you, the task doesn't need to take much effort. In fact, it's all on your dashboard.
Monitor online reviews.
Get feedback to improve customer experience.
Maintain consistency across business directories and listing websites.
All these you can do with the Reputation Management dashboard. See how it works and start taking control of your client's online reputation today.