A website has the ability to reach a worldwide audience, and it needs to rank on the first page of search results for it to happen. SEO is the process that primes your website so that it ranks on top of the results, even targeting places beyond your area. So, what if you want a local business to rank higher in a specific area? This is where local SEO comes in.
What is Local SEO?
Local SEO is a type of search engine optimization (SEO) tactic that aids your business in becoming more visible in local search results. It's an SEO category that targets a specific location so that a business can rank in that area. An effective local SEO strategy enables a website to appear on top of local search results or when a user expects results just from that area. 
An example would be if you own a dental clinic or a chiropractic clinic and you're in need of more patients. In this case, your ideal client will be those who need your services and those who are located in your area. There are approximately 573k searches for 'dentist near me' in the U.S. alone, while 'chiropractor near me' got 261k searches. These numbers represent the number of people looking for these services in the entire country.
What local SEO does is isolate the searches coming from your area (or any area you're targeting) and focus on those people so they're going to see more of your pages, ultimately, leading them to where you are. 
For a more specialized approach, you can get services specifically catering to the industry your business is in. In this case, they're SEO for dentists and SEO for chiropractors, regardless of the industry, you can ask your SEO provider to implement local SEO initiatives on your campaign. 
A local business website should aim to top the local search rankings. 
Another example would be, an Italian Restaurant based in L.A. The goal is to be the first to appear on the search engine results pages (SERPS) whenever a potential customer looks for an Italian place on Google. The challenge is topping the list of over 486 million search results.
This is what pops up when a website has done local SEO: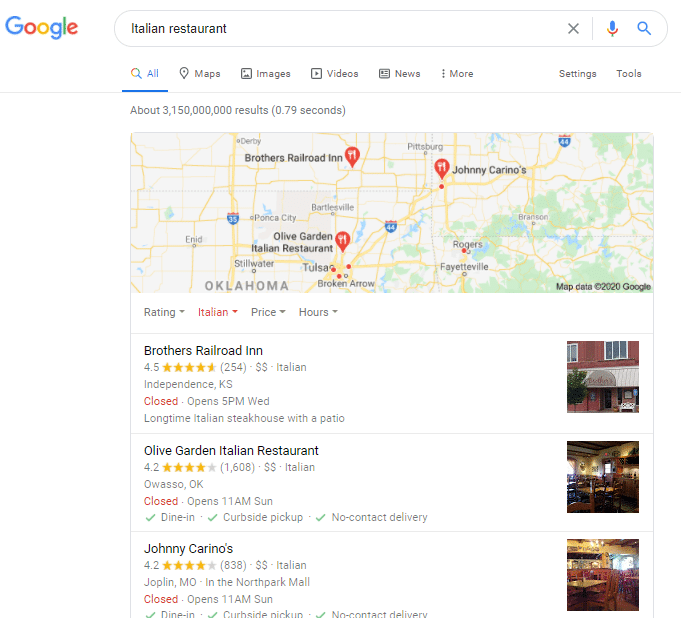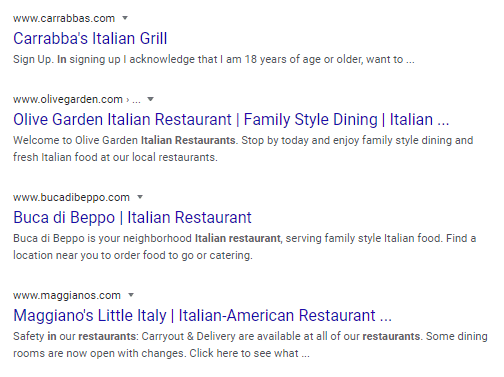 The keyword we used was 'Italian Restaurant', but notice that the search engine only chose to show me Italian places in my area, not anywhere else in the U.S or the world. 
These establishments that have appeared at the top have optimized their websites for local search so that when a customer goes online in looking for services related to theirs, they readily pop-up. They were able to top the other 100,000 italian restaurants in the country, including those in Oklahoma. 
These results can be achieved when local SEO is done properly on a website. This means getting the right SEO services based on accurate SEO audit, analysis and recommendation from your SEO consultant or expert. 
In the case presented above, you can either get SEO for restaurants or Los Angeles SEO services. Either way, you will be guided through the process so that you can get the best SEO solution for your business.
Below is another situation, this time, a visitor is aiming for a more specific keyword.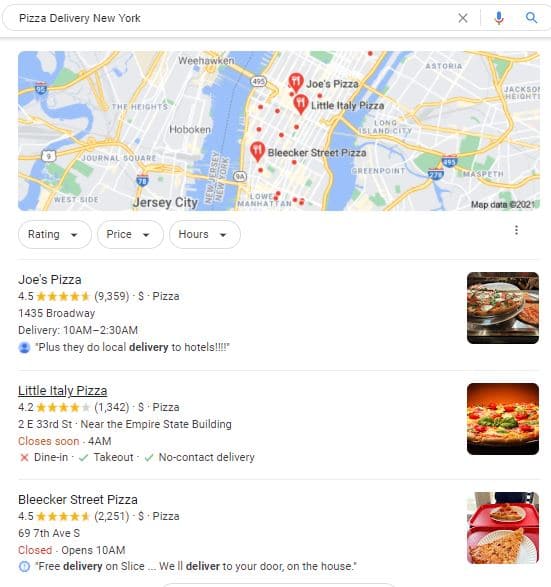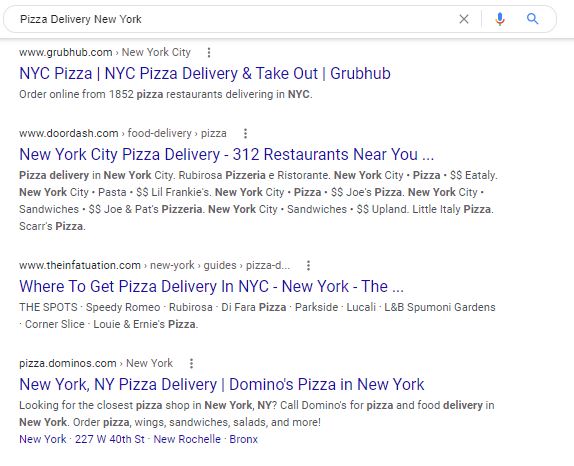 The search involves looking for a Pizza Delivery specifically in New York. Note that you don't have to key in the exact location if you're looking for a place near you, as Google will automatically give you results based on your location – if the establishment's website has implemented the right local SEO strategy.
As you can see, local businesses will benefit highly from local SEO. However, the process done in local SEO differs greatly from the usual SEO that's mostly done for businesses who cater to audiences from various locations. From the example above, if you're a Pizza Place in New York, you'll be competing with 20 million other pages for the spot on the first page. This means that you have to get local SEO services for New York businesses or SEO for restaurants, as it will optimize your website so that it ranks better compared to competitors.
Understanding How Google Works
Google owns 92.05 percent of the global market share for all search engines. As the majority of users use Google, we'll focus on its ranking factors in this article. Google ranks a website based on hundreds of factors which you can refer to in their Webmaster Guidelines. With millions of webpages in existence, ranking, and being found by a user takes more than just matching a word or phrase on your website to a phrase a user types in the search. Now, one of the ranking factors involves backlinks or links created when other websites link to yours. That's not all.
When a user types in a  search query, Google isn't actually conducting a live crawl or search every time. Google already has crawled a site with its Google spiders and has already indexed a copy of it on its server.
How Local SEO works
With the various ways Google ranks websites, it also considered how many people are looking for businesses right where they are located. With this factor in user behavior, Google now takes into consideration the user's location when conducting a search. It does it automatically and you don't need to add in extra words like your location or the words 'near me' or 'nearby'. 
You can just Google 'Italian delivery' or even 'dental appointment' and Google will pull up a list of places near you.
With the growth of mobile users, and how easy it is to just pull up your phone and type in a search, more businesses are finding it necessary to be visible to these users. This is why local SEO has grown in demand as it boosts visibility and growth of local services as well as local products.
How to Optimize Your Website For Local SEO
Unpredictable cases like the pandemic are pushing people to prefer the comforts of their own homes rather than actually going out themselves. This change in behavior can also shift how local businesses operate and in order to adapt to this change, one of the major moves is to make sure that your website is performing well. Not just in terms of receiving clients, but also getting found by them. 
There are a lot of areas you need to work on like content, link building, and the technical SEO aspect of the website. However, before you dive into those you should first work on making sure that your website works on those low-hanging fruits first. Those bits will ensure that your site will appear in local listings.
Here's the list of things you have to prioritize before doing other Local SEO activities:
Google My Business

Local Citations: Name, Address, Phone (N.A.P) 

Local Reviews
Google My Business
Optimizing a business' GMB page is a powerful way to attract visitors to a website or to a business, especially if it's a physical store. According to Google and Ipsos' joint study involving 4,500 users, four out of five people use search engines to look up local information on nearby establishments. Those who did local search visited the business within the day. 
That being said, those who occupy the first page of search results always get the most clicks. That's 80% or more of total clicks. Add to that 75 percent of users don't scroll past the first page of search results.
So how do you get on the first page of Google? How do you get noticed? For local businesses, the first step is by claiming your Google My Business listing.
Here's how you create or claim your GMB listing:
Claim Your GMB Profile

– To verify that you don't have a listing yet, search for your business name on Google before you proceed. If the business has already been operating for years, there's a huge chance a listing already has been made. You just have to click 'claim your listing' to claim and verify the listing. For non-existent listings, just go to the GMB page and click 'Manage Now'. Then, go on and click 'Add your business to Google.'.
Fill up the form

– Answer the Google form and complete relevant information like business name, address, phone number, business category, and business website. Ensure that the information you enter is the same in every platform, from your website to all other online directories.
Verify

– Once you've saved your GMB profile, you need to verify your listing on Google. This authenticates that the owner of the listing is legitimate. You can verify it through text or email. Just go to your email and click 'verify now'. 
A card with the verification code will be mailed to you in a week or two. Go back and sign in to your GMB account and click 'verify now'. The code will be written on the postcard, click submit after typing the code and you're listing is now live.
Set the Operating Hours –

Add your operating hours. This will make sure that your customers know when to call you or drop by your shop.
Optimize Your Description

– The description section lets you present a short summary of your business. Summing up your offerings along with your credentials. Do some local SEO work and strategically include keywords as well as a call-to-action to prompt them to contact you.
If you're partnered with an outsource SEO provider, they should automatically optimize these areas for search engines, and insert key phrases or keywords that are relevant to the target consumers. 
Attributes

– Attributes let visitors know what a business has to offer. Whether they have wi-fi, restrooms, pet friendly or who owns the business. These attributes are what helps a business stand out from the crowd.
Upload  Business Photos

– A business listing also has a gallery section that will also be used to represent your business. Make sure that you upload professional-looking images and also essential ones like storefront photos or a business logo.
Update Customers and Visitors with Posts –

Listings also lets you update your audience through posts. Aside from social media pages, Google automatically shows posts and updates when a user scrolls through your listing.
Request for Reviews and Reply to Them

– 63.6 percent of users read reviews before they visit the business website or purchase an offer. Make sure to request for reviews and don't don't forget to reply to the ones who left their feedback.
For positive reviews, always thank them. If the review is reporting an issue or not very favorable. Resolve the issue by asking them about it. Once resolved, ask them if it's alright to change the previous rating or review.
Local Citations: Name, Address, Phone (N.A.P) 
A local citation is when your business' name, address and phone number are mentioned online. It's important to be present in major listings and to keep the details the same on any citation. Before you go on and update other pages, make sure that you have your NAP updated on every page of your own website.
After you've updated every page of your website, it's now time to move on to different business directories. May it be YELP, Foursquare, Local.com, Google+ Local, Linkedin, Citysquares or any other directory you think can help get a local business' name out there.
Use tools to check for existing listings or to know what other online directories you need to update. One online listing tool you can use is our very own Reputation Management tool where you can find the listings section.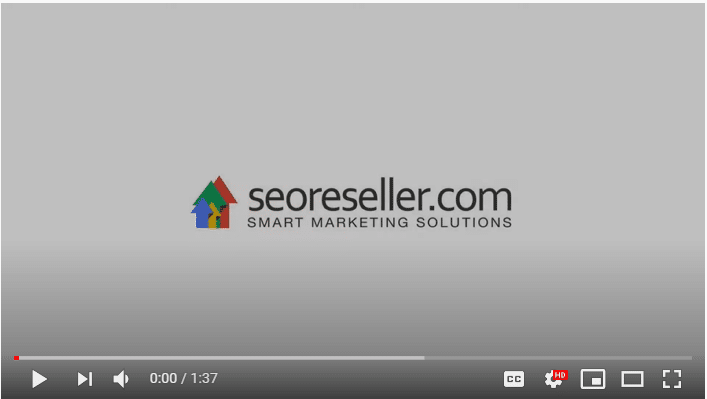 Reputation Management: Listings
This section of the tool will help you keep track of all your listings in one place. Update the business information if you need to and automatically find existing ones. This SEO tool will make sure the business information is updated on any platform.
Local Reviews
Reviews validate how good the products or services of a business are, it also authenticates a business' claims. Google agrees with this and in turn, recommends establishments with higher ratings more.
This doesn't just apply on Google listings or Google carousel, it extends to other local directories like Yelp.
To make sure that you don't miss this opportunity, go out of your way and spend time acquiring these reviews from previous customers. Send them an email or encourage them through SMS. Online reviews don't just influence Google rankings, it urges users and potential customers to choose a certain business over the other because they saw one raving review about it. There are tools you can use for this purpose. An example would be the Reputation Management from the SEOReseller Dashboard. It has a feature called 'Customer Experience and Request' where you can request feedback from clients right on the dashboard.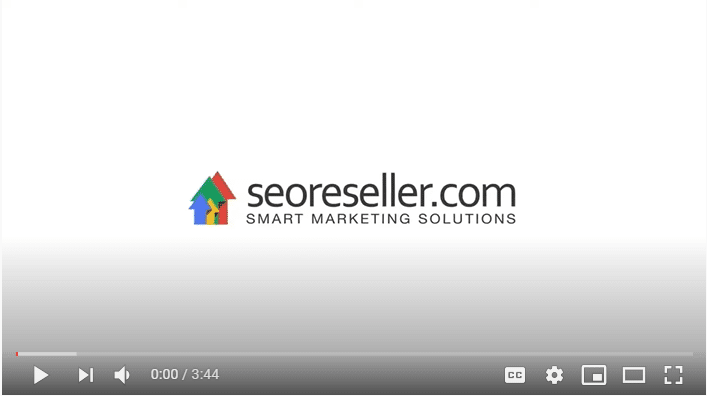 Reputation Management: Requests
This tool collects all reviews from top listings and allows you to view them all in one place. This will let you track reviews easily and quickly manage all of them. Getting the right customer reputation management tool (CRM) will save you time, money, and effort in managing a business' online image. It will also be easier for you to communicate with customers and connect with them.
What Kind of Businesses Need Local SEO?
All businesses that have a physical establishment or serve any geographic area will benefit from local SEO. Yet, there are industries that need this strategy more than others. Here are the niches or industries that can gain more from local SEO and should make it an integral part of their business strategy.
Accounting and Finance
Studies show that 85 percent of buyers conduct their research first before purchasing a product or service. Providing them with the information they need and making sure that they find you are your main priorities. It's now very easy for people to access the internet and do their research. It's a way for them to feel secure, less anxious, in the end having more informed decisions. Local SEO for accountants will allow your prospective clients to find you, and enable you to provide them with relevant content that will answer any questions they have and lead them to a conversation with you.
Home Remodeling
Home repairs, remodeling and renovations are in demand services in the U.S., so much so that there are over 455,000 home remodeling companies in the country alone. It's a very lucrative industry and you don't want to miss an opportunity whenever a household needs repair.
Example, if someone living in Houston wanted to remodel their bathroom, they'd go online and search for 'Bathroom remodeling and repair Houston' or 'Bathroom remodeling near me.'. If you're not optimized for local search, then they won't be able to find you. SEO for home remodeling is a must so you can attract local households closest to your business.
Medical Industry
SEO for plastic surgeons, chiropractors, pediatricians, dentists, and other physicians is a must because they provide services to locals. If a person needs a dentist, she will most likely go online and rely on Google for recommendations and directions. Local SEO will be helpful in making sure that patients can locate you.
Real Estate
SEO for real estate is a must for agents and firms because the industry is getting a lot of attention online from people looking for a new place. More people now go online to check out houses, condos, apartments or townhouses and when looking for a place, they already have a particular state, city or town in mind.
Restaurants
The most searched 'near me' keyword in America alone is 'restaurants near me' with 7.2 searches. SEO for restaurants has never been more important for food establishments because people love to eat. More and more people are relying on their phones either for restaurant recommendations, delivery information, menu, or directions. A local SEO campaign will help a restaurant gain more visibility, and done right, will inspire more locals and visitors to frequent it.
Practicing Local SEO Right
Location is everything in business and it carries over in ecommerce as well — that translates to the first page of Google when it comes to online real estate. This is just the beginning. There is so much more to Local SEO and understanding these factors will drive a business higher on the results pages. 
Local search is growing more than ever before. It's important to not only keep up with the changes but to stay ahead of it. Emphasis on 'staying ahead' of trends and changes because this factor is crucial in maintaining stability and establishing your position. You can get an SEO expert to help you with forecasting search engine trends or you can delve deeper into it yourself. Whatever the case may be, the bottom line is to get found by as many people in a particular area as much as possible. Improving every local aspect of your website is important to accomplish this goal and grow faster.
FAQ
What is the difference between SEO and local SEO?
Search engine optimization (SEO) encompasses all areas of your website that relate to improving your search visibility, traffic, and conversion. Local SEO is a section of SEO that aims to boost local visibility or awareness of your local establishment worldwide. Local SEO is targeting consumers and clients who are interested in doing business in the local area.
How much does local SEO cost
Pricing for Local SEO services can range from $500 to $5000 or more. However, it will depend on what industry you're in, the competition, and the SEO initiatives. Ultimately, your SEO consultant will be recommending an SEO strategy and a plan that will be presented to you for your approval.
What are local SEO citations?
Local citations are any mention of your business' name, address, phone number and other information on the web. This can happen on websites, social media, or local business directories. It impacts how search engines view your website and can positively affect your local rankings. 
How do you know if you need local SEO?
You know you need local SEO if you see that you're not ranking locally or you need more leads and clients. It's important to know that the ROI from local SEO is higher than other marketing initiatives. With more than 87.3 percent of the US population using the internet, you can be sure that a portion of those is locals looking for your business. So regardless of competition, there's a lot of opportunities out there that you don't want your local business to miss out on.