We have released an overall upgrade to the Account Settings, making it easier for you to manage employees and clients, configure your white label dashboard, and customize your experience with the SEOReseller platform.
New User Management System
It's now easier to quickly and easily manage multiple users under the SEOReseller platform. We created a streamlined view that allows you to see all your users in one glance and manage their permissions and campaign assignments in just a couple of clicks.
[twenty20 img1="32040″ img2="32039″ offset="0.5″]
We also released the ability to bcc your employees on email notifications, useful primarily for partners who have multiple employees handling different parts of the business such as billing, project management, and sales. Keep in mind that the emails are branded with SEOReseller as of release – we'll be releasing a white label version of these notifications soon.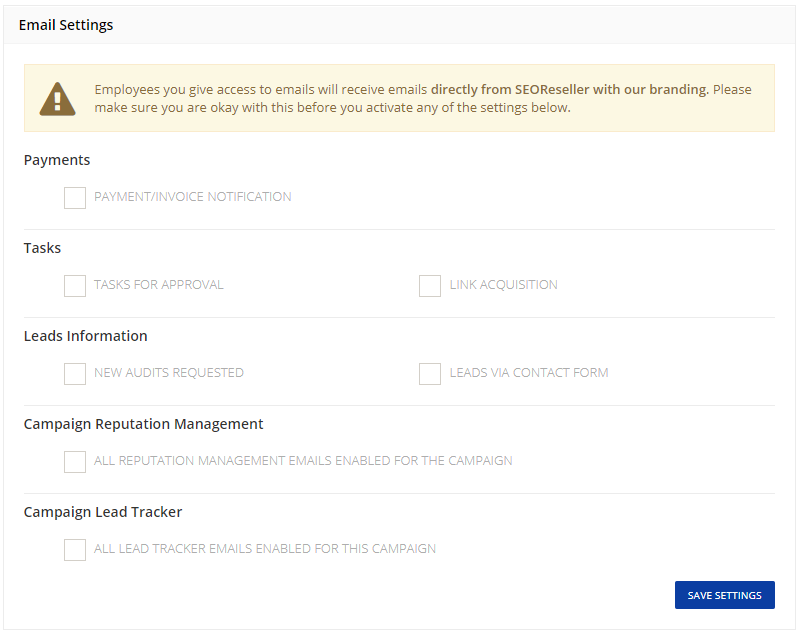 Account Settings Consolidation
[twenty20 img1="32037″ img2="32036″ offset="0.5″]
Profile Settings are now under Account Settings. Updated Profile Settings include:
You can now add profile pictures instead of using gravatar
We have released different logo formats/sizes: for your dashboard and for reports
Navigation is now much smoother – everything is accessible from the Navigation Bar.
Automated Verification of White Label Dashboard Installations
[twenty20 img1="32047″ img2="32046″ offset="0.5″]
We also changed the white label dashboard installation page to automatically verify the installation via WordPress or CNAME.
Let us know what you think!