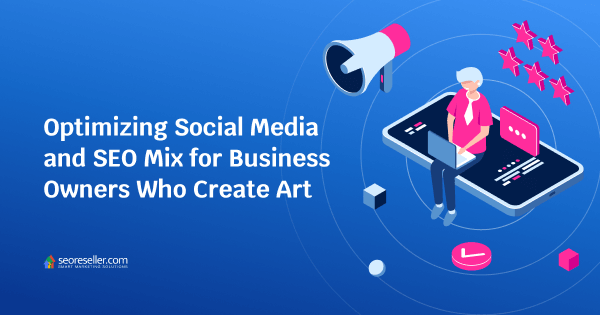 SEO and social media, the two least exciting terms in the artist's world. If I had to make a choice between choosing to work in my studio and optimizing my marketing plan, I'd always choose to work in my studio at all times. However, SEO and social make up most of what we interact with and see online, it's indispensable, and we shouldn't always be pushing it at the end of our to-do lists.
After a point, it truly doesn't matter how impressive your portfolio is or how exquisite your Instagram timeline is if it's not optimized for your target audience to find it. And that's precisely why I have put up a crash course for you to follow in order to revamp your marketing efforts!
First up, Search Engine Optimization,
Evaluate your audience, targets, and keywords.
Before you jump in, take a few minutes to figure out your target audience – are they edgy, young, interested in tattoos, or homeowners looking out for an art piece. Believe me, your target audience and their interests will fuel your SEO keywords.
Further, you will be applying these keywords within your blogs, content, and also images – so don't skip on this pointer! Remember, the more defined set of keywords, the better. You can always experiment a little with your words, but avoid choosing generic keywords that can be highly competitive.
If you are new to keyword planning, you can do keyword searches and figure out the competition of certain words through Google AdWords Keyword Planner, Moz (free trial), KWPlanner, or Keyword Tool. Additionally, you can leverage these tools to notice what other people are searching for online, and the searching volume for these keywords.
Add those SEO keywords to image labels, title tags, etc.
We are done with the first exercise of keyword research, and you are one step closer to attracting your target audience for your artwork; and the upcoming exercise is a fun (read: tedious) one!
This step involves adding these keywords to the title tags on your website, and this will direct Google to find your webpage online. Do not forget to add these keywords to your images, as well. Search engines crawl the image alt tags, and not your images. So, rather than having an image title that says IMG187364.PNG, change your image alt tags to a relatable term like "tattoo-inspirations-linework" or whatever you would want people to find you for.
Create high-quality, long-form content.
Next up, creating high-quality content in the form of blogs and articles to boost your rankings. Go ahead, engage your audience with engaging and informative blogs on your processes, to-dos, and more.
As you publish these blogs, keep sprinkling your keywords around, but don't get too busy stuffing your blogs with keywords to lose your charm. 'Keyword stuffing' is penalized by many search engines. So, add keywords where they fit effortlessly, and focus on churning some phenomenal pieces of content.
Time to strike a note: Long-form content ranks far better than short-form content since it covers more depth. Also, break your blogs into digestible fragments, and use your H1 and H2 header tags. Remember, brevity is your online friend.
Breed patience and consistency.
Every possible thing on the internet is ponied up with lightning-fast results and on-the-spot gratification, and you might expect search engine optimization to work in a similar way. But that's not the case, not at all.
SEO takes time. It'll take up to a few weeks and months to advance and develop as your domain becomes more authoritative and credible. In a nutshell, think of your SEO as a marathon, and definitely, not a sprint.
And you'll need to be equally consistent with your efforts to gain visible results. So, keep churning and optimizing content, add more and more work on your portfolio, keep sharing your works on social platforms, and always keep your content super-relevant.
Now, coming to the second section, social media optimization.
We know social media has been here for a while now, but that doesn't mean all the business owners have had the time to put forward the right efforts to nurture their online presence on the right social networks.
If you haven't shaped up your social media efforts, there's time, and the benefits will surely be worth the effort. A robust social media strategy can drive clients to your business and foster lasting relationships with them. So, let's get started.
Staying active on social media has an array of benefits for biz owners, and there are numerous things you can achieve with a social media presence. This includes engaging your clients, expanding your clientele, driving more sales, gaining valuable insights, reviews, and much more.
However, to get hold of these metrics of successes, you need to have a goal in place. Something you can work towards every day. Your strategies for driving more clients or leads will keep varying as per your goal. So, it's imperative to set your goal in stone before you brew your social media strategy.
Brew a social media strategy.
Once you have your goal in place, and you know what to achieve. You can jump on to the next pointer, and you can sketch out a plan there to get you out there.
You can begin with framing your social media team and designate roles and responsibilities. Next up, zero down on your posting frequency, draft a content calendar to help you plan out your future posts, and make sure you don't stray away from your efforts.
The content calendar is a game-changer, and it will be an indispensable part of your social strategy because it lays out,
Your target audience.
What subjects and topics your audience find their interest in.
The valuable content you already have.
The kind of content you still need to curate.
The time and platforms where your content will be published.
Develop a content curation plan with your target audience in mind.
Understanding your audience is essential, primarily because when it comes to finding your success playbook with social media engagement, your audience's likes and dislikes play a vital role. Further, it determines the type of content you will be curating and sharing.
For example, let's consider that you are a tattoo studio owner. Your target audience might be interested in tattoo inspirations, after-tattoo care services, products, and other industry-related articles. Some of the things you should draw your attention to are your audience, including location, age, gender, likes, goals, needs, challenges, behaviors, and pain points.
And it doesn't matter what your audience is; the content you curate should always stay true to quality and extremely relevant at all times. While curating, prioritize images, videos, and other types of visual content as much as possible because these are popular among audiences and demographics of every kind.
Choose the right tools to keep up with your automating and marketing activities.
Staying up-to-date with your content activities is time-consuming, but there are plenty of automation tools that ease your workload.  You can make fair use of these tools, and schedule all the posts and schedule them up to weeks in advance. 
These tools can be Sprout Social, Hootsuite, MeetEdgar, Buffer, and BuzzSumo, which can help organize and multiply your efforts by allowing you to schedule and plan batches of posts all in one go. They can always make a lot of stuff more accessible for you, like monitoring your networks and instantly responding to your mails.
You can also try to pair up with tools that are way more industry-specific and might suit your needs more sincerely. For instance, a tattoo artist can always leverage tattoo shop software to sum up its marketing strategies and efforts.
Now that you have newly learned all these new tips and tricks on SEO and social media strategizing get ready and get started with these today. These small actions will add over time, and these tactics might be time-consuming, tedious, and something far from your area of interest, but it will reap the benefits you are seeking artwork.