After holding the top spot for three years in a row, Apple was overthrown by rival technology giant, Google, to become the world's most valuable brand. This was revealed in a study by a market research firm that compiles a list of the world's top brand names.
Innovate to Survive
The latest results from global market research agency, Millward Brown, and their 2014 BrandZ Top 100 Report says Google beat its Cupertino-based rival through their innovations.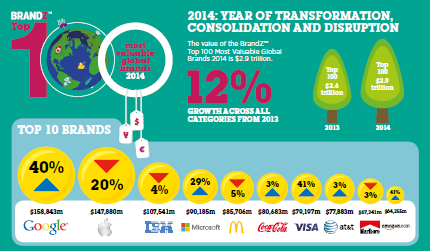 "Google has been extremely innovative this year with Google Glass, investments in artificial intelligence and a range of partnerships,"said Millward Brown Europe regional managing director, Benoit Tranzer, as quoted from a report by Agence France Presse.
Google's various "Google X" initiatives, such as the balloon-powered Internet Project Loon and the smart contact lenses that measure people's glucose levels, helped push the Mountain View-based tech giant to the top spot.
"All these activities send a very strong signal to consumers about the essence of Google,"explained Tranzer.
Based on the numbers provided by Millward Brown, Google's brand value shot up 40 percent over the past year to $158.84 billion (€115 billion).
The Fall of Apple
In contrast, Apple saw a 20 percent drop to its brand value this year, which translates to $147.88 billion. In last year's BrandZ report, the iPhone-maker's growth slowed down to one percent year-over-year, but still managed to have a $71.4 billion lead over the then-second-place Google.
Coming behind Google and Apple on this year's list is multinational tech company IBM with $107.54 billion, Bill Gates's Microsoft at $90.19 billion, and fast food giant McDonald's at $85.71 billion. Beverage titan Coca Cola, credit card company VISA, telecoms provider AT&T, tobacco giant Marlboro, and online retail company Amazon.com rounded out the top-ten.
Millward Brown's methodology calculates a company's brand value based on their financial performance and brand contribution—or a brand's "uniqueness and its ability to stand out from the crowd, generate desire, and cultivate loyalty."
What This Means for You
The study reminds us that in the very competitive world of consumer products and marketing, innovation and branding are some of the best weapons you can have to win the battle for customers.
Get in touch with your account manager today and discuss your current social marketing strategy or your reputation management strategy. If you're not yet a partner, sign up with us now and find out how we can take your business to the next level.