First impressions count—especially on the Internet. When people can find dozens or even hundreds of alternatives with the click of a button, it is important to earn their trust and attention immediately. What do customers see when they land on your client's homepage?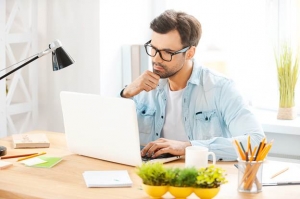 Many business owners underestimate the importance of a professionally made website. It is the online representation of a company, and its design greatly affects customer perception. In a glance, people are able to make snap judgements about credibility, professionalism, and reliability – in other words, their value.
In web development, one of the primary goals should be to send the right message. What does a customer really take into account when judging a website?
1. Appearance – Customers have come to expect great web design. A recent study found that 46.1% of people consider the site's appearance as the most important criterion for gauging credibility, making it a tremendously important aspect. If a company does not care about their image, why should customers trust them?
2. Usability – An attractive layout is not enough, however. Many websites look good, but are difficult to use and confusing to navigate. When customers cannot find what they need quickly enough, they end up deciding that it is not worth the effort and take their business somewhere else. This also implies sloppiness on the company's part, as the website was poorly thought-out and did not go through enough testing.
3. Speed – Nothing frustrates users more than a page that takes too long to load. Website speed is a crucial metric, as 40% of people abandon pages with loading times above three seconds. The customer's time is valuable; a slow website means that you do not prioritize their needs, and refuse to invest in better technology.
4. Responsiveness – With more people using mobile devices to browse the Internet, savvy business owners have been quick to recognize the opportunity and have adopted responsive web design. Mobile users see any brand that refuses to follow suit as out-of-date and unaware of rapidly changing customer needs.
As you can see, creating a positive user experience is essential for online success. If you want a website to portray your client's brand positively and contribute to the bottom line, having an expert build it is advisable. Get in touch with us today to learn more about our web development services.