Digital measurement and analytics technology provider comScore recently released the latest results of their monthly qSearch analysis. The study of July 2013 search engine activity shows that Google has successfully regained the market share it lost three months ago, and that Yahoo!'s market share continues to decline.
Google and Bing Up; Yahoo! Hits New Low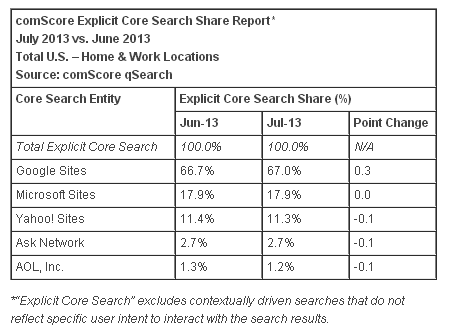 Google's market share for the previous month was 67%. This is a 0.3-point increase from June of this year, and a 0.2-point increase from last year. The search engine giant received just under 13 billion searches the past month. This is expected to rise again given Google's recent developments in search, which I talked about just last week.
Bing, meanwhile, stayed steady, maintaining their June rating of 17.9% this July. The search engine has experienced significant growth over the past year, with its market share rising from last year's 15.7%. The search engine received 3.5 billion out of a total of 19.4 billion searches done last month.
Yahoo!, on the other hand, has experienced a new low in their market share history. Even with the new purchases and developments being spearheaded by CEO Marissa Mayer, Yahoo! Lost 0.1 percentage point, falling to a market share of just 11.3%. Ask and AOL received very small market share, getting 2.7% and 1.2%, respectively.
What This Means for You
These numbers show you two things: