Enhance productivity, improve workflow, maximize efficiency — these are just some of the things every agency owner thinks about daily. Time is money and time is limited. As an agency owner, you're always looking for better ways to streamline processes and scale more effectively.
We've rounded up the different tools that your agency can use to increase productivity and make it easier to scale. Whether you're starting an SEO business or you're already an enterprise owner looking for tools to add to your work process, this post will definitely help you out.
The SEO business is tough. It can be more challenging if you don't know where to start. While a basic understanding of SEO helps you push through with projects, the bulk of the work falls into doing everything that needs to be done to close new clients and grow your agency.
If you're a one-man show or only have three people in your team to manage things for your online marketing initiatives, you can ease some of the weight off your shoulders by using the following SEOReseller tools and resources for your SEO startup agency.
1. Lead Finder
"Where and how do I get my first clients?" this is the first question SEO agencies ask at the beginning of their venture.
The traditional way is to do some networking, hand out business cards, introduce your digital agency to local businesses during events, turn that initial handshake into a sale and—if you've been successful in converting a lead into a happy client— then that can get you referrals from them.
There are a number of ways to get SEO leads online, you might even be practicing the manual method already, but, if you want a more efficient and faster way to get leads, you'll need the following SEO agency tools at your disposal:

Manually looking for leads eats up a lot of time with results that can leave you hanging. If you want to reach that 7-digit annual revenue status sometime soon, you need to level up your game.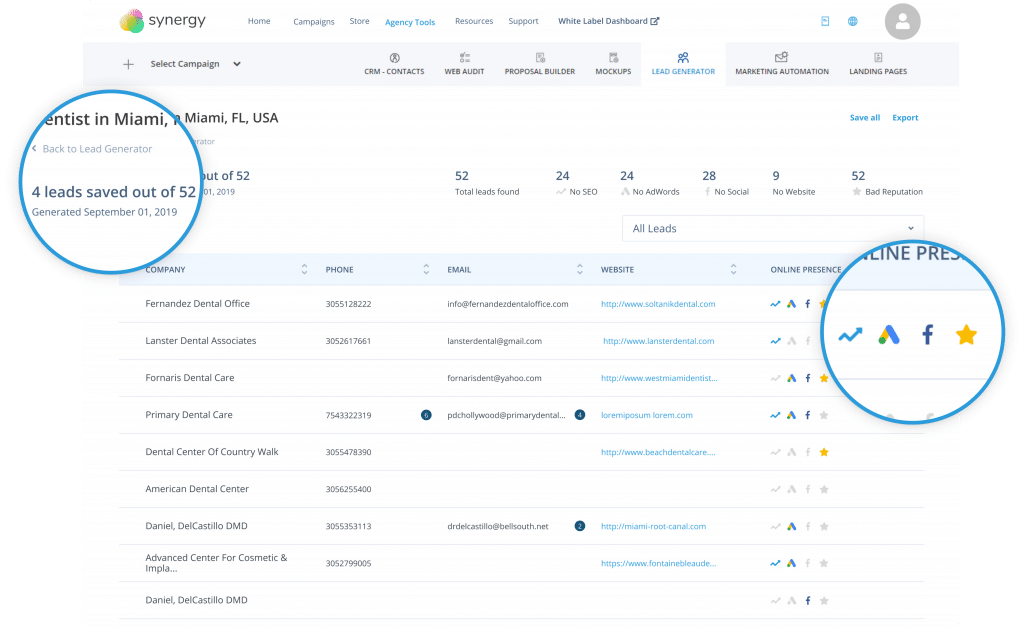 The Lead Finder generates leads for you. It focuses on your target niche in the location that you want and generates the information you need. This includes the business website, phone number, email, address, and more. If you want to, this SEO software can also do an SEO audit of the website. The audit report shows you how the website is performing and if the website needs to be optimized. With the data, you can then determine if the lead qualifies as a potential client who is in need of your SEO services.
How this tool works:
Provides a list of leads based on their niche/keyword and location
Shows the contact information of your prospects (website, phone number, and email)
Shows the online presence of your leads and allows you to uncover opportunities (No SEO, AdWords, social, website, and low reputation)
The Lead Finder is part of the premium tools of our SEOReseller Pro plans, so if you want to see how it creates the magic for your lead generation efforts, better sign up now.
2. Web Audit Widget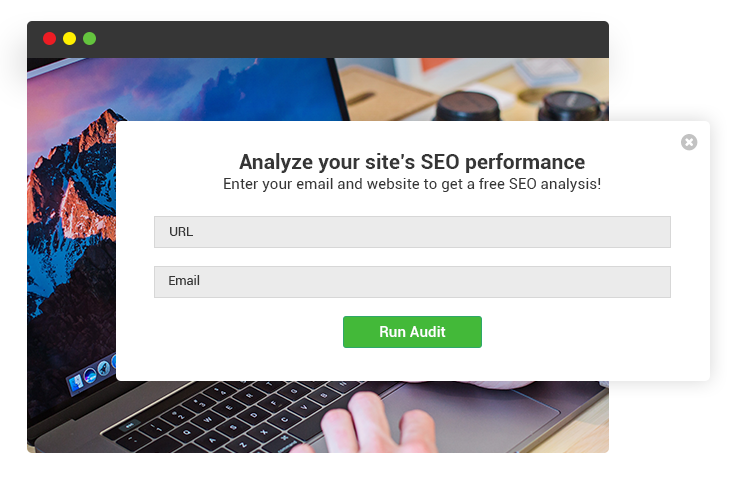 There are two ways to generate leads: actively and passively.
The Lead Finder serves as one of your active lead generation efforts. But, how do you get leads passively?
The answer: The web audit tool.
A website's primary purpose is to generate leads but some agencies have websites that aren't built for lead generation. This means agencies who fall short in using their website as a channel for getting new clients need to fully utilize their lead generation efforts.
Now, this doesn't mean that you need to spend more time, it means that you just have to be smarter in choosing the right tools to add to your lead generation process.
With the Web Audit Widget, you're hitting two birds with one stone. You get new leads from your agency website while providing value right from the very start, proving from the get-go that you're there to provide service that they will get value from.
How this tool works:
Serves as a lead magnet on your agency website
Provide value instantly by sending a website audit to prospects
Capture the information of your leads and funnel them into your CRM (we'll get to that in a bit)

Read about how to do an SEO audit and use it as a powerful sales tool here and learn how to install the SEO web audit widget on your website. or watch the video on how to use it here:


3. Customer Relationship Management Tool (CRM)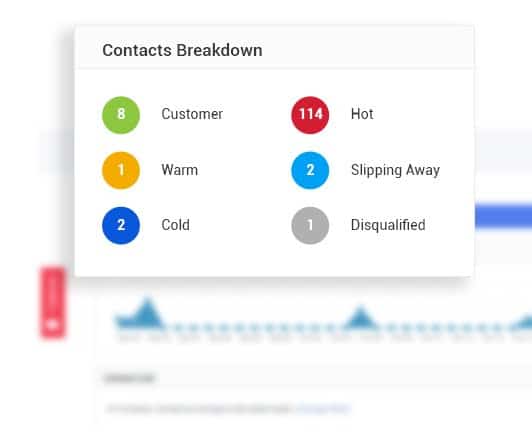 Digital marketers used to rely on the good ol' Excel files for consolidating all the information they have on both their current clients and leads. It works – until you lose track of all the information, or worse, lose all that information forever when you accidentally hit the delete button.
A complete nightmare you wouldn't want to happen to you.
This problem is solved by the CRM which is also included in the Agency Tools on your white label SEO dashboard software. It's the only tool you need to track, organize, and stay in touch with your leads.
The best part is, you get to monitor your leads and see where they are in your sales funnel. If you see that a lead is marked as an opportunity, you can apply the appropriate action to close them (whether it's to send them a special email, contact them personally and follow-up or nurture them by sending them a code they can use).
How this tool works:
All leads coming from different sources (Lead Generator, Web Audit Widget, contact forms on your site, and networking activities) funnel into the CRM
Provides you with a quick view of which leads to focus your attention on – you'll see who's hot, warm, cold, slipping away, and disqualified
Makes it easier to start nurturing the relationship
With the CRM, you'll stay on top of your lead generation efforts and make sure no lead falls between the cracks when you're starting an SEO business.
4. Marketing Automation
You have your leads list from your lead finder, and the contact information of your prospects is stored in the CRM, what's the next step?
[perfectpullquote align="right" cite="" link="" color="" class="" size=""]You have to nurture the relationship and lead them in every stage of the customer journey. [/perfectpullquote]
These leads you've collected won't convert naturally. One grave mistake that new SEO companies often make is to just let leads sit there after sending them an email. If you don't touch base with your leads, most of them will likely start slipping away, and you'll lose the opportunity to close a potential client.
You have to nurture your leads by forming a relationship with them. Slowly edging them towards that stage of the customer journey where they're finally ready to close.
Send them an email, use a cold email template for SEO to quickly nurture leads. Then, supplement that email with relevant content. There should be an email for every action that your lead takes. This might take effort however, it shouldn't take your time. This is what the Marketing Automation Tool is for.
By creating email sequences for leads from different niches, you can activate them at any time. It doesn't matter if you're reaching out to dozens or hundreds and hundreds of leads. The leads you want to nurture will receive emails you've designed depending on the sequences you've activated for that lead. Once you run an automation, you don't have to remember to send the next because, guess what, the marketing automation tool will do it all for you.
How this tool works:
Provides pre-built emails that are tailored to match the specific need of your lead
Allows you to create customized email templates that you can send to prospects
Runs scheduled email sequences at preset intervals to educate or convert prospects
Links emails to white label landing pages designed to convert your leads
5. Proposal Builder
Drafting, building, and creating proposals are crucial in closing a sale. Your SEO proposal the door that will connect your prospect to your brand. It's important to make sure that everything inside it can be understood by your client.
You can't assume that your client understands everything about search engine optimization, digital marketing or web development. This is something that your SEO Proposal should be able to communicate fluently.
Selling digital marketing services isn't exactly a walk in the park. Businesses always get cold emails or calls from SEO agencies pitching their services. As an SEO professional, you have to be always quick and ready to present. You have to stand out too. When they ask "How will SEO affect my business?" or "Why do I need this digital marketing service in the first place?", you have to be quick in to provide the right information, stand out, connect with them and present something concrete that will solidify your services to them.
This part of the sales process can be challenging, especially if you're starting out and don't know the ropes.
But, that doesn't mean it's impossible. An SEO proposal is a sales tool that will equip both you and your client. For you, it will make pitching easier and maximize your credibility. For your client, it's a tangible way of accessing detailed information that will make them understand the services as well as the process involved.
If you're still deciding on what to include in your SEO Proposal, then decide no further. Our online Proposal Builder has included everything you need and will build your proposal for you. Here are some of the things the Proposal Builder can do for you and your productivity:
5.1 Mockups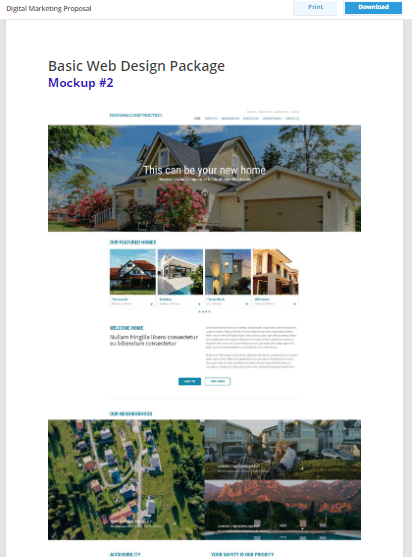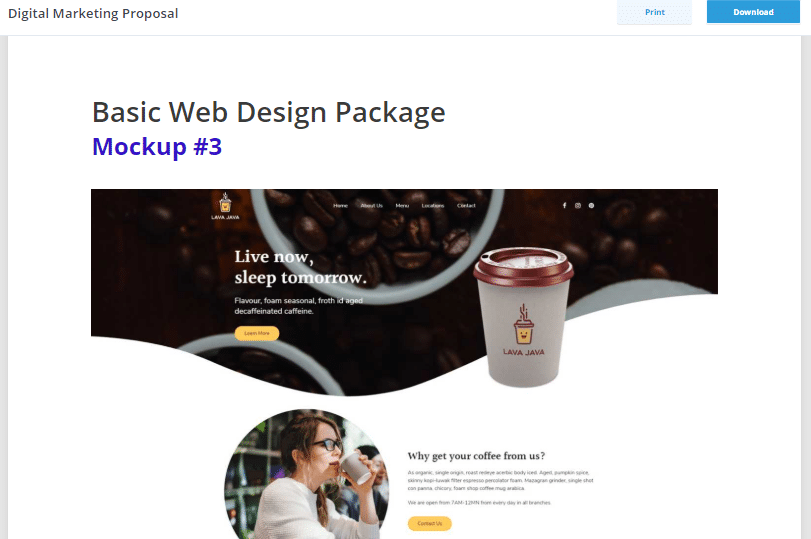 There's a difference between selling SEO and website design. Unlike in SEO where the results happen in the course of a month or two, you need to have a design ready when selling a website.
Web design involves a lot of back and forth. The mere task of creating a mockup will take you days—weeks if you don't have the in-house designer to do website design for you. With the Mockup Creator, you don't have to worry about having a designer onboard or spending a lot of your time just to create a mockup for your next web design sales pitch.
How this tool works:
Allows you to design a website from your agency dashboard
Provides mockups for different types of businesses and niches
Allows you to choose elements to include in the mockup for a more customized feel
No need to think about hiring an extra designer—the Mockup Creator is your designer.
How you present information is crucial to closing. If your information isn't valuable enough to your prospect, how do you expect them to close? One answer: an impressive proposal.
A well-drafted proposal provides your agency with the arsenal to close prospects, and the Proposal Builder gives you just that. This tool makes it easier for your new agency to generate proposals that you can send to prospects instantly.
5.2 Add or Remove Services and Details
How you present information is crucial to closing. If your information isn't valuable enough to your prospect, how do you expect them to close? A clear and complete proposal is your answer to that. The proposal builder does this for you while cutting your time in half (or more!), this way, you can close a client and quickly move on to the your next prospect.
How this tool works:
Provides you with branded, ready-made proposals for specific services
Add the service that you're offering to your client. The details and process will automatically be added to that.
Allows you to customize the proposal to include your business and pricing information
Sends the proposal directly on your dashboard with a personalized email
The next time you make a pitch, you can just go to the Proposal Builder and start generating proposals to close your next clients.
5.3 Automatically Presents Timeline and Deliverables
A breakdown of your timeline and deliverable should be included in your proposal. This will set the expectations of your clients and will give them a clear view of how the campaign should be progressing.
The Proposal Builder automatically gives a detailed breakdown of your timeline and outlines your agency's responsibilities. What this does is help your prospects or clients visualize what you can do for them, this will boost your client's confidence and trust in your solutions.
5.4 Automatically Provides A Quotation
The quotation page will automatically be updated every time you add or delete a service. You don't have to do any additional computation because this SEO tool will automatically do that for you too.
Imagine the amount of time and energy you'll be saving if you have this tool on hand and have outsourced digital marketing services or SEO services. Otherwise, you will be single-handedly monitoring each and every campaign you close, and manually drafting proposal after proposal for every prospect you get. The time that can be spent improving your strategy on scaling your business or optimizing your workflow or redesigning services or enriching your relationship with your present clients.
6. Web Audit in your Dashboard
Facts and figures are one of the things prospects will always ask for before they close. After all, they want to see the value of your service before they purchase from you. If you're unable to show them this right from the beginning, you're going to have a hard time convincing them down the road.
This is what an SEO website audit is for. Website audits are like the warm-ups every athlete is required to do before a game. It is crucial, necessary, and a daily activity. It is also a repetitive task that consumes too much time. The capacity to do web audits without opening another tab or going to another site will do wonders for our business process.

An SEO software that has a website audit tool integrated with the dashboard will amplify your productivity as an entrepreneur by miles.
Ahrefs, Google Search Console, Google Analytics, SEMRush, and a whole bunch of tools can provide you with all the data you need for your clients. The question is – Do you have time to get all those data and compile them into a report?
It's easy, but doing it for 15 clients at a time? You'll have to rethink your approach.
You don't have to pull data from here and there just to prove why a prospect needs your service—your dashboard can do it for you with its Web Audit function. The best thing about this audit tool? It's easy to generate the audit. Just type the website of your lead and you'll get the SEO audit in minutes.
How this tool works:
Provides you with a comprehensive site audit for your lead
Shows a preview of the generated audit
Allows you to send the audit with a personalized email
With the Web Audit via Dashboard function, it won't take you days to get that audit ready for your leads.
7. White Label Resource Materials
One of the main challenges of any new SEO agency is proving that you are the expert to trust and that your methodology works. Whether you can provide the client with the e-commerce website they want or whatever SEO services they need, will need to be backed up by portfolios, digital assets, or case studies, and this is where it gets tricky—you need data from previous clients as your basis to produce a portfolio and build credibility, but what if you don't have previous clients?
We solve this with white label resource materials created just for your agency and available for download right from your dashboard. The Resource Center is a treasure-trove of everything you need to showcase authority and prove expertise to leads. It's not just for helping you educate your clients; you can also use the materials in the Resource Center to educate your in-house team.
How this tool works:
Provides you with tons of brandable content and materials for educational and marketing purposes
Includes all the necessary documents (business plans, Service Level Agreements, SEO contracts, etc.) you need to get started with your SEO agency
No need to spend days creating a resource material that you can show to a prospect—they're all in the Resource Center, and they're just a click away to download.
8. White Label SEO Dashboard
Finally, you've successfully closed a lead, and they're now ready to start a campaign! As an agency owner, you know you can't sit on your laurel. It just means your work just got bigger, because now you have clients to manage and report to.
Work is never finished— and as an agency owner, that's what makes it more exciting, specially with the right SEO software to assist you every step of the way.
It goes without saying that as an SEO agency, you're responsible for keeping your clients updated with how all your digital marketing efforts have paid off. How else are you going to get recurring customers if you're unable to show progress and results?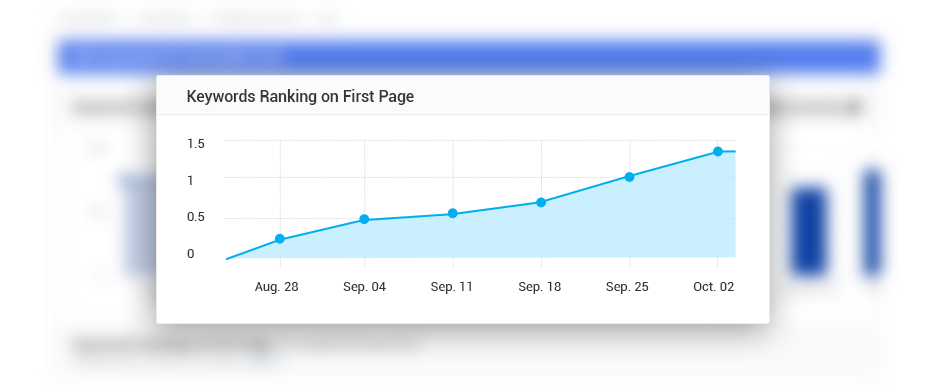 An SEO software that can give you access all your campaigns and view their performance is a great business asset.
When you sign up as a new SEO agency with SEOReseller, you get a FREE white label SEO dashboard with your own logo and colors customized to match your personal brand. Your dashboard serves as your main SEO agency platform to start selling services and tracking digital marketing campaigns for your clients.
How this tool works:
Integrates Google Analytics to show progress of your client's SEO campaigns
Includes an intuitive rank tracker tool
Provides an overview of your client's campaigns (SEO, PPC, Reputation Management)
Shows contact details of your client's customers
Displays all tasks for a campaign (in progress and for approval)
Provides easy access to SEOReseller's Store, Agency Tools, and Resource Center
Access your client's GMB profile right on the dashboard. The Google My Business agency dashboard makes it quicker and easier to update without opening another tab
It has a Reputation Management Tool that lets you see what people are saying about your clients as well as request feedback from those who didn't leave their thoughts in the comment section.
With all the tools in the dashboard, you'll have all the essentials to propel your SEO business to success and show your agency is technologically-capable of delivering solutions.
Which Tools are You Going to Use for Your SEO Agency?
I'd say all of them.
Efficiency and productivity are two key ingredients to scaling your SEO business. An SEO software that can provide those for you will make your life easier by assisting you in your tasks or it will do your tasks for you. It will free up more of your time so you can attend to business that requires your attention as an agency owner. An SEO software that your team can easily get the hang of will not only make your workflow more efficient, but also scale your SEO business more effectively.
If you're aiming to take your new SEO agency to the next level, why not maximize the available resources? Remember the best tools for SEO experts and SEO agencies don't just serve as your essentials when running a digital marketing business, but also provide you the springboard to success.