A new Panda is upon us, as Google recently announced that the latest version of the Panda update has been rolled out.
More than 4 months after the release of Panda 4.0, Google began rolling out Panda 4.1, a slow process that continues will most likely continue until the first few days of October.
The search engine giant said in a post on Google+, via Webmaster Trends Analyst Pierre Far, that a "slow rollout" began the week of September 26 and will continue for a few more days before being completed. Depending on location, Google said about 3% to 5% of search queries will be affected.
A Threat to Low-Quality Content
Panda updates target low-quality content, as its focus is on content quality. The algorithm aims to remove redundant, irrelevant, and/or spam content from Google's Index and is designed to go after "thin" or poor content from ranking well.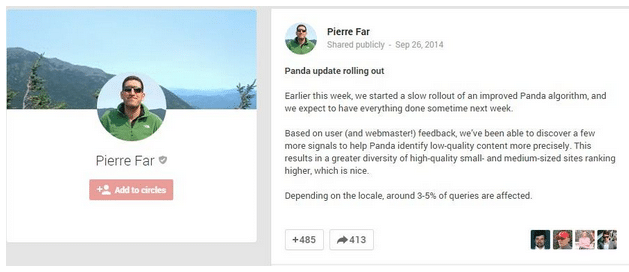 Google said this update will help Panda be more precise and will give high-quality small- and medium- sites the chance to rank higher.
Based on user (and webmaster!) feedback, we've been able to discover a few more signals to help Panda identify low-quality content more precisely. This results in a greater diversity of high-quality small- and medium-sized sites ranking higher, which is nice.
As a follow up to the bigger Panda 4.0, the Panda refresh isn't that big of change, which is why Search Engine Land is dubbing this 27th update as "Panda 4.1".
Equal Chance for All
This new rollout is gives everyone a chance either to make a comeback or to slide down the rankings.
For sites previously hit by the Panda 4.0 update, it's a new chance to get high rankings again, provided they made the right changes. If you were penalized by Panda and made the necessary changes to your site, you'll get an idea by the second week of October if your efforts paid off or not if you see an increase in traffic.
For new sites that were spared from Panda penalties last time, this may be the time your site gets impacted. Sudden drops in traffic from Google last week and in the next two weeks or so is likely a result of the Panda update.
Winners and Losers
It's still a little too early to really gauge the impact of this Panda update, but there's already a list of winners and losers from SearchMetrics.
Based on their report, the biggest winners are the news, content, and download sites, while the biggest losers are websites that deal with games, lyrics, and some medical topics.
Top 5 biggest losers so far include: yellow.com, which saw a 79% drop in their SEO visibility; similarsites.com also with a 79% drop; free-coloring-pages.com with a 76% drop; dwyer-inst.com also with a 76% drop; and issitedownrightnow.com with a 74% drop in SEO visibility.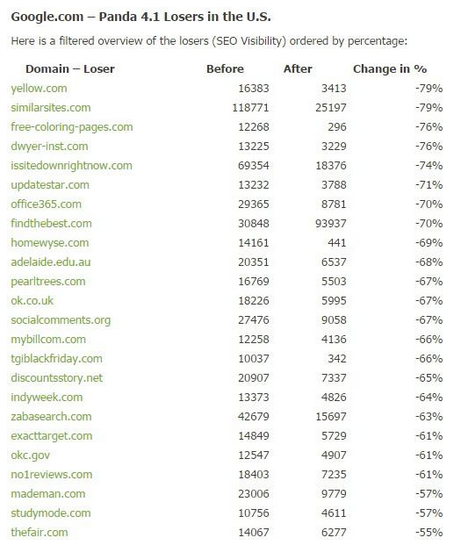 Top 5 biggest winners so far include: comdotgame.com, which saw a 1353% increase in SEO visibility; hongkiat.com with a 406% increase; babble.com with 279%; rd.com with 315%; and mediamass.net with a 308% increase in SEO visibility.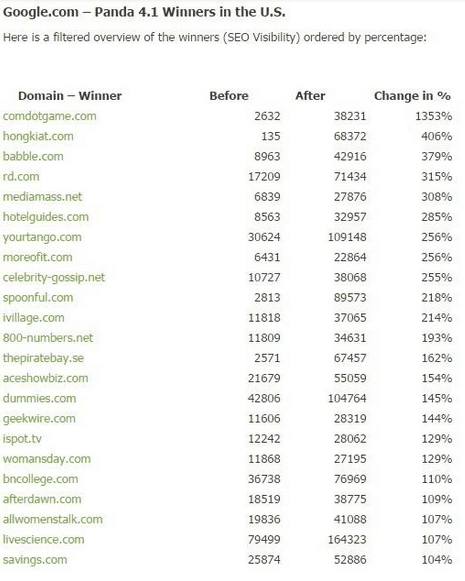 SearchMetrics founder Marcus Tober explains:
"The 4.1 iteration of Panda ties in with the preceding updates. Losers are often games or lyrics portals as well as websites dealing with medical issues and content – to cut it short (here I am repeating myself): in general, it hit pages with thin content. Aggregators do not provide unique and relevant content.
It doesn't seem to be very relevant for Google to list (that is: aggregate information about) sites that are down at the moment. That was measurable already with Panda 4.0 and it is true for the current update as well."
He adds that sites with quality content are recovering impressively, citing Babble.com as an example, which has been a loser of the Panda 4.0 update.
Get in touch with your account manager today if you have any questions or concerns about the Panda update. Sign up now and become our partner and keep checking back for more updates!