Searching for simple ways to improve SEO quickly will return a flood of overwhelming search results.
You'll find lists on lists of suggestions, tips, and technical jargon.
And a lot of it really won't seem that 'simple.'
We're here to provide three truly straightforward tips you can use to boost your SEO performance quickly in order to increase your website rankings — using your existing content.
Improve SEO Performance Quickly By Analyzing (and Updating) Your Existing Content
When determining how to improve SEO quickly, it's often beneficial to first assess how to leverage your existing content. The quality of content in SEO plays a big part in the success of your strategy. Even if you're planning to get professional SEO services in the future, it's important to know how to do it yourself first.
While all of the tips below can also be applied to new content creation, pages that are already indexed by Google and sitting on page two or three of search engine results will typically move up in rankings faster than a new piece of content.
We're not saying you shouldn't create new content. An expansive content calendar should always be part of your long-term SEO strategy. What we are saying is this: one of the best ways to improve SEO performance is to analyze and update your existing content.
The better your existing content performs, the higher your domain authority will be. The higher your domain authority, the faster any new content you create will rank.
How to Increase SEO Tip #1: The '7-50' Strategy
The most beneficial optimization opportunities for existing content typically arise in your pages ranking for keywords in positions 7-50.
Google is identifying these pages as valuable, but not quite as valuable as your competition.
By making minor changes to these pages, your SEO performance will continue to rise — for page rank and your overall website.
You likely don't need to spend time and money optimizing your pages ranking for keywords in positions 1-6. Instead, isolate the pages that are only ranking in positions 7 or lower.
Step #1: Export all Keyword Rankings in Positions 1-50
Using Semrush (or your preferred SEO analysis platform), export all of your organic keyword rankings in positions 1-50.
Your data will likely export to Excel, but it can easily be copied into whichever spreadsheet program you prefer. Examples used in this article will include screenshots from Google Sheets.
Step #2: Filter Out URLs Ranking in Positions 1-6
Take a quick look at the data. If you have hundreds (or thousands) of keywords ranking in positions 1-50, you likely have high-performing pages ranking for multiple keywords.
Pages ranking in positions 1-6 are performing well. They are best left alone and you should concentrate your time and energy on identifying pages ranking in positions 7 and lower.
But, using your raw data, you can't simply start with the pages ranking for keywords in positions 7 and lower.
Why?
Because it is highly probable that there are pages ranking in those positions that are also ranking for keywords in positions 1-6 — and shouldn't be altered.
In the example below, you can see that one of this website's top-performing pages is ranking for multiple keywords in positions 1-10. Optimizing high-performing pages like this around the keywords ranking in positions 7 and lower is not necessary to improve SEO performance.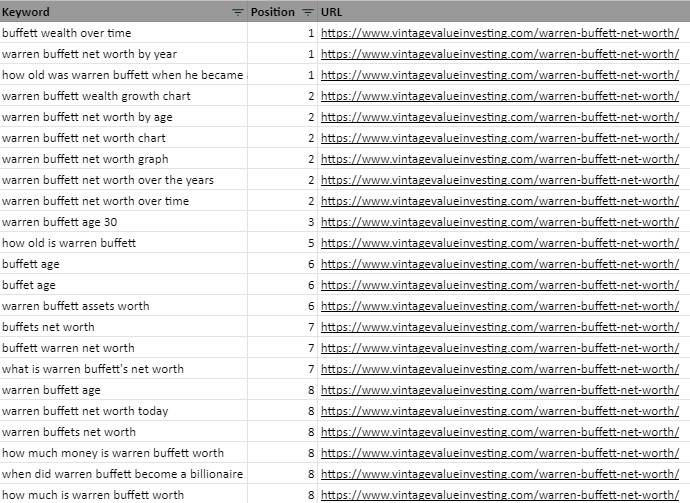 To remove URLs that are ranking well (and leave the pages only ranking for keywords in positions 7 or lower), there is a manual process that anyone can utilize — no special software or SEO-analysis tool required:
Create a filter in your top row (your headers)
Copy the first URL ranking in position 1
In the URL column, click the filter icon
Paste your copied URL into the search function in the filter and "unclick" the checkbox next to the URL

That URL is now filtered out of the entire column
Take a look at the row numbers — you'll likely see several 'missing' or 'hidden' rows

Repeat the process above for every URL ranking in positions 1-6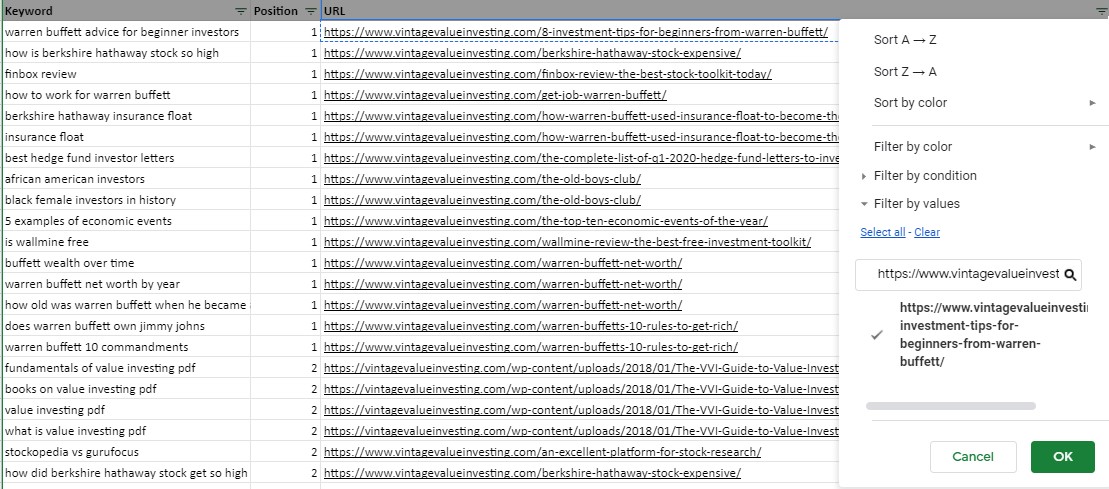 If your site is ranking for a lot of keywords, this process may seem like it will take a very long time.
But, rest assured, it's very common for high-performing pages to rank well for multiple keywords in top positions. So, as you filter out each URL, you'll see that many rows disappear with each URL you remove and the process really doesn't take that long.
When this process is complete you'll be left with the pages that are only ranking in positions 7+ — your biggest optimization opportunities.
Step #3: Create a Pivot Table
Pivot tables can be generated in both Excel and Google Sheets. They provide users with a myriad of ways to examine data and search for ways to increase SEO performance.
For this strategy, you can create a pivot table that sorts the data by URL — listing all the keywords a page is ranking for in position order.
Seeing your data in this format helps you to easily identify optimization opportunities using the questions we review in the next section.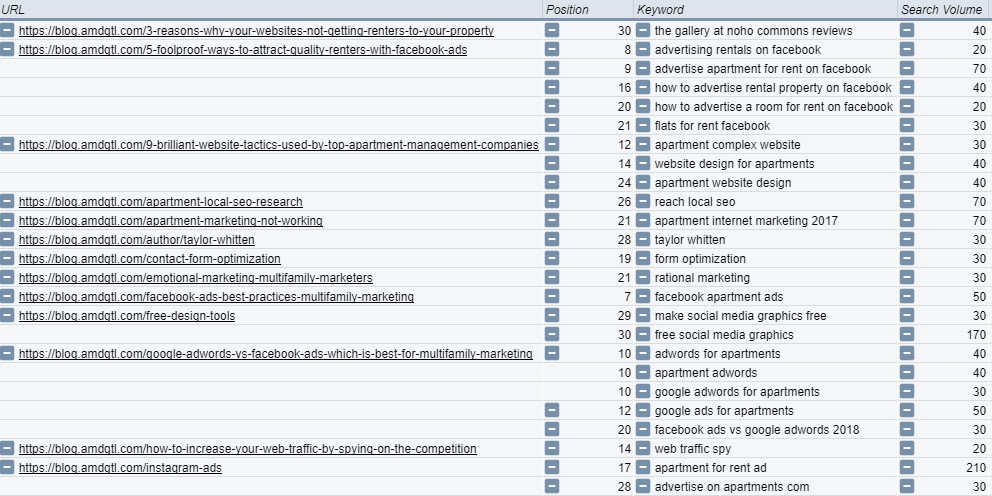 Step #4: Review Keywords Ranking in Positions 7-50 — How Can Your Existing URLs Be Optimized to Improve SEO Performance?
Now that you've isolated your pages ranking only in positions 7 and lower and you can clearly see each page's performance for multiple keywords, it's time to dive in and find out how to improve SEO rankings for these pages.
Does the Page Actually Use the Keyword?
You'd be surprised at how often a page is close to ranking in the top 10 for a high-value keyword, yet the content doesn't actually use the keyword phrase word-for-word.
If this is happening with one of your pages, it tells you that the content is valuable enough for Google to rank it around a keyword that the content simply relates to.
Imagine how much higher it may rank if it actually uses the keyword.
Are There Related Keywords you Can Add?
If a page is ranking in positions 7-20, you may increase your SEO ranking for that page with the simple addition of related keywords.
Use a tool like Semrush or Ubersuggest to identify additional keywords people are searching for that are highly related to the keyword your content is targeting.
Is Any of Your Content Repetitive?
Do you have multiple pages covering the same topic?
This can be confusing for Google's algorithm and ultimately interfere with your attempts to improve SEO.
Google may have trouble distinguishing which page is more important — resulting in poor rankings for all related pages.
Does Your Content Cannibalize Any Keywords?
Keyword cannibalization occurs when multiple URLs are ranking for the same keywords.
This isn't an issue if the pages are ranking well (in positions 1-4), but if they're ranking in positions 7 or below — especially if they have back-to-back rankings — you'll want to address this issue.
How to Increase SEO Tip #2: Competitor Keyword Gap Analysis
Competitor keyword gap analysis is the process of analyzing your competitors' keyword rankings and identifying any gaps you may be overlooking between their SEO strategy and yours.
A keyword gap analysis can be performed using an SEO analysis tool like Semrush and will help you identify opportunities in three crucial categories:
Missing keywords
Low competition keywords; and
Weak keywords
Missing Keywords Ranking 1-10
One of the easiest ways to improve SEO is to identify the keywords your competitors are ranking for on page 1 of search engine results that you are not ranking for at all.
We used Semrush's keyword gap tool to analyze two medspas who are top SEO competitors.
Below is a sample of keywords Bridgetown is 'missing.' You can see that Bridgetown is not ranking at all for several microneedling-related keywords — but Elume is ranking in the top positions.

Low Competition Keywords
The next factor to explore using a keyword gap analysis is keywords that have low competition. When identifying keywords that will drive SEO performance quickly, look for a difficulty below 65%.
In Semrush, simply sort the keyword results by KD% (keyword difficulty) or apply a filter to display only the keywords that fall into a specified difficulty range.
For these keywords, your competitor's SEO performance on the topic isn't as important, you're simply looking for opportunities to leverage your existing content to improve SEO through optimizations around keywords with low competition.
For example, in the list below, the keyword 'how long does microneedling take' has a monthly search volume of 260 and a KD of only 58.6%. This is a perfect keyword to target for quick SEO results.
If either of these medspas has an existing piece of content on microneedling that isn't performing well, it would be wise to optimize the content around this keyword in order to drive more organic traffic to their site.

'Weak' Keywords
The last area to explore using a keyword gap analysis as a method to improve SEO ranking is 'weak' keywords.
Weak keywords are keywords that both you and your competitor are ranking for, but your competitor is outperforming you.
It is especially valuable to identify weak keywords where you are ranking in positions 6-10 and your competitor is ranking higher.
In the list below, look at the keyword 'how many botox units do you need.' Bridgetown is ranking in position 6, while Elume is in position 4.
Google is identifying both of these pages as 'valuable,' but Elume is performing slightly better.
Bridgetown should examine their page to identify any optimization opportunities. When looking at pages with weak keywords, it's important to ask "What can be done differently to add even more value to the reader?"

But, before you make any changes to a page ranking for a 'weak' keyword, make sure you refer to the results of your '7-50' analysis discussed above.
If the page is performing well for a different keyword, you would not want to jeopardize that performance by changing the content to target a different keyword.
SEOReseller's team of professionals understands that it can be difficult to manage, compare, and take action with your existing content. We're here to help. Our proven SEO strategies can ensure that your content is consistently at its peak performance level.
How to Increase SEO Tip #3: Analyze Non-Content On-Page SEO Factors
In addition to optimizing the actual content on your pages, there are several 'non-content' on-page SEO factors you should review and optimize to improve SEO if necessary:
URL Structure:

Short (ideally 50-60 characters)
No underscores
Clearly defines the content — no unnecessary numbers, symbols, or text
Includes a keyword related to the content

Title Tag:

Short (60 characters or less)
A question if applicable — title tags that utilize a question have a 14% higher CTR
Directly related to the content

Meta Description:

No longer than 150 characters
Enticing
Directly related to the content and includes a target or related keyword

Header Tags:

Only one H1 tag
Supporting H2 and H3 tags utilize related keywords
Analyzing these factors for your existing content can be accomplished through Google Search Console or live on your pages with SEO Minion.
Use Your Findings to Improve SEO Ranking of Existing Content Through Optimizations
Once you have analyzed your keyword performance for pages ranking in positions 7 and lower and completed a competitor keyword gap analysis, it's time to start optimizing your content.
Step #1: Refresh Your Content
Using the questions you asked yourself while reviewing your pages ranking only in positions 7 and lower as well as the results of your competitor keyword gap analysis, it's time to start refreshing your existing content.
Untapped Keywords
For your pages that are close to ranking in the top 6 positions, look for opportunities to improve SEO by adding untapped keywords including:
The keyword phrase (word-for-word) your page is already ranking for — remember, sometimes a page ranks for a keyword without even utilizing the keyword within the content
Related keywords
Keyword gap opportunities
Find ways to naturally weave untapped keywords into your content — both in headers and in the body text.
Word Count
Google loves comprehensive content. Especially valuable comprehensive content. If your pages aren't performing well, look at the word count.
Generally speaking, supplemental content (like a blog) performs the best when pages contain at least 1700 words.
But don't just add fluff to take up space. Ensure every sentence you include on the page adds true value for your readers — this is a surefire way to improve SEO.
Combining (and Removing) Pages
If you have repetitive content on multiple pages, combine the most valuable information from each page into one comprehensive article. Use the URL for the page that is currently performing the best and redirect all the existing pages to your newly optimized content.
If you're suffering from the effects of keyword cannibalization, do the same.
This process will 'clean up' your supplemental content and make it easier for Google to determine your pages' true value.
Step #2: Leverage Your High-Performing Content as Internal Links
After you've closely reviewed the rankings of all of your pages, it's easy to see which URLs are performing well — leverage this knowledge.
While you're adding word count and naturally weaving keywords into your pages that need an SEO boost, make sure you include internal links to your high-performing pages. This is one of the best (and easiest) ways to improve SEO ranking.
A good internal linking strategy will allow your pages to share authority and help search engines understand your site's structure.
Internal links also give readers the opportunity to move between relevant pages which can:
Reduce your bounce rate
Add value; and
Increase your domain authority
Tackling optimizations for existing content can seem overwhelming, especially if you have a lot of content on your website.
The experts at SEOReseller know how to improve website SEO. We've been helping our clients reach their top SEO potential for years, and we can help you get there too. Start with our free audit tool.
How to Improve SEO Even Further in Both Existing and Future Content
Implementing the tips reviewed above will set you up for success in determining how to improve SEO performance for your website.
To ensure your content will provide results year after year, we have a few more suggestions to consider while optimizing existing content and creating new content.
Keyword Opportunities
If the evaluation of your existing content performance uncovers untapped keyword opportunities that you are not able to incorporate into your existing pages, use them to strengthen your calendar for future content.
Create a game plan and outline a schedule for new content creation around relevant keywords that:
Are highly valuable (low difficulty and decent search volume)
Target topics that are highly relevant to your industry
Address topics you don't already cover in other articles
When you create new content, an important thing to remember is to keep your article extremely relevant to your target keyword.
For example, if you are a medspa covering the keyword 'does microneedling hurt,' don't include a section on how much microneedling costs — that topic should be a separate piece of content.
People Also Ask Questions
Many Google searches populate a section called 'People Also Ask.' This section provides a list of questions search engine users ask that are often highly related to the user's search.
For a Google user, this tool can help narrow a search and find the exact information they're looking for.
When searching for ideas on how to improve SEO, this tool can help you identify questions that should be answered in both new and optimized content.
To easily discover PAA questions, you can use Topic's PAA tool. This tool allows you to search any keyword for related questions.
SEO best practices call for PAA questions to be used as header tags. Provide a concrete answer to the question in 50 words or less. You can add additional information in subsequent paragraphs once the question is answered.
Featured Snippets
In a typical Google search, organic results are displayed with the link first and a description of the page second.
When a featured snippet populates in search results, the order is reversed. Google has identified a particular section (or list of headers) that directly and briefly answer a user's query.
In these situations, the selected text is displayed first, and the link to the full page is displayed second.
Landing a featured snippet is one of the best ways to improve SEO performance of a particular page because they are placed above organic search results.
To increase your chances of appearing in featured snippets you can:
Utilize 'people also ask' questions in your header tags
Identify searches related to your keyword that already populate a featured snippet (and then create or optimize content that is more valuable than the page currently triggering the featured snippet)
Create content around very specific long-tail keywords
Include definitions, tables, and lists in your content
Improve Website SEO With SEOReseller's Proven Strategies
SEOReseller has proven SEO campaign processes that can improve SEO performance for small businesses, multi-location businesses, e-commerce brands, and international companies alike. Check out our industry page.
There is no limit on our capabilities to increase your organic traffic and drive revenue as a direct result of search engine optimization.
Schedule a free Professional SEO Consultation and let's get started on developing your customized SEO strategy.