*** Read what's new on the Penguin Algorithm as of 11/26/2015 here.
Welcome to the "SEO chasing Google" algorithm game. After 4 algorithm updates in less than 2 weeks, the incumbent, Google, has left the SEO industry puzzled. In contrast to the first few panda/penguin updates where Google provided detailed information for each change, these new updates were all linked to past Google blog posts, without much insights.
However, Google has been quietly updating their content guidelines at the same time that new algorithms are rolling out.
The latest one we found is a quick update to their "Keyword Stuffing" guideline on October 3, 2012 right before Penguin Update 3 on Oct. 5, 2012.
http://support.google.com/webmasters/bin/answer.py?hl=en&answer=66358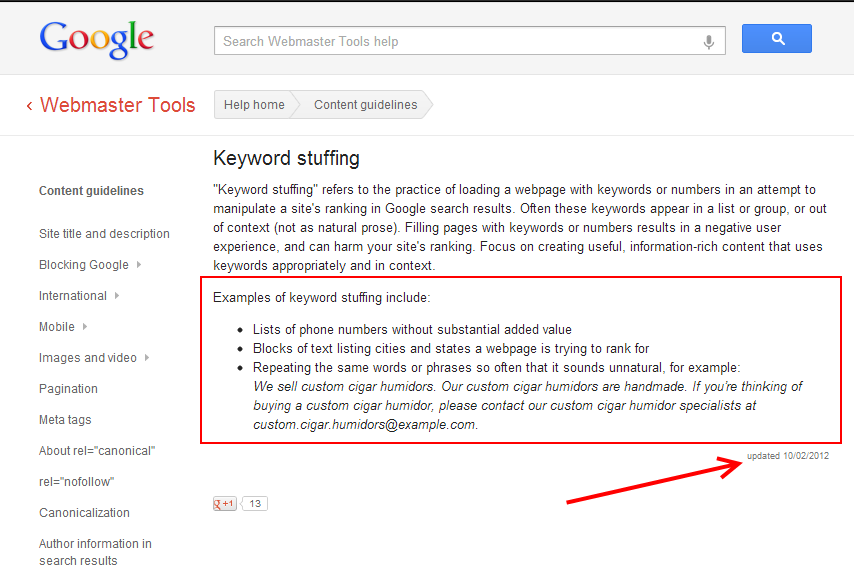 Here are the new updates that were only anecdotal before, but are now all part of Googles Webmaster Guideline, so it is fair to assume they are programmed into the algorithm now.

Lists of phone numbers without substantial added value
Blocks of text listing cities and states a webpage is trying to rank for
The following two tabs change content below.
Clayton Wood
Clayton is the Marketing Director of SEOReseller.com and managing partner of numerous successful online brands offering white label SEO and other online marketing services.
Latest posts by Clayton Wood (see all)