Google announced ear­li­er today a new Core Update, code­named: June 2019 Core Update. its focus: qual­i­ty of con­tent, rel­e­vance and author­i­ty.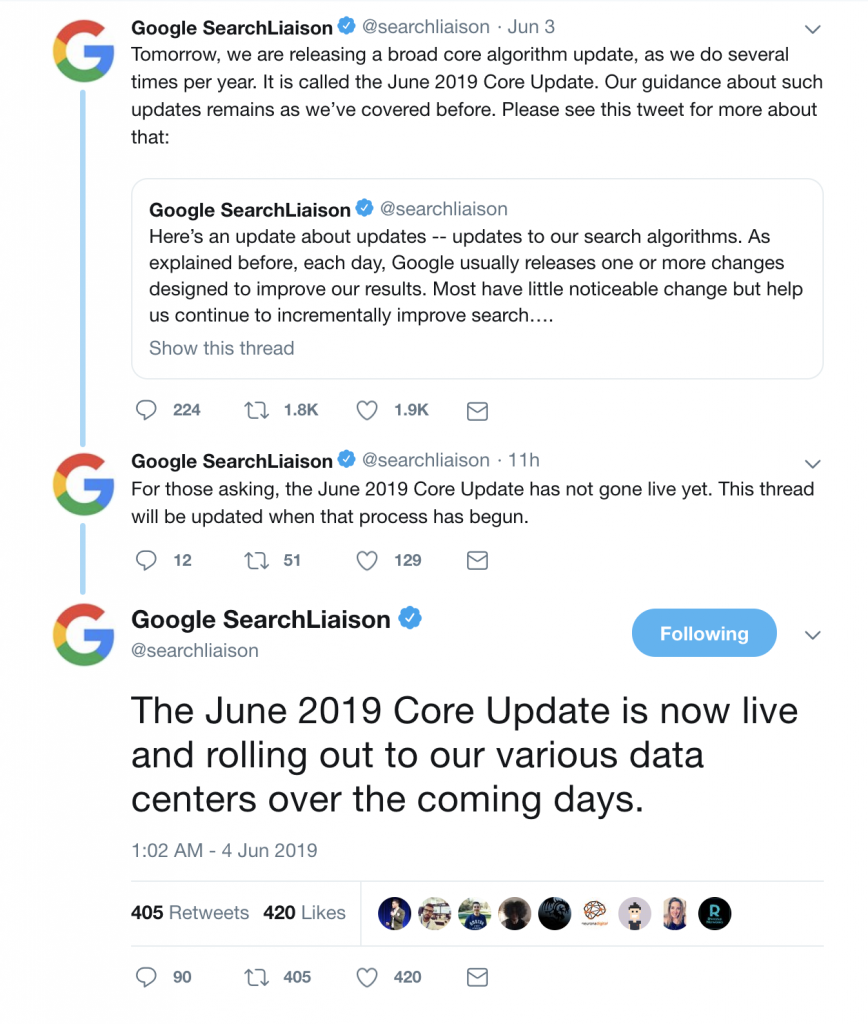 While it might take a few days or weeks to feel the impact of the core algo­rithm update (or none at all), it's a great oppor­tu­ni­ty to focus on improv­ing the qual­i­ty of your con­tent, and engage­ment. Google's offi­cial guid­ance is to do noth­ing, ours is to be proac­tive.
That's why we're shar­ing our own Con­tent Qual­i­ty Check­list that you can use to quick­ly audit SEO con­tent in less than 5 min­utes.
We built it from the foun­da­tion of Google's Search Qual­i­ty Eval­u­a­tor Guide­lines. Used by thou­sands of their con­tent eval­u­a­tors, we've added our own addi­tion­al mea­sures for Search Engine Opti­miza­tion, as we fol­low Google's own E‑A-T (Exper­tise, Author­i­ta­tive­ness, Trust­wor­thi­ness) for con­tent scor­ing.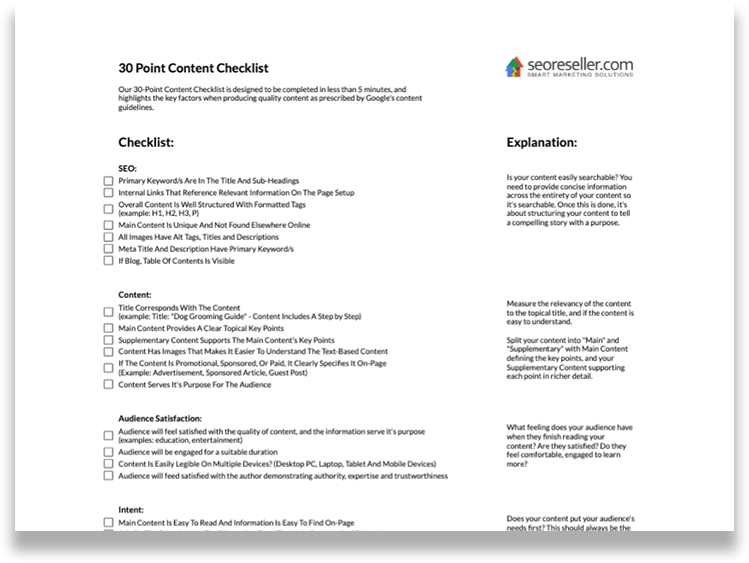 Here is what you need to check to quick­ly score your con­tent, out of a pos­si­ble 30 points, we rec­om­mend a min­i­mum of 27 points before post­ing.
SEO:
Pri­ma­ry Keyword/s Are In The Title And Sub-Head­ings
Inter­nal Links That Ref­er­ence Rel­e­vant Infor­ma­tion On The Page Set­up
Over­all Con­tent Is Well Struc­tured With For­mat­ted Tags (exam­ple: H1, H2, H3, P)
Main Con­tent Is Unique And Not Found Else­where Online
All Images Have Alt Tags, Titles and Descrip­tions
Meta Title And Descrip­tion Have Pri­ma­ry Keyword/s
If Blog, Table Of Con­tents Is Vis­i­ble
Content:
Title Cor­re­sponds With The Con­tent (exam­ple: Title: ""Dog Groom­ing Guide"" — Con­tent Includes A Step by Step)
Main Con­tent Pro­vides A Clear Top­i­cal Key Points
Sup­ple­men­tary Con­tent Sup­ports The Main Con­tent's Key Points
Con­tent Has Images That Makes It Eas­i­er To Under­stand The Text-Based Con­tent
If The Con­tent Is Pro­mo­tion­al, Spon­sored, Or Paid, It Clear­ly Spec­i­fies It On-Page (Exam­ple: Adver­tise­ment, Spon­sored Arti­cle, Guest Post)
Con­tent Serves It's Pur­pose For The Audi­ence
Audience Satisfaction:
Audi­ence will feel sat­is­fied with the qual­i­ty of con­tent, and the infor­ma­tion serve it's pur­pose (exam­ples: edu­ca­tion, enter­tain­ment)
Audi­ence will be engaged for a suit­able dura­tion
Con­tent Is Eas­i­ly Leg­i­ble On Mul­ti­ple Devices? (Desk­top PC, Lap­top, Tablet And Mobile Devices)
Audi­ence will feed sat­is­fied with the author demon­strat­ing author­i­ty, exper­tise and trust­wor­thi­ness
Intent:
Main Con­tent Is Easy To Read And Infor­ma­tion Is Easy To Find On-Page
Ads On The Page Are Not Too Dis­tract­ing From The Main Con­tent, And Rel­e­vant
Con­tent Does Not Pro­mote Hate, Vio­lence, Decep­tion or Polit­i­cal Manip­u­la­tion
Con­tent Is Not Harm­ful, Mali­cious Or Decep­tive
Trust:
The Brand Logo and/or Author Bio Is Easy To Find
It Is Easy To Find Infor­ma­tion Or Link To Infor­ma­tion About The Busi­ness On The Page
The Busi­ness / Author Has Pos­i­tive Reviews, Rec­om­men­da­tions And Com­ments Else­where Online
Authority:
Con­tent Dis­plays Author­i­ty With Trust­wor­thy Cita­tions
Con­tent Be Con­sid­ered A Source of Truth
This Page Is Cit­ed Else­where Online For The Infor­ma­tion Pro­vid­ed
Expertise:
This Arti­cle Is Authored With The Right Lev­el Of Exper­tise
Author Is Con­sid­ered An Expert, Or Has For­mal Edu­ca­tion On The Top­ic Dis­played In Their Pro­file
Author Has High Exper­tise In This Sub­ject Dis­played Else­where Online
This audit is intend­ed to be com­plet­ed in less than 5 min­utes per 2000 words. For a down­load­able ver­sion of our check­list, you can make a copy of our con­tent qual­i­ty check­list here to use for your audits.