Online marketing today is all about the data, and companies that deliver the most accurate, most comprehensive data are the ones that win clients over. Google and AOL have recently made new acquisitions that will make their existing data businesses more powerful, expanding their capabilities in the near future. Let's have a look at these acquisitions and what you can expect from the following platforms in the near future.
Google Buys Adometry
Last Tuesday, Google bought Adometry, an Austin, TX-based online ad attribution company. No information has been released about the amount involved in the transaction.

"Today signifies a huge milestone in the Adometry story as we announce our acquisition by Google," wrote Adometry's CEO Paul Pellman in the official blog announcement.
"We couldn't be more excited to join Google – a company that shares our core values. Not only do they focus on innovation and solving big problems, but also like Adometry, they seek to provide brands and their agency partners with the analytics and insights to improve the performance of their marketing campaigns," he said.
He further explains that as of now, they will continue operating independently with their current clients. The long-term plan is to work with the Google Analytics Premium team to integrate their capabilities into the existing Analytics platform.
AOL to Buy Convertro
AOL, meanwhile, has agreed to buy the Santa Monica, CA-based tech startup company Convertro. The transaction will cost $101 million, divided as $89 million cash, $2 million converted stocks, and another $10 million if Convertro performs well under AOL.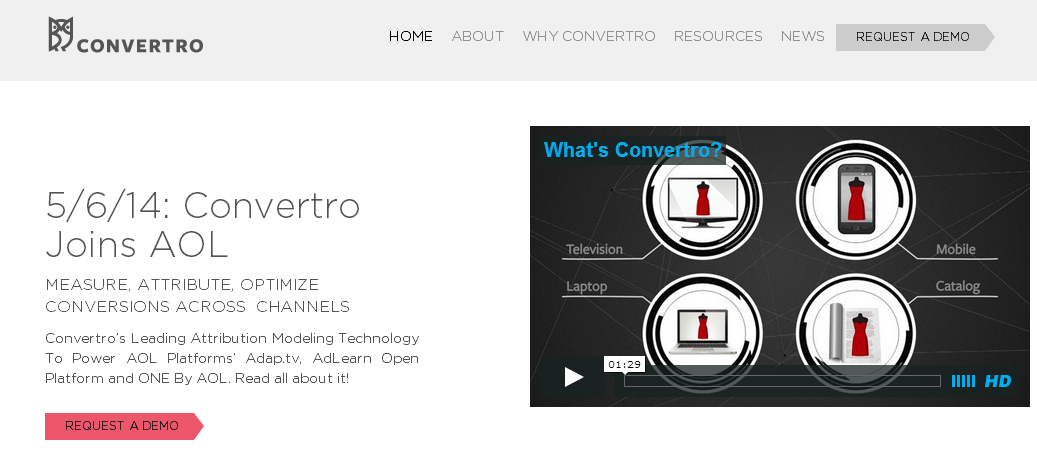 "Combining Convertro with AOL's Programmatic Offerings is breaking the silos between planning, measuring and optimization for different channels, providing a unified, automated way to manage marketing from the first exposure to conversion," the official press release stated.
Convertro will be incorporated into some of AOL's platforms, including Adap.tv, AdLearn Open Platform and ONE by AOL. According to the press release, this new addition will allow users of AOL platforms to:
Plan, activate and optimize multi-channel media ad spend effectively, in real-time, across every channel and inventory source;
Understand and repeat successful paths to conversion;
Adapt creative and messaging to a consumer's stage in the purchase funnel;
Pinpoint the intersection of brand and direct response dollars at a granular level;
Implement and derive insights from attribution modeling in real time at the individual consumer level; and
Access AOL's open, modular and unbiased platform which is committed to preserving the integrity of Convertro's attribution modeling methodology.
"Our agreement to acquire Convertro demonstrates our continued commitment to bring efficiency to the advertising industry through automation and machine learning," said Tim Armstrong, AOL's Chairman and CEO. "Our focus on the AOL Platforms business has positioned AOL for growth as the trend around programmatic advertising continues to transform the industry."