Designing a website is one thing; pitching your web design is an entirely different matter. You may have an impressive design, but if you don't pitch it right, that design you've spent hours working on might not even see the light of day. We won't let this happen to you.
We're committed to providing agencies like yourself the leverage to ace your web design sales pitch and win more clients to your side. So, we give you this white label Local Web Design Pitch Deck to help you prepare and sell web design.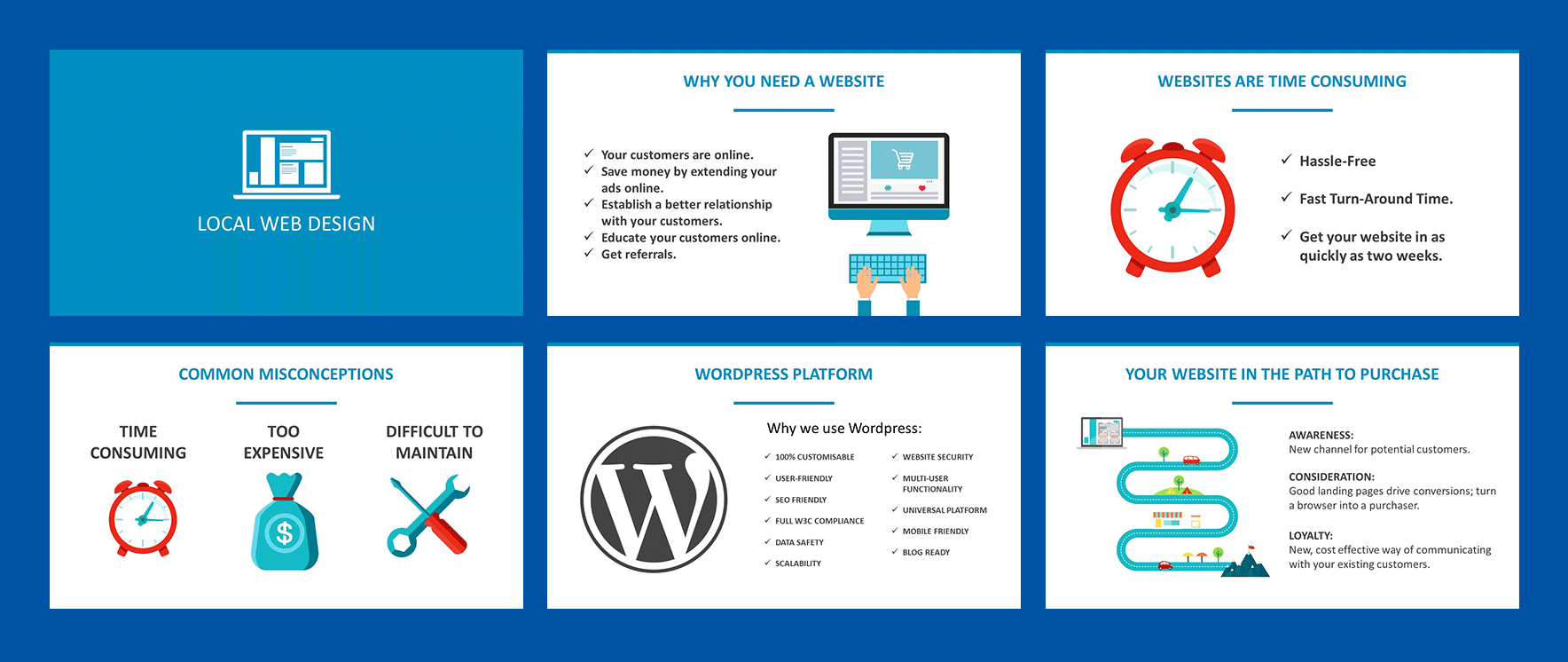 What's in the Pitch Deck?
All the information you need when making a presentation for prospect web design clients:
Your agency's logo and background
Relevant web design facts
WordPress platform overview
Web design product features
You can add more information as you go, so you can make your web design sales pitch more impressive and close that web design lead.
How to Prepare for Your Web Design Pitch
The secret to winning any pitch is preparation.
The secret to winning any pitch is preparation. A good amount of prepping will help you learn more about your prospects, exhibit mastery over the solutions you're selling, show genuine interest in helping your prospects, and communicate with them more confidently.
So, before you walk into a meeting room with a client or go to their place of business, you need to do the following:
Do an audit of their website: Enumerate elements that you will highlight in your web design sales pitch. This should allow you to identify opportunities, problems, and advantages against their competition.
Practice with your pitch deck: With the white label web design pitch deck, we've taken away the hours you would have spent making a presentation. The only thing you need to do is practice. Use buzzwords that will help you remember key talking points, so you can transition from one slide to another more smoothly.
Dress up: This is very important! Not many agencies understand the power of first impressions. How you dress during a meeting can influence a client's perception of your agency and give them the impression that you're committed to helping their business.
The importance of prep (or Step 0, as well call it) during a pitch is simple—be prepared, or be prepared to lose a client.
But, Wait…There's More!!!
This brandable pitch deck isn't the only thing up our sleeves to help you sell white label web design services.
Part of our process is to understand the key challenges of agencies – especially those who are just starting their agency – in selling web design. One of these is not having a portfolio to show to prospects.
This is why we've developed a white label WordPress plugin that equips your agency with everything you need to get more prospects. One of these developments is the white label web design portfolio. Once you install the plugin on your website, you'll get a URL pointing to a portfolio of mockups with your logo on it!
Complete your web design arsenal with our resources available to your agency! Sign up and download them from our Resource Center!
The following two tabs change content below.
Itamar has been on the net since the days it was still in black and white. Born and raised in Israel and now living in the Philippines, founder of SEOReseller.com and recently launched Siteoscope.com.
Latest posts by Itamar Gero (see all)