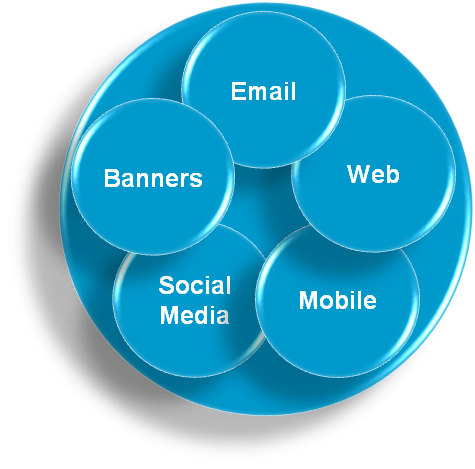 Many SEO professionals do not realize the full potential of their multi-channel marketing efforts. They treat their campaigns for each channel separately instead of creating one seamless campaign. Cross-channel marketing helps you maximize the benefits of each channel by using them together; that is, you view different channels as touch points. Today, I want to share with you how you can use cross-channel marketing to leverage SEO.
How It Works
Cross-channel marketing works like a funnel – every action you take in different channels is part of one big marketing strategy. Think of every channel as a touch point. You can assess where people connect with you, such as where they enter your site, where they leave, what channel they used to get there, and how many fulfilled your conversion goals at a given point. Using this information, you can create a strategy wherein you position a specific channel to answer the needs of users at specific points of their research.
Here's a sample structure: using cross-channel marketing, you can use channels like email, forums, and social media at the mouth of the funnel, to reach bigger audiences. When the interaction begins, you can bring them in further with infographs, get them to sign up for free webinars, or provide free research and other whitepapers. If at any point, they go to your site and they leave, you then serve retargeting ads. All these marketing methods lead your target audience towards converting, whether to sign up for a membership or to buy products and services.
The Benefits Cross-Channel Marketing to SEO
Cross-channel marketing can be designed to leverage different marketing campaigns, including SEO. It brings many benefits:
Content Diversity
Your use of different channels leads you to create and associate your brands with different types of content. Google seeks out content diversity when ranking sites today, and this can give your website a boost on the SERPs. It also keeps your target audience interested, increasing your chances of gaining conversions.
Understanding Market Behavior
Cross-channel marketing gives you the unique opportunity to discover your market's research and discovery behavior. You will know when and how they search for products and services, and who they search for when they need a specific thing. Once you understand market behavior, you can tweak your campaigns to reach them more effectively at each touch point.
Increased Brand Visibility and Awareness
Because you use different channels as your touch points, you increase your brand's exposure to a wider audience. Combined with an effective cross-channel marketing strategy, you promote brand recall more successfully.
More Stable Link Profile
They say you shouldn't put all your eggs in one basket. By making different channels part of your bigger SEO strategy, you ensure that your entire campaign will not collapse if your strategy for a single channel fails to bring in more leads. You can still use the other channels to communicate with your market while you adjust your strategy for ones that need improvement.
Tips to a Successful Cross-Channel Marketing Strategy
The success of your cross-channel marketing strategy depends largely on your analysis of what happens at the different touch points of your campaign. Tracking conversions and viewing results holistically gives you a more accurate picture of how your cross-channel efforts are performing. Here are a few things you need to remember when using this type of marketing methodology:
Analyze all touch points, not just the ones with conversions. This will give you an idea of what does and does not work. Using this information, you can establish your baseline and test the effectiveness of different methodologies in the future.
Check which channels are best used for introducing ideas, and which ones are best used for closing conversions. You are viewing your campaign as a whole, and knowing which channels serve what purpose best allows you to maximize your gains by using them in the funnel where they are most productive.
Pay attention to the trends in each channel – which channels are inexpensive to use, which ones are on the rise, and which ones are starting to lose their former effectiveness. For instance, mobile is a channel with an increasing number of users, and it is relatively easy to integrate into your campaign.
Use technology that tracks your channels effectively. Google Analytics is capable of tracking multiple channels, and Facebook has its own tracking system. Our dashboard also features comprehensive SEO tracking and it easily integrates Google Analytics.
You can discuss your channel strategy and SEO with your account manager if you need any assistance. Make sure to sign up for your free account with us to get started. Keep checking back for more tips and updates on the SEO industry!