After almost a decade of help­ing agen­cies get to pow­er­house sta­tus, a ground­break­ing solu­tion was over­due for agen­cies who are still dream­ing of quit­ting their day jobs.
Our Agency Advan­tage plat­form address­es the most press­ing needs of new and strug­gling agen­cies by pro­vid­ing a solu­tion to three major chal­lenges:
Lack of Author­i­ty — Agen­cies that are start­ing out don't have a port­fo­lio or oth­er abil­i­ty to show off that they achieved results for pre­vi­ous cus­tomers
Lack of Edu­ca­tion — Whether it's dig­i­tal mar­ket­ing know-how or busi­ness acu­men, strug­gling agen­cies are often miss­ing knowl­edge that can be hard to come by.
Lack of Tools — There are many lead gen­er­a­tion tools and mar­ket­ing automa­tion soft­ware that can make aspects of start­ing an agency eas­i­er. None of which are afford­able for new agen­cies.
Meet­ing each of these needs requires two resources which are in short sup­ply for new agen­cies — time and mon­ey. With Agency Advan­tage, grow­ing your agency becomes much eas­i­er and you have more time to sell.
Tools
B2B lead gen­er­a­tion and lead nur­tur­ing are the linch­pins of suc­cess­ful agen­cies. With Agency Advan­tage, we make it eas­i­er for your agency to do both by help­ing you cap­ture leads, con­nect with leads, and guid­ing them through your sales fun­nel.
Agency Advan­tage con­sists of three pri­ma­ry mar­ket­ing and sales tools: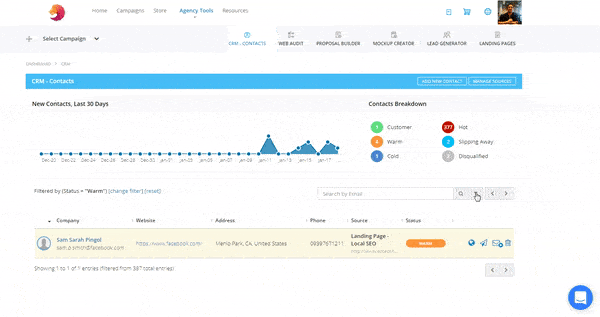 Our CRM soft­ware is the cen­ter of the Agency Advan­tage plat­form. Sales leads gen­er­at­ed with Agency Advan­tage can be fun­neled to your CRM as a hot lead. Change the sta­tus to warm, slip­ping away, cold, dis­qual­i­fied, or cus­tomer as nec­es­sary.
From the CRM, eas­i­ly view enriched con­tact infor­ma­tion, email his­to­ry, details about their web­site and social media plus any pro­pos­als or audits gen­er­at­ed for the lead. Send man­u­al emails or enroll the lead in pre­built automa­tions with the click of a but­ton.
Leads gen­er­at­ed via the lead gen­er­a­tion forms on your web­site with the SEO­Re­seller Part­ner Plu­g­in in Word­Press will still be fun­neled to your CRM as well.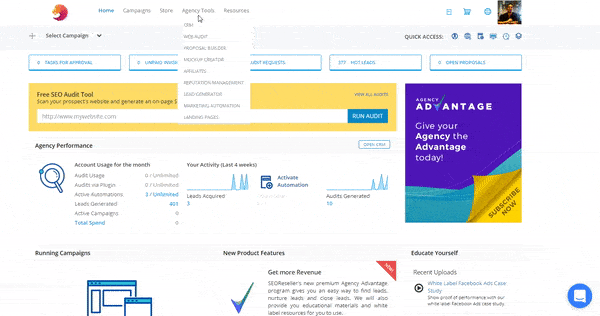 The num­ber one prob­lem of agen­cies, both new and old, is find­ing more leads. But not just any leads — qual­i­fied leads. Many agen­cies are strug­gling to find leads and find­ing qual­i­fied leads is next to impos­si­ble.
The result? A lot of wast­ed time chas­ing leads that aren't ever going to become clients while busi­ness­es that actu­al­ly need your ser­vice fall through the cracks. It's a los­ing sit­u­a­tion for agency own­ers who only have a few hours per week to focus on their agency.
Agency Advan­tage does all the heavy lift­ing and gives you a list of pre-qual­i­fied leads in sec­onds. Here's how it works:
Search by niche and loca­tion — Doesn't get much more sim­ple than that. Your agency is locat­ed in Dal­las and you spe­cial­ize in dig­i­tal mar­ket­ing for con­trac­tors. Press enter.
Pre-qual­i­fied results — The result is a list of pre-qual­i­fied busi­ness­es in the niche queried based on your geolo­ca­tion. The results are pre­qual­i­fied based on the fol­low­ing fac­tors:

No SEO
No Adwords
No Social
No Web­site
Bad Rep­u­ta­tion
This allows you to sell them a ser­vice they actu­al­ly need. For instance, a busi­ness with the sta­tus of "SEO detect­ed" might not be an ide­al can­di­date for you to sell SEO.
The best part of using the Lead Gen­er­a­tor is you can sort the indus­tries you want to serve. For instance, it can be eas­i­er to get a list of real­tors look­ing for real estate SEO ser­vices once you have this tool.
Once you have your list, you can save leads to your CRM so you can com­mu­ni­cate with them and start nur­tur­ing them with Mar­ket­ing Automa­tion.
Marketing Automation
Nur­tur­ing leads can be as dif­fi­cult as find­ing leads. With Mar­ket­ing Automa­tion, we remove the guess­work from send­ing cold emails with pre-built email sequences designed to turn leads into clients.
We use proven nur­tur­ing tech­niques that we apply in our own mar­ket­ing as well as lever­ag­ing what we know works for you, our part­ners. Our tem­plat­ed emails are sim­ple and easy-to-read while pro­vid­ing solu­tions to actu­al prob­lems.
Each email con­tains a link to brand­able land­ing pages for each ser­vice your agency offers. With Agency Advan­tage, we give you a mar­ket­ing fun­nel that starts with gen­er­at­ing leads and ends with a con­ver­sa­tion with you.
Here are the high­lights of Mar­ket­ing Automa­tion: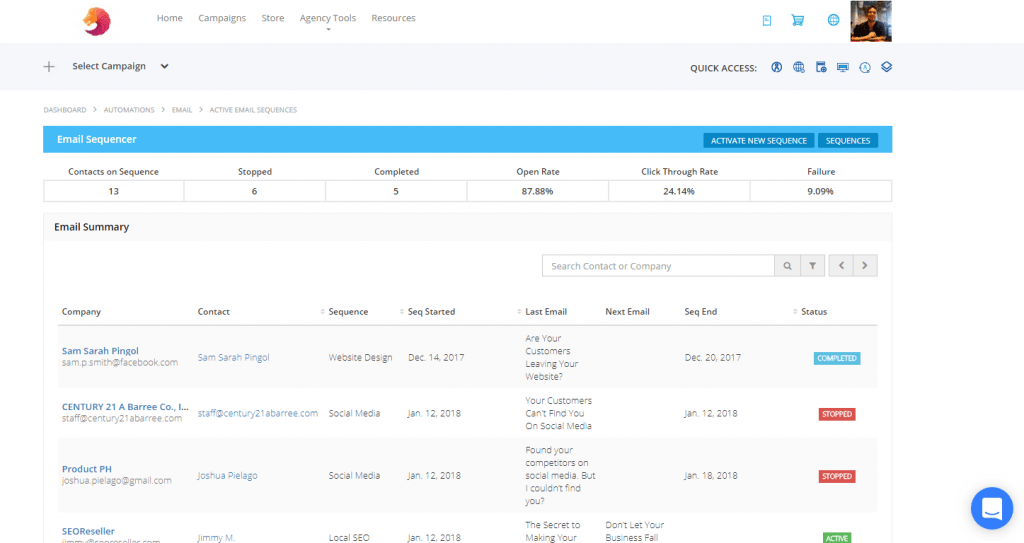 Acti­vate an email sequence — Acti­vate nur­tur­ing for any saved con­tact in your CRM for Web­site Design, Social Media, Local SEO, PPC Man­age­ment, SEO Edu­ca­tion, and Rep­u­ta­tion Man­age­ment
A Steady drip of rel­e­vant emails — Each sequence con­tains 3 or 4 emails sent at pre­set inter­vals over a 7 to 10 day peri­od of time, depend­ing on the num­ber of emails in the sequence. Designed for either Acqui­si­tion or Edu­ca­tion.
Link to land­ing pages — Each email has a link to a pre­built land­ing page
Brand­able and beau­ti­ful — Brand­ed with your logo and agency col­ors. Cre­at­ed with graph­ic design that makes you look like a dig­i­tal mar­ket­ing pro.
Tar­get­ed copy — Each land­ing pages con­tains sec­tions writ­ten with copy specif­i­cal­ly designed to entice your poten­tial clients to per­form an action that takes them clos­er to being your client
Call to actions — Enable one of the fol­low­ing CTAs based on what action you want your poten­tial clients to take:

Con­tact form — Built-in con­tact form that asks for crit­i­cal infor­ma­tion about your lead. Once filled out, the con­tact infor­ma­tion is saved to your CRM
Sched­ule a call — Set up an account on any free appoint­ment cal­en­dar online like calendly.com or simplybook.me and eas­i­ly copy the link to your dash­board for it to dis­play on your land­ing pages.
Authority
White Label Resources
Unless you are a top-notch sales­per­son, your leads are like­ly to want proof that your agency has the abil­i­ty to design, rank, or dri­ve traf­fic to their web­site. This sort of proof usu­al­ly comes in the form of a port­fo­lio, tes­ti­mo­ni­als or case stud­ies.
But for most agen­cies, it's a Catch-22. You need a port­fo­lio to con­vert leads into clients but you need clients to have a port­fo­lio.
We ful­fill the ser­vice need­ed by your clients. Some­thing we have done thou­sands of times. There­fore, we have cre­at­ed white labeled proof that we can do it for your clients.
At the start of the Agency Advan­tage plat­form, sub­scribers receive the fol­low­ing resources for our Organ­ic SEO, Local SEO, Web Design, Social Media, Adwords ser­vices and the Rep­u­ta­tion Man­age­ment sub­scrip­tion.
White Label Pitch Decks — Brand­able Pow­er­point pre­sen­ta­tions designed to be an aide dur­ing your sales pitch. Builds aware­ness of the impor­tance of the ser­vice, why their busi­ness needs it and how your agency helps.
White Label Videos — A short, fun-to-watch and infor­ma­tive way to com­mu­ni­cate how your agency helps their busi­ness with each ser­vice. Upload to your YouTube chan­nel, share on your social media accounts, or dis­play dur­ing pitch­es.
White Label Case Stud­ies — Proof in num­bers. Data-based, real case sto­ries cre­at­ed with eye-catch­ing pho­tographs and design that you use as proof that your agency has already helped oth­er busi­ness­es suc­ceed.
Education
MasterClass Webinars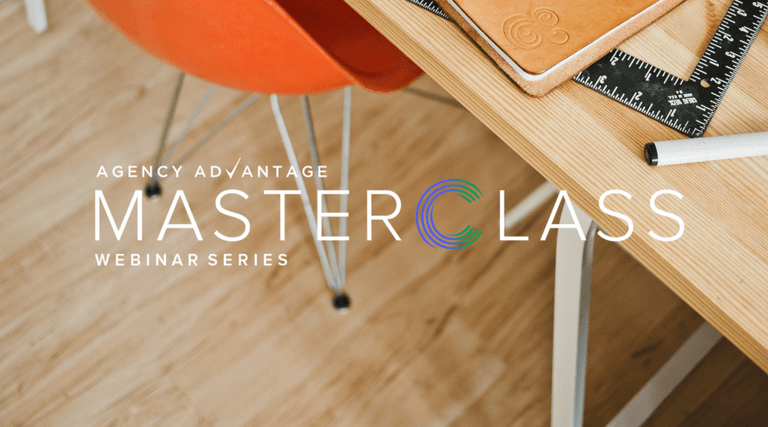 One of the high­lights of the Agency Advan­tage plat­form is the Mas­ter­Class Webi­nar Series. It's an inti­mate, inter­ac­tive webi­nar where sub­scribers can ask real-time ques­tions and gain valu­able insight from the fol­low­ing cat­e­gories of pan­elists:
Indus­try Experts — Peo­ple in the dig­i­tal mar­ket­ing indus­try that have helped agen­cies become suc­cess­ful or built suc­cess­ful agen­cies them­selves.
Cor­po­rate Lead­ers — You've heard from SEO­Re­seller lead­er­ship before but nev­er like this. Pick their brain about how to use our plat­form to build your agency.
Suc­cess­ful Part­ner Agen­cies — By now you know that we have helped agen­cies go from week­end war­riors to hav­ing a team do the work for them — and make mil­lions in the process. Find out how they used the SEO­Re­seller plat­form to get there — and ask ques­tions along the way.
Digital Marketing Email Courses
We know you want to learn more about dig­i­tal mar­ket­ing and how to sell our ser­vices but you don't always have 30 min­utes for our infor­ma­tive webi­na­rs, or maybe after a long day of work­ing for some­one else at your reg­u­lar job, read­ing a blog post is just too much.
Instead, sub­scribers can sign up for our dig­i­tal mar­ket­ing email cours­es and get a steady drip of edu­ca­tion­al emails with just enough con­tent to wet your appetite for knowl­edge in bite-sized, easy-to-read emails.
Conclusion
Stop spend­ing hours and hours try­ing to find leads or send­ing emails that you're not sure will work to leads that might not even need your ser­vice. With Agency Advan­tage you have a bet­ter chance of clos­ing leads because you have a foot in the door and you know they need your ser­vice.
The Agency Advan­tage plat­form com­bines all of the tools and resources to make you suc­cess­ful today. Shave years off how long it takes to grow into a prof­itable agency and turn your dream of being a suc­cess­ful busi­ness own­er into a real­i­ty.