White Label Features for Agency Growth
Grow your agency with white label tools that help get leads, close leads, and provide real value to your clients.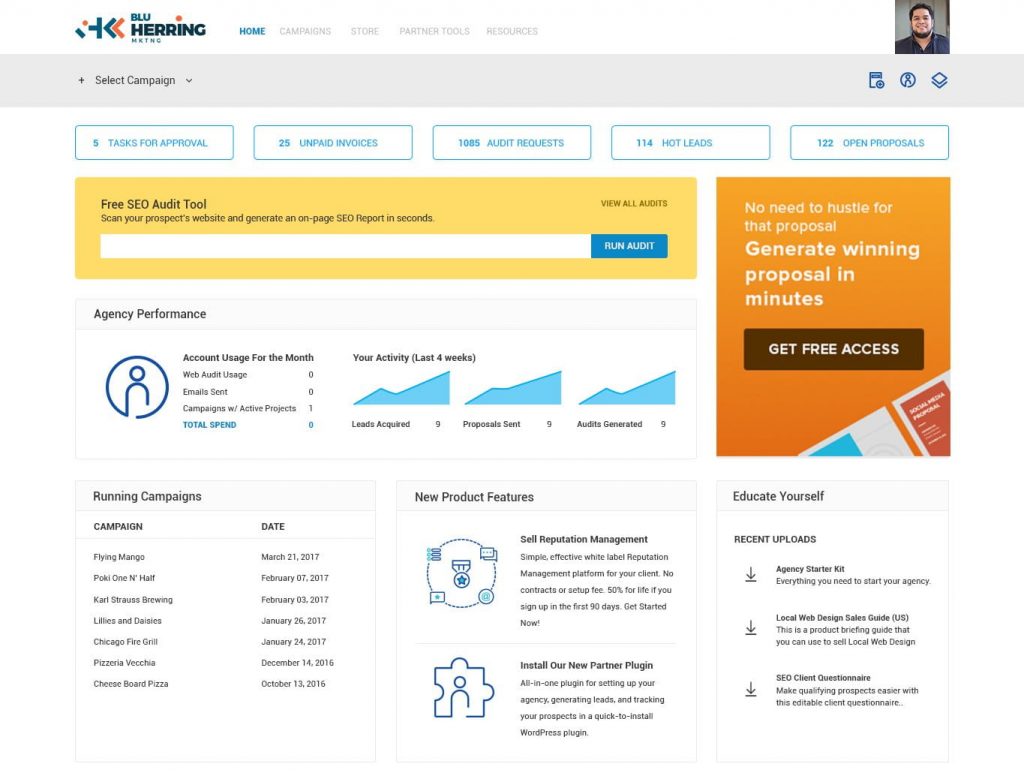 Everything Your Agency Needs. One White Label Dashboard.
Your white label dashboard is the center of the SEOReseller platform and it's packed with features that help your agency succeed.
Track and manage all your leads in one place – whether from your site audit widget or forms on your website.
Branded Executive Summary Report sent to you and your clients. Transparency via regular and timely reports.
Pitch kits, presentation decks, white papers, and more – with your brand. Designed to help educate, sell, and explain.
White Label SEO Dashboard
The most comprehensive SEO dashboard in the business – with your brand on it. It's a powerful sales tool.
Give clients a front row seat as you build, manage and promote their brand. Create monthly revenue for you.
White Label PPC Dashboard
Track the performance of ad groups, ads and individual keywords. Give your clients and they see your brand.
Keep Tabs on Targeted Keywords and More with Our SEO Software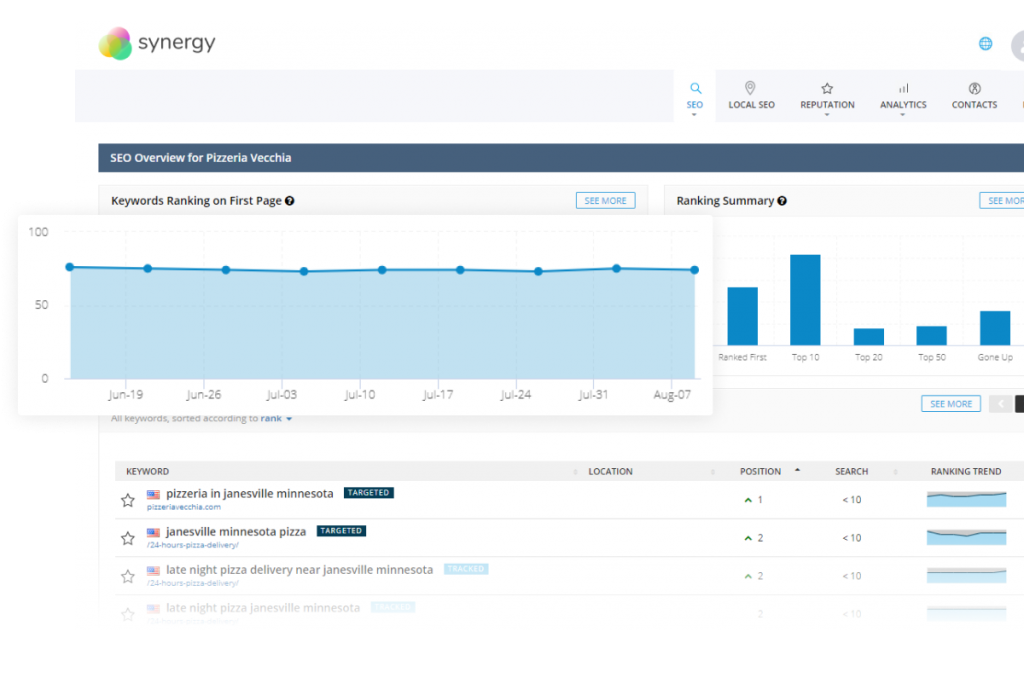 Check all tracked keywords at a glance including position, location, week-to-date and month-to-date improvements and the number of monthly organic searches.
Analyze individual keyword performance with the monthly trend feature. It displays the beginning ranking, month-to-month performance, and the current ranking.
Backlinks are critical to search results ranking position and nobody builds backlinks better than SEOReseller. Easily check where backlinks are coming from.
A page's metadata is what drives people to click results on the results page. Easily see meta title and meta description of each page and targeted keywords.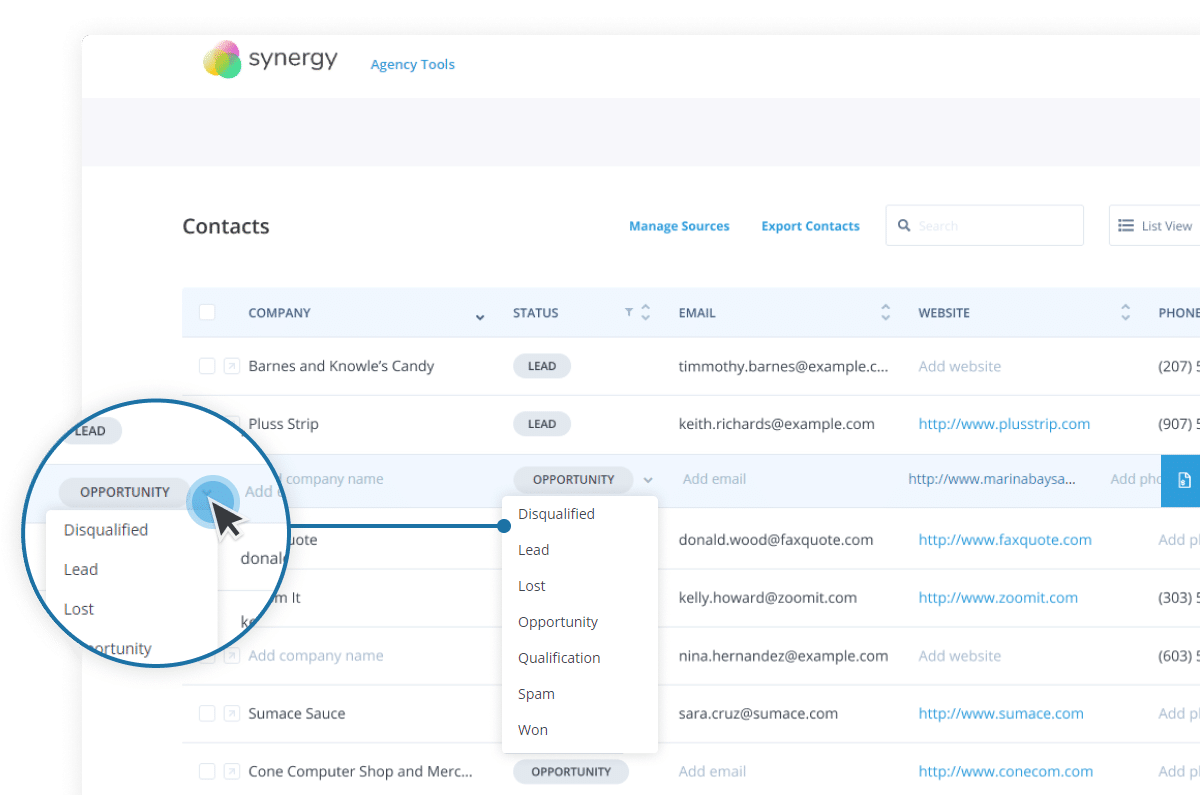 Track, Manage & Contact Your Leads via the Partner CRM
Whether via contact forms on your website, the site audit widget on your web pages, or your own lead generating efforts, you need a place to keep all your leads in one place.
The SEOReseller platform provides many ways get leads and with more on the way. Keep them all in the same place so you can easily transition them into campaigns after converting them into clients.
It's a seamless and streamlined way to manage your contacts & clients in your white label dashboard.
We offer a few different ways to put your dashboard on your domain but none as easy as installing the SEOReseller Partner Plugin directly from WordPress. In addition to being the recommended way to put your dashboard on your domain, the SEOReseller Partner Plugin also enables the following features: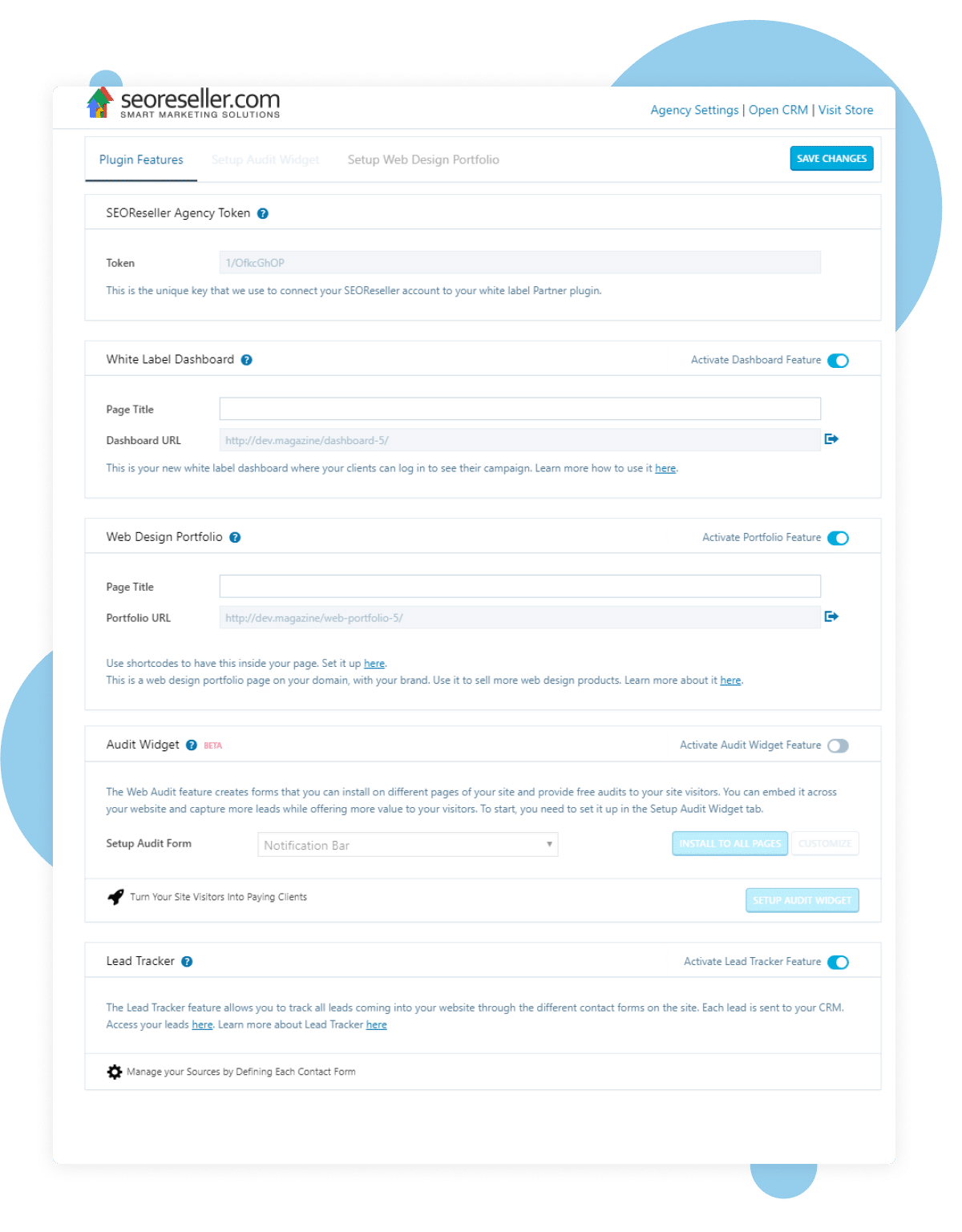 On-Demand Web Design Portfolio
Our library of web designs on your domain. Show them off as your own work to convert your web development leads into clients.
The site audit widget is your ticket to passive leads. It's a fully customizable widget – determine which pages to display the audit, the CTA text, and more.
Install the WordPress Plugin and activate the Lead Tracker to complete the integration between your Partner CRM and your contact forms.
Generate Leads Passively with Your Site Audit Widget
It provides immediate value to your clients in the way of an SEO audit of their website. An audit is the first step to making them your client. They find out where their website can be improved and they'll see your agency as the best way to get that help.
You get a lead. In order for someone to get the site audit, they have to enter their email address and URL. After you install the SEOReseller Partner Plugin in WordPress, the lead's information goes to your Partner CRM in the dashboard.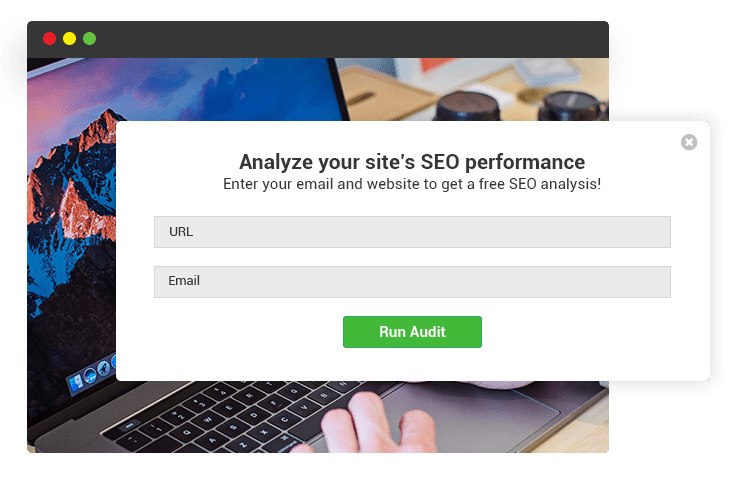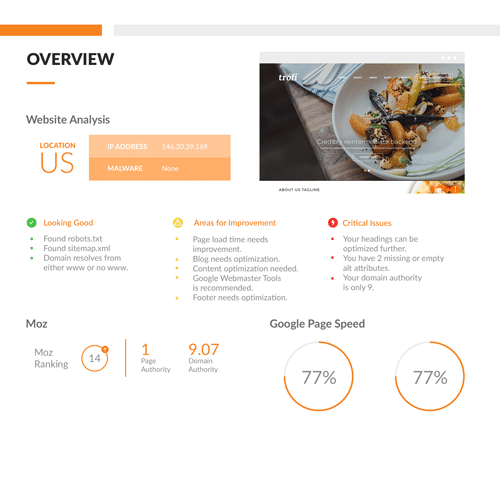 Provide Your Clients with a Thorough SEO Audit in Seconds
Overview
• We check the areas of your website that are looking good, need improvement and have critical issues
• Data from Moz Analytics, Majestic Analytics, Google Page Speed and a Social Analysis
SEO Analysis
• We check for the presence of a sitemap, robots.txt file, and www resolve
• We verify that images have alt text, your title and description is optimized, and we analyze your header tags
• We check your homepage content, whether your blog needs to be optimized, and keyword density
• We'll verify integration with Search Console and Google Analytics plus a preliminary backlink analysis