Build Your Agency Webinar Series
In Take Con­trol of Your Agency's Bot­tom Line, Ita­mar and Bernard share how tal­ent depen­den­cy affects your agency's scal­a­bil­i­ty and dis­cuss how to avoid the pit­falls of being tal­ent-depen­dent. They also dive into the impor­tance of mak­ing your agency process-dri­ven, iden­ti­fy­ing your nego­tiable costs, and cal­cu­lat­ing your prof­it mar­gin using our ROI cal­cu­la­tor. Final­ly, they talk about how agency own­ers should not be heroes – but how they should work on their busi­ness, not in it.
12:21 – Allow processes—not your rock­star employees—to deliv­er results.
13:04 – Make sure your clients are emo­tion­al­ly invest­ed in your brand and agency, not to a spe­cif­ic tal­ent.
16:11 – Focus on the most impor­tant things first, and make sure they're a part of a check­list.
19:20 – To pre­dict and man­age your costs, iden­ti­fy what is: your cost to sell, cost to retain clients, your cost of goods and ser­vices, and your over­head expens­es.
23:20 – Down­load the ROI cal­cu­la­tor
34:03 – Remem­ber that being a hero for your agency may only be valu­able in the begin­ning, but don't be the glass ceil­ing that pre­vents your busi­ness from sky­rock­et­ing.
35:43 – Every moment you spend micro­manag­ing one account is a minute you don't improve busi­ness process­es that can have an impact on every­body else
36:37 – Work on your busi­ness, not in it.
41:11 – 10 peo­ple that can do 80% of what you can do is still bet­ter than doing it on your own.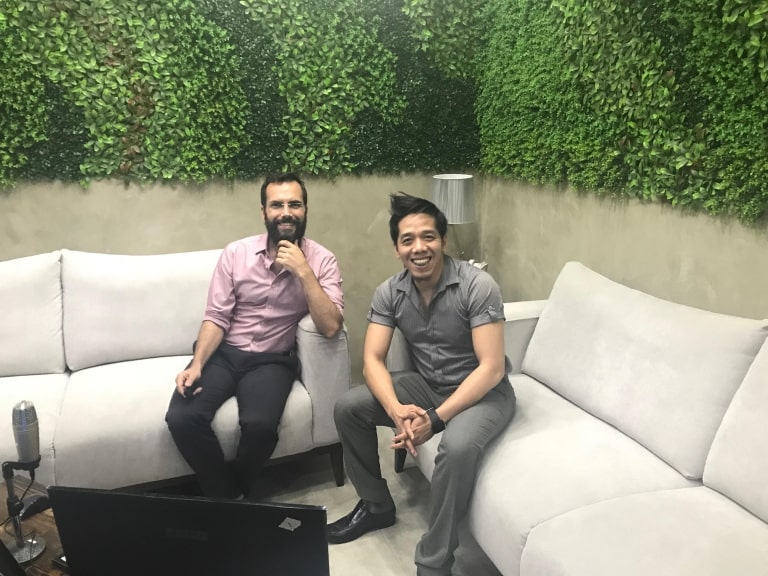 1) How long would you expect the train­ing process to take to get a sales employ­ee on board and what should I expect to pay them?
"When the sales employ­ee has expe­ri­ence, our expe­ri­ence is a 30-day train­ing here just so that they can get famil­iar with the process and how how you run con­ver­sa­tions with your brand. Seems to be suf­fi­cient when you're deal­ing with expe­ri­enced sales­peo­ple. When you're not deal­ing with expe­ri­enced sales­peo­ple, for us, when we talk about min­i­mum viable tal­ent it takes us one to two quar­ters to groom them into that con­di­tion so what we do is we make sure that there's always some­body going through a train­ing pro­gram that can even­tu­al­ly grad­u­ate into that sales role…." Lis­ten to the rest of the answer at 49:00
2) Do you have advice on build­ing repeat­able sales process­es?
"Bernard is our sales process­es guy! First things first is, write down the pre­scrip­tion of your sales process and then be the eas­i­est way to imple­ment. This is a call check­list — make your staff fol­low a check­list of what they need to have addressed on the call so then that they're not wing­ing their con­ver­sa­tions and you know that they're giv­ing 50 per­cent time, that they're ask­ing the right ques­tions, that clients feel like they're lis­tened to and then teach them how to do the pitch­es cor­rect­ly…." More infor­ma­tion at 50:30
3) For sales­man what is indus­try stan­dard? Salary + Com­mis­sion? Com­mis­sion only? Salary only?
"This is also on a case-to-case basis. There's a lot of sales-relat­ed ques­tions, I think we should do a Webi­nar about Sales! But I think we should be bring­ing peo­ple on board because I think every geolo­ca­tion, every type of prod­uct, every com­pa­ny would do it differently…We have part­ners that salary-out there their sales peo­ple at the base per­mis­si­ble in their state, but they give them run­ning com­mis­sion so that's one exam­ple of how they for­mu­late…." Rest of the answer at 54:16
4) What type of resources oth­er than process­es and pitch decks are we respon­si­ble for when hir­ing sales­man?
"Pre-hir­ing a sales­man I think it's real­ly a num­bers game. They need to know what they're get­ting into. They need to know when they're suc­cess­ful and when they're not and it starts with you assum­ing the num­bers or ask­ing for advice. It depends on your geolo­ca­tion of how much you should expect in rev­enue from that sales­per­son and you don't want to overex­tend mean­ing fall in love with your card think­ing next month that's the month when they're going to start pro­duc­ing. If you don't have a clear cut, then it's real­ly a bud­get­ing game. Also, for me the
goals are super impor­tant….." Con­tin­ued at 55:26
Since we had to wrap up our webi­nar in one hour, we didn't get to answer all of your ques­tions, and of course, we couldn't have that! So if you had a ques­tion that wasn't answered live, find your answers below:
Q: Do you have bet­ter or same results for hir­ing sales­man local­ly as opposed to telecom­mut­ing?
A: It depends on the nature of your busi­ness and at what stage of the life cycle. Remem­ber, it's all about the process­es and not just about the tal­ent. As long as the process­es are refined to a point that are repeat­able to yield the same qual­i­ty of work, you could have the same results whether they're local or telecom­mut­ing.
In most cas­es, hir­ing local­ly can cost more than hir­ing a telecom­mut­ing sales­man, but there are ben­e­fits to hav­ing that local knowl­edge as well when it comes to build­ing rap­port. In our expe­ri­ence, we've had bet­ter results with hir­ing and train­ing local­ly, and com­bin­ing that with telecom­mut­ing employ­ees but that's only us. We strive on the com­bi­na­tion rather than the "either or". Just make sure your employ­ees tru­ly embod­ies and rep­re­sents your brand and its val­ues.
If you think that's pos­si­ble via telecom­mut­ing, go for it! If you think local is the way to go to ensure your sales­per­son is equipped well, then we'd rec­om­mend that. The main goal is to ensure your sales­per­son is empow­ered with the right mate­ri­als and process­es they need to help you grow your busi­ness.
Q: Would sales­man respon­si­bil­i­ty be respon­si­ble for the entire sales process from cold to close?
A: Not nec­es­sar­i­ly. This could be a com­bined effort of your Mar­ket­ing & Sales team. Your Mar­ket­ing team can help bring in the cold leads, which your Sales team can then work on clos­ing.
Remem­ber, your team com­po­si­tion is part of the win­ning strat­e­gy of grow­ing your busi­ness, so when you're sales­man is respon­si­ble for being the star quar­ter­back, wing receiv­er and run­ning back all in one – you can bet that a team of three – though less skilled than them when com­pared indi­vid­u­al­ly, will far out­per­form that rock­star sales­man who can do every­thing.
What your sales­man should be respon­si­ble for is groom­ing that rela­tion­ship and main­tain­ing a high lev­el of rap­port. There is oppor­tu­ni­ty to improve the process­es every step of the way. From research of cold nich­es to gath­er­ing leads, ser­vice ful­fil­ment and report gen­er­a­tion, these are all tasks that can be assigned out­side of your sales­man and tied to a process that any­one can do.
Keep your sales­per­son nim­ble and their path clear to keep gain­ing trac­tion on new sales. Remove them from being respon­si­ble for per­form­ing what can be auto­mat­ed or out­sourced, but keep them informed, and keep them focused on build­ing new cam­paigns with new clients.
Q: I am start­ing my Agency busi­ness on Nov 1. Do you advice that I work alone to acquire first few clients before hir­ing or I should start out with hired sales guys?
A: Con­grat­u­la­tions and wel­come to the fold!
First rec­om­men­da­tions is lever­age your exist­ing net­work to help you close your first few clients. Under­stand what you are capa­ble of man­ag­ing, and what you need help with.
Cold sales is not for every­one and that is a chal­lenge for most who are just start­ing so lever­age those con­nec­tions you have, to help you gain your first 3–4 clients before look­ing for an account man­ag­er to help you man­age the accounts.
Once you've ironed out your process­es for sell­ing in your agency, that is when you have the capac­i­ty to hire a capa­ble sales­per­son who you can train because you have the right process­es defined, sup­port they need to help them build trust and rap­port, and mate­ri­als they need to grow your busi­ness for you.
Q: What tips do you have if you cur­rent­ly still have a full time job and are build­ing your agency on the side in order to tran­si­tion to run­ning the agency full time? P.S i work 16 hours a day between both.
A: There are amaz­ing agency part­ners of ours doing exact­ly just this, with the goal to end up tran­si­tion­ing 100% to be grow­ing their own agency busi­ness. Our absolute sto­ics when it comes to build­ing your agency while you have a full time job is to plan out what the finan­cials will look like before mak­ing any rash deci­sions.
Deter­mine what your aver­age life­time val­ue of a cus­tomer is and have those con­ver­sa­tions that you need to have with your­self before start­ing your tran­si­tion. Once you know how much a client is worth over X time, you can iden­ti­fy at what point will you be able to not just afford to hire an account man­ag­er to help your agency grow, but also know when hir­ing an account man­ag­er becomes prof­itable for your agency.
We rec­om­mend 4–5 clients as a foun­da­tion for your agency before need­ing to hire an account man­ag­er. And even with 4–5 clients, you won't nec­es­sar­i­ly need to leave your full time job yet.
The role of the account man­ag­er is to help you clear time so you can gain new clients, while they care for your exist­ing clients. The work itself to a degree can be out­sourced, so if you're sell­ing SEO for instance, set­ting up Google Tag Man­ag­er, Ana­lyt­ics, Google My Busi­ness, and man­ag­ing link build­ing, cita­tion build­ing, busi­ness list­ings are all things that can be out­sourced afford­ably.
Q: How do you, as a com­pa­ny, address these two things with your Agency Part­ners: 1) Make it easy to try / buy (reduce risk & fric­tion), and 2) elim­i­nate up-front costs / risks for new Agency Part­ners so that no costs are incurred until actu­al project rev­enue cov­ers the costs. Basi­cal­ly, your Agency Part­ners are your "feet on the street", so it would seem that you want to make it easy and afford­able (no-brain­er) to say "yes" to work with you.
A: Great ques­tion, and I love answer­ing this!
Our Agency Part­ners are vet­ted through our Project Man­agers through our kick­start calls to make sure we're a com­ple­men­tary solu­tion for one anoth­er, just like any oth­er part­ner­ship. This ini­tial dis­cov­ery con­ver­sa­tion that we have is there to help deter­mine the suc­cess of one anoth­er, and for the most part, it's see­ing how scal­able your agency is – and where our mar­ket­ing oper­a­tions exper­tise fits in. It's our Project Man­agers' job to know more about your agency than you.
Once we've agreed that we're a good fit, it's as scal­able as it comes. To answer the first part of your ques­tion – to make it easy to try/buy, the sim­plest solu­tion we have with our Agency Part­ners is to fol­low how we set expec­ta­tions with the pack­ages that we've built to be reseller friend­ly. Our process­es are for­ti­fied and per­pet­u­al­ly evolv­ing and our project man­agers are moti­vat­ed to keep cam­paigns run­ning. As men­tioned ear­li­er, it's our project man­agers' job to under­stand more about your agency than you, and that takes time. The risk only exists when expec­ta­tions aren't being com­mu­ni­cat­ed, so we smooth out the con­ver­sa­tion about how you set the expec­ta­tions before start­ing any new cam­paign with new part­ners.
To address the sec­ond part of your ques­tion about elim­i­nat­ing up-front costs / risks for new projects, that's quite sim­ple for us as well. Our oper­a­tional cycles start on the 1st and 15th of the month, which gives you plen­ty of oppor­tu­ni­ty to set the same cycles with your clients, and claim pay­ment ahead of time. To min­i­mize the up-front costs, it's a case of pay-to-play. If your client is expect­ing work to be com­plet­ed, then the same fol­lows through with pay­ment to be made before work starts.
Our Agency Part­ners are exact­ly that, our part­ners who run their own agency. To say it's easy and afford­able to work with us is what most agen­cies will believe when they first start work­ing with us, it's not uncom­mon giv­en the indus­try that we're in. But once our part­ners have been with us for a while and we've had the time to edu­cate one anoth­er on our busi­ness­es, the most com­mon thing we hear is that it's pre­dictable, con­sis­tent and essen­tial to work togeth­er.