We Make It Easy to Take Control of Your Client's Online Reputation
Take charge of your client's online reputation – and do it the easy way. Our reputation management solution provides you with everything you need to build, manage, and promote your client's online presence.
Your gateway to building your client's visibility
Who says you need to scavenge the entire web to make your client's business known? With Listings Management, you can easily find and optimize your client on all relevant business listings. No missed listing, no inaccurate business information – it all starts with this tool.
Aggregate optimized directories

Find relevant, high-authority listings

Verify and update client's information on directories


View all listings in one place


Edit and optimize listings

Be on guard about what customers are saying
One bad review is all it takes to bring down a good reputation, and we're not about to let that happen to your clients. Know what customers are saying about your client's business and get them to leave reviews with the Reviews tool.
View a summary of reviews generated for the last 30 days

See the Average Review Score from generated reviews


Send review requests to customers


View all listings in one place


Monitor reviews generated on listings and review sites


Prompt customers to share their reviews


Get notifications when there's a new review

Promote your clients with positive feedback
Put their positive feedback to good use and provide your clients with more plus points for credibility. The Feedback tool allows you to get and display feedback from customers in different ways.
View a summary of feedback generated for the last 30 days


See the Average Feedback Score from generated feedback


Send feedback requests from your dashboard

Integrate widget to generate feedback on your client's website


Generate feedback from customers through a webform


Get a custom microsite to display customer feedback


Download a plugin to display feedback on your client's website

Manage the conversations about your client's business
It's not just about the buzz — it's about staying on top of it. If customers are talking about your client, they need to know. That's where the Mentions tool comes in.
View a summary of mentions tracked over the last 30 days

Track your client's brand mentions – plus four additional keyword mentions

Check for new mentions

Add or remove keywords to track for your client

Provide a breakdown of mentions across all platforms

Show clients where customers are when talking about their brand

Share your client's brand mentions on social media

Your Clients Care About Their Reputation — You Should, Too.
The moment you stop caring is the moment clients will stop coming. Good reputation management is your foundation for boosting your client's visibility. Make sure you're doing it right.
Manage Your  Reputation Management Activities in One Dashboard
All 4 tools in one dashboard — clients can have access to the tools, so they can see the progress of their campaign.
Add a Recurring Revenue Stream
Offer clients a new solution to help their business grow, and scale your agency in return!
Access Resources and 24/5 Support
All brandable resources and operational support are readily available the moment you sign up for this service.
Get Free 14-Day Trial
Don't take our word for it. See how the tool works with a free 14-day trial for one business location upon signing up!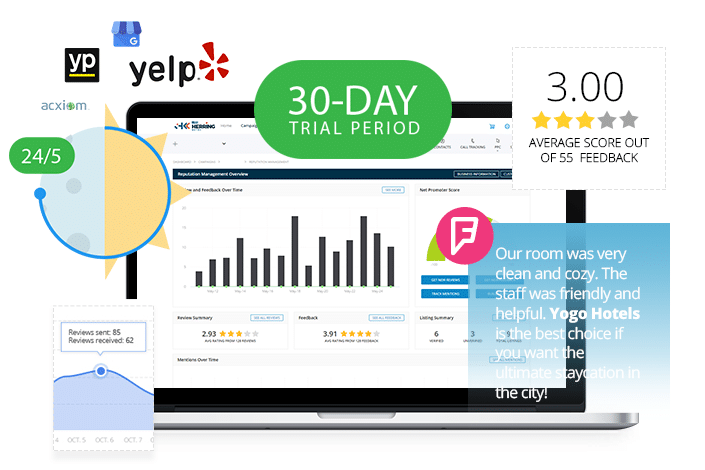 Ready to Take Control of Your Client's Reputation?