Managed SEO Services To Help You Scale
We're here for you. Hand off your SEO services to our team of experts and we'll ensure the best possible results for you and your clients.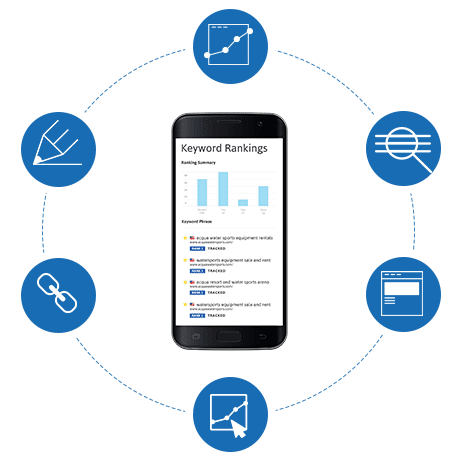 What Is Managed SEO?
Managed SEO is having a team of outside professionals manage an SEO campaign from start to finish. As a solution, managed SEO services can help businesses and agencies alike to scale their operations by freeing up their teams for other tasks while still being able to offer premier search engine optimization services. In essence, it is the same as SEO outsourcing with the only difference being a diminished level of involvement for the partner in the case of managed SEO.
At SEOReseller, we focus on helping agencies and encourage our partners to be as involved in the strategy as they would like. However, if fully managed SEO services are required, our team of experts is more than capable and willing to fill that capacity with private label SEO services, though there will still be an approval process to ensure the best results. Regardless of their level of involvement, partners can expect transparency through a branded dashboard and a dedicated project manager.
Our Managed SEO Services Are a Complete SEO Solution
You don't have to be the only hero of your agency – especially when it enables you to scale your business and convert more customers. We provide SEO solutions that do exactly that. With SEOReseller managing your SEO services, your clients get the following essential SEO tasks and more:

Website Audit
A website audit is the first step in a properly planned strategy. Our team analyzes the status of your client's website, including the on-page and off-page opportunities, then builds a plan to maximize your client's online presence.

Keyword Research
The strategy's crux is keyword research. Our team of experts determines the best keywords to reach your clients' target audience then optimizes the website and creates compelling content around those keywords.

On-page Optimization
Our managed SEO services include all the on-page basics like optimized metadata, verification of schema markup, checking broken links, ensuring content is linkable and much more that are critical to your clients' success.

Analytics Tracking
Managed SEO with SEOReseller is not a short term endeavor. We track how the website ranks for targeted keywords, the flow of traffic and other indicators. As our partner, you see all this data firsthand in your branded dashboard.

Link Building
We reach out to high-authority websites as well as partner websites to build a squeaky-clean backlink profile. Every link we build is functional in that it works to bring targeted traffic to your clients' website, ready to be converted.

Content Creation
Recent Google updates place a lot of emphasis on the importance of content as a part of an effective SEO strategy. Our team works to put only the best content on your website creating a fantastic place for your client's customers to visit.
All the Qualities of an Ideal Managed SEO Service Provider
Finding the ideal partner to manage your agency's SEO services is the most challenging part of the process. We'll make it easy on you by providing a list of qualities you should expect from your managed SEO service provider.
Expertise
Nothing beats know-how. Managed SEO services should be provided by a team of experts that are intimately familiar with search engine optimization and the highly complex network of tools and resources.

Experience
Years of experience provides a foundation from which your managed SEO services provider can apply lessons learned to your clients' campaigns. Better that missteps occur before you start working together.

Proven Success
Success stories, case studies, and customer reviews should be easy to find. If they pass the experts and experience tests, there should be no shortage of customers saying good things about their company.

Philosophy
Your managed SEO services provider should focus on creating a user-friendly website with an intuitive design and link network plus compelling content. These are the websites that get the most traffic and shares.
Transparency
When managing SEO, it's important that results are transparent for you and your clients. With SEOReseller the service is white labeled so your branded dashboard gives you a front row seat.

Availability
Having someone to interact with is imperative because many things can change on either end of the partnership. Having a dedicated project manager also helps to establish the ever-important transparency.

Structured
Throwing solutions at a problem is never the way to solve it. From the very beginning, you will want a structured plan, starting with the site audit, with an explicit set of goals and methods of measurement.

Proactive
The only constant in SEO is change. Ranking factors and their importance have shifted. Work with a team that is aware of the trends and implements these in their SEO management services.
Don't Just Take Our Word For It…

"Loved what you did with our UK campaign and our guys in London are looking forward to our US campaign. You're rockstars."
"The staff is amazing and the technology shows my clients exactly what they need to see. SEOReseller.com allows us to resell SEO and is the key to our growing organization."

"A big shoutout to the SEOReseller contributors working on our campaigns. Our rankings are on an upward trend. Thanks guys!"

Frequently Asked Questions
Manage My SEO So I Can Scale My Business!