Managed SEO Services To Help You Scale
We're here for you. Hand off your SEO services to our team of experts and we'll ensure the best possible results for you and your clients.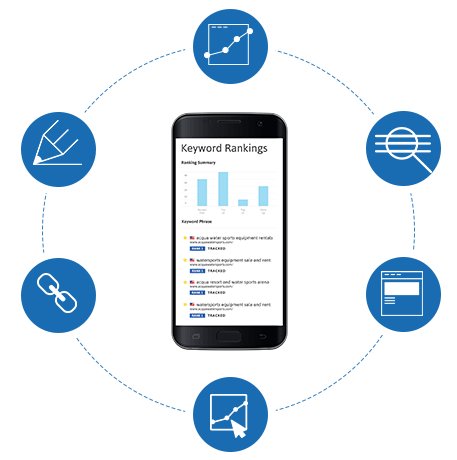 Managed SEO is having a team of outside professionals manage an SEO campaign from start to finish. As a solution, managed SEO services can help businesses and agencies alike to scale their operations by freeing up their teams for other tasks while still being able to offer premier search engine optimization services. In essence, it is the same as SEO outsourcing with the only difference being a diminished level of involvement for the partner in the case of managed SEO.
At SEOReseller, we focus on helping agencies and encourage our partners to be as involved in the strategy as they would like. However, if fully managed SEO services are required, our team of experts is more than capable and willing to fill that capacity with private label SEO services, though there will still be an approval process to ensure the best results. Regardless of their level of involvement, partners can expect transparency through a branded dashboard and a dedicated project manager.
Our Managed SEO Services Are a Complete SEO Solution
You don't have to be the only hero of your agency – especially when it enables you to scale your business and convert more customers. We provide SEO solutions that do exactly that. With SEOReseller managing your SEO services, your clients get the following essential SEO tasks and more:

Website Audit
A website audit is the first step in a properly planned strategy. Our team analyzes the status of your client's website, including the on-page and off-page opportunities, then builds a plan to maximize your client's online presence.

Keyword Research
The strategy's crux is keyword research. Our team of experts determines the best keywords to reach your clients' target audience then optimizes the website and creates compelling content around those keywords.

On-page Optimization
Our managed SEO services include all the on-page basics like optimized metadata, verification of schema markup, checking broken links, ensuring content is linkable and much more that are critical to your clients' success.

Analytics Tracking
Managed SEO with SEOReseller is not a short term endeavor. We track how the website ranks for targeted keywords, the flow of traffic and other indicators. As our partner, you see all this data firsthand in your branded dashboard.

Link Building
We reach out to high-authority websites as well as partner websites to build a squeaky-clean backlink profile. Every link we build is functional in that it works to bring targeted traffic to your clients' website, ready to be converted.

Content Creation
Recent Google updates place a lot of emphasis on the importance of content as a part of an effective SEO strategy. Our team works to put only the best content on your website creating a fantastic place for your client's customers to visit.
All the Qualities of an Ideal Managed SEO Service Provider
Finding the ideal partner to manage your agency's SEO services is the most challenging part of the process. We'll make it easy on you by providing a list of qualities you should expect from your managed SEO service provider.
Our Managed SEO Services Are a Complete SEO Solution
"Loved what you did with our UK campaign and our guys in London are looking forward to our US campaign. You're rockstars."
"The staff is amazing and the technology shows my clients exactly what they need to see. SEOReseller.com allows us to resell SEO and is the key to our growing organization."
"A big shoutout to the SEOReseller contributors working on our campaigns. Our rankings are on an upward trend. Thanks guys!"
Frequently Asked Questions
Yes! You can talk to a project manager right now if you have a question about our SEO reselling services. Just send us a chat through our website or schedule a call. Our experts are happy to answer any questions about the process, our pricing, or give you a pep talk before pitching to a potential client. It's a partnership afterall!
Depending on the degree to which the site is currently optimized, positive movement can be seen within 3 months. Maturity of the strategy, and the point where it can be evaluated more accurately, can occur at 6-8 months, depending on the market. There will be variations if the strategy is altered during the campaign.
Your contact will be your project manager, an expert at all things SEO and digital marketing. They also have a team of SEO experts around them who will contribute to your campaign. The entire team is in-house and well-versed in what it takes to help your clients improve their online presence. All you need to do is resell SEO services to your clients.
Yes, a product does not require the purchase of another product. However, a complete SEO solution does have many parts and the services can often complement each other. For example, because strategies take time, if immediate results are needed, we might recommend a PPC campaign while an SEO campaign is ongoing.
Google has clearly warned against SEO companies that give a guarantee by pointing out that nobody can control the rankings as they are unstable and vary widely. We do guarantee that we will meet our service agreements. We will also provide regular reports beyond what you can see through your dashboard.
Yes, everything from Web Design and Web Hosting to Organic or Local SEO and finally PPC and Reputation Management. You can visit our Services page to learn more about what we offer. If you have any questions, reach out to your project manager, shoot us a message via our website, or schedule a call.
We do not lock you into a contract. You are free to end our partnership when you need to. We offer exemplary services and are confident that you will be happy with our results. With that said, payment for work is required a month in advance and some of our services are monthly, but can be stopped at any time.
All of our services come with a brandable dashboard upon sign up. It's completely free and provides access to other free tools like a resource center full of brandable material. All you have to do is upload your agency's logo and choose your color scheme. You can even host in on your own website.
Manage My SEO So I Can Scale My Business!