Visuals are becoming more important in content marketing as audiences use technology with wider multimedia support. Images, infographics, podcasts, and videos are already popular content types among online users, and most of these are part of our content marketing strategy. I'd like to focus on video for a bit, because the results of a recent survey show that video is about to go to the next level: video convergence.
Nielsen worked with TV advertising agency Simulmedia to run a discussion about the future of video advertising, and Nielsen has released their report based on these discussions. According to the report, video convergence is in the foreseeable future of video advertising. TV and online advertising is expected to merge by year 2020.
TV Still Dominates, but Online Video is Catching Up
According to the study, TV still dominates online marketing when it comes to video advertising. The report shows that TV reaches 285 million audiences in the US every month, while online videos reach only 150 million. Still, online video advertising is a fast growing market – it is expected to generate $5.72 billion this year in the US alone.
Additionally, instead of competing, these two are seen to be going through a process of merging. While they continue to be separate entities today, traditional TV advertisers are expected to increase their online video advertising buys, given the increase in the number of users who stream videos online. This will make online video advertising a significant subset of online marketing in particular. Technological advances like WiFi-capable televisions also add to the factors that will make online video advertising and TV merge in the future.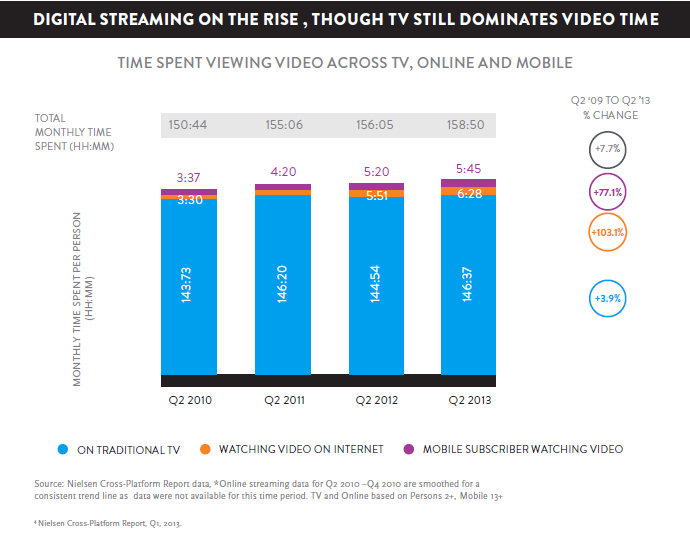 As you can see from the graph above, TV still dominates video time today, but online and mobile video streaming has increased significantly between 2009 and 2013. Internet streaming has increased 103.1%, while mobile streaming has increased 77.1%.
More than Just Reach
If there's one thing the report makes clear, it's that the success of video advertising – whether digital or on television – will rely on one thing that we've been preaching for a very long time: content quality. This is clear with the three R's that will be used on both platforms to measure the success of video ad campaigns: reach, resonance, and reaction.
Reach – How many visitors and viewers will your video reach, and how many of these are unique?
Resonance – How does this affect your brand?
Reaction – For online videos, what is the cost per click and the cost per acquisition of your video ads? This, in television terms, is the purchase data and the customer data.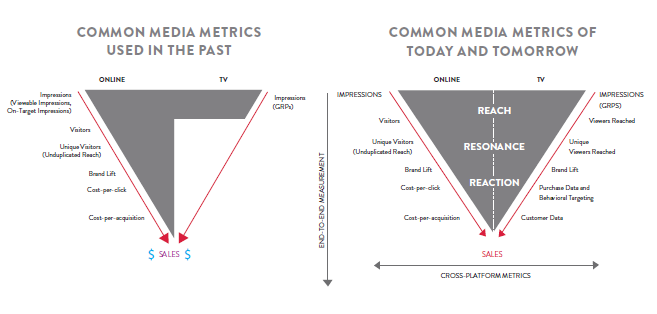 You can see the report's projected merge in the diagram below: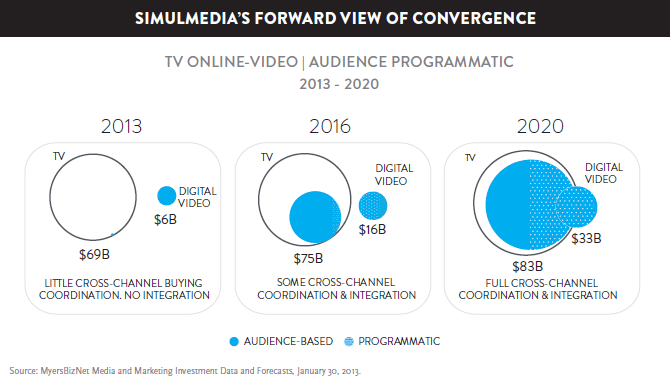 What This Means for You
You'll get two main takeaways from this report:
If you're still not implementing integrated marketing in your current suite, you should change your strategy now. As you can see, traditional and new media are converging, and in order to maintain the quality of your content and the representation of brands on behalf of your clients, you'll need to study how the content strategy and the metrics of one translate to the other.
When online video integrates with TV, it will become one of the biggest marketing channels you will have at your disposal as an online marketer. You'll need to plan your video content carefully to reach audiences of both traditional and digital platforms, and create high-definition formats that will look as good on TV in the next few years as it does online.
We'd be glad to help you plan your video content and integrated marketing strategy as this merge happens. Talk to your account manager today, or sign up for free to become our partner to get started.