After a trial period involving an exclusive group, Google has officially expanded tweets on desktop results. It was announced a few months ago that a deal was struck between the search giant and the microblogging site Twitter that would include the indexing of tweets in Google SERPs.
Back in May, Google announced that real-time indexed tweets will be included in searches via the Google app and was exclusive to US users searching in English. Now, the new feature is available for all English desktop and mobile searches around the world.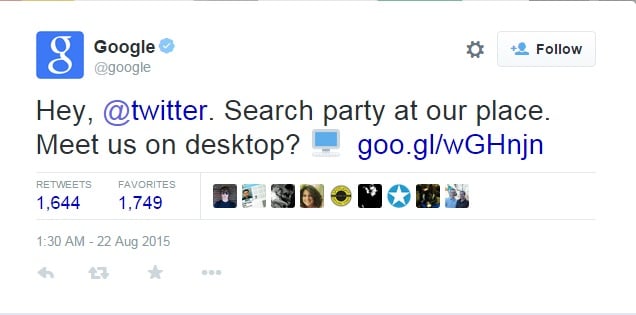 Tweets will only appear in the results when Google deems them relevant. Users do not need a Twitter account and are not required to log in to see or click on the indexed tweets. Google added that the relevancy and ranking behind the indexed tweets will continue to evolve and improve as the feature matures.
When users search for brands or public figures, they get a stream of their latest tweets embedded in the results page. As of now, there is no clear advertising value for showing the tweets in searches. With mobile being the trend, it is notable that Google brought the feature to desktop first.
Google Still Controls US Search Market
ComScore has released its 2015 US Desktop Search Engine Rankings report, and Google still comes out as the leader when it comes to organic search despite a slight drop in numbers. Basically, Google controls two-thirds of all organic searches, with Bing controlling one-third.
The Alphabet-subsidiary is holding on to a healthy 64% of the organic search market as of July 2015, down from last year's 67.6% during the same period. Bing and Yahoo combine for 33.1%. AOL, which will soon be a Bing-powered search property, takes 1.2% of the market.
If the Bing-AOL integration pushes through, the Microsoft-owned search engine will take over 34.3% of all search volume.
Despite Google being the dominant player, the numbers show us that the minority is still worth our attention. This is why a well-rounded SEO package and strategies should always be the goal, both for our partners and your clients. Get in touch with us today if you need any assistance or have any concerns.
The following two tabs change content below.
Itamar has been on the net since the days it was still in black and white. Born and raised in Israel and now living in the Philippines, founder of SEOReseller.com and recently launched Siteoscope.com.
Latest posts by Itamar Gero (see all)