Facebook Adds "Add a Link" Function
Facebook is planning to make link sharing on mobile a lot easier through its own in-app search engine.
The social network is said to be testing its own search engine using its index of more than one trillion posts, as reported by TechCrunch. This new feature, currently live for selected test group of users, makes it easier for users to share links on mobile.
The in-app search engine is capable of crawling the web and retrieving content for users without using Google search. This "Add a Link" function will be an extension of Facebook's status updates.
When users post a status update, they'll be given an option to add a link, which then allows them to search for content by keywords with possible results shown as previews. When users find the content they want to share, they can instantly add the link to their status update.
This in-app search engine could potentially detract traffic from Google, as users often use third party search engines (such as Google) to find content, or go directly to a website to find a link.
"We're piloting a new way to add a link that's been shared on Facebook to your posts and comments," a Facebook representative tells TechCrunch.
The new feature is currently available only to a small group in the US, but there's a lot of potential here. The one trillion-strong index of Facebook means its search engine is powered by data Google doesn't have.
If rolled out completely, this could mean users won't need to Google a piece of content or dig through Facebook's News Feed to find a link to share. The "Add a Link" button could also divert advertising revenue away from Google in favor of the social network's wealth of data and plans to publish news content on-site rather than simply linking back to the original site.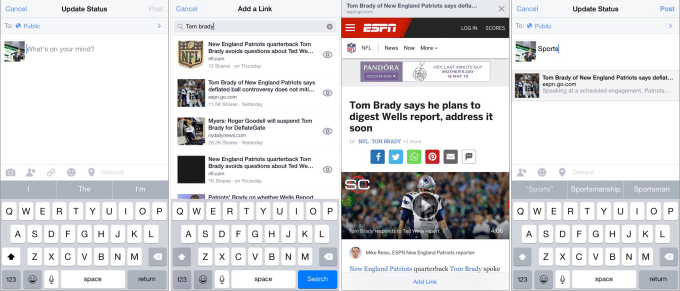 Google Partners with Local Delivery Services
Don't want to order pizza by phone? Google it!
Google has announced a partnership with six delivery providers across the US, in a bid to make Google Search for mobile more convenient.
When US residents search for restaurants nearby, they will now have an option to "Place an order" right in the SERPs. Users only need to tap on their smartphone to make their order, choose a delivery service, and they will get directed to the restaurant's website to complete the order.
"Whether you're craving deep dish pizza or pad thai, starting today you can order food from some of your favorite restaurants directly from Google search results," the company explained in a Google Plus post.

Initially, users will be able to order through Seamless, Grubhub, Eat24, Delivery.com, BeyondMenu and MyPizza.com, but more delivery providers will potentially be added in the future.
Local businesses simply have to enable this feature through their Google My Business dashboard to take full advantage of the new ordering feature. This Google help center article provides more information on this function.
Google: UX a Ranking Signal Currently Only for Mobile, Not Desktops
At SMX Sydney this week, Google Webmaster Trends analyst Gary Illyes cleared that while user experience is a ranking signal on mobile, there is no UX algorithm for desktop.
Illyes later confirmed it via Twitter that there are mobile UX signals, but none on desktop. The recent mobile-friendly update is largely about the UX of a website on a mobile device.
Check back regularly for more news and the latest on digital marketing and SEO.