Matt Cutts recently shared an article on Twitter that sheds a light on the future of the Penguin algorithm. It talks about how Google is beginning to see links, and what you need to do to make sure Penguin 2.0 does not hit you when it comes. The concept is simple enough: get quality links and start cleaning up bad ones.

Reputation Building, Not Link Building
Many marketers still fail to see the difference between reputation and link building. Link building is essentially building your reputation online, but it is an exploitable process. Over the years, the practice of link buying has been prevalent. It wasn't until Google began refining its algorithms to mimic user experience that this bad practice started becoming a liability. The release of Penguin served a harsh lesson for those who were still exploiting the system until then.
Google has always maintained that it will give credit to links where credit is due. This, according to Matt Cutts, is when they see either of the two:
That the link is a genuine endorsement of the website receiving the link, and that it passes Google's quality check, or
That the link is a relevant citation, and is cited in the third-party content as a relevant source of information. These citations should be similar to citations in a research paper, where the writers only mention their most relevant and significant sources for the research.
Google has consistently put emphasis quality and not on the links itself. Expect Penguin 2.0 to implement this more strictly. Cutts said in a separate interview that as long as marketers focus on branding by improving their reputation, they are on the right track. You can do this by implementing practices approved by Google, such as:
Creating and publishing relevant, informative content in trusted information hubs and websites.
Building your network of online publishers and influencers, and maintaining a working relationship with them.
Checking the quality of the pages where your link will be published before submitting your content contribution, especially in the case of guest blogging.
As leaders in the industry, it is our job to stay ahead of these updates and improve our methodology continuously. I'm glad to let all our partners know that we already prepared not just for Penguin 2.0, but also for future Google algorithmic updates. Our methodology focuses on building reputation naturally and getting relevant links from relevant and trusted publishers.
The Link Building Checklist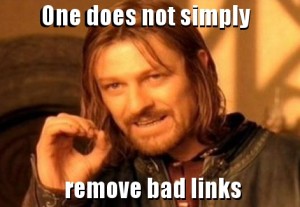 We still encourage you to check your backlink profile initially before coming to us. This will help you give us a better idea of how much work needs to be done to clean up your profile and ensure the effects of our SEO methods are maximized.
Use this checklist as your guide, and bring your answers to us. We will evaluate your websites further and let you know what actions need to be done. You may choose to implement the changes on your own or have us do the clean-up work.
Is the link you receive a genuine endorsement of your brand?
If your answer to this is no, or if the endorsement sounds unnatural and unrelated to the content of the website linking to you, it's best to have the link removed. It will harm both your own and the publisher's rankings.
Would you build your link in that website even without Google in the picture?
Remember what I said earlier about links being citations – make sure you are only mentioned in the most relevant pages. Thinking of building links without search engine rankings in the picture helps you evaluate and choose appropriate publishers more meticulously. This ensures you are building quality links and not just building links for the sake of rankings.
Are your backlinks something you can be proud to show?
Think of links as more than votes – think of them as online awards. If you have second thoughts bragging about your backlinks, you know the links you have are low quality. Doubt usually means there is room for improvement, and you can rid yourself of a some links that may be hurting your standing with Google.
If you answered no to any of these questions, you need to evaluate your backlink profile and see what links you can do without. You will need to clean up these links before launching your search optimization campaign.
Cleaning Up Your Link Profile
Cleaning up your link profile begins with fixing your internal linking structure. Make sure that all your links are working, all redirects and error pages are in place, and your pages are arranged accessibly. You may need to reorder and restructure your website in the process.
Next, you will need to clean up your third-party backlinks. This is more difficult, because not all webmasters will be cooperative. You can contact the publisher of the low-quality link directly and ask that they take down the links built on their site. Expect to encounter uncooperative webmasters who will ask you to pay to have your link taken down.
You should use Google's Disavow Tool after you've done all you can to have the most number of unnatural links removed from your profile. This is where you can indicate what links not to consider in your profile, including the websites of webmasters who will refuse to take your link down. Make sure to follow Google's guidelines on using the Disavow Tool – improper use may discredit your quality links and affect your rankings dramatically.
Talk to your account manager today if you need further help with evaluating your link profile before you start your project with us. You may also log into your dashboard to request a website audit. Sign up for a free account if you're not yet our partner to get started. Keep checking back for more updates!