It's time to prepare for another year of turbulent updates from Google as we approach the end of this year. 2013 has been a very busy year for online marketers and Google alike, with major Panda and Penguin releases, the announcement of Hummingbird, and the search engine giant's move towards encrypted search. These changes are what drive us (and, consequently, you) to continuously shift the way we approach search optimization.
I want to go over a few of the things that we can see will help prepare your campaigns for algorithm updates that will be released in the months to come. It's important now more than ever to maintain strong online presence, and the rewards and ROI have never been more promising. These tips will help ensure your campaigns are ready for whatever changes Google has in store for the web world in 2014.
Content Marketing Reaches Maturity
Over the past couple of years, content marketing has been the buzzword on everyone's lips. As Google rolled out further Panda and Penguin updates, you had to improve the quality of content you publish under your clients' names in order to get them the audience and the conversions they want. With Hummingbird now in play, we expect content marketing to reach its maturity in the coming year. It is one of the biggest sources of trust and quality signals Google will be looking at when ranking your pages.
In line with this, you need to use the previous updates as your guidelines for implementing an effective content marketing strategy. You will need the following:
Fresh website content. This could be in the form of updating your inner landing pages whenever you have a new product or service to offer. Alternatively, you could add a blog to your website – this is a good source of fresh website content.
Regular targeted content updates. Writing for different influential publishers and high-authority websites is a good way to provide updated, relevant, and high quality content to your target audience. Social media updates and interactions with your audience also count towards this item.
Social Signals. Regularly sharing fresh and industry-relevant content to your network on social media helps boost your social signals. Interacting with your audience also sends strong social signals to Google.
Online Authority. Authorship is one way of increasing your online authority through your body of work. Implementing authorship on your website and all your online assets will help increase your online authority and send Google positive signals that boost your listing up the SERPs, all while increasing the trust of your target audience

The Rising Power of Social Media
While it's true that social media wasn't anywhere near replacing SEO these past few years – it contributes to SEO, not takes away from it – 2014 will see the increasing role of social media in search. We've seen how the giants Facebook and Twitter have helped your campaigns grow over the past few years. In 2013, we saw this augmented by the rise of visual content from Instagram, Pinterest, and micro-video services like Vine. This trend will continue in 2014, and if you're not doing it yet, you need to diversify your social media presence in order to send stronger social signals to Google.
You'll need to take your social media strategy seriously in order to boost your social signals. Make sure your profiles are optimized for content and visitor engagement. Enable social on your website and promote your social media profiles on all your online properties to let your visitors know there is a platform where they can interact with you on a more casual and regular basis. Finally, review the previous updates Google released to get a clearer picture of social media activities that help boost your social signals.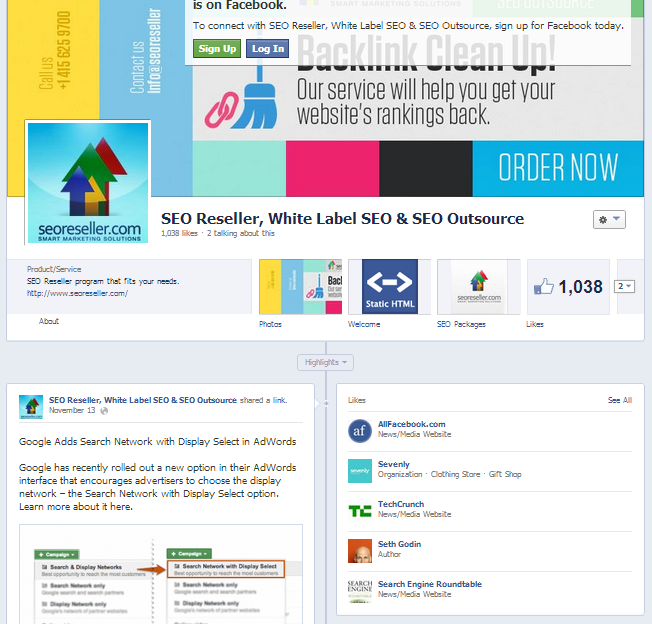 Google+: The Social Network for Search
In line with strengthening your social media presence and boosting your social signals, you need to invest more time in using Google's own social network, Google+. I've talked about the influence of Google+ in a previous blog, and you can expect its influence on search to grow in 2014. You'll need to focus on two areas to begin with:
Google Authorship. You need to implement authorship mark-up on all your content and tie it in with your Google+ account. This helps users find your body of work easier by bringing your body of work together. It also boosts your Author Rank, helping establish you as a reliable source of information online.
+1s. Google says over and over again that +1s do not contribute to higher rankings. It still is, however, correlated to higher rankings in that it shows the popularity of your post. You can gauge how interested your audience is in a given topic and adjust your strategy by looking at the posts with high +1s. While you can't prove that it directly affects your rankings, it won't hurt your campaign to aim for more +1s in the future.
In the second part of this blog, I will discuss how you can prepare in terms of mobile search, keyword targeting, and paid search. Make sure to check back tomorrow for the continuation of this discussion.
We'd be glad to help you prepare for upcoming Google updates. Talk to your account manager today to discuss your online marketing strategy. If you're not yet our partner, sign up today to gain access to our full suite of online marketing solutions!
Learn some of the most common mobile optimization errors you may encounter and find out how you can address each.