In line with the growing transfer of businesses from organic SEO to paid ad campaigns, it seems everyone's testing new ways of displaying ads on their platforms. Just a week after news broke of Google testing ads on the Knowledge Graph, another platform is testing another ad format.
In Facebook's official blog, they announced that they were testing a new way of viewing promoted videos as video ads. Their goal is to increase video engagement for marketers the same way they've tested and increased video engagement for users and pages in the preceding months.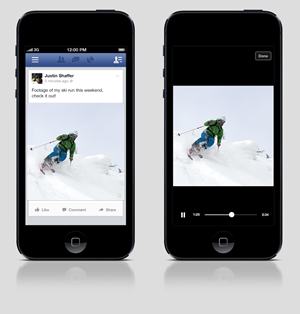 How It Works
For the test, they will be using the video ads for the film "Divergent." It will be available to a limited number of users during the testing phase. I haven't seen the ad on my account yet, but Facebook has described in detail how it will work:
Rather than having to click or tap to play, videos will begin to play as they appear onscreen – without sound – similar to how they behave when shared by friends or verified Pages. If you don't want to watch the video, you can simply scroll or swipe past it.
If the video is clicked or tapped and played in full screen, the sound for that video will play as well.
At the end of the video a carousel of two additional videos will appear, making it easy to continue to discover content from the same marketers.
On mobile devices, all videos that begin playing as they appear on the screen will have been downloaded in advance when the device was connected to Wi-Fi – meaning the content will not consume data plans, even if you're not connected to Wi-Fi at the time of playback.
Not Yet for Everyone
While you may be excited about this new feature, Facebook will not be making it available yet to everyone. Right now, this new way of viewing videos is available for:
Individual user-shared content, or videos shared by verified Pages
Videos shared by entertainers, musicians / bands, sports entities
The "Divergent" movie ad by Summit Entertainment
Facebook did say that they will be announcing when they will make the feature available for everyone. In preparation for this, having a sound content strategy for Facebook will help give you good materials to promote and share when this feature becomes available. Continuing to create videos with viral potential and tailoring your topics according to the interest of your market will also help increase your engagement for video ads when this feature becomes available.
The good news for our partners is you have access to our content marketing, paid ad management, and video creation services through your white label dashboard. Talk to your account manager today to let us know what you need, and we will get our teams started on your video ad campaign.
Sign up today to become our partner and gain access to these solutions and more. Keep checking back for more updates!