Matt Cutts recently announced on Twitter that they took action against a large guest post network, and reminded his followers about the risks of guest blogging.
Today we took action on a large guest blog network. A reminder about the spam risks of guest blogging: http://t.co/rc9O82fjfn

— Matt Cutts (@mattcutts) March 19, 2014
A few hours later, Ann Smarty, founder of MyBlogGuest, confirmed that their website was the one that got hit.
[Official] Even though #myblogguest has been against paying for links (unlike other platforms), @mattcutts team decided to penalize us…

— Ann Smarty (@seosmarty) March 19, 2014
Google remains silent about which guest blog network they've punished this time, but a quick search reveals that the website no longer shows up for its own brand name on search: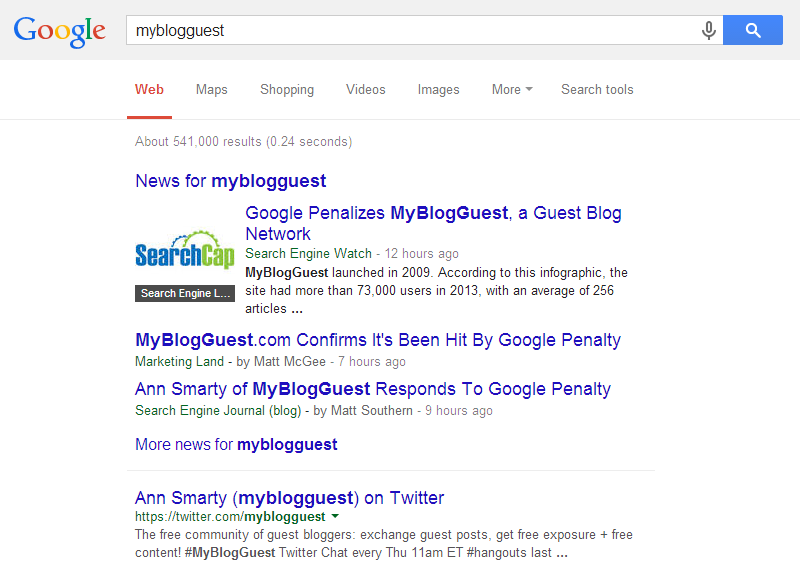 Smarty sent Search Engine Journal a lengthy comment in response to the hit, wherein she said:
"Yes, we realize and recognize the problem of many people abusing our community. We have invested lots of effort in educating our community members on how to do guest blogging right. We have been fighting paid links, duplicate content issues, link farms, etc for years. We have had some awesome success stories from our members and we have always believed in adding value to the web.
Have we deserved the 'hit' (now I know what that means lol!)? I'll let the community decide. So far we've had some amazing support from the community which I could not be more thankful for!"
She also accuses Cutts of using them "for the PR game: To get more people scared." Some members of the internet marketing community seem to agree:
Google penalizing @myblogguest is nothing more that a PR move structured around a FUD strategy. http://t.co/Gn59zZxd6Y Wake up people!

— Joe Hall (@joehall) March 19, 2014
Barry Schwartz of SERoundtable also suggests that it's possible that Smarty's blog post about not nofollowing their links despite Cutts' suggestions could have raised red flags.
Without any explanation or input from Google on the matter, it seems anything is possible.
The question remains whether Google will also penalize the publishers using the MyBlogGuest platform. Smarty suggested asking Cutts himself, but he hasn't responded to her tweet:
I don't think our publishers will be penalized, but let's ask @mattcutts 🙂

— Ann Smarty (@seosmarty) March 19, 2014
What Should You Do when a Website You Published on Gets Penalized?
Having a link from a guest post on a penalized website can hurt your backlink profile, and having links on multiple penalized websites might make Google think you've been link spamming. It's hard to tell if a website has been penalized or not without a public announcement like MyBlogGuest's. The best thing to do would be to conduct a link audit and reassess the quality of the websites that have your backlinks, and to remove or disavow those that you feel are spammy or low-quality. Keeping your link profile clean can help you maintain your rankings and traffic, or even recover them if they were affected by toxic links.
Sign-up as a partner today and let us help you build and maintain a quality link profile!