Google updated its Search Quality Rater Guidelines, and added new metrics to AdWords Shopping product insights. Meanwhile, video consumption continues to rise sharply, and last week Facebook made it clear how much of a priority it is by going all out with Live Video. Add to this the updated Branded Content Policy, and it's clear that Facebook is making an aggressive play on multiple fronts. All these and more of the big news from last week!
Search
An update to Google's Search Quality Rater Guidelines was spotted last week, and there are substantial changes webmasters and site owners should take note of.
In general the changes to the guidelines focused on:
Placing a stronger emphasis on Expertise, Authoritativeness, and Trustworthiness ("E-A-T") as page quality rating factors. While quality has always been important, Google is placing even higher emphasis on "E-A-T" in the guidelines. This is especially true for pages that can affect a searcher's happiness, health, or wealth (what Google calls "Your Money Your Life" pages). The other two changes reflect changing user expectations due to mobile search.
Lessening emphasis on Supplemental Content. Supplementary Content has a large impact on desktop user experience, but not as much on mobile.
Renaming "Local" searches to "Visit-in-Person." "Near me" searches have also risen because of mobile devices, and renaming "Local" to "Visit-in-Person" clarifies that it refers to a user's intent to visit a physical location as opposed to a generic local search.
The Search Quality Rater Guidelines reflect what Google thinks its users want, and are given to "raters" to evaluate how helpful Google's search results are for a particular language and location. Google publicly releases the document to help webmasters understand what Google looks for in web pages, but the evaluations do not directly influence Google's ranking algorithm.
Google added new Shopping product insights to AdWords last week, starting with two new columns in the Products tab: Product Status and Effective Max CPC.
The Product Status column indicates items that have stopped attracting traffic and conversions because they are disapproved, excluded, or out of stock. The Effective Max CPC column allows advertisers to make bid adjustments directly from the products tab on individual products in a product group.
The Product Groups now displays insights into your inventory. Columns that provide information on products linked to your merchant center account, products active with a bid, and several others give you a snapshot of your inventory status.
Lastly, Google has added more Shopping information in the Report Editor. Attributes like brand or product type are now shown for Shopping campaigns. This data can then be compiled into charts and tables for reports.
With one month left until Google boosts the mobile-friendly ranking signal, Google is giving out friendly reminders to site owners whose websites still haven't been adapted for mobile devices. Site owners who search for their website on Google will see a "Your page is not mobile-friendly" message below the URL and above the site's meta-description. The message is only shown to site owners (provided Google knows the searcher is the site owner).
Social
Continuing its push into Live Video, Facebook announced several big updates last week.
Live Videos can now be broadcast in Facebook Groups and Event Pages. These videos will only be visible to Group members or Event invitees.
Users can now respond to Live Videos in real time with Live Reactions. Viewers watching the recording afterwards can also opt to re-play comments as they happened during the broadcast.
Users can share Live Videos without leaving the broadcast with the invite button. A push notification will be sent linking them to the video.
Searching for a trending topic will now also include Live Video results labeled accordingly.
Facebook Live Map for desktop–a visual display of live broadcasts happening around the world.
But out of all the updates to Live Video, the biggest so far is that it will soon have its own tab in the Facebook mobile app. The Live Video Tab will be at the center, replacing the messages icon, and in between friend requests and notifications. This Live Video Destination will also have its own dedicated search experience to help users find more videos across Facebook.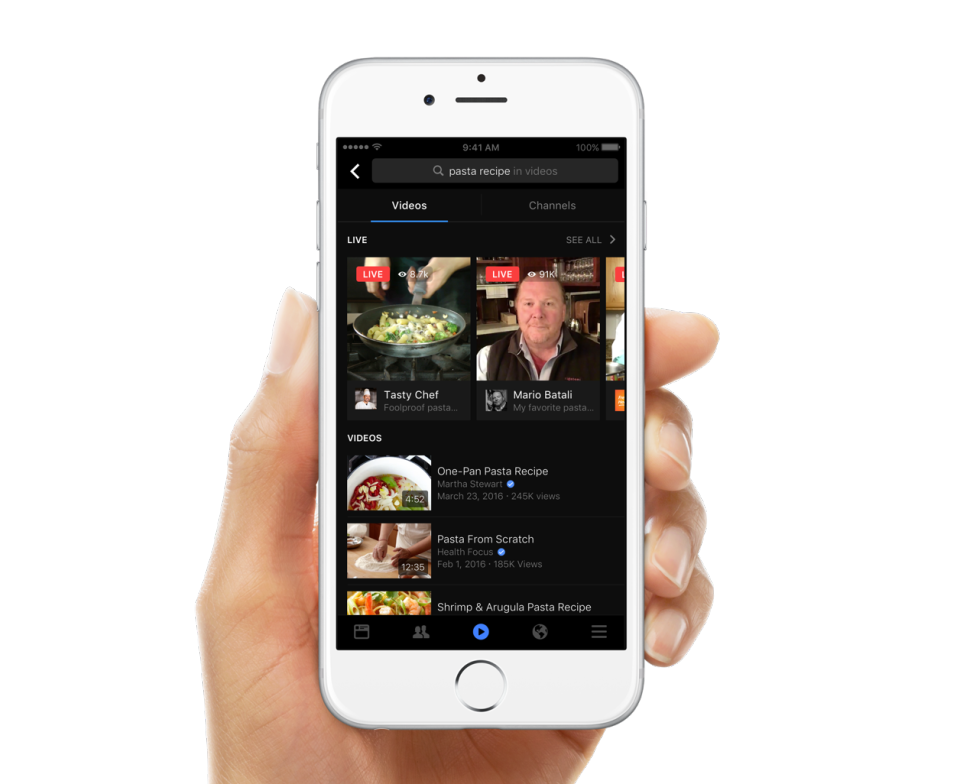 Facebook is also adding new metrics for Live Video. Now, broadcasters can know the total number of people who watched the video while it was live, and a visual representation of the number of viewers at each moment of the broadcast. The new metrics are available through Page Insights and the Video Library.
Facebook has announced updates to its Branded Content Policy. Verified Pages are now able to share Branded Content on Facebook, but all Branded Content must tag marketers using the new Branded Content Tool.
The Branded Content Tool enables publishers and influencers to tag marketers in a branded content post. Tagged marketers will then be notified, given post-level insights, and are given the option to share and boost the post.
Branded Content is defined as any post that specifically mentions or features a third party product, brand, or sponsor.
That's it for last week! Subscribe below, and start your week with a roundup of the biggest industry news.