SEARCH

Google AdWords is improving how it measures call conversions. Imported call conversions allows advertisers to more accurately attribute revenue from phone calls to their AdWords campaigns. Now users can go beyond call length and measure the true conversion value of paid calls from AdWords campaigns, and assign different revenue amounts to different call types.
Users must import the following information to AdWords to use this feature:
Caller phone number (Caller ID)
Call start time
Call length
Conversions will be attributed to down to the keyword-level to help users determine which parts of the campaign drive more conversions.
Imported call conversions will be rolling out to AdWords users in the coming weeks.
AdWords rolled out Price Extensions to mobile text ads to provide potential customers with more information. Price Extensions show as multiple rows beneath the header and copy. Each row contains a product or service, a short description, and its price, and links to a corresponding landing page.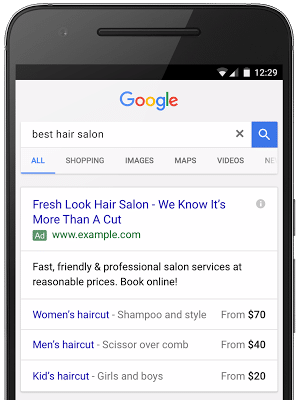 At the moment, Price Extensions are only available for mobile text ads at position one. AdWords users must include a minimum of three and a maximum of eight entries for each extension.
SOCIAL
YouTube is making it easier to discover branded content with TrueView Discovery Ads (formerly TrueView in-display). Unlike its predecessor, TrueView Discovery Ads will appear on mobile search results, and full inventory coverage across the YouTube App.

TrueView Discovery Ads will be rolling out to AdWords and DoubleClick users in the coming weeks.
That's it for last week! Subscribe below, and start your week with a roundup of the biggest industry news.