SEARCH
Google has announced that Active View will be available to all in-stream ad inventory over the next few weeks. Active View technology allows advertisers to measure whether an ad was actually seen or not by taking into account Watchtime, Audibility, Viewability, and Engagement (WAVE).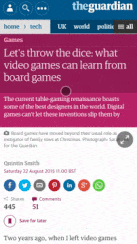 Google reports that publishers are seeing better performance from ads on AMP compared to non-AMP:
80%+ of the publishers realizing higher viewability rates
90%+ of the publishers driving greater engagement with higher CTRs
The majority of the publishers seeing higher eCPMs (Impact and proportion of lift varies by region and how optimized the non-AMP sites are)
Google has announced two new ad formats tailored specifically for Accelerated Mobile Pages (AMP). "Sticky" ads provide greater viewability without sacrificing user experience, while Flying Carpet Ads (see left) offer a large canvas for immersive yet fast ad experiences.
SOCIAL
Facebook has been spotted testing a redesign to Pages on Desktop that does away with right-rail ads, adopting the same changes the company made to Pages for mobile last year. "We're testing a new design for Pages on desktop to make it easier for people to learn about and interact with businesses on Facebook, including a larger cover photo and more prominent call-to-action button," a Facebook spokesperson said.
That's it for last week! Subscribe below, and start your week with a roundup of the biggest industry news.