Google place has just been replaced by Google+ Local as an effort by Google to integrate social with your local listings and also as an effort to get businesses into getting on Google+ and becoming more transparent with reviews, pictures, check ins by adding a much extended version of social layer on top of all Google properties whether mobile, maps, or search.
Here is a screenshot of Map result with Google Local Places Integration: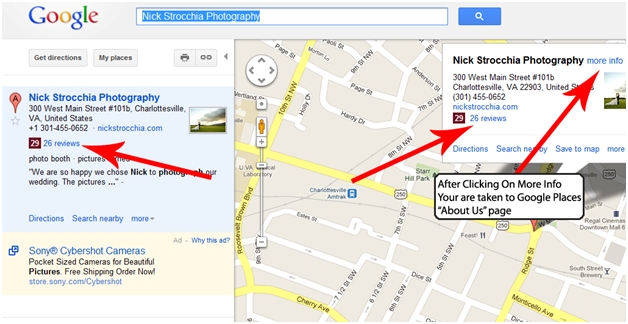 The added social feature of Google+ Local adds a scoring and review system through Zagat, which is a system bought by Google just last year.
After clicking on More Info" or the "Reviews", you are taken to Google Places "About Us" page and it looks like below:
Users can write a review and share it only on Google+ to their circles with options to filter and show it to a specific circle that you want to share with.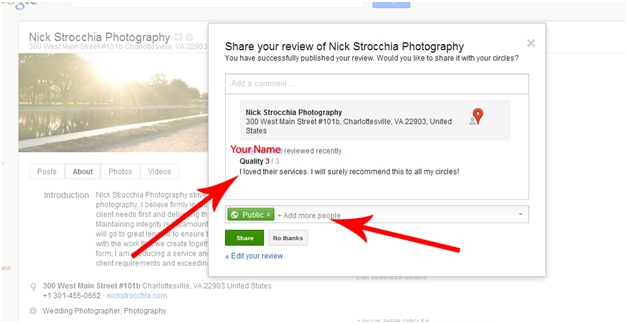 Similarly, you can also share your experience of the place you have been to in a photo. This feature is only available when you go to "Photos" page on Google+.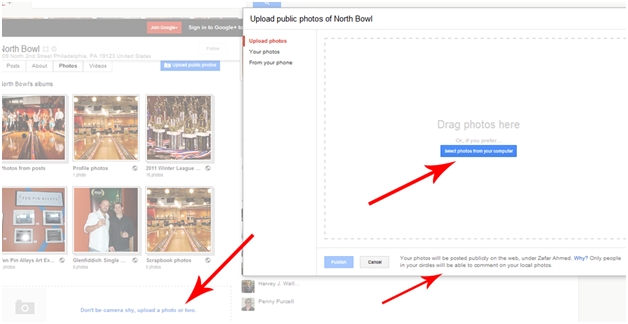 For now, if users go to Google Places, we'll still be able to help people do the usual things with a business listing. Search and Maps results are also still based on the old format of Google local results.
Mobile
Reviews and pictures are the same as the desktop version but the Android platform is being pushed for the "check-in" feature.
Other mobile platforms will not have this feature yet, but with the way Google is pushing G+, it will only be a matter of time before it gets added to other mobile platforms.
The Whole Local+Social Experience
If you click on the "Explore Google+ Local" button, you'll be directed to a page where you get the option to sign in or create a Google Account (and your Google Plus social profile).
The auto suggest features also help in drilling down the service or product that a searcher is looking for online: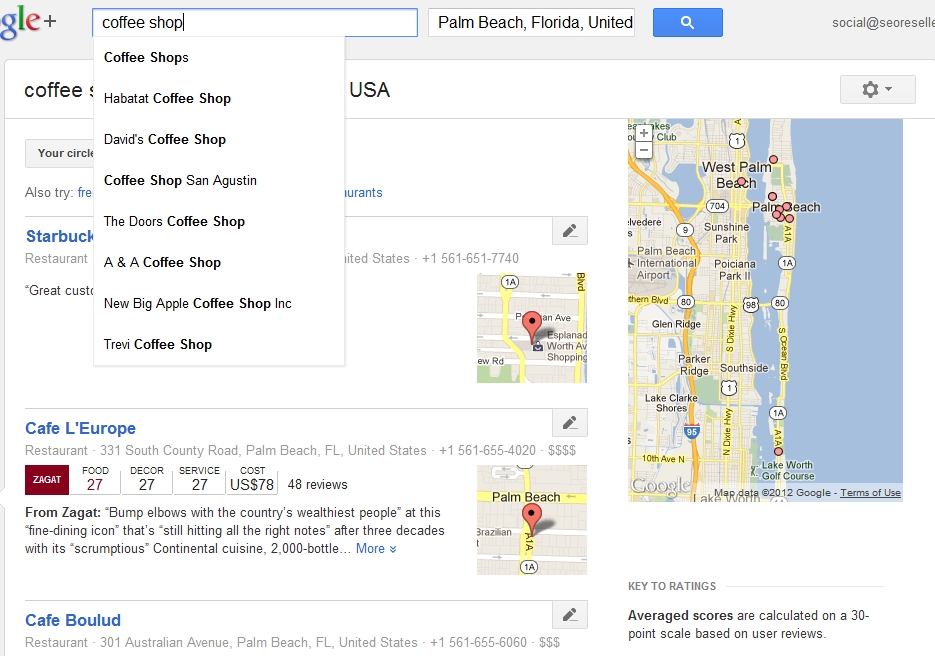 As well as where you want to look: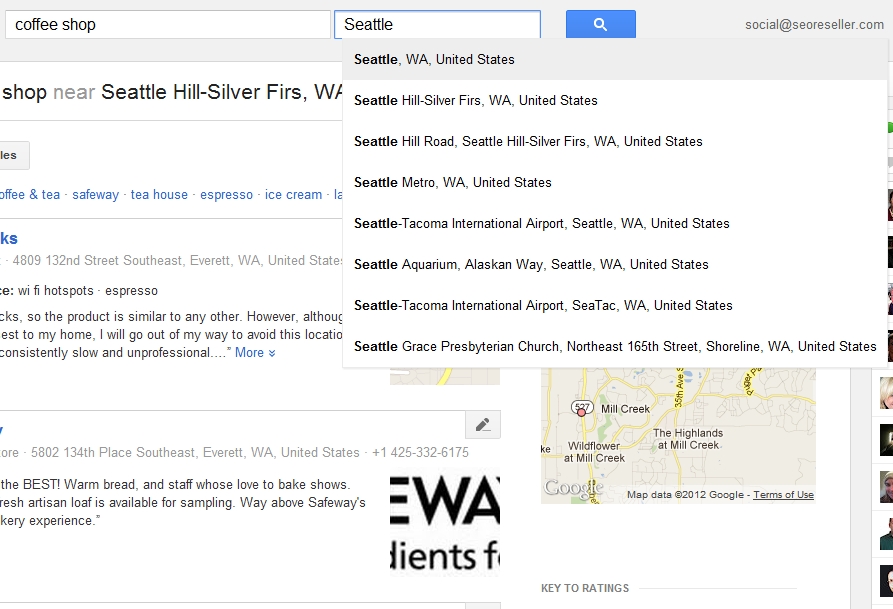 One of the more business focused feature about Google+ Local is that your Business Page can also be used to explore and utilize the whole social aspect. You can write reviews and upload pictures as a business entity.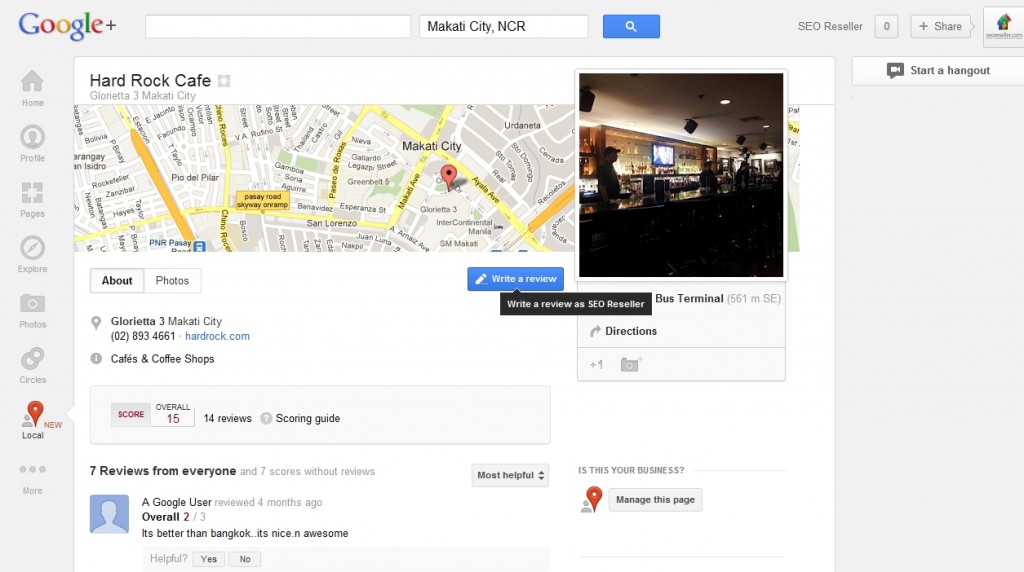 If you have claimed your business page, all the contact information, pictures and reviews should already be migrated into the new platform. If you're not seeing the new format, it's either you haven't claimed your listing or you don't have the update yet. For now, Google+ Business Pages and Google+ Local are separate Plus pages/listings.
The Zagat System: Ratings and Review
The social aspect of Google+ that makes this update really community driven is the user generated ratings and reviews. Google Places previously used a five star rating and review system. Google+ Local now pushes the social aspect of reviewing a particular service or business through Zagat.

Each review from a Google Plus user can rate a business from a scale of 0-3. Google then averages the scores, multiply the average by 10 and gives the new score for the business on the top most section of the Google+ page.
What does this mean for SEOReseller.com and Our Clients?
There is a whole array of opportunities for SEO and ranking your Google places in Google now. Unlike Google Places pages, these new Google+ Local pages will now be indexed in Google more prominently!
We are working with our agencies to fine tune this into all of our packages and ensure we are taking this as a bigger opportunity to not only get your account optimized but more transparent as well in the eye of Google.com.
Stay tuned for more updates regarding Google+ Local and how we'll be able to improve our own White Label SEO services.