Authorship, when implemented correctly, can help you and your clients be recognized as information sources. In a blog released yesterday, Google answered some of the most frequently asked intermediate to advanced-level questions about authorship. Let's go over the points that Google's Developer Programs Tech Lead Maile Ohye discussed in the blog.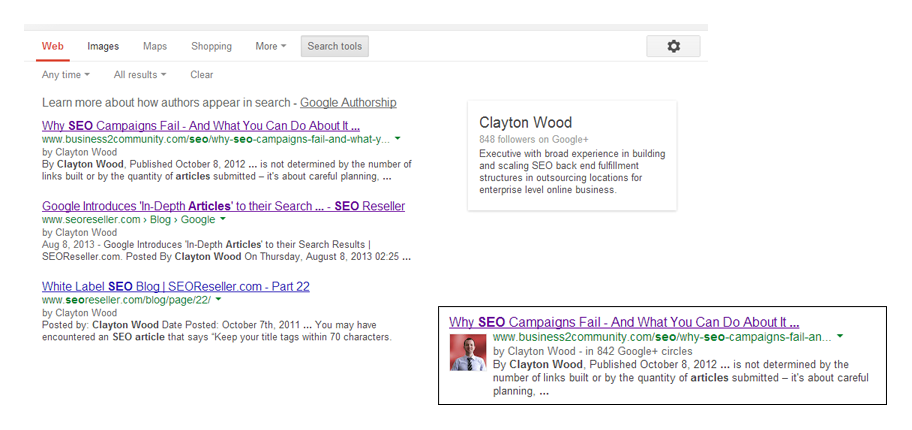 Pages that Qualify for Authorship
Just because you add authorship markup on your content doesn't automatically mean Google will show it on their SERPs. Your page has to meet Google's criteria for your authorship mark-up to show on your SERPs listing.
Make sure you only have a single piece of content per URL / page. Updated versions of the content may be placed in the same URL, but it has to be by the same author.
The page contains a piece written primarily by the author to be featured in the markup.
The page has a clear byline that uses the same name on the author's individual Google+ profile.
Real People Only – No Mascots Allowed
If you (or your client) are thinking about writing as a company mascot or as any other fictional character, don't expect your authorship markup to reflect on the SERPs. While Google says "You're free to write articles in the manner you prefer," Ohye continues, "for authorship annotation in search results, Google prefers to feature a human who wrote the content."
Use One Google+ Profile for Everything
You should link to the same Google+ profile in your authorship mark-up for an article available in different languages. Do not create two separate Google+ profiles in each language – just link it to an individual profile in the language of your choosing.
No Multiple Authorship… Yet
Some content pieces have two or more collaborators that you may want to credit. The bad news is, Google's current interface does not support multiple authorship – yet. The good news is, Ohye revealed that they are experimenting how to best display results where more than one author is specified. In the meantime, if you have a piece of content created by multiple authors, have them talk to each other and decide which will be named the primary author, and use this for your authorship mark-up.
Authorship and Publisher Markups are Independent of Each Other
What's the difference between rel=author and rel=publisher tags? Authorship tags identify individual authors by relating their articles to their Google+ profiles. Publisher tags, meanwhile, establishes a company's shared identity by linking their Google+ for Business page to their website. They cannot be used interchangeably and are completely independent of one another.
It's Not for Product Listings
Finally, Ohye points out that authorship is not for property listings and product pages. Authorship signals that the page contains information about a specific topic, and since product listings are not analysis-oriented, they should not have authorship tags. If it is an article providing insight and commentary on products, on the other hand, you can add authorship tags to them.
Make sure to check out Google's official blog for more information on the proper use and implantation of authorship. If you need help with implementing authorship in your campaigns, check out our white label SEO plans and talk to your account manager today.
Keep checking back for more updates and tips on SEO. Don't forget to sign up if you're not yet our partner – we'd be happy to help you.