Facebook makes another move to serve your ads to relevant audiences more effectively. They will be rolling out a new feature that allows you to serve interest-based ads through the social network.
The social media giant altered its "Custom Audiences" feature for businesses. The tweaked version allows you to target users who have downloaded your mobile app or visited your website. This will allow you to reach audiences you have already engaged, but may not have followed through on your conversion goals.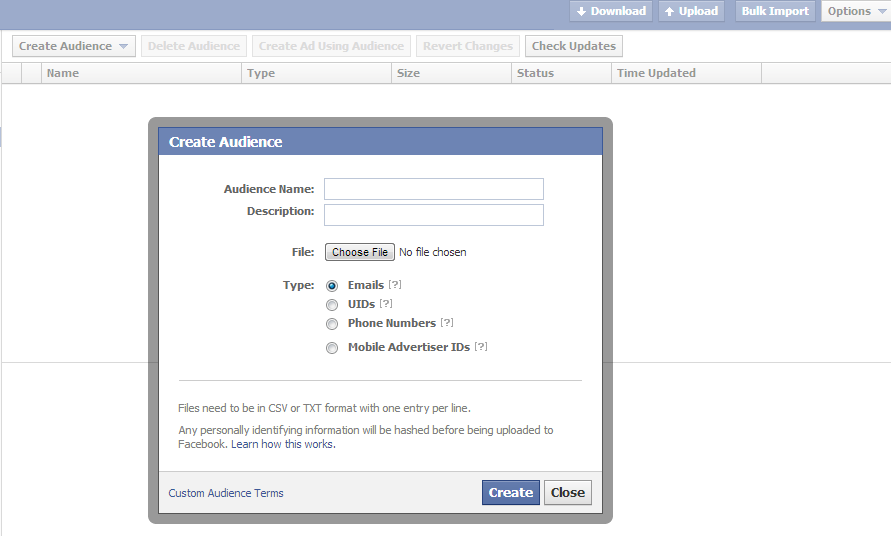 Facebook's "Custom Audience" feature allows you to segment audiences according to your specifications. This tweaked version lets you serve interest-based ads to your audience.
How It Works
Facebook will be collecting information about your visitors' activity by asking you to install a code in your website and/or your mobile apps. They will receive information about your visitors' browsing and purchase history, app downloads and usage. Based on the activity (or inactivity) of your audience, they will deliver appropriate ads from your roster to remind your audience about your brand.
For example, if you have a mobile app that allows users to shop online easier, but the person who downloaded it has not used it recently, Facebook will deliver an ad in their news feed about that specific app. Another example is a user who may have purchased something from your website recently, but has not returned since – Facebook will display an ad reminding your customer of the purchase and other related products on their news feed. Amazon is known for using this feature heavily, and Google began serving interest-based ads order cipro in 2009.
What It Means for Users and Advertisers
For users, what this means is a personalized advertising experience. The ads that they will receive on their News Feeds are from establishments that they actually like, or have dealt with in the past, and are within their immediate reach.
Its benefits for you as an online marketer is clear – you can target audiences that are already engaged and within your reach, and build up your clients' presence until the visitor is ready to complete another conversion goal. This audience is more likely to convert into sales. It works similar to AdRoll's retargeting feature, giving you relevant presence in the social networking giant.
No specific timeline has been given as to when this new feature will come out, but Facebook did say that it will be rolling out in the coming months. Prepare for the coming of this new feature by enhancing your social media marketing strategy and integrating it with your online marketing efforts. Talk to your account manager today to learn more.
Make sure to keep checking our blog for more news and tips on SEO and online marketing. If you're not yet our partner, sign up now and become our partner to enjoy the benefits of our complete online marketing suite!