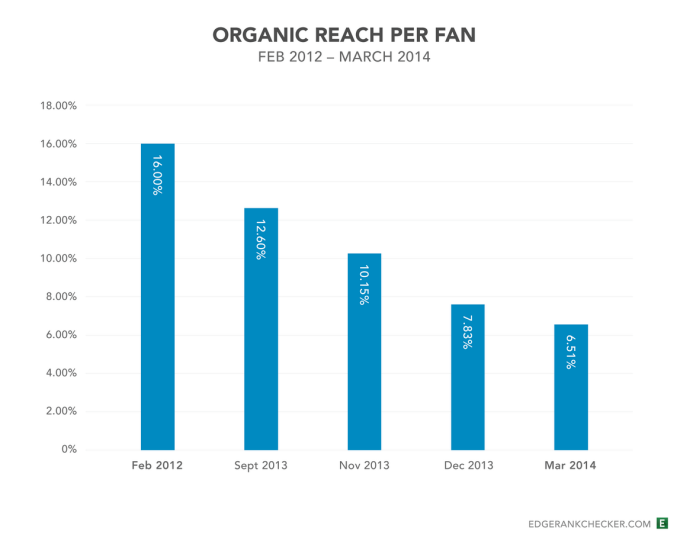 Business owners have been complaining for the past months about the plummeting organic reach of their business pages on Facebook. What's worse is that it will continue to drop.
Brian Boland, Vice President of the social network's Ads Product Marketing team, finally answered the questions many marketers have been asking about organic reach, helping them understand the figures and urging them not to give up on the social media platform.
More News Feed Competition
According to Boland, the first reason businesses find it more difficult to gain exposure is because of the increasing Facebook users who share more content and like more pages each day. Along with the surge in mobile traffic, there is already too much content on Facebook—Boland and his team, in fact, estimate that there are 1,500 stories appearing on a person's News Feed every time they log in to Facebook.
Customized News Feed
So why not just show everything in real time? The second reason for the drop in businesses' organic reach is that the News Feed is actually tailored to every individual—it displays content that is most relevant to users. The Facebook team recognizes that other online platforms display everything in real time, but doing this approach has limitations.
"In our tests, we've always found that the News Feed ranking system offers people a better, more engaging experience on Facebook. Additionally, given the amount of content in the average News Feed, using a real-time system for content would actually cause Pages' organic reach to decrease further."
Is Facebook Just Trying to Make More Money?
Boland said the social network's ultimate goal is only to provide Facebook users with the best content and the best experience so they remain active on the platform. In turn, users are more likely to remain active with content from businesses as well.
Utilizing Facebook
Users, according to Boland, still value quality and organic content. When people see content that teaches them, makes them think, and entertains them, they are more likely to read and become engaged with the Pages that published the content.
What This Means for You
The good news is that despite the plummeting organic reach of most businesses, we can still help you connect with users through the quality content we produce. Even if most businesses fail in this aspect, you can still succeed with your marketing campaigns through our content that gets better and better.
Contact one of our account managers today and discuss your present social media marketing strategy. If you are not yet a partner, sign up now for free and find out how you can manage your online marketing campaigns better.