It's that time of the month again, and the numbers to determine which search engine reigned supreme across the U.S. in April are out. comScore, the recognized authority in measuring the digital world, has released its most recent search engine market share figures for last month. The result: practically identical as the statistics recorded in the past.
Google Still The King
Google is still blowing its competitors out of the water with 67.6% of the U.S. market share; owning about 12.6 billion searches out of the 18.6 billion explicit core searches tallied. This is a slight improvement from its March performance, which was at 67.5%.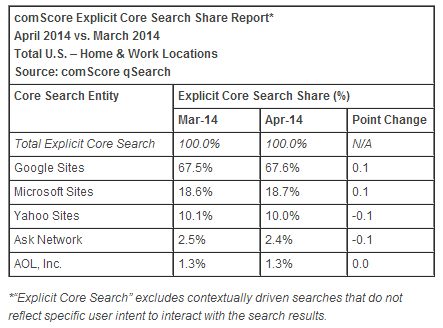 The Internet giant has been a steady force at the top spot since 2013. Last year of the same month, Google also dominated the rankings with 66.5% market share in America.
Miles Behind from the Giant
Securing the second place is Bing with only 18.7% of search queries. Despite being a distant second after market-leading Google, the Microsoft-owned search engine continues to show some growth after garnering an 18.6% share from last month, and even better improvement from April 2013 and 2012 when Bing only held 17.3% and 15.4%.
In third place is Yahoo! with 10% market share, dropping 0.1% from March. Ask and AOL are in fourth and last place with 2.4% and 1.3% of searches, respectively.
Mobile Numbers Not Included
The rankings, however, only cover desktop searches. comScore's figures don't include searches through mobile devices, which doesn't paint the entire picture on the division of market share across all platforms. Regardless, this report is a gem to all online marketers when it comes to developing or implementing SEO strategies.
What This Means for You
comScore's market share data tells you two things: online marketing tactics should still concentrate on Google, and Bing is slowly showing great potential as a premier vehicle to reach consumers on the Internet. Google's staggering numbers are a solid testament that it's not going anywhere. The big news here is the upward trend of Bing for the past few years. This could be a sign that Microsoft's search engine is also becoming worthy of investment.
As we all wait for next month's figures, it's best to ponder on these numbers to effectively strategize your next campaign and make your efforts count.
Keep checking our blog for more news and updates about the pulse of the search engine market share.