In my years in the digital marketing field, one of the things I always notice is how agencies make a spectacular pitch, only to fall short because their proposal is lacking. It could be because the agency wasn't able to emphasize the value of their service, or because there wasn't enough substance to convince clients about the effectiveness of their recommendations.

As the entire purpose of this blog is to help agencies pitch a successful SEO proposal, our team has prepared a Pitch Kit that you can download and use when you're selling SEO. This includes an SEO proposal template that you can customize with your logo, a pitch deck, and a sales guide. Click the download link below.
FREE DOWNLOAD:
Get access to the free SEO Pitch Kit
that will help you close more leads. Includes sales guides, pitch deck, flier, methodology explainer, product catalog and an audit guide.
[separator top="10″]
Build a Story with Your SEO Proposal
When you make an SEO proposal for your clients, do you jump right into pricing? Do you give them a list of recommendations without explaining how and why you came up with them? If you're doing this, you're doing yourself and your clients a disservice.
Dana DiTomaso once explained in Moz Whiteboard Friday that clients are more likely to work with an agency that can show them what they're doing to meet their goals and how each metric and effort will all fit together. While it's an agency's responsibility to provide the metrics, it's also part of their work to make sure the clients understand how it's all going to play together.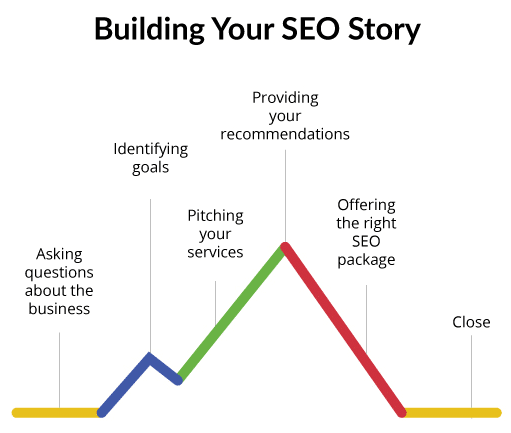 Let me tell you my secret on how to sell SEO using a great proposal. I think of developing a proposal as a way of telling a story. If you jump right into the packages of your service and the analysis and recommendations part, it's like skipping the start of the story and diving your client right into the climax. You're losing one of the most important elements of an effective pitch: rapport.
In a blog published on HubSpot, it was explained how you're losing rapport if you lack engagement with your clients. Because you're not genuinely curious about your client, or not paying enough attention to what they want to achieve, they're less likely to continue the conversation.
On-page data is important, but you're going to lose the interest of your client if you present them with just that — you have to build a story with an effective proposal.
Here's how you do it.
1. Ask the right questions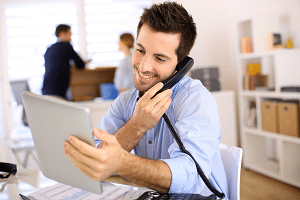 As with any story, you need to have all the details that will serve as context behind your proposal. This takes us back to asking the right questions. You need to get as much information as you can to establish the elements of the story – your strategy – and focus on the main points that you will discuss in your proposal.
Here's a list of initial questions you need answers for:
What is your client's business?
Looking at their website while preparing the pitch for a local business will tell you some of the story. The information you gather from their website will guide you in the right direction in terms of what they offer. You need to supplement this with their answer to this question as they may see their business differently. Even the most seasoned marketer might get this one wrong, and you need to be agile enough to modify your proposal mid-way if their answer differs from your initial assessment. Be prepared.
Who is their target market?
Determining their target market is also something you can take a stab at before the pitch. Is their current strategy missing the target? How will your SEO strategy solve this problem? Ideally, you want to address this when you qualify, before you submit the SEO proposal for your client.
If you don't have enough information, make a quick phone call to your client. It's better to be sure your marketing initiatives are aligned with their target market before the SEO proposal.
What is their current digital state?
This is an easy one to take care of before the pitch. An SEO audit proposal of their site will identify any on-page issues that are blocking their SEO progress. An off-page assessment is also important so you can see the big picture of their SEO strategy. We have a free SEO Audit tool that will give you an on-page report to include in your pitch. Use SEMRush and Ahrefs to do a backlink analysis. Don't know how to do this? Call your project manager before the pitch so they can walk you through it.
Who are their top 5 competitors?
Tougher competition means more work will be required.
It's important to know what it will take to beat the competition as this will dictate the type of SEO package you're proposing. Tougher competition means more work will be required. I see this as one of the most essential parts of how to prepare an SEO proposal. If you get this wrong, you will start off on the wrong foot, set the wrong expectations, and ruin the possibility of a long-term relationship with your client. The same tools used for backlink research can be used for competitor analysis. SEMRush and Ahrefs will provide you with the information you need to make that decision.
What were their previous digital efforts?
Looking at your prospect's digital footprint will help you identify some of their previous efforts. The best answer to this question will come from your prospect directly. Use the answer to your advantage. If they worked with a previous provider that they were unhappy with, you need to focus on trust during the rest of your pitch. If they have never touched SEO before, you need to "wow" them with the opportunity to increase their revenue via targeted traffic to their website.
What goals do they want to achieve?
Their website might not present visitors with the correct call to action in order to achieve their goals. Go beyond the website and ask your prospect about their main business goals. Showing your prospect how your SEO strategy will help them achieve their business goals will put you one step closer to closing them. Here are some examples of goals I've dealt with:
We want to increase our revenue by 50% in the next year.
We want to rank #1 for this keyword.
Our foot traffic into our store needs to double in the next 10 months.
You can find the answer to most of these questions by doing an assessment while preparing the pitch. But you might be surprised at the answers you get when talking to your prospect, so it's always a good idea to get the information directly from them as well. In turn, this can help you tie all the elements, get the story rolling, and provide direction to your strategy. This also loosens up the conversation and makes it easier to establish a relationship with your client right from the start – all important aspects of the best SEO proposal for your clients.
2. Identify the pain points of the client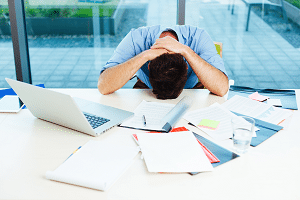 A story's plot revolves around a problem, with the climax showing how that problem is resolved. The same goes with how you create a proposal. Identifying the problem or the pain points of the client will help you provide them with a more solid recommendation for your proposal.
List down all the SEO opportunities on your client's site as discovered in your SEO audit. Be as detailed as you can — provide screenshots and examples to paint the picture of what can be improved on their website. The important thing is you lay out the elements that need improvement on their website before creating your proposal.
I'll give you an example:
One of the partners I worked with was handling a client with keywords that were on the fourth page of Google. In the audit proposal, I divided the different website elements that needed fixing to push their site up to the first page— missing/duplicate image alt tags, missing/duplicate meta tags, low-quality pages, etc. This provided the client a bigger picture of what is wrong with their website, as well as the opportunities they can touch on if they implement our methodology. I gave them a vision of not only where they could be, but also how we were going to get them there.
I gave them a vision of not only where they could be, but also how we were going to get them there.
Do Away with the Cookie-Cutter Proposals
There's a big difference in how an agency and a client view a proposal. While agencies are more likely to focus on what goes into the proposal, clients dive deeper into the smallest details – how it was presented, how it was formatted, and what is included. Even when they notice these things subconsciously, these things matter.
If you want to make a spectacular pitch, you need to take the templates in our pitch kit and make them specific to your prospect's needs. Edit the template by making it personal to your prospect, making it easy for them to relate to it. You want to leave an impression. More than that, you want to make them see that you mean business and the recommendations you provide cannot be implemented without your agency.
Most agencies use only one proposal when they're pitching to clients. I use these three reports to tie my pitch and provide a detailed reseller proposal that our partners can present to clients:
Site Audit: If you want to give your clients a quick view of their website elements – which metrics are working, or areas that need improving – this report provides you with the important data points you can highlight when pitching. This report details the areas of opportunities of your client's website, along with recommendations from our SEO experts.
On-page SEO and Analysis Report: After providing a site audit and the discussion moves on, I present partners with a more comprehensive report about their client's website – the On-page SEO and Analysis Report. This report provides a more detailed overview of the website and actionable strategies. It has an on-page SEO checklist enumerating the caution areas and critical opportunities of the client's website. The report also includes a backlink analysis, the recommended solutions from our experts, and a roadmap strategy to get a campaign started.
Digital Proposal: Once we've passed the preliminary site audit and analysis, the next phase of the pitch is tying together all the findings we have and putting them in our digital SEO proposal. This is a reseller proposal we prepare with the brand and logo of the partner that they present to their clients. The digital proposal includes the recommendation and strategy, the details of the packages, and the monthly campaign set-up. Partners present this final SEO proposal when clients are at the closing stage.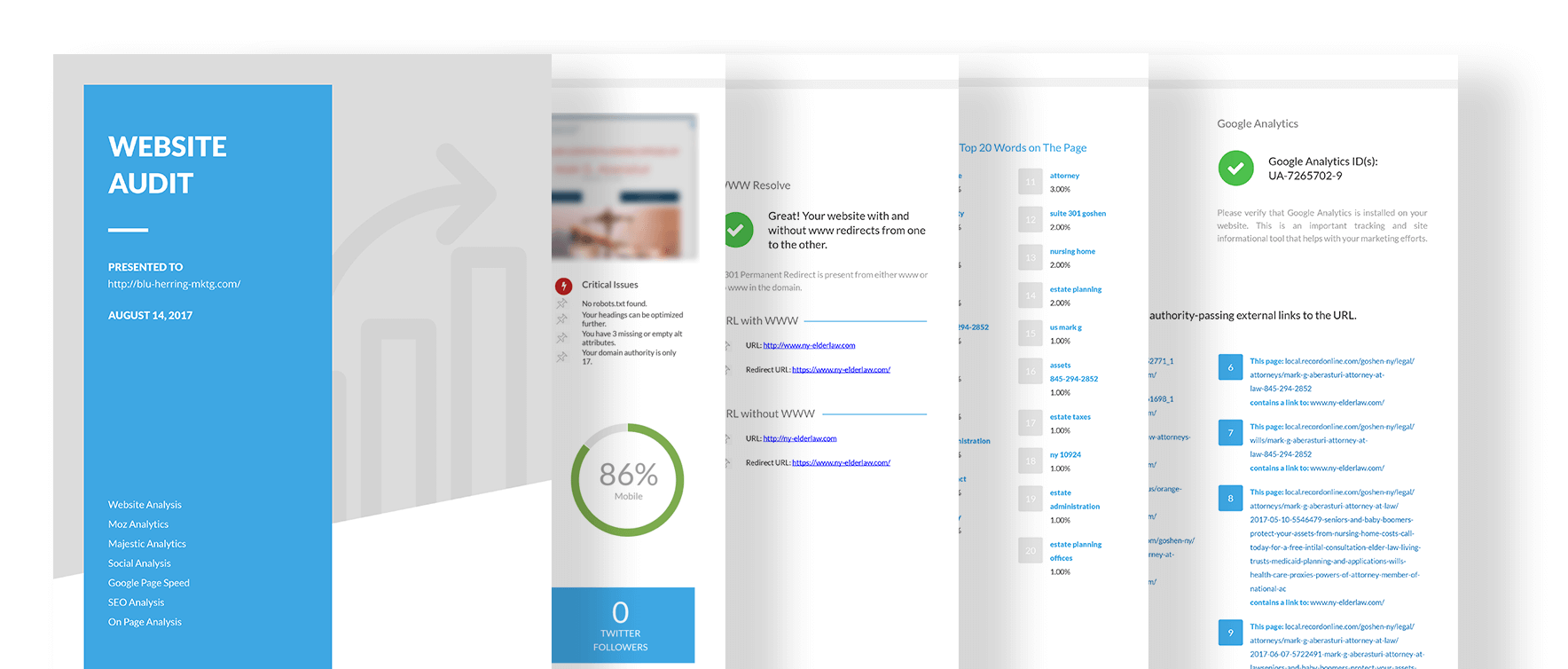 You have to remember that clients are looking at every aspect of your pitch, and your proposal is no exception. If you want to increase your closing rate, you have to show them the true value of working with your agency. An SEO proposal for a local business is not just about showing the scope of your work and the pricing; it should reflect the dedication of your agency to achieve the goals of your client.
Planning your pitch? We're making it easier! Sign up and download unlimited sales materials from our Resource Center. Also, check out our SEO services to see if any of our packages suit your clients' needs.